Apple shatters its own holiday financial record, hitting $123.9 billion in revenue on the quarter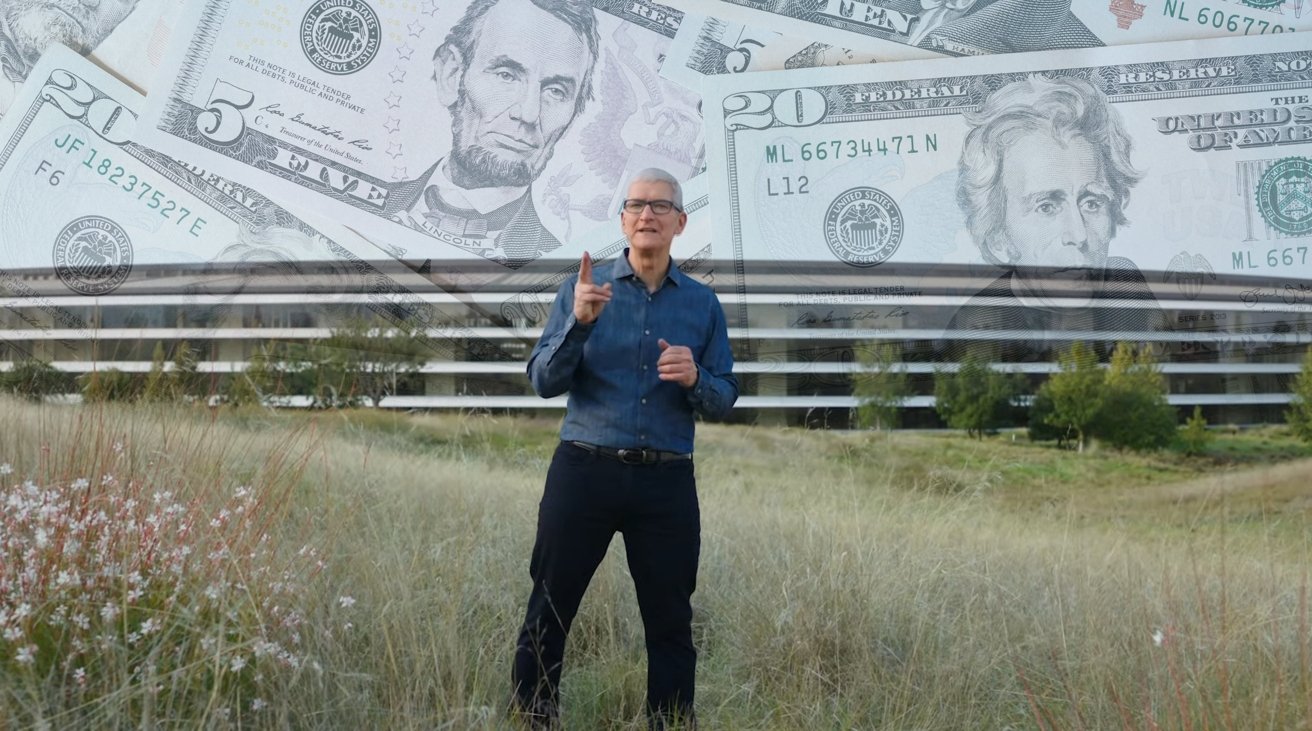 Apple's hardware and services generated $123.9 billion in revenue for the first quarter of 2022, breaking not just its own holiday quarter records, but beating Wall Street consensus as well.
Announced on Thursday ahead of Apple's customary analysts call, Apple's revenue of $123.9 for the quarter ending December 2021 equates to a year-on-year annual growth/decline from the then-record-setting $111.4B reported one year ago. Apple's earnings per share is $2.10 for the quarter, up from $1.68 in the Q1 2021 results.
The gross margin for the quarter of $54.2 billion is up from one year ago's figure of $44.3 billion, and operating expenses of $12.7 billion are up from the year-ago $10.8 billion. Net Profit is pegged at $34.6 billion, also up from $28.8 billion in the same quarter last year.
The quarter's results follows the excellent $83.4 billion in revenue seen in Q4 2020.
The Wall Street consensus for the quarter predicted that Apple would report revenue of $118.3 billion and an EPS of $1.89 for Q1 2022.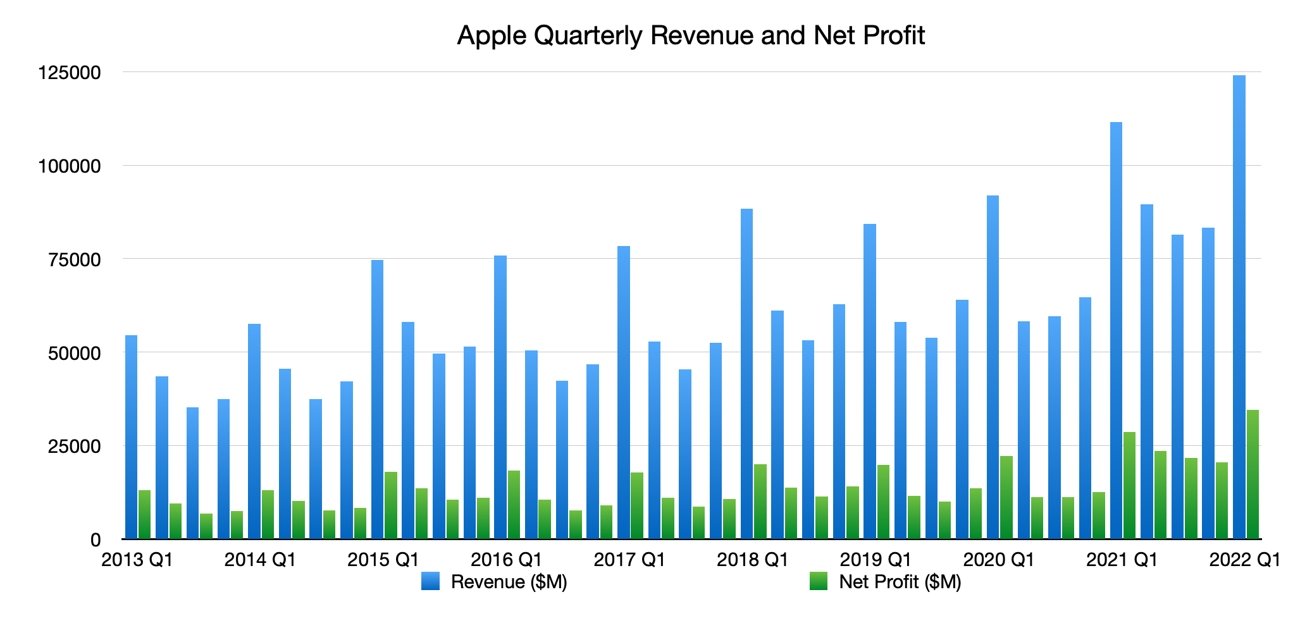 "This quarter's record results were made possible by our most innovative lineup of products and services ever," said Apple CEO Tim Cook. "We are gratified to see the response from customers around the world at a time when staying connected has never been more important. We are doing all we can to help build a better world — making progress toward our goal of becoming carbon neutral across our supply chain and products by 2030, and pushing forward with our work in education and racial equity and justice."
Launches from the previous quarter are also great contributors to Apple's revenue, with Q1 being the first full quarter of availability for them. This includes the headline iPhone 13 generation, as well as the ninth-generation iPad and the sixth-generation iPad mini.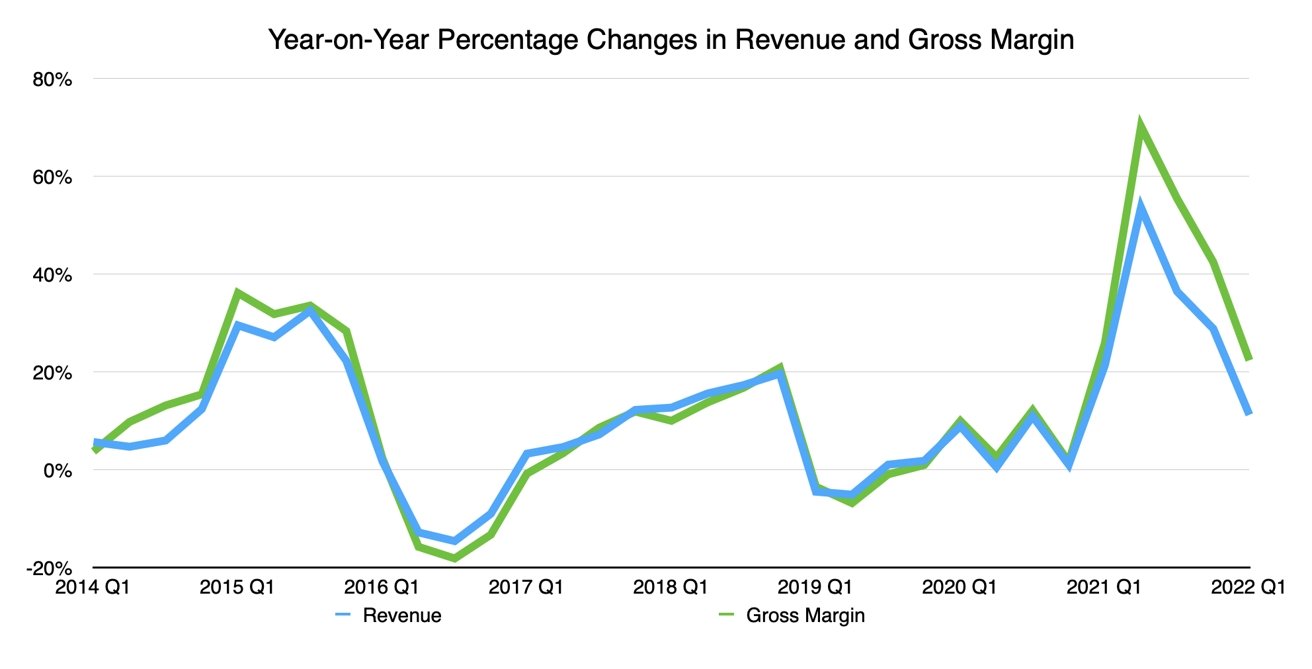 Apple's iPhone brought in $71.6 billion in revenue during the December quarter, up from $65.5 billion in the year-ago quarter. The new revenue was likely driven by iPhone 13 and iPhone 13 Pro models despite ongoing supply constraints.
Mac revenues also rose year-over-year to $10.8 billion, up from $8.6 billion the year prior. On the other hand, iPad revenue dropped from $8.4 billion in Q1 2021 to $7.2 billion in Q1 2022.
The company's Wearables, Home, and Accessories segment reached $14.7 billion in revenue, up year-over-year from $12.9 billion. The company's Services revenue also increased significantly to $19.5 billion from $15.7 billion in the year-ago period.
Apple's Board of Directors declared a cash dividend of $0.22 per share payable on Feb. 10, 2022. Shareholders of record at the close of Feb. 7, 2022 will receive the payout.
As usual for Apple's quarterly results since the outset of the pandemic, Apple has declined to offer detailed guidance in its quarterly results, so it is unknown if the figures meet or exceed the company's own expectations. While such details aren't provided, some color will be provided by Cook and CFO Luca Maestri during the earnings call.