How the 16-inch MacBook Pro with M1 Max replaced our Mac Pro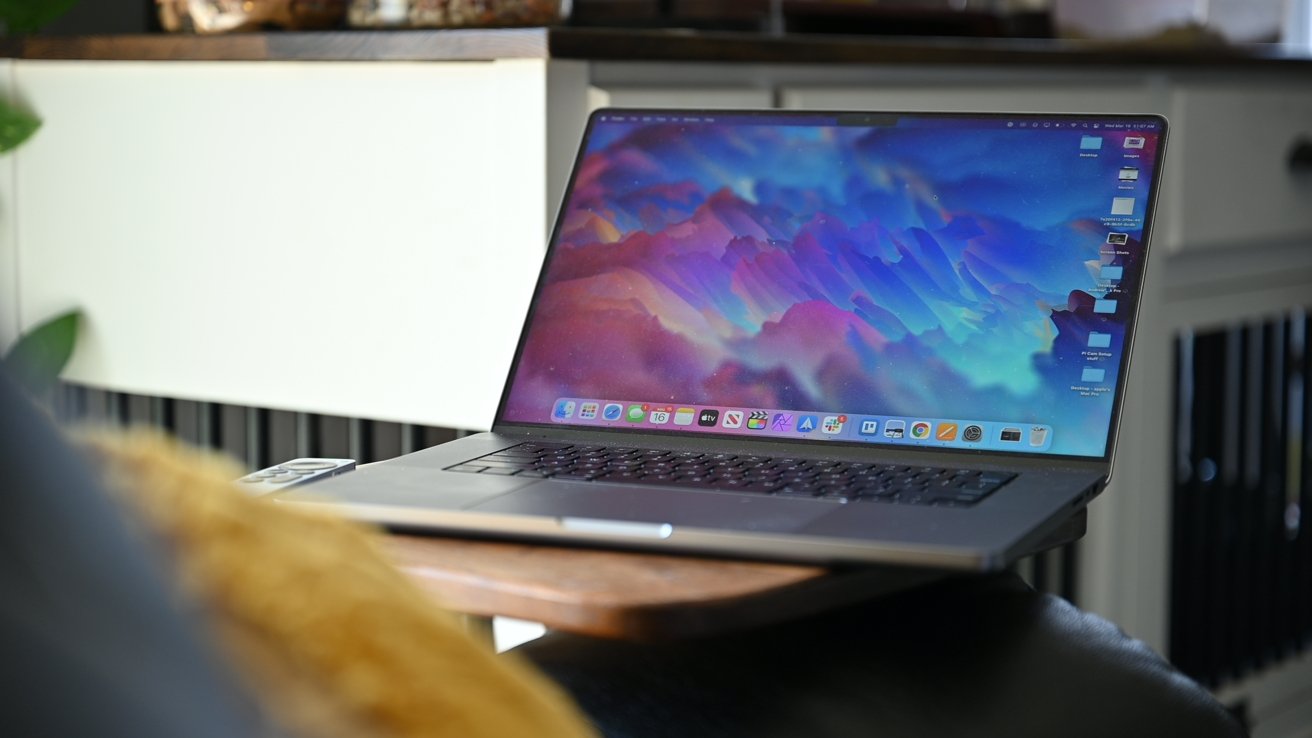 It's been almost six months since Apple launched a redesigned pair of MacBook Pros. I've been using the 16-inch MacBook Pro with an M1 Max processor day-in and day-out. It's surprised me at how well it's adapted to my workflow.
As a refresher, the 16-inch MacBook Pro comes with two processor options, as does the 14-inch. Users can choose between the M1 Pro and the M1 Max SoC on the inside. I chose the latter.
These new chips boast a 10-core CPU with a 16-core Neural Engine, with memory bandwidth increased to 200GB/s on the M1 Pro and 400GB/s on the M1 Max.
Each also incorporates a new Media Engine as part of the SoC design, enabling hardware-accelerated H.264, HEVC, ProRes, and ProRes RAW decoding and encoding. On the M1 Max, the Media Engine has been improved further to include two video encode engines and two ProRes encode and decode engines, making it even better for video production.
All of these improvements are is before the built-in GPU power is taken into account. The M1 Pro is available with the 16-core GPU option only, but the M1 Max starts with a 24-core GPU and rises to a 32-core option — which is what I've been using here.
The new chips also bring in extra memory options beyond what the M1 supports. Instead of capping at 16GB, the M1 Pro starts at that level of Unified Memory, with an option for 32GB.
On the M1 Max, your starting point is that same 32GB cap, but you can go up to 64GB if you want. The GPU also uses the Unified RAM, making sense to go all-out on memory when configuring it at purchase.
As my workflow evolved, I started leaning more into a desktop solution with an iPad Pro for on-the-go work. I began using the most recent Mac Pro for daily work, with an iPad Pro for specific tasks and on-the-go work. I loved the Mac Pro for its modularity, and I outfitted it with plenty of internal storage options, more RAM, and a new PCI-E GPU as time wore on.
The Mac Pro was great. The iPad Pro is still an invaluable piece of tech, but I got tired of waiting for Apple to bolster iPadOS for what I needed.
For what I'd want to use it for, the iPad's operating system is still hampered by poor external monitor support and no support for Apple's pro applications, such as Final Cut Pro. So we bit the bullet and went all-in on the 16-inch MacBook Pro.
My daily work bounces between copious photo editing, video production, and plenty of writing. The 16-inch MacBook Pro has proven adept at all of these functions in one product.
So, I turned to the 16-inch Mac Pro with the M1 Max full time.
True to form
The late 2021 refresh was the first MacBook Pro in five years to see any form of a redesign. The squared-off look returns to the 2008-era MacBook Pro general design ethos, with a modern spin.
It stacks better with other devices — but neither we nor Apple recommend that.
There's no question that the return of ports has been beneficial. We love the array that Apple has chosen from HDMI to the card reader to plenty of USB-C. Apple could have done with one more Thunderbolt port on the right side, but overall it's a solid selection for your average user.
The HDMI port and SD card reader are underpowered, and in my workflow, I haven't used them since I picked up the machine. Apple chose an HDMI 2.0 port, and the SD card reader falls just short of the promised UHS-II maximum transfer speed.
I'd be happy if they disappeared and were replaced with another Thunderbolt port, but I know why Apple added them.
In daily use, I do use a Thunderbolt 4 dock, but primarily so I don't have to plug and unplug multiple accessories each time I move my Mac. Like we keep driving home, this is Apple's "one cable" idea, with everything connected to the machine with one cable that it's been trying off and on for three decades.
And after months of adjustments, I'm still conflicted about the Touch Bar. Every time I have to enter shipping information onto a site and I have to move from the keyboard to the mouse and choose individual parts of our address, I'm reminded how much easier the touch bar was.
The same goes for opening a recent file in Affinity Photo or jumping to a specific spot on the timeline inside of Final Cut Pro. Its existence was divisive, but it was a shame to see it go for those that used it — including me.
Battery and charging
With the latest MacBook Pros, Apple gave users options. They can be charged with USB-C as they have for years, or they can charge via MagSafe. Apple's brought MagSafe back, and it can now fast charge with adequate power.
On my 16-inch MacBook Pro, the 140W GaN power brick can provide 50 percent power in only 30 minutes. This has proved to be exceptionally useful and has me using my Mac away from power more often. I can quickly charge up, then go and work where I please.
This varies amongst our staff. Mike Wuerthele doesn't use it and has no intention of doing so.
As the weather around here keeps improving, I'm excited to get back outside to write and edit in the sun.
The battery life is excellent, lasting hours between charges. Depending on how much video editing I'm doing, I can make it through almost an entire day of work without charging.
MagSafe has proved safer too, depending on the angle. Since the MagSafe connector is so long, it requires quite a bit of force to dislodge when pulled side to side. If pulled down, it comes free much more quickly.
While I've enjoyed the return of MagSafe, it does mean I'm packing an extra charger. I could still use USB-C as I do on my iPad, but I want the extra speed MagSafe offers. The good news is that there are options, and users can choose for themselves.
What do we want next
Using the current-generation 16-inch MacBook Pro for the last several months has given me perspective on how I'd like to continue to see Apple iterate. Some next-gen features are a given. It's undeniable we'll see new M2 Pro and M2 Max chips — or other variations — that will boost the performance further. Other changes aren't so concrete.
It would be great for Apple to finally adopt Wi-Fi 6E. This emerging standard unlocks an additional frequency band. Wi-Fi 6E routers will be able to run on the 6GHz spectrum, which can be helpful in cities or apartment buildings where the spectrum is crowded.
This may be one of the biggest updates to Wi-Fi in some time. Yet Apple hasn't deployed it, nor are there particularly cost-effective wireless access points. A portable Mac would be well-served with this new technology for future-proofing.
I'd also love, though I don't expect, Apple to drop the prices for upgrading storage and memory. Apple charges $400 to go from 16GB to 32GB of unified memory and even $200 to go from 512GB to 1TB of internal storage. Apple's customized options were often expensive, but they're pushing the boundary of acceptable.
There's been talk of Apple adding Face ID to future MacBook Pros, and I could take or leave it. Touch ID is fine, and Face ID would be an easier option for authentication, but I use my Mac in clamshell mode with an external display, making the addition of Face ID moot.
Every Mac, every project, every piece of hardware ever built by any manufacturer is an exercise in compromises. With the 2021 16-inch MacBook Pro and the M1 Max on the inside, that list is incredibly short. This machine is fast, sleek, powerful, full of ports, and packs a great battery.
The biggest change I've had to get used to is relying on external storage, rather than internal — but that's not a new issue for mobile-centric Mac users. As long as I'm cognizant of the architectural differences and fundamental trade-offs between desktop and mobile Macs, the MacBook Pro has met every challenge I've thrown at it.
After months of use, I think Apple has created a near-perfect mobile Mac. But that Mac Studio is calling me.
Save up to $300 on Apple's 16-inch MacBook Pro
Every 16-inch MacBook Pro model is eligible for an exclusive, triple-digit discount at Apple Authorized Reseller Adorama with this cost-saving activation link and promo code APINSIDER. AppleCare is also $80 off with the same code.