How to watch MLB 'Friday Night Baseball' on Apple TV+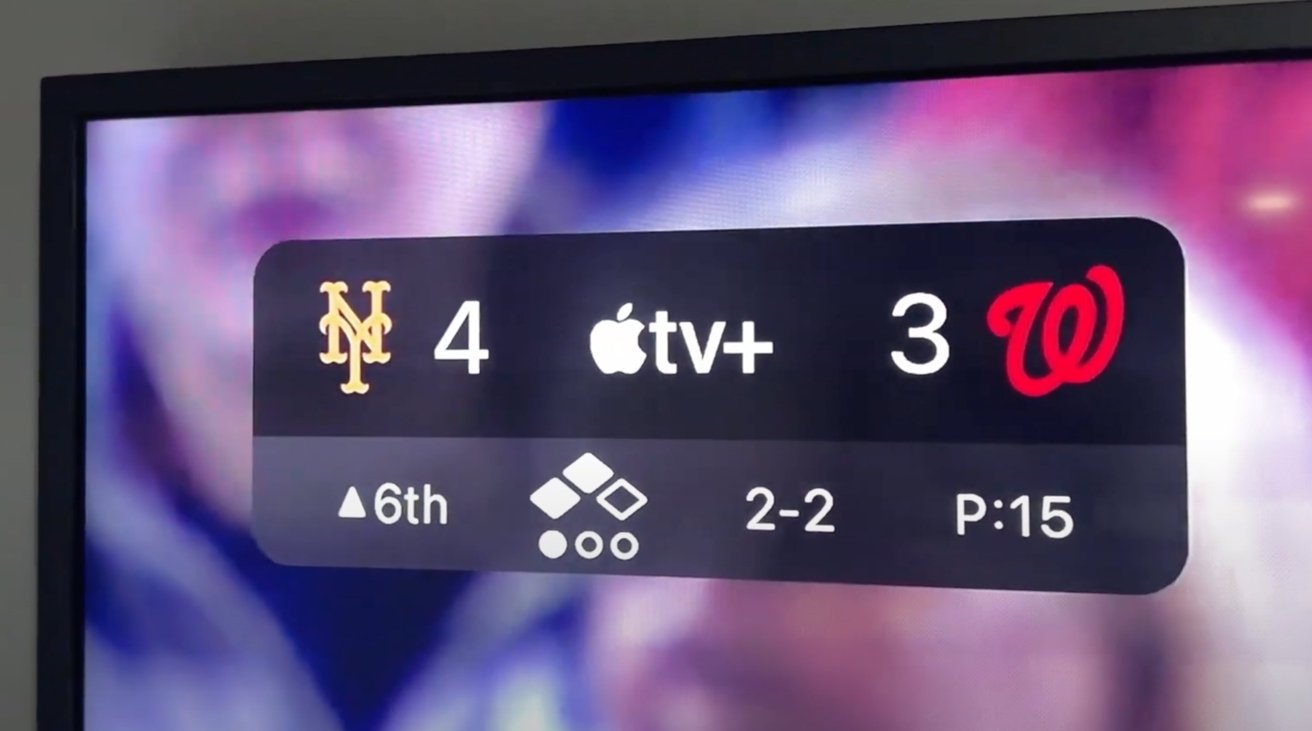 "Friday Night Baseball" is now on Apple TV . Here's how you can tune into the weekly MLB-based stream using your iPhone, iPad, or Mac.
Originally announced on March 8 and first broadcast on April 8, "Friday Night Baseball" is a weekly double-header, providing viewers with two complete Major League Baseball games to watch.
It's not just the games, as there are also live pre- and post-game shows, live commentary, and a number of changes to how baseball is usually viewed on broadcast networks.
For Apple, the weekly event is Apple TV+'s first foray into broadcasting live sports, which could potentially lead to Apple expanding the effort in the future.
Here's what you need to know about the show, as well as how to watch it.
When is Friday Night Baseball?
As the name suggests, "Friday Night Baseball" broadcasts on a Friday night. According to an initial first-half schedule released before the first broadcast, Apple will be airing the show every Friday, until June 24.
As it is for two baseball games, the start times for each will vary, but with each night's games staggered by between 1.5 hours and 3 hours. Generally, the delay is 2 hours to 3 hours, but there are exceptions such as the May 20 start times of 6:30 pm eastern time for the first game and 8 pm for the second.
How can I watch it?
To watch "Friday Night Baseball," you need to be able to access Apple TV+. This means you need to use the Apple TV+ app, but there is no restriction as to what device you need to use.
You can watch games on an Apple TV if you want, though you can also use the app on an iPhone, iPad, or Mac.
Indeed, you don't even need to use an Apple device to watch it at all. There are many set-top boxes and smart TVs available that offer the Apple TV+ app, and therefore can be used to watch games as well.
If you don't happen to have access to the app itself, but you do have a browser, you can also watch the stream at tv.apple.com.
You'll find all of the future games under a new section titled "Friday Night Baseball."
What countries will Friday Night Baseball be available to watch?
At launch, Apple is making "Friday Night Baseball" available in a number of countries:
United States
Canada
Australia
Brazil
Japan
Mexico
Puerto Rico
South Korea
United Kingdom
Apple plans to expand it into more countries "at a later date."
How much is Friday Night Baseball?
Apple says that "Friday Night Baseball" is part of the Apple TV+ subscription, which normally costs $4.99 per month, or as part of an Apple One subscription. A free trial period is available to new subscribers as well.
However, for the launch of the streams, Apple is making them available to view for free and without an Apple TV+ subscription for a limited time. That will change at some point, but it is unclear when that will occur.
What's different about Friday Night Baseball?
As a sports broadcast streaming through Apple's platform, there are a number of differences that viewers might want to be prepared for. For a start, streams are offered without any local blackouts.
Typically, sports blackouts refer to situations where broadcasts to an entire country are blocked by local broadcasters. The idea is to encourage ticket sales at the games by preventing it from being viewed locally in other ways.
"Friday Night Baseball" is not subject to blackout rules, so it is possible to watch the stream near the stadium where the game is located without interference.
As it is produced by MLB Network, the broadcast has access to a roster of commentators, hosts, and analysts. This includes Stephen Nelson, Hunter Pence, Katie Nolan, and Heidi Watney, among others.
During the opening weekend, there were complaints about the first broadcast, with some scorn landing on the commentating team, who were accused of having conversations that were less on-point about the game than some fans may prefer.
It's likely that this is down to the nature of fans being used to listening to local commentary teams for smaller markets, rather than one dealing with an internationally-streamed game. There's also the need to entertain fans who are watching baseball for the first time after hearing of Apple's new programming initiative.
Another more welcomed change is the graphics, as it uses an Apple-like minimalist aesthetic throughout. The presentation is clean and unfettered without any distracting advertising, while also incorporating features like a strikeout probability score in the bottom-right corner after each pitch.
Apple also incorporates other parts of its ecosystem into the "Friday Night Baseball" package. For example, Apple and MLB will be providing enhanced league and team coverage for fans in Apple News, complete with highlights.
On a more frivolous note, Apple Music has an "MLB Friday Night Baseball" category, featuring playlists of walk-up music for each team.
How's the stream?
The games are streamed at 1080p, and watching it on opening night, AppleInsider saw the video was really crisp throughout the games. It is a high-quality stream that excels and really shows off filming choices like depth-of-field effects of player close-ups.
At times, the stream did sink down to 720p, but it returned back to the crisper 1080p feed not long after.
That being said, the opening weekend did suffer teething issues. This included problems for some users who were unable to connect to the stream, or had their feed suddenly cut out.
Given this is live streaming of outside-broadcast sporting content, and at scale, it's inevitable that some issues would arise. It's almost certain that Apple's engineering teams took note of what happened, with the intention of getting it right for future weekends.