iPadOS 16.1 now available with Stage Manager and pro-focused features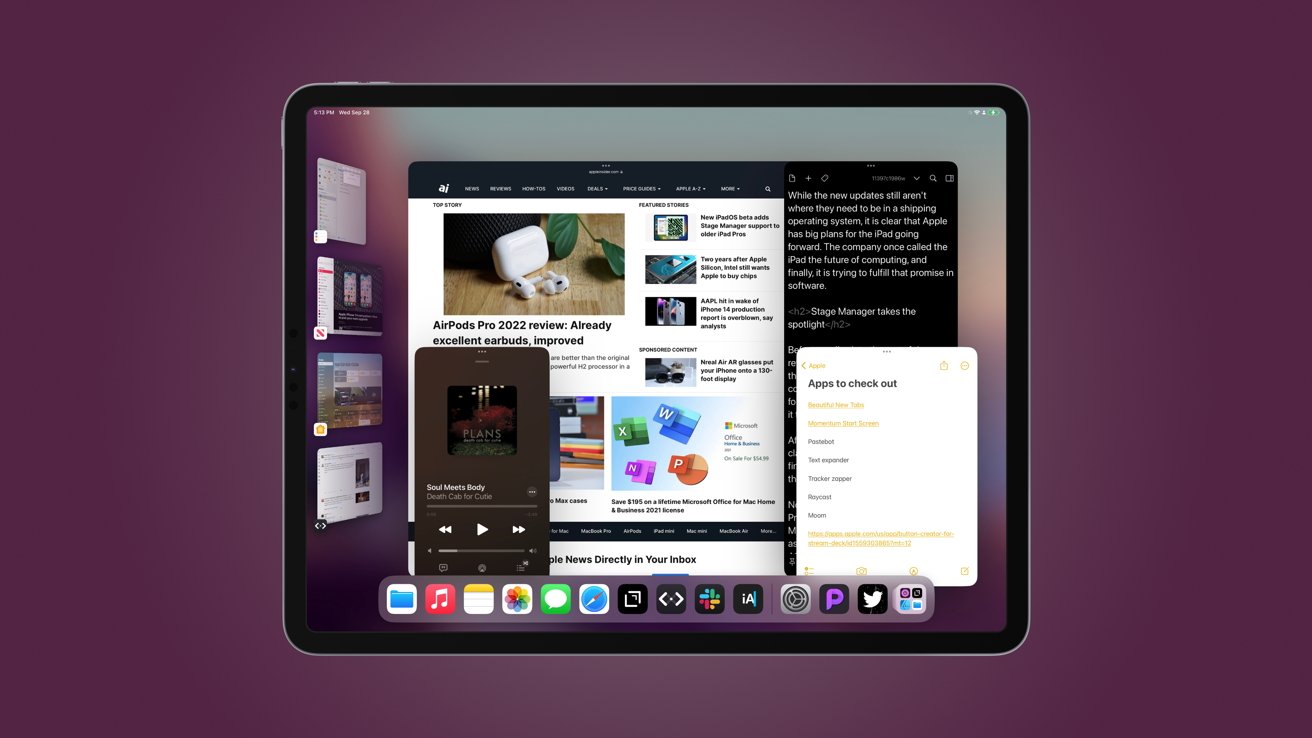 After being delayed for a few weeks, iPadOS 16.1 has been released by Apple with a new multitasking interface called Stage Manager, customizable toolbars, and a built-in Weather app.
Stage Manager is the focal point of this release as it brings iPad multitasking to a new level, at least for models running an M2, M1, A12Z, or A12X. This complicated new windowing system created problems for Apple during the beta process, which perhaps ultimately caused the delay.
The addition of support for A12Z or A12X iPads means that Stage Manager is officially now available for all generations of the 11-inch iPad Pro, plus the third-generation or later 12.9-inch iPad Pro.
However, Stage Manager on these devices is limited to the iPads themselves — it will not work on any external monitors. Initially, it won't work for M-series iPads either, but that will be fixed in a forthcoming iPadOS update.
For now, other new features in iPadOS 16.1 include new collaboration tools, improved Focus features, customizable app toolbars, and more small changes throughout the system. Owners of an M-series iPad gained access to a handful of exclusive features like virtual memory swap and reference mode.
The update is less eventful for iPad owners without an M-series processor. Other than the updates included with iOS 16, iPads gained the Weather app, app refinements like context menu improvements and custom toolbars, and the promise of a new collaboration app called Freeform.
Stage Manager
This first public release version of Stage Manager for iPadOS gives users the ability to place up to four windows on an iPad screen at one time.
Users can arrange windows using a grab bar at the top of the window and resize them with a pull tab in the bottom corner. Touch or mouse use works for either interaction, though it's arguably easier with a mouse.
Drag up to four new apps in from the dock and then adding more apps will kick the oldest one to the sidebar. Apps in the sidebar are shown in clusters based on the "stage" set for each app setup.
An ellipsis at the top of a window gives users a few window controls like close window, minimize, and zoom. The zoom function will make an app go full screen, hiding the sidebar and dock.
A four-finger swipe on the display or trackpad will move the user between stages, unlike on macOS. Customize each stage by positioning and resizing the windows in a way that works best for each group.
Stage Manager remembers how apps are arranged and can keep tasks running in the background. These features provide a much more desktop-like experience, though with limitations.
Other iPadOS 16 features
Developers will need to take advantage of some of the new APIs before users will notice significant changes. Several cosmetic updates add new functionality to iPad apps and give users more control over what is shown, like custom toolbars and Focus Filters.
The Files app is more powerful thanks to more organization options, batch manipulation, and improved context menus. Right click on a file to rename it, change its extension, or convert it to a PDF when applicable.
How to install iPadOS 16
Before installing a major operating system update, ensure the iCloud Backup is up to date.:
Open the Settings app.
Click on your profile.
Select iCloud then iCloud Backup.
Verify the last time the backup was updated.
Tap "Back Up Now" to ensure the backup is up to date.
Users who have issues with their initial iPadOS install can perform a factory reset and restore the iPad to the backup file as long as iPadOS 15 is still being signed by Apple.
Open the Settings app.
Select General.
Select Software Update.
Select "Update to iPadOS 16.1."
AppleInsider has confirmed that the release is being served to users. It can take some time for Apple's content delivery network to fully populate, and servers will be under load. Both factors impact local visibility for any given user.