iOS 17 is getting some giant new accessibility features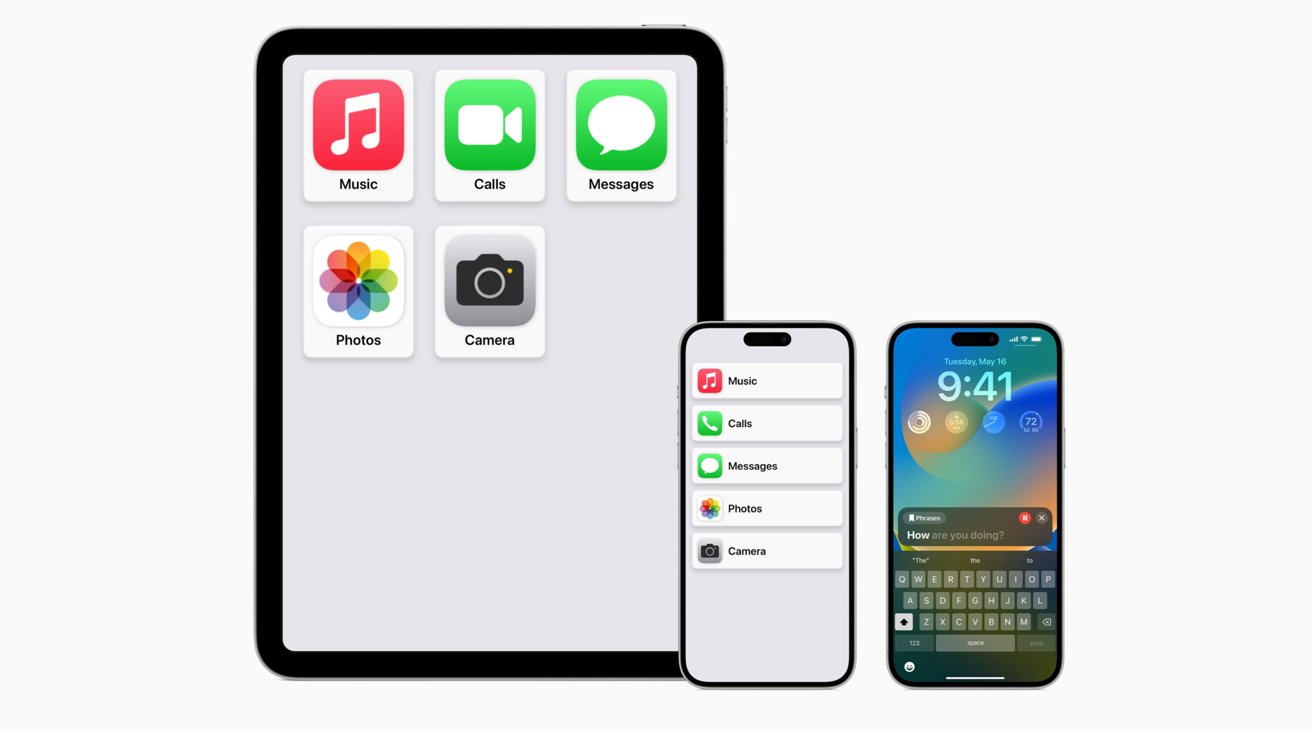 Apple has previewed some of the accessibility features it is introducing in iOS 17, including one to help with user interface interactions, and another that allows a user to use their own voice for text-to-speech.
Apple will be formally unveiling iOS 17 and iPadOS 17 during WWDC in June, but on Tuesday, it gave a selective sneak peak at some of the changes. In an accessibility function preview, it outlines updates affecting cognitive accessibility, voice, and visual impairments.
"At Apple, we've always believed that the best technology is technology built for everyone," said Apple CEO Tim Cook. "Today, we're excited to share incredible new features that build on our long history of making technology accessible, so that everyone has the opportunity to create, communicate, and do what they love."
The first main feature, Assistive Access, aims to help those with cognitive disabilities, by making it easier to not only see what they need on the display, but to select the items too. This includes the use of large high-contrast buttons and large text labels.
There are further customizations available for users who prefer to communicate visually, such as an emoji-only keyboard in Messages and options to record video messages. The Home Screen is also able to be shown with larger icons, in both visual grid-style layouts or text-based rows.
Live Speech and Personal Voice
Live Speech, which will be available on iPhone, iPad, and Mac, will let users type out statements they want read aloud during phone and FaceTime calls, along with in-person meetings. Commonly-used phrases can also be prepared beforehand for quick deployment in conversations.
For those who are at risk of losing their voice, such as people who have recently been diagnosed with ALS, Personal Voice offers a way to produce a voice for text-to-speech purposes that is closer to the user's own.
After reading aloud a randomized set of text prompts to create 15 minutes of audio, on-device machine learning then uses the data to create the Personal Voice itself. That Personal Voice can then be used with Live Speech to communicate with others using the user's own voice, not a generic replacement.
Point and Speak
An update to Detection Mode in Magnifier, Point and Speak in Magnifier can help the visually impaired deal with text labels on physical objects and devices. Not only can the tool describe a user's surroundings for them, it can now read aloud text.
Using the Camera app, LiDAR, and on-device machine learning, it can read out text on a device's button as the user moves their finger across a surface. For example, labels on a microwave or washing machine.
Other enhancements
Along with the main changes, Apple is also making other alterations to improve accessibility. This includes allowing Made for iPhone hearing devices to be paired directly to Mac.
Voice Control adds phonetic suggestions for text editing, so users who type using their voice can select the right word from multiple that may sound alike.
Switch Control allows users with physical or motor disabilities to turn any switch into a virtual game controller for iPhone and iPad.
Text Size is now easier to adjust across various Mac apps, to help those with low vision. Users with sensitivity to rapid animations can pause images with moving elements automatically in Messages and Safari.
Lastly, for VoiceOver, users can customize the rate at which Siri speaks to them, between 0.8x and 2x.
Global Accessibility Awareness Day
The preview takes place ahead of Global Accessibility Awareness Day, which is on May 18. To mark the day, Apple is offering a variety of new features and curated collections in its apps.
In the App Store, disability community leaders Aloysius Gan, Jordyn Zimmerman, and Bradley Heaven share the effects of augmentative and alternative communication apps in their lives.
Apple Podcasts offers collection of shows about accessible technology, while the Apple TV app will feature movies and series curated by notable storytellers from the disability community. Apple Books will showcase "Being Heumann: An Unrepentant Memoir of a Disability Rights Activist," memoir of disability rights pioneer Judith Heumann.
Apple Music will feature cross-genre American Sign Language music videos. Apple Fitness+ trainer Jamie-Ray Hartshorn will incorporate ASL while highlighting features to make fitness more accessible to all.
Shortcuts adds Remember This, which can help people with cognitive disabilities create a visual diary in Notes.
Select Apple Stores around the world will offer informative sessions through the week to teach about accessibility features. In Apple Carnegie Library, a Today at Apple session with sign language performer Justina Miles will be available.