macOS 14 feature roundup: Presenter Overlay, Reactions, widgets, more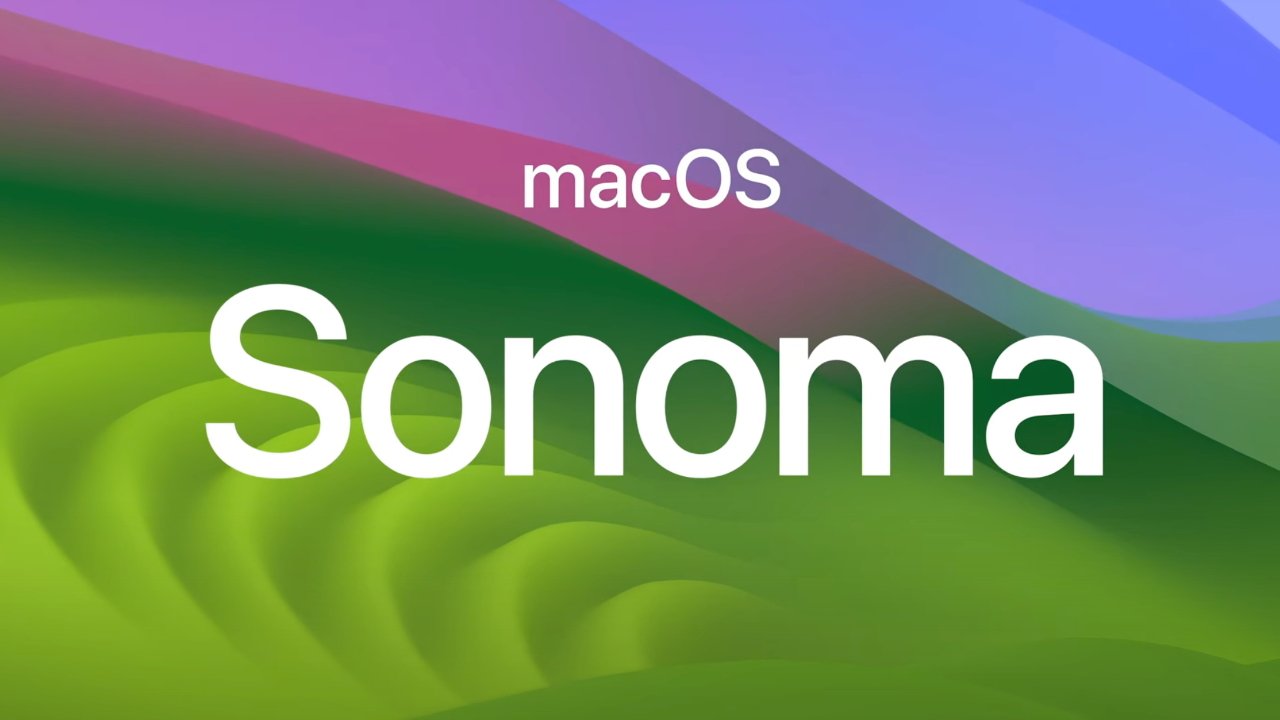 The new macOS Sonoma may have been drowned out in WWDC's focus on the Apple Vision Pro, but it has received a startling number of improvements — including ones Apple didn't even mention.
With Craig Federighi starting with the new screensavers, it didn't sound like a banner year for macOS updates. Yet ultimately Apple spent 13 minutes of that keynote presentation talking up macOS Sonoma, and in actual use, we've been finding more and more excellent new touches.
Screensavers and the lock screen
Starting where Apple did, the new macOS 14 has these improvements that Federighi showed, or that have arisen during use of the beta.
Mac screensavers now resemble Apple TV's ones
Screensavers now smoothly fade away when turned off
Screensavers can now have a digital clock superimposed
Mac's lock screen also now has a clock
Current user is shown at the bottom of the lock screen
Images for alternative users briefly pop up behind the current one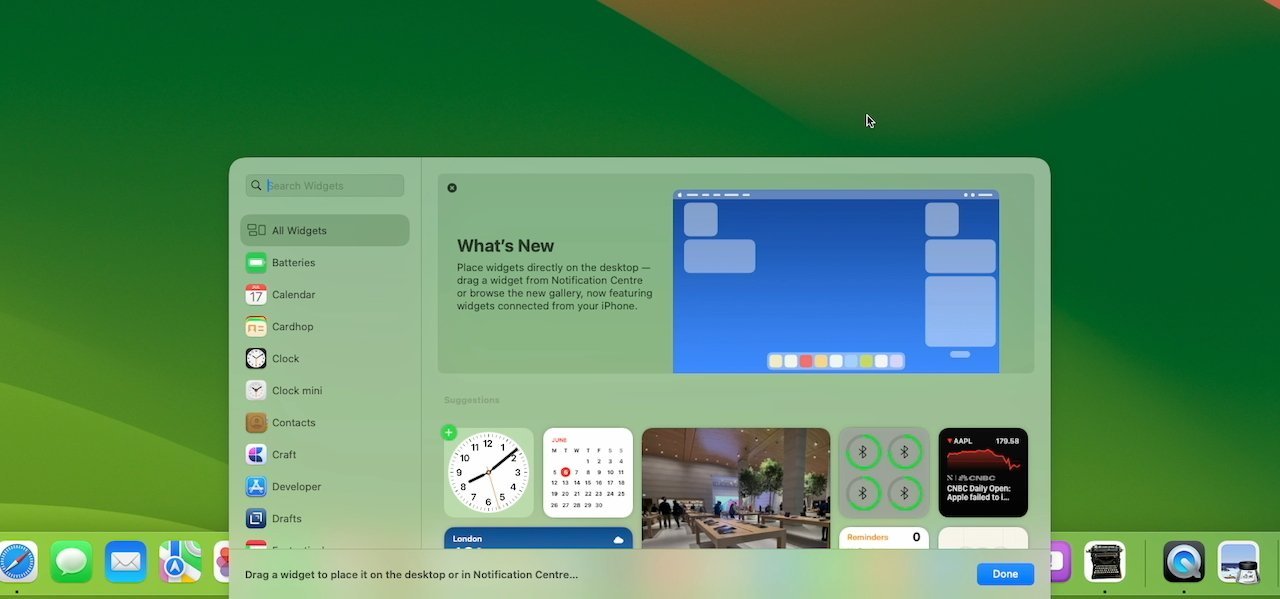 Widgets on the desktop
Widgets, the small information-displaying tools like clocks and weather, have had two substantial changes.
Widgets can now be placed on the deskop
When you place a second widget, Apple shows suggested positions
There's a whole new Widget picker dialog
"Edit Widgets" option in the right-click menu
Widgets intelligently dim and turn transparent when in the background
Widgets also change their color to adapt to different wallpaper images
Widgets can now be interactive instead of just launchers for apps
iPhone widgets can be added, even if corresponding app is not on the Mac
Presenter Overlay
The changes to widgets, screensavers, and the lock screen are all ones that are meant to improve the Mac for you, the user. But there is also a major new addition that's intended to be great for everyone else — if they are with you on a Zoom call.
Raise your hand in Zoom and the hand-raised icon will appear
Stick your thumb up and a thumb-bubble animation is shown
Stick two thumbs up, and keep them up for a moment, and fireworks appear behind you
When sharing your screen, you can choose to be seen in a small inset circle
Or you can appear to stand in front of your slides like a weather presenter
You can use the Mac's own screen sharing instead of, say, Zoom's
Screen sharing lets you "Share on Zoom" just individual app screens, or multiple ones
With an iPhone or Studio Display camera, you can pan and zoom your image
A new Recenter tool puts you back in the center of the video call's frame
There's a new menubar tray offering icons for all reactions
New menubar app shows when mic or camera is in use
Microphones and cameras in use get extra options through that menubar app
Microphones can be set to regular or voice isolation through the menubar
Safari
Never just a browser, Safari on the Mac is an integral part of macOS and it benefits from that tight integration of OS and app. For macOS Sonoma, that means it gains:
Password — and passkey — sharing between six trusted people
Profiles to allow different bookmarks and even extensions for different uses
Add to Dock saves websites as web apps
Private browsing has been extended, completely blocking trackers on pages
Private browsing also removes any tracking added by sites to URLs
Private browsing windows can be locked when away
Search has been updated to be "faster and more relevant"
Messages
The Messages app feels more naturally part of the iPhone, but for macOS Sonoma, the Mac version is getting all of the updates to it that iOS 17 is bringing.
Check In tells nominated friends when you've arrived home safely
Improved search tools
A Catch Up button takes you to the first unread message in a thread
Share your location with friends, or request theirs
A new stickers draw holds all Live Stickers and Memoji
Game mode
The Mac has never been especially known for being good for games, but Apple is continuing to work on that. This time it is specifically looking to counter the idea that games and gamers can't get enough performance out of their Mac.
Running games are accorded more performance
The current game will have the greatest possible access to the Mac's GPU for rendering
Games will also get top priority over CPU usage
Background tasks get reduced in Game Mode
Connections to wireless games controllers have been sped up
Those same wireless game connections also make switching to AirPods fast
Privacy and safety
Communication Safety blurs "sensitive" photos and videos
Communication Safety is now in Photos and third-party apps, not only Messages, for certain types of content
Expanded Lockdown Mode can be turned on across Mac and all devices
Third-party apps can add an event to your calendar, without being able to see what else is there
Sharing photos in an app no longer means potentially sharing all photos
Photos library stays private, except when you choose to share specific images
AirTags can now be shared
That's a big change and one that is clearly going to benefit families. But since it means people in a group sharing an AirTag will not be notified when it's with them, there are some more stalking concerns.
Others
Rather than introducing many great new features, it seems Apple went through every element of macOS and added some new touches all over it. So alongside the more major or visible updates, macOS Sonoma brings:
Forms are detected automatically in PDFs
Contact details can be automatically entered into a form PDF or scanned document
PDFs in Apple Notes now show full screen
Apple Notes also optionally shows multiple PDFs in a row[
One Apple Note can now be linked directly to another
Notes can be sent to Apple Pages for more detailed work, such as on images
A blue warning icon says when Caps Lock is on
Autocorrect temporarily underlines words
Words or even entire sentences can be autocompleted
Apple Mail now puts travel-related emails at the top of search as a trip's date nears
Apple Mail also gains bigger emojis
Reminders can automatically sort items in a grocery list
Reminders adds new column view
Visual Look Up will, for instance, search for similar recipes when shown one in a photo
Home now shows you specifically who locked or unlocked doors etc
Home now shows you specifically who locked or unlocked doors etc
With Apple Silicon Macs, you can say "Siri" instead of "Hey, Siri"
Apple Music users can share playlists
Apple Music's Now Playing feature adds optional emoji
Small yet tempting update
Aside from perhaps the Presenter Overlay, this is a low-key update to macOS — and yet it's also a compelling one. So very many features have had just enough added that it's going to be very tempting when it's finally released later this year.
It's already very tempting, and it is now possible to legitimately get the beta test version much more easily than before — but don't do it.
Wait for the September or October official release of macOS Sonoma instead.