Steve Jobs signed iPad, plus a check and unopened iPhones, are up for auction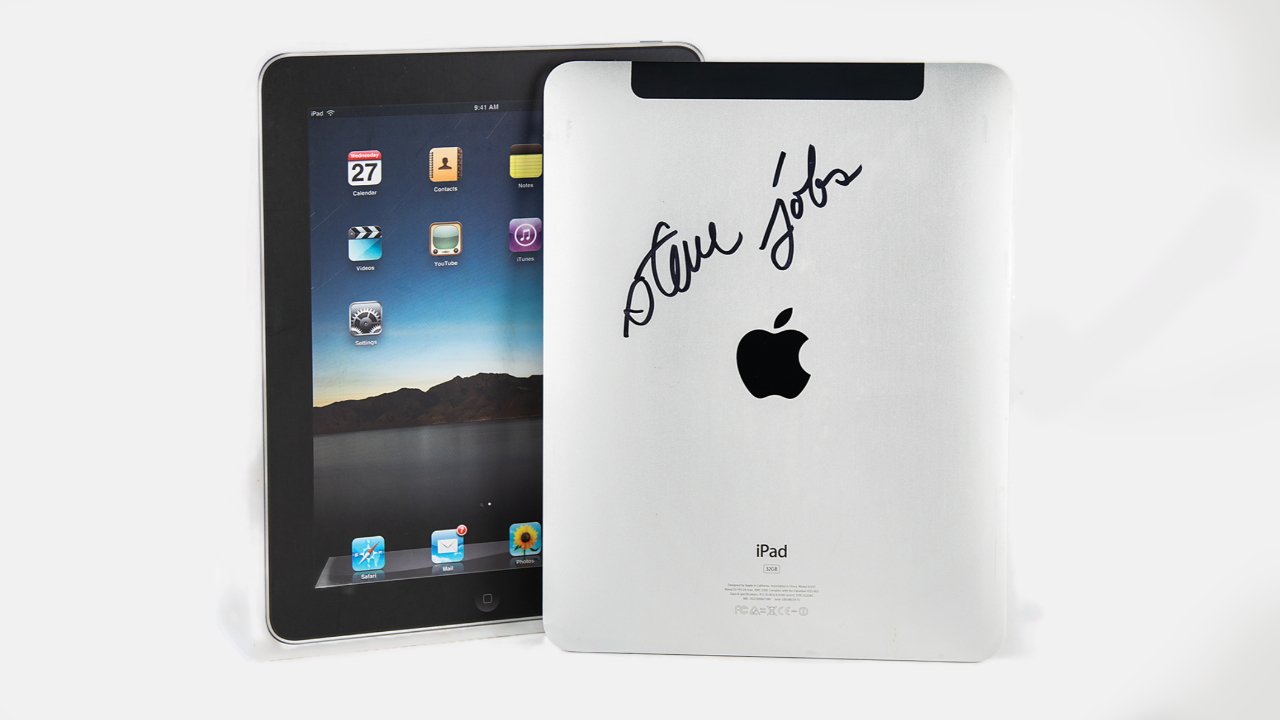 An iPad autographed and sent as a gift by Steve Jobs is estimated to fetch at least $10,000 at auction, while an unopened iPhone in gift packaging is expected to sell for over $20,000.
While a new auction has two unopened original iPhones and recently another sold for a record $158,000, the highlight of the collection is a rare autographed iPad. According to RR Auctions, Steve Jobs sent the iPad as a gift to a dentist in Hawaii.
The dentist, Frank H. Sayre, says that he treated Steve Jobs for free "sometime in the spring of 2010," when Jobs and his wife Laurene Powell Jobs, were visiting. A Bay Area dentist had called Sayre and arranged to treat Jobs.
But despite Jobs asking to pay for the treatment, Sayre refused. "We explained that we had a policy that we never charged out of town visitors for any emergency treatment," he told RR Auctions. "They were our 'Aloha Patients.'"
When Jobs pressed, Sayre told him of a fundraising silent auction, and asked for a signed iPad. There was a delay before Jobs returned to California, and in that time, Sayre tried to buy the iPad.
But Jobs' administrative assistant, LaNita Burkhead, wrote back in August 2010.
"Steve asked me to send you the enclosed autographed iPad (32GB Wi-Fi + 3G)," went the message. "[Because] this is a personal gift from Steve, we are returning your check."
The auction is due to start online bidding on Saturday, September 23, and 1 p.m ET. However, the auction house is already taking what it calls pre-live bidding.
At time of writing, this pre-live bidding for the iPad is up to almost $12,000, so already beating the estimate.
Original iPhones and a check
Also up for auction at the same time are two unboxed, unsealed original iPhones. One is a rare 4GB model, while the other is an 8GB original iPhone — together with gift packaging.
Both models are listed as being expected to sell for $10,000. Currently the 4GB model has had seven bids and is on $16,106, while the gift-wrapped edition has a single bid and is on $10,000.
There's also another check from Apple history. Unlike a previous one, this 1976 check made out to Graphics West is signed by Jobs alone, and is written from a company Wells Fargo account.
It's also in pristine condition. And the expectation is that it will sell for over $25,000. At time of writing, bidding is on $18,868.
The last time there was an early Apple check put up for auction, it sold for $135,000.