AirPods Max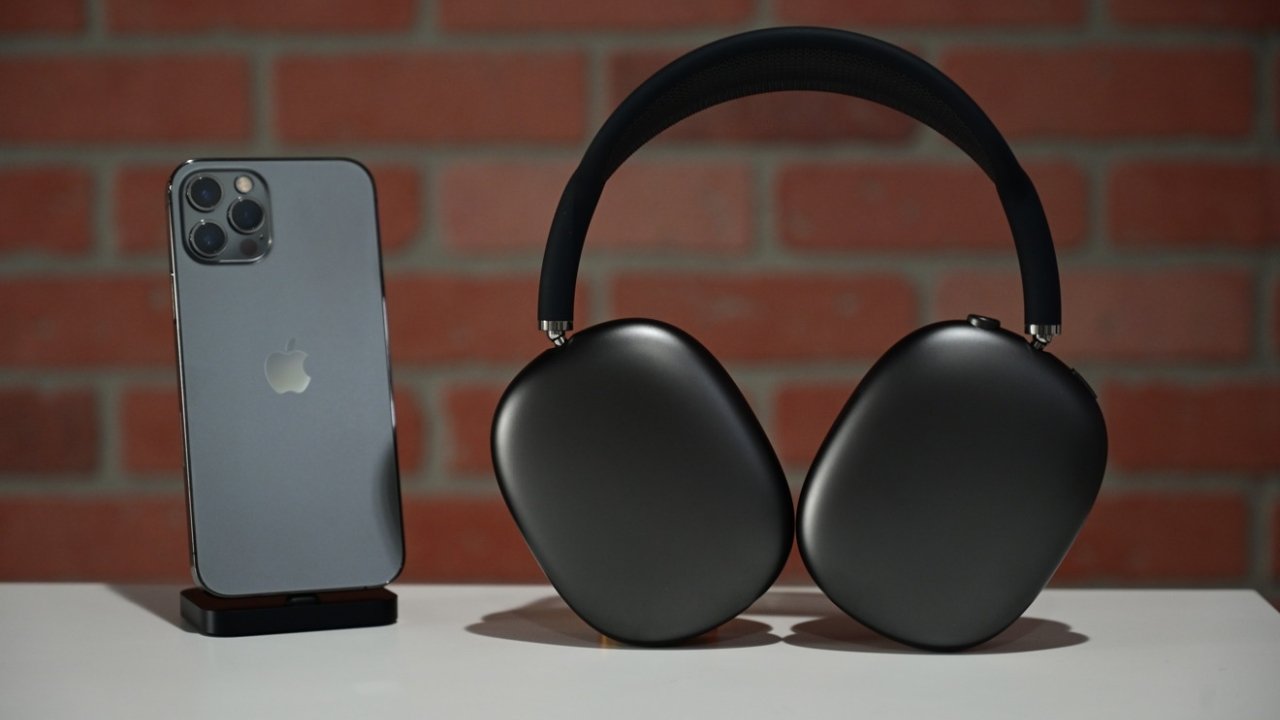 AirPods Max are Apple's premium, over-ear headphones that use computational audio to optimize listening. These expensive headphones hope to penetrate the high-end headphone market with stainless steel and aluminum construction and best-in-class audio. There are five available colors with matte finishes.
● Premium over-ear headphones
● Adaptive EQ
● ANC and Transparency mode
● Stainless steel and aluminum materials
● Two H1 processors with 10 audio cores
● Supports Spatial Audio and Dolby Atmos music
● Space Gray, Green, Silver, Sky Blue, and Pink
● Costs $549
---
The AirPods Max are Apple's take on over-the-ear headphones. They're packed with modern technology and a design that is uniquely Apple's. These headphones come to market as the in-ear AirPods and AirPods Pro continue to dominate pop culture and sales charts.
The headphones have an Apple H1 chip in each ear cup. This chip is also found in AirPods Pro and second-generation AirPods. AirPods Max also includes Adaptive EQ, Active Noise Cancellation, Transparency mode, and spatial audio. Apple is shipping the headphones in five colors: space gray, silver, sky blue, green, and pink.
Apple put the headphones up for pre-order on December 8, with the ship date beginning on December 15, but they quickly sold out. The headphones cost $549, which are much more expensive than Apple's own Beats By Dre brand.
AirPods Max Features
Design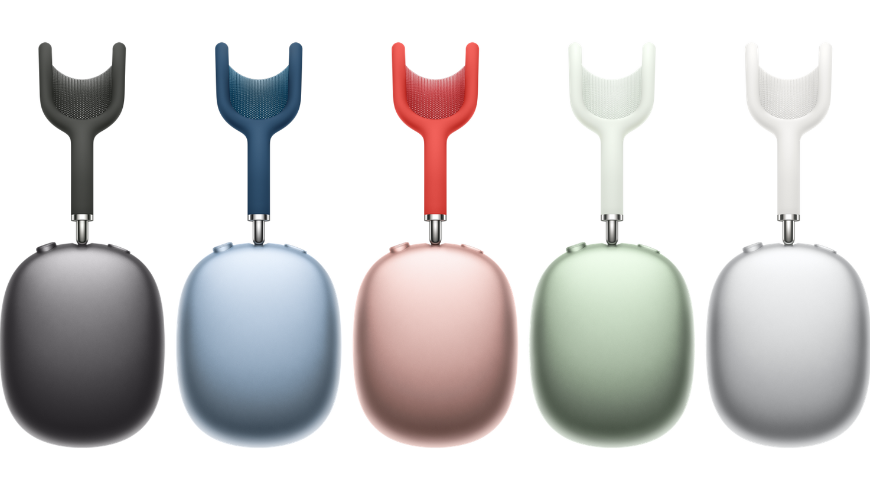 The AirPods Max headband has a canopy design made with a synthetic "breathable knit mesh" material. The headband's primary structure is stainless steel with telescoping arms that adjust length. Apple says the canopy distributes weight in a way that reduces head pressure.
The ear cups are suspended on a fully adjustable mechanism that rotates independently of the telescoping arm. Apple uses aluminum for the ear cups and a custom-designed mesh textile for the ear cushions.
Adaptive EQ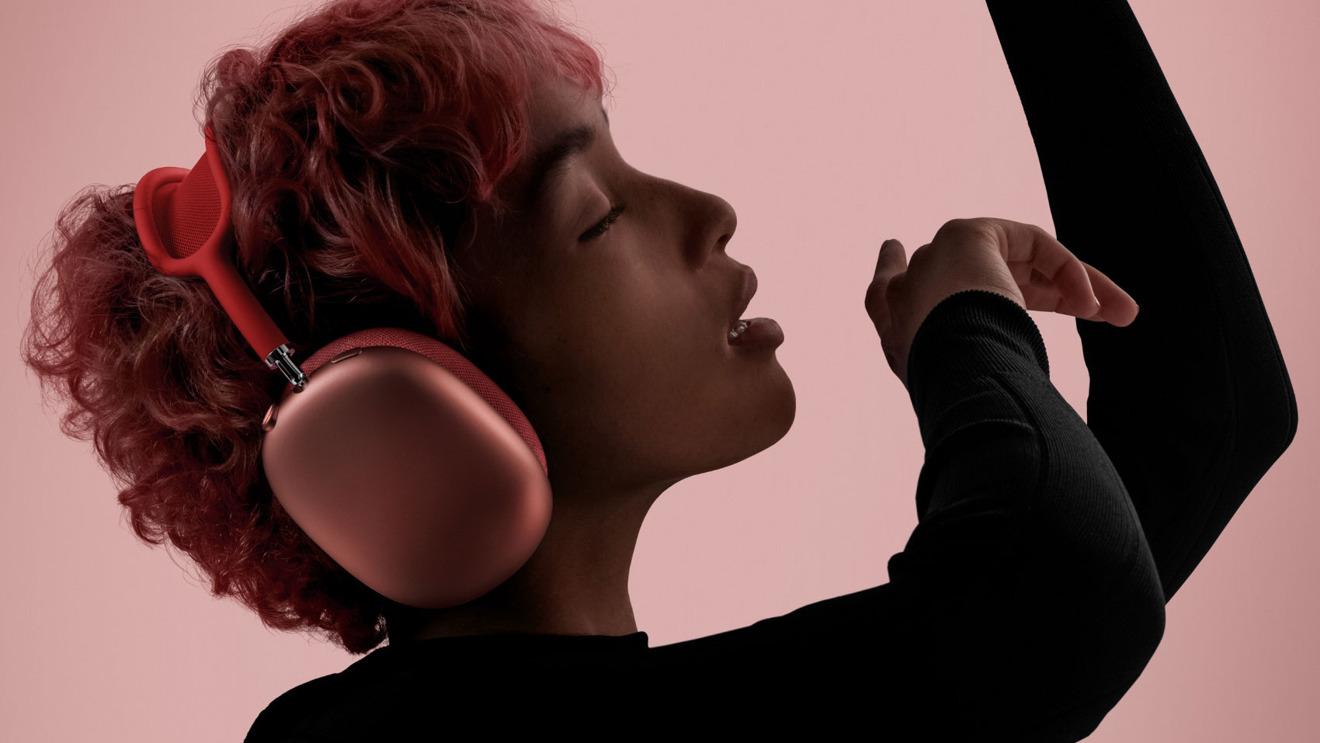 AirPods Max use Adaptive EQ, a feature that continually adjusts the audio to the ear cushions' fit and seal. It measures the sound signal, changing the low and mid frequencies in real time. Apple's intent is to use the real-time data to provider richer and more detailed audio.
Six external and two internal microphones listen for audio inside and outside the headphones to adjust playback dynamically. Each song, movie, or sound byte will be dynamically adjusted on the fly – custom for each listener's fit.
ANC
The AirPods Max have ANC, or Active Noise Cancelation. This means the headphones use an external microphone to pipe in "anti-noise" to eliminate external noise from your listening experience. An additional mic inside the ear also listens for in-ear noise, negating that as well.
Another use for the ANC technology is something Apple calls "transparency mode." By utilizing the same techniques for ANC, Apple can pass external audio through to your ears as if you were not wearing headphones at all. This means moving around environments will be much safer as your ears won't be blocked.
Apple's headphones include a noise-control button on the right earpiece that lets you immediately switch between ANC and transparency modes.
A dedicated button can switch between ANC and Transparency with a single tap. The functions can also be adjusted using controls on your iPhone or iPad.
Digital Crown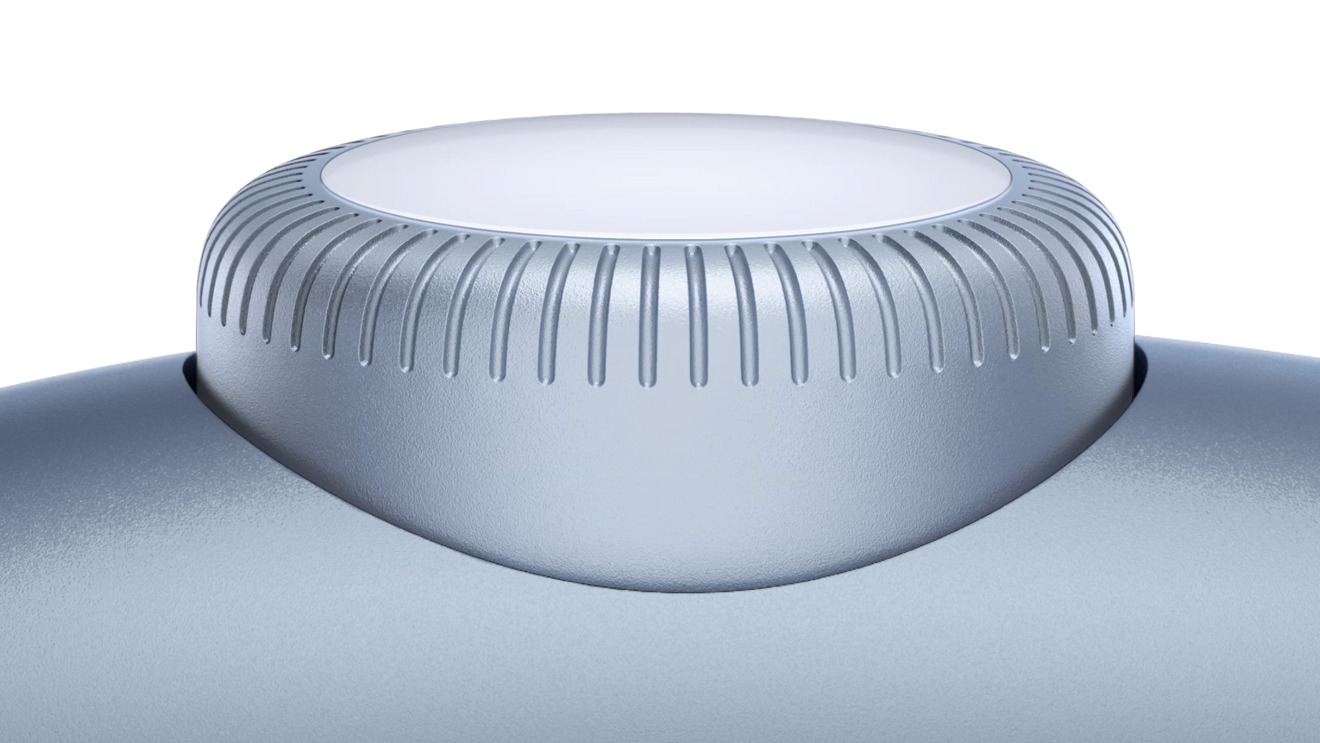 The new headphones follow the Apple Watch as the second Apple product with a Digital Crown. Located on the right ear cup, users can turn the Digital Crown in either direction for volume control or press it inwards to play/pause, skip tracks, or activate Siri.
Other headphones have opted for touch sensitive pads or buttons to control playback and volume. Placing all the audio controls in a single dial makes for a more streamlined setup.
Spatial Audio
AirPods Max also supports the Spatial Audio feature that launched with AirPods Pro on iOS 14. The feature mimics movie theaters' immersive surround sound, making the audio sound like it's coming from around the wearer.
Spatial audio uses the accelerometer to position audio elements in fixed points. When you move your head, the audio environment sounds like it stays in the same place, creating an illusion of being inside the soundstage. It's the same approach VR content uses for immersive audio inside the virtual environment. Apple would likely use a similar technology for its rumored Apple Glass and VR headset.
Spatial Audio requires videos supporting Dolby Atmos and 5.1 and 7.1 surround sound. It only works when paired with an iPhone or iPad. Games and other apps can be designed to take advantage of Spatial Audio, but no known apps have done so yet.
Apple Music has been updated with Spatial Audio support and Dolby Atmos tracks. The AirPods Max are able to take full advantage of the new formats for a new-immersive listening experience.
However, these premium headphones are not able to use hi-res lossless audio since they are not compatible with DACs. The standard lossless audio format will play through the AirPods Max over a cable, but Apple warns that they will not play true lossless audio due to analog to digital conversions that take place.
Listening to lossless audio codecs over Bluetooth may ensure that the maximum quality of audio is passed to the AirPods Max, but the Bluetooth codec uses AAC, not FLAC. Bluetooth does not support lossless audio at this time.
Smart Case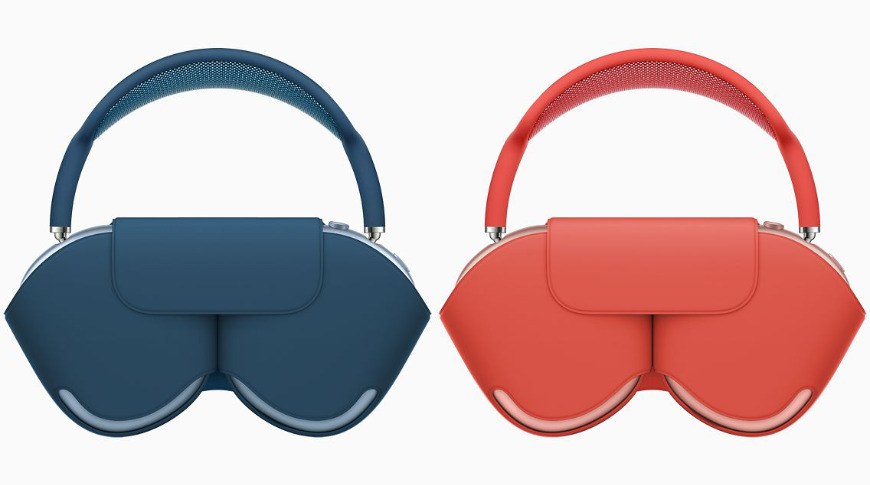 The Smart Case places the AirPods Max into a low-power sleep state to conserve battery when not in use. When the headphones aren't in the case, they will be "awake," seeking nearby devices to connect. This could drain the battery faster if they inadvertently connected while idle.
Charging the headphones with a Lightning to USB-C cable and a 20W power adapter will give 1.5 hours of use after five minutes of charging.
The AirPods Max have about 20 hours of usable battery life when actively listening to audio. When you remove the headphones and leave them stationary for five minutes, they enter a low power state. After 72 hours of inactivity while out of the Smart Case, they enter an ultra-low power state which disconnects bluetooth and Find My to further preserve power.
The Smart Case places the headphones in a low-power state immediately. After 18 hours in the Smart Case they disconnect from bluetooth and Find My.
Audio Experience
The Apple-designed dynamic driver produces a wide frequency range that aims to uncover the rich details of every sound. Apple hopes that the combination of powerful hardware and algorithms can recreate sound and texture for maximum effect.
Apple says that the driver's dual-neodymium ring magnet motor minimizes total harmonic distortion across the entire audible range. This results in clearer audio playback even at high volumes.
Audio equipment can range from hundreds to thousands of dollars with no clear upper limit. Apple has targeted a pricey but reachable price point for consumers.
AirPods Max Review
In AppleInsider's review, we gave AirPods Max 4 out of 5 stars. We balked at the high price and but believe it could still be worth it for those who are immersed in the Apple product ecosystem.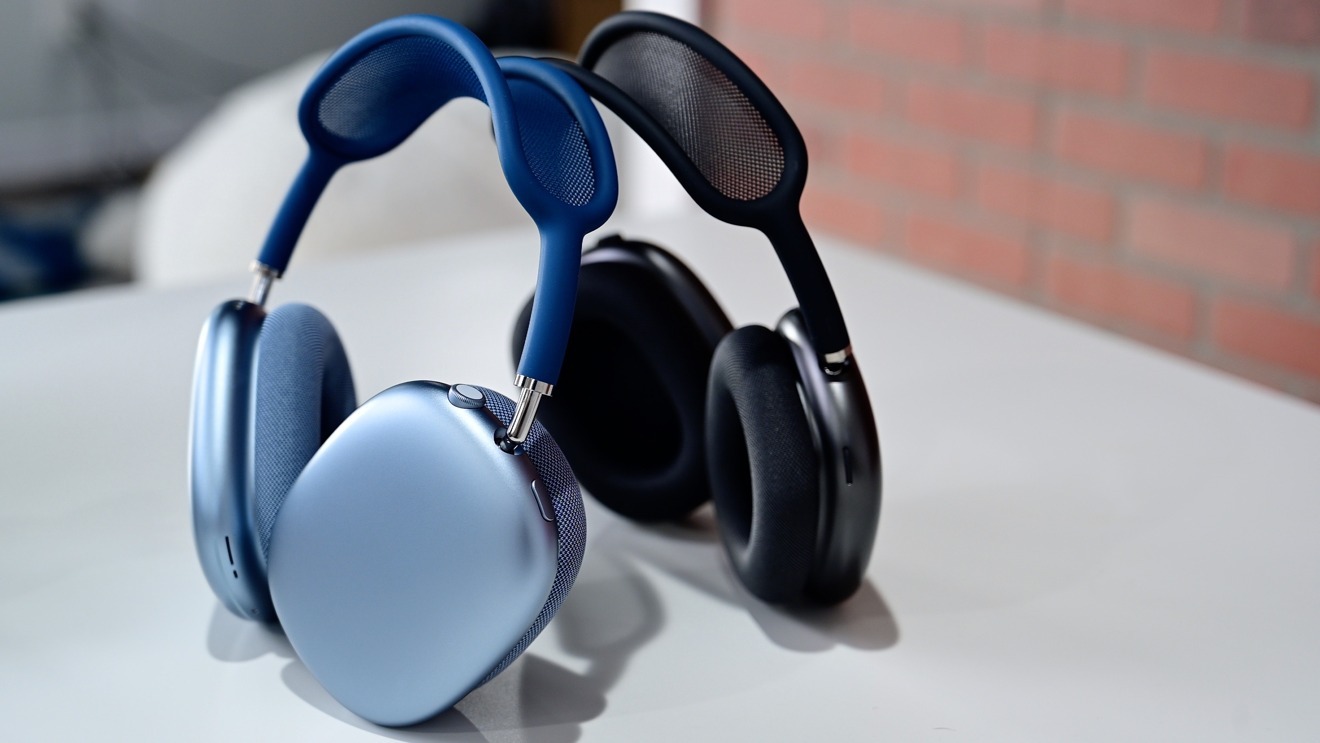 "AirPods Max have one of the most bespoke designs ever created for a set of headphones. The top portion of the headphones is made of stainless steel before being coated with a premium soft-touch material akin to silicone. The canopy is made from a proprietary mesh that is designed to wrest just atop your head.
"We don't mind the ear pads' mesh fabric but aren't sure everyone will. Leather is more typical on high-end headphones, but we know that isn't everyone's cup of tea, either. Leather can get quite warm in the summer months, while the mesh is more comfortable year-round. It wouldn't be surprising to see third-parties launch their own replacement leather cushions. If that does come to fruition, it would be great to have swappable replacements handy."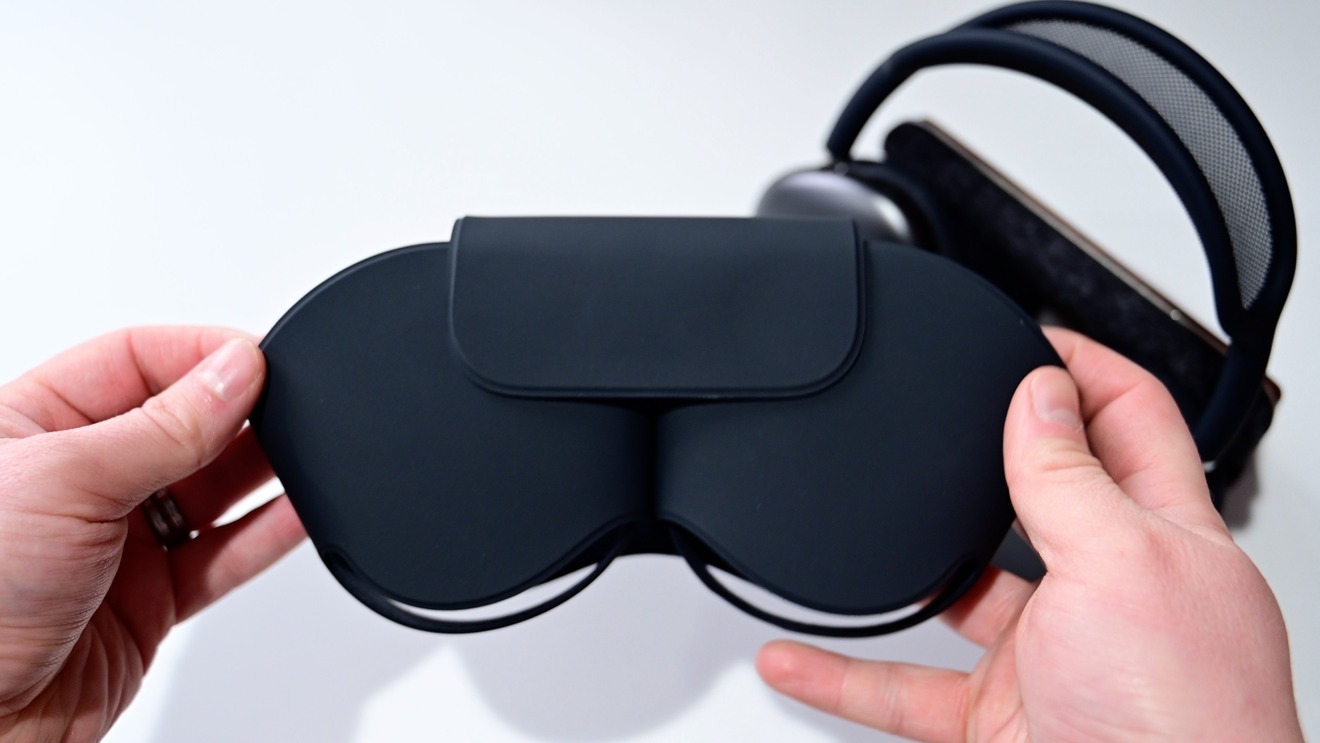 "Many people have strong feelings about the origami fabric that is the AirPods Max Smart Case. We won't go as far as to say we hate it, but certainly, more could be done. It comes off as different for the sake of being different and winds up sacrificing functionality and practicality.
"Apple designed the case from a single piece of precision-cut fabric folded, glued, and shaped into a pliable case that the headphones can be inserted into. The case barely covers the two ear cups. The anodized aluminum ear cups are arguably the most vulnerable part of the headphones and most likely to be scratched if tossed into a bag.
"The main point of a case is to offer protection to your headphones, but the Smart Case skirts its responsibility. With the case on, parts of the cups are still exposed. There are large gaps on the underside as well as the top that could still be scratched inadvertently.
"We don't mind the lack of top protection on the Max, as it does make them easier to grasp and they take up less space when in our bag. We took ours with us on a road trip and when in our backpack, it was much quicker to pick up the headphones right from the headband."
"Active noise cancelation is even better here on the Max than it is on the AirPods Pro. The larger drivers and additional microphones are likely contributing to that. There are nine microphones on the AirPods Max, eight of which are used for ANC and three used for voice control and phone calls.
"In all environments we tested, it removed any background noise as well as its competitors. This is easily best-in-class ANC and one of the best features Apple has baked in here."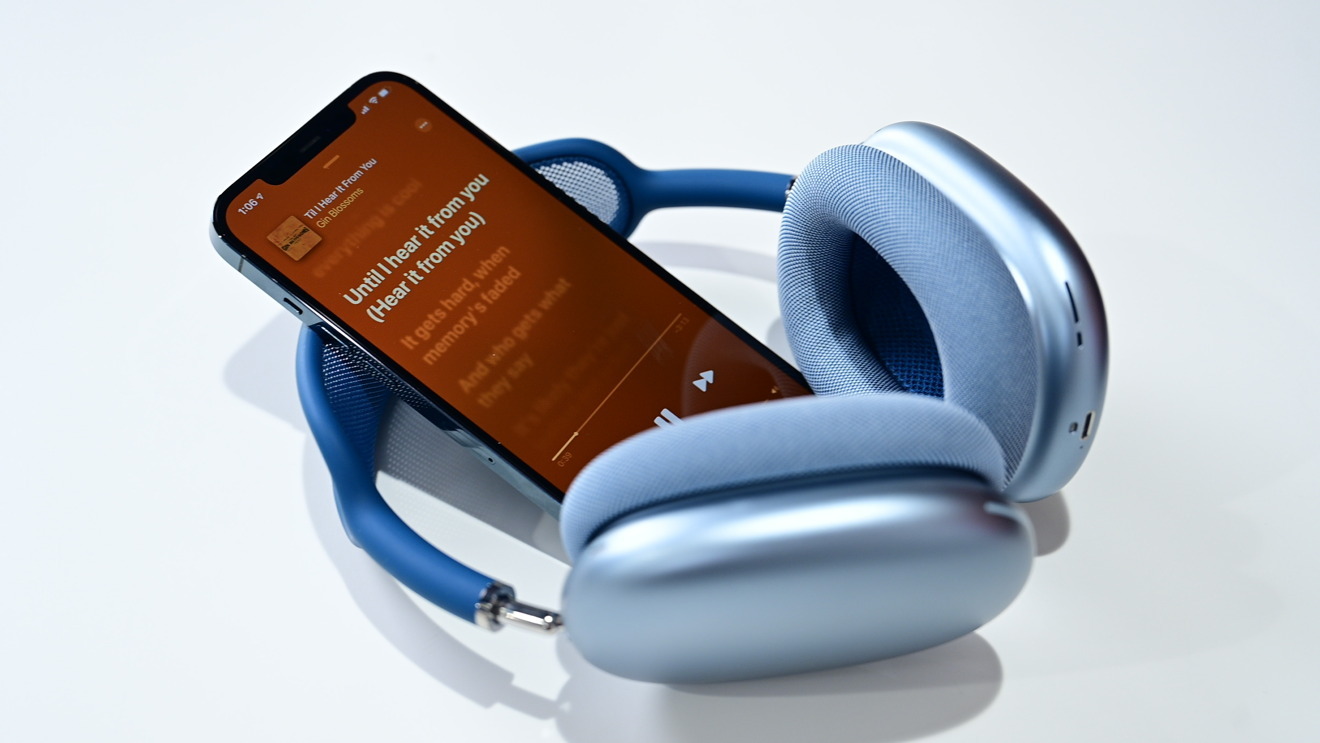 "Turning to audio, we're underwhelmed. In short, they produce above-average audio but fall short of other $550 headphones.
"Baked into the headphones are 40mm Apple-designed dynamic drivers. Apple seems to be targeting a neutral audio profile, with excellent fidelity on the mids and highs but no extremes on either end. The soundstage is fantastic and more significant than most comparable models, which is fantastic for listening to music and watching movies.
"Bass isn't bad but is volume dependent. The lows were disappointing when turned down, but as we hit 50 percent or louder volume, the bass came in punchy and strong. At near-max volume, the bass was enough to near shake the cups on your head during a bass-heavy song.
"Overall, the audio sounds clean and clear. The simplest way to describe it is as 'pleasing.' While that may not suffice for audiophiles, the average consumer who picks these up should be just fine with it."
"Spatial audio is another feature altogether that needs highlighting. Between spatial audio and ANC, it is a unique experience to use these headphones. In our testing, we kicked back to watch the latest episode of The Mandalorian through Disney+ on our iPad Pro.
"Initially, we legitimately thought our headphones weren't working, and we were hearing the audio come straight from the speakers in front of us, especially as we moved our heads. Audio continued to come right from the characters on-screen as we turned our heads in any direction. It is surreal. It wasn't until we removed the headphones that we confirmed that the effect was coming from the AirPods Max.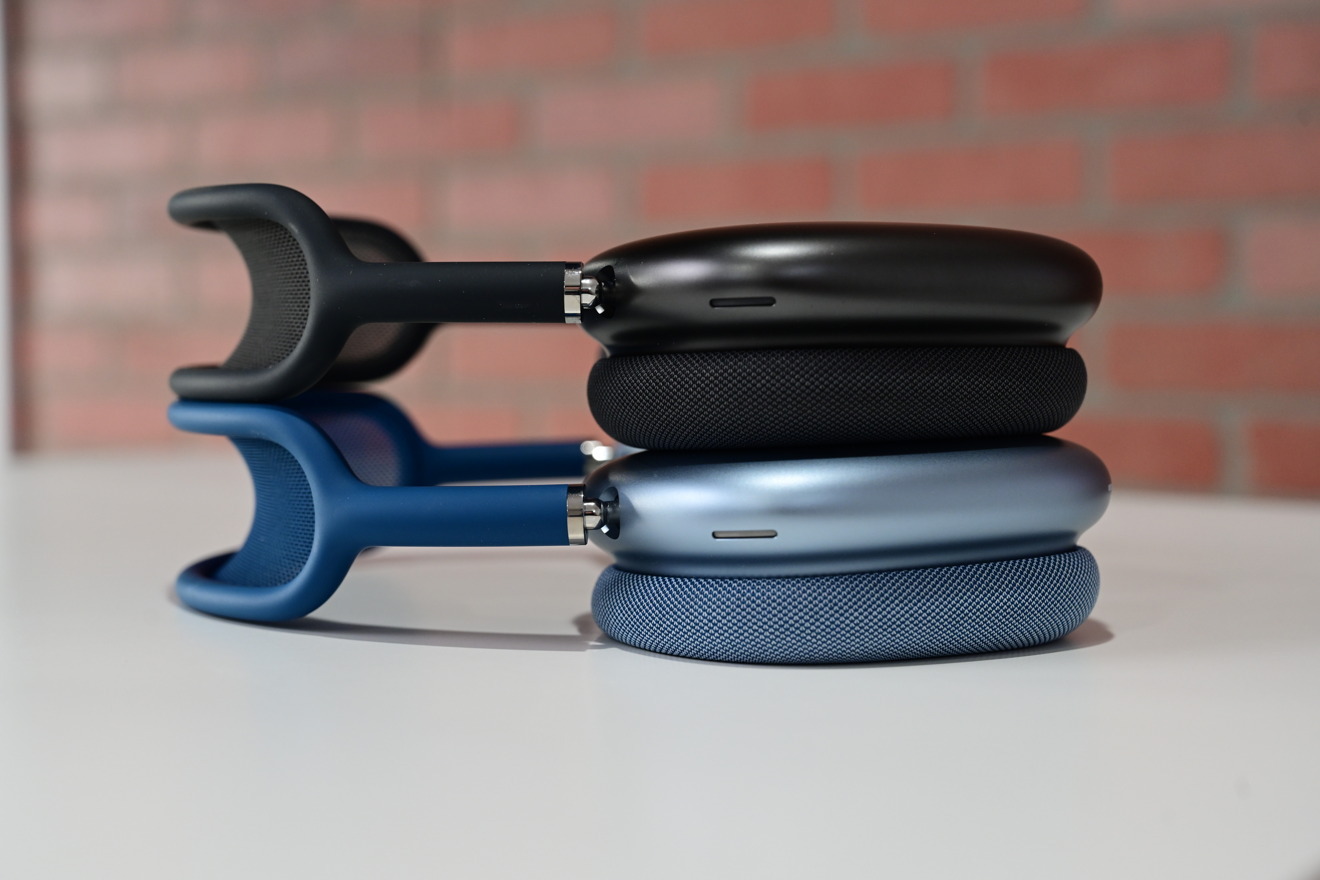 "Aside from the effect of audio's direction coming from the device, spatial audio also allows audio to come from all around you when mixed in Dolby 7.1 surround or Dolby Atmos. With Atmos the effect is especially impressive as sound can come from above, behind, or any direction. It is a next-level listening experience and makes us want to listen more on headphones on our TV due to the better effects.
"The only hang-up is the lack of options. At the moment, spatial audio is limited to a few content providers. Apple's own content, HBO Max, and Disney+ are just a few of the apps that support spatial audio, but big players like Netflix currently don't. Developers will need to get on board with this because it does make a big difference in media consumption."
"If you don't put any value in having a set of headphones tied closely into the Apple ecosystem, we'll never be able to convince you these headphones are worth it. Simply put — they don't sound like a pair of $500 headphones. They are absolutely above average and compare favorably to many popular models like the Sony XM4, Bowers & Wilkins P7, or Bose NC 700, but they fall short at the $550 price point.
"That said, for us and our uses, they are worth the price Apple set — but just barely. The build quality is exceptional. The audio quality is fantastic and is going a long way towards bringing Hi-Fi to the masses. And the tight integration into iOS is a far cry from what third-parties can even hope for."
Comparison: AirPods Max vs. Bose 700 and Sony WH-1000XM4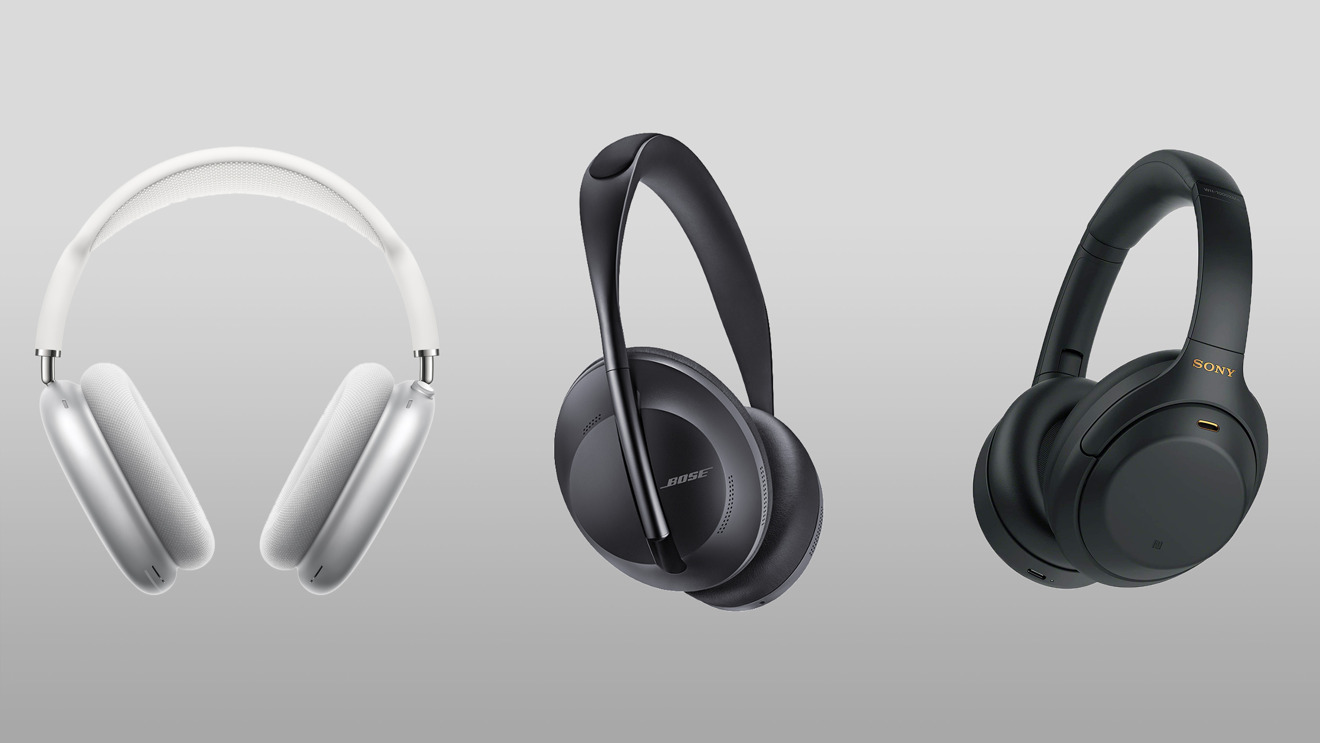 While we haven't yet reviewed AirPods Max to gauge performance, we can compare the new headphones' basic features to two of its highly rated competitors, the Bose 700 and Sony WH-1000XM4.
Pricing
The Apple AirPods Max costs $549. The Bose 700 has a $379 retail price, while the Sony WH-1000XM4 rings up for $349.
ANC and Adaptive Modes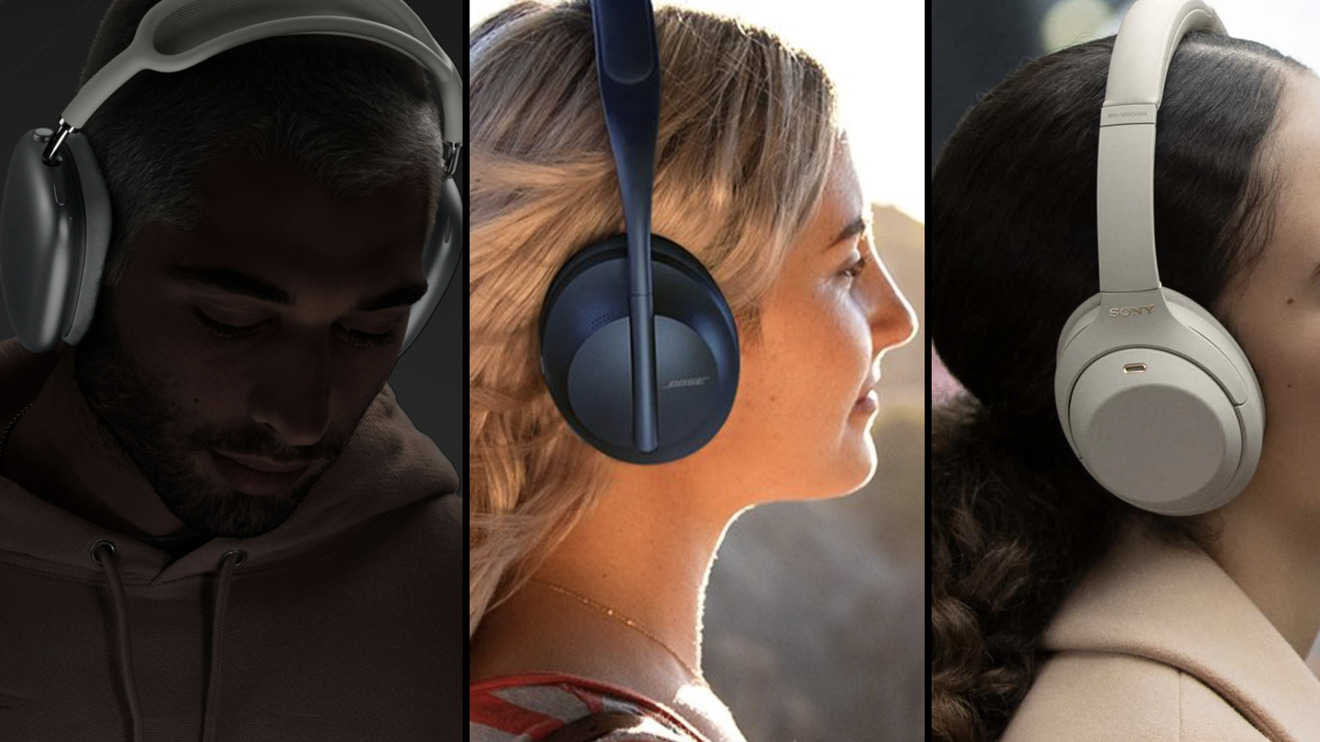 The AirPods Max, Bose 700, and Sony WH-1000XM4 headphones all use active noise cancelation to monitor external sounds continually and emit an "anti-noise" to tune out the outside world. All three headphones allow you to choose between transparency modes, letting you pick the degree of noise cancelation.
However, in addition to ANC, AirPods Max takes it a step further with Apple's Adaptive EQ feature, continually adjusting the sound based on the ear cushions' fit and seal. It analyzes real-time microphone input, changing what you hear on the fly. Apple's intent is to continually tune the headphones to provide the richest audio possible in each moment.
The Sony WH-1000XM4 has two features that may sound similar at first glance but work differently. Sony's headphones have an optimizer that plays tones and analyzes the microphone input to adjust noise canceling. However, unlike Apple's, it only adapts when you manually activate the feature and not on the fly. Sony also describes its optimizer as tweaking noise-canceling, while Apple's retunes the audio.
Sony includes a feature called Adaptive Sound Control that learns your frequently visited locations, adjusting the noise-canceling mode to reflect that. While Apple's adaptive feature changes the audio based on the microphone input, Sony's adaptive feature adjusts noise-canceling levels based on your location.
Apart from the continuous monitoring of the microphone's external noise input to adjust ANC, Bose doesn't advertise an adaptive audio feature for its 700 headphones.
Design and Build Materials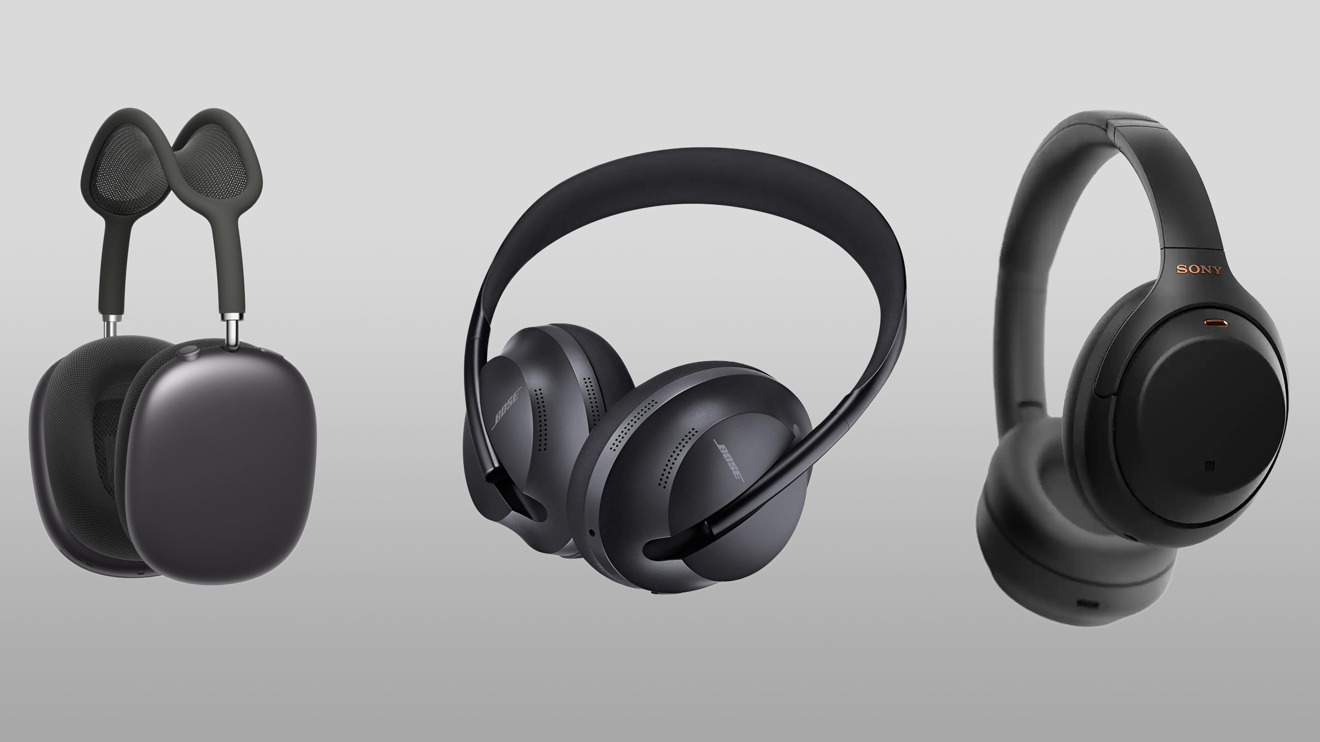 The Bose 700 has a stainless-steel collapsible band with a rubberized coating on the part that wraps around the user's head. Bose uses a hard plastic for the earpieces' outsides and a memory foam wrapped in synethetic leather for the ear cushions.
Sony uses a high-quality plastic for the WH-1000XM4's outer ear cups and outer headband. Both the headband lining and ear pads are a synthetic leather.
Apple uses a "breathable knit mesh" for the headband canopy on top of the headphones. The headband's structure, which telescopes for fit, is stainless steel. Apple uses aluminum for the ear cups and a custom-designed mesh textile for the ear cushions.
AirPods Max is the heaviest of the three, weighing 13.6 oz. The Bose 700 is 34% lighter at 8.96 oz, while the Sony WH-1000XM4 weighs around the same at 8.8 oz.
Controls
Sony's headphones have two microphones in each earcup to optimize ANC. AirPods Max and Bose 700 each have eight microphones total devoted to noise canceling. However, Sony's ANC has been considered top-of-the-line up to the point of the AirPods Max launch, so the lower mic-count alone isn't necessarily a strike against it.
AirPods Max includes a Digital Crown, familiar to Apple Watch owners, for user control. Located on the right ear cup, you can turn it in either direction for volume control or press it to play/pause, skip tracks, or activate Siri. Apple's headphones also have a noise-control button that lets you immediately switch between ANC and transparency modes.
The Sony WH-1000XM4 has touch sensors on the right earpad that let you control volume and tracks by swiping up/down or forwards/backward, respectively. Sony's headphones have a custom button on the left earpiece that you can set up to switch ANC modes, activate the ANC optimizer, or summon Alexa or Google Assistant. It allows you to choose two functions for the button – one for a single-press and another for a long-press.
The Bose 700 also uses swipe-based touch controls on the right earcup. The headphones also have separate dedicated buttons for ANC mode and voice assistant. Like the Sonys, Bose 700 also supports either Alexa or Google Assistant.
AirPods Max Price and Release Date
AirPods Max cost $549 and are available for purchase.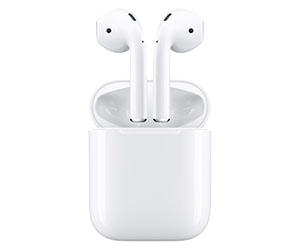 AirPods Prices
---
Configurations
Discount
Apple AirPods Pro

$249.00

$199.00

Coupon

Price with $20 promo code APINSIDER. As always, if you have any issues, you can reach out to us at [email protected] and we'll try and help.

$197.00

$219.00

$218.00

$219.00

$219.99

$215.00

$229.99
$52.00
Apple AirPods With Charging Case

$159.00

$145.00

$119.00

$134.00

$129.00

$129.00

$159.99

$145.00

n/a
$40.00
Apple AirPods With Wireless Charging Case

$199.00

$169.99

$159.98

$169.00

$159.00

$175.00

$199.99

$175.00

n/a
$40.00
Apple Wireless Charging Case For AirPods

$79.00

$66.99

$66.99

$66.99

$79.00

n/a

$79.99

n/a

n/a
$12.01
AirPods Max Space Gray

$549.00

$449.00

Coupon

Price with $100 promo code APINSIDER. As always, if you have any issues, you can reach out to us at [email protected] and we'll try and help.

$524.99

$529.00

$549.00

sold out

n/a

n/a

n/a
$100.00
AirPods Max Silver

$549.00

$449.00

Coupon

Price with $100 promo code APINSIDER. As always, if you have any issues, you can reach out to us at [email protected] and we'll try and help.

$529.00

$549.00

$529.00

$519.00

n/a

n/a

n/a
$100.00
AirPods Max Green

$549.00

$449.00

Coupon

Price with $100 promo code APINSIDER. As always, if you have any issues, you can reach out to us at [email protected] and we'll try and help.

$529.00

$549.00

$549.00

$519.00

n/a

n/a

n/a
$100.00
AirPods Max Sky Blue

$549.00

$449.00

Coupon

Price with $100 promo code APINSIDER. As always, if you have any issues, you can reach out to us at [email protected] and we'll try and help.

$499.99

$529.00

$499.99

$519.00

n/a

n/a

n/a
$100.00
AirPods Max Pink

$549.00

$449.00

Coupon

Price with $100 promo code APINSIDER. As always, if you have any issues, you can reach out to us at [email protected] and we'll try and help.

$519.99

$529.00

$549.00

$519.00

n/a

n/a

n/a
$100.00