Apple makes October 14th MacBook event official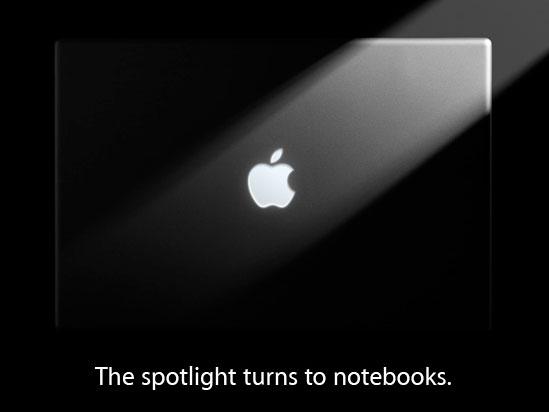 Apple will hold a special event next Tuesday to introduce new Mac notebooks at its Cupertino-based campus after all.
Invites sent to members of the media Thursday included an image of an aluminum Mac notebook with the tagline: "The spotlight turns to notebooks."
The event is set to take place at 10:00 a.m. Pacific Time on Tuesday, October 14th at the Apple Town Hall on the company's Cupertino, Calif.-based campus.
Apple has used the Town Hall venue in recent years as a more intimate setting for its Mac-related product announcements that are timed for release outside larger forums such as the January Macworld Expo and spring Worldwide Developers Conference.
Last July, the company used the Town Hall to introduce aluminum iMacs and showcase new versions of iWork and iLife. In February of 2006, a similar event was held to take the wraps off the now defunct iPod Hi-Fi and Core Duo Mac mini.
This year, the Mac maker is expected to showcase new families of matching, aluminum-clad MacBooks and MacBook Pros that may be priced more aggressively than its existing models.
An invited sent to members of the media | Credit Ars Technica
A report published Thursday by the Inquisitr claims that some Apple retail stores have been provided with pricing sheets for new MacBook and MacBook Pro models, with prices ranging from $800 to $3100.
The author cited a source who says that the shops "usually" receive these pricing lists 10 days before products hit the market — a claim that is not necessarily true. Should the price points prove accurate, however, they would imply that Apple is prepared to slash the price of its entry-level MacBook by more than 27 percent.
The current MacBook line is priced between $1099 and $1499, while the MacBook Pro family ranges in cost from $1999 to $2799.
On Thursday, people familiar with the upcoming notebooks confirmed to AppleInsider that an image (below) joins one from July (also below) in serving as an authentic capture of a portion of the next-generation 15-inch MacBook Pro.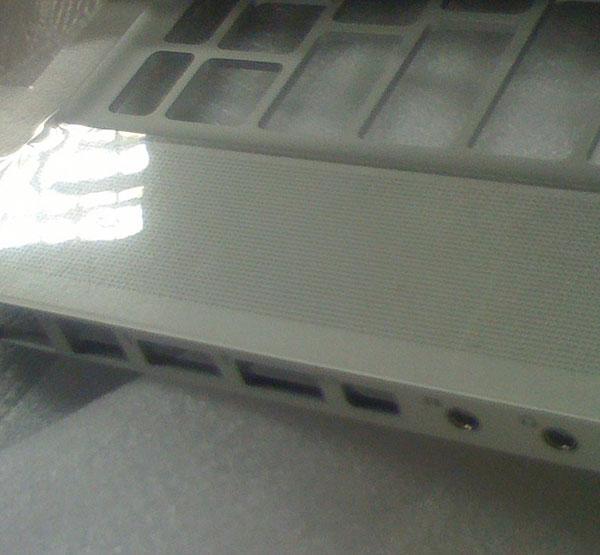 An authentic photo of Apple's next-gen MacBook Pro top panel and left-side port makeup.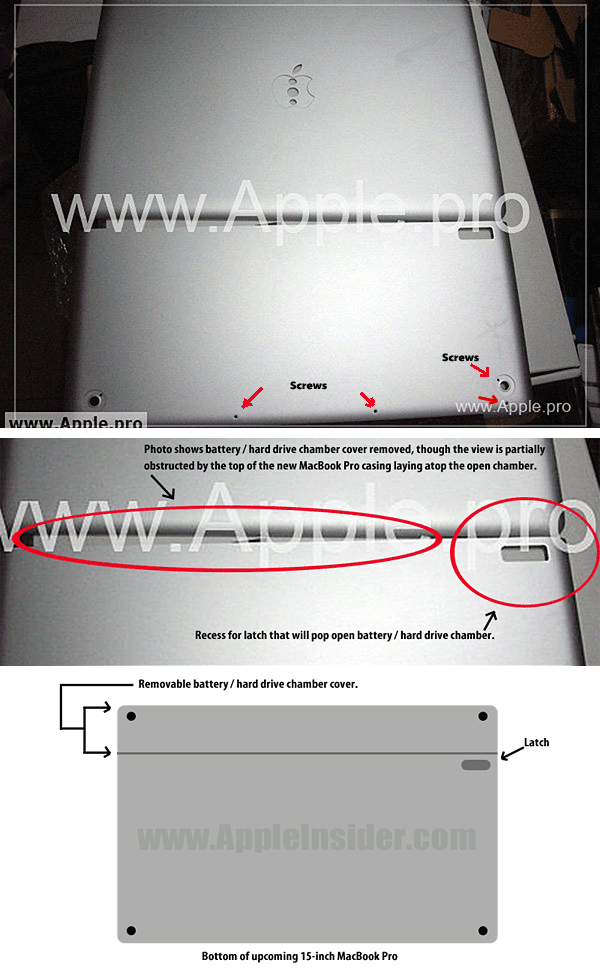 Another authentic photo showing the MacBook Pros base panel and top shell .
A new family of 13-inch MacBooks are expected to adopt a very similar design. AppleInsider has been following the story on Apple's next-generation notebook plans since April, outlining its expectations in a series of reports, each of which are listed below.

New photos which may reveal part of Apple's next-gen 13-inch MacBook design.
Previous reports on next-gen MacBooks