MacBook Pros in tight supply, new models could broaden gap with MacBooks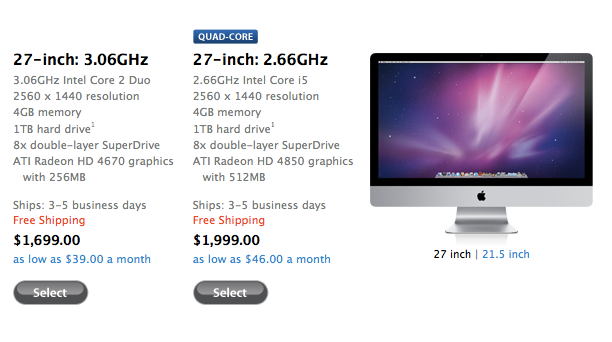 AppleInsider is supported by its audience and may earn commission as an Amazon Associate and affiliate partner on qualifying purchases. These affiliate partnerships do not influence our editorial content.
Constrained supplies of MacBook Pros suggest an anticipated notebook refresh is growing closer — one that could further differentiate the premium lineup from the low-end MacBook. Also, Apple has improved its shipping times for 27-inch iMacs to three to five business days.
MacBook Pro constraints suggest coming refresh
In checking with sources in distribution channels, analyst Shaw Wu with Kaufman Bros. has found that supplies of MacBook Pro machines are "fairly limited at two to three weeks vs. a more normal four to six weeks." Given strong Mac sales in January, Wu said it's possible that demand has played a part, though the timing would also suggest new MacBook Pros are on the horizon.
Apple has not refreshed its MacBook Pro line since last June, and with Intel's new Arrandale mobile processors now shipping in volume, Apple is expected to make an upgrade. Wu said Apple could use the opportunity to further differentiate the low-end, $999 MacBook from the premium MacBook Pro line.
"Benefits of the new mobile architecture, helped in part by its new 32 nanometer process (vs. previous 45 nanometer), include much better performance through hyper-threading and turbo mode, battery life, and weight characteristics, which we believe give AAPL engineers more room to further differentiate the MacBook Pro," Wu wrote in a note to investors Wednesday.
"We believe new Mac models could ship in the March quarter, or at the latest the June quarter. It is not clear to us whether AAPL will introduce these new Macs through special event or 'quietly' through a press release."
Wu said he feels the entry-level $1,199 MacBook Pro has some overlap with the $999 MacBook, which was updated last October. He said a new processor could add more than the aluminum casing, SD slot and FireWire that currently give the higher-end systems their 'pro' distinction.
In addition to the new Arrandale chips from Intel, Apple is expected to employ a new automatic switching of dual graphics modes on future MacBook Pro models. The system would allow switching between integrated and discrete graphics processors automatically, allowing use of Nvidia's latest graphics technology and also improving battery life.
27-inch iMac ships in 3-5 days
The Core 2 Duo and Core i5 versions of Apple's newly redesigned 27-inch iMac desktop now have estimated shipping times of three to five days direct from Apple. It's a significant change from previous months, when new buyers had to wait weeks for the new hardware.
It's also the second time in less than a week that shipping times on the 27-inch iMac have improved. Last Thursday, new purchases improved to a wait of just five to seven days.
Early adopters of the big-screen iMac have seen a number of hardware issues pertaining to the display, with reports of flickering and yellow discoloration. Apple released two software updates to fix the issues, and also reportedly offered some customers a 15 percent refund for their troubles.
Earlier this month, Apple denied a rumor that it had halted production of new models. At the same time, ship times that had lingered at three weeks for months improved to two weeks.
Supplies of the 27-inch iMac have been constrained for months, with Apple in December even apologizing for delays, citing considerable demand from consumers. When it first launched in October, the new iMac was the best-selling desktop machine for the month. The 21.5-inch iMac came in first place, while the 27-inch iMac took third in overall sales.
For the best prices on the latest iMacs, MacBooks and MacBook Pros, check out AppleInsider's up-to-date Mac Pricing Guide: