Apple improves iMac ship times, 3G iPhone download limit doubles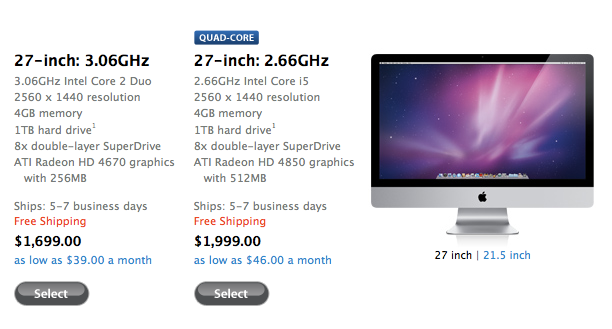 New 27-inch iMac purchases direct from Apple now have a shipping wait time of 5 to 7 days, suggesting the hardware maker has addressed issues that plagued the desktops. Also, the file size limit for iPhone App Store and iTunes downloads over 3G has increased to 20MB.
27-inch iMac shipping times now 5-7 business days
Both the Core 2 Duo and Core i5 powered versions of Apple's latest 27-inch iMac desktop now have an estimated shipping time of 5 to 7 business days. Apple adjusted the shipping times this week after months of supply issues.
Early adopters of the big-screen iMac have seen a number of hardware issues pertaining to the screen, with reports of flickering and yellow discoloration. The company released two software updates to fix the issues, and also reportedly offered some customers a 15 percent refund for their troubles.
Earlier this month, Apple denied a rumor that it had halted production of new models. At the same time, ship times that had lingered at three weeks for months improved to two weeks.
Supplies of the 27-inch iMac have been constrained for months, with Apple in December even apologizing for delays, citing considerable demand form consumers. When it first launched in October, the new iMac was the best-selling desktop machine for the month. The 21.5-inch iMac came in first place, while the 27-inch iMac took third in overall sales.
3G downloads via iPhone now available up to 20MB
Apple this week quietly doubled the download limit for files from the iPhone App Store and iTunes via 3G. Files up to 20MB in size can now be downloaded from a wireless carrier's data network, while the previous cap was 10MB for "over the air" downloads.
In addition to applications, the new limit also applies to multimedia files, such as podcasts available through iTunes. The update expands beyond AT&T in the U.S., with international reports stating the 10MB cap has also been lifted.