Crowds gather for China iPad launch, China Unicom starts iPhone 4 preorders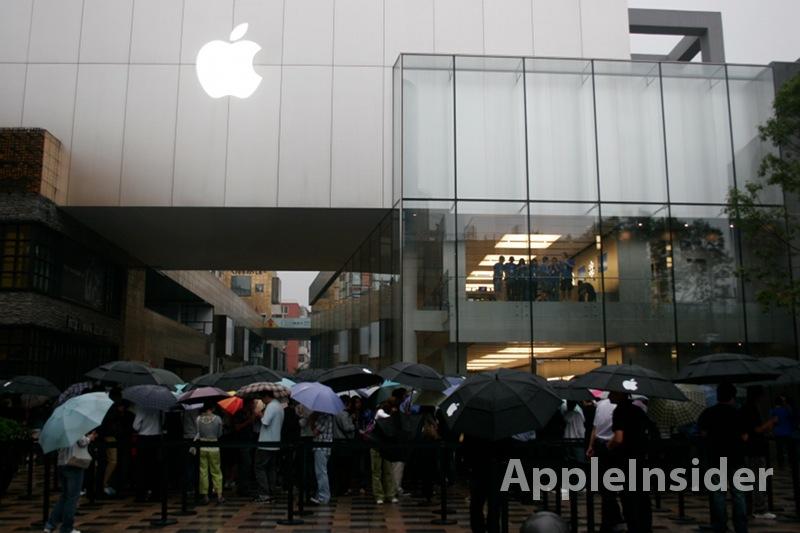 AppleInsider is supported by its audience and may earn commission as an Amazon Associate and affiliate partner on qualifying purchases. These affiliate partnerships do not influence our editorial content.
Chinese Apple fans braved heavy rain Friday morning to be the first to purchase the Wi-Fi iPad from Apple. China Unicom began taking pre-orders for the iPhone 4 Friday at 10 a.m.
At Apple's flagship Beijing retail store, eager fans lined up as much as three days before Friday's 8 a.m. launch of the iPad.
Retail employees for the Cupertino, Calif., company were on hand to distribute umbrellas, coffee and water to those waiting in line outside of Apple's first retail store in China.
As staff readied the store for the barrage of customers, over a hundred people lined up in front of the store, with latecomers continuing to trickle in. The customer at the front of the line had been waiting for over sixty hours.
"I came straight here from work on Tuesday to be first in line," bookstore owner David Han told AppleInsider. "I could have bought an imported gray-market or pirated iPad, but I waited to buy the iPad directly from an Apple Retail Store."
Grinning happily, Han produced a wad of cash and fanned it for the media. "I won't use a credit card! I'm proud to pay with Renminbi (China's national currency)," Han said, admonishing his compatriots to do the same. Amid cheers from Apple retail employees and the crowd, Han later emerged with an iPad in each hand.
The iPad in China starts at CNY3,988 (about $593) for the 16 GB model. Although the iPad 3G is currently listed as "Coming Soon" on the China Apple Store website, no date has been given for the launch of the iPad 3G model in China.
Apple representatives at the launch event declined to comment on whether the morning's crowds were meeting the company's expectations.
"This is [the customers'] day," one Apple PR staffer told reporters as she held back the press and ushered enthusiastic fans into the store.
Apple fans in China have a lot to celebrate today. In addition to receiving the iPad after months of anticipation, they are now able to pre-order the iPhone 4 from China Unicom, China's second-largest mobile operator. The Wall Street Journal reports that Apple's latest smartphone will cost Chinese customers at least CNY5,880 (about $875) and will require a two-year contract with China Unicom.
Friday's Wi-Fi iPad launch and iPhone 4 pre-orders will build momentum as Apple aggressively goes after the Chinese market. In July, Apple opened its second retail store in China. The Shanghai mega-store features a prominent glass cylinder with the Apple logo. The company revealed at a shareholder's meeting in February that it plans to build 25 retail stores in China over the next few years.
Apple's not going to rush into the Chinese market, though. The company is focused on the long haul, prioritizing "building the brand for the long-term" over initial sales figures.
In addition to China, the iPad launched in Argentina, Chile, Colombia, Ecuador and Peru on Friday.