Publisher Hearst debuts on Apple's iPad with Esquire app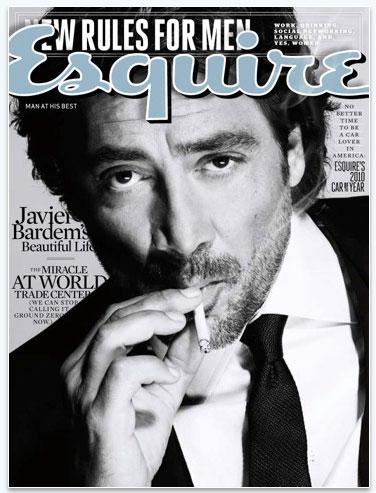 AppleInsider is supported by its audience and may earn commission as an Amazon Associate and affiliate partner on qualifying purchases. These affiliate partnerships do not influence our editorial content.
Another big-name publisher has debuted on the iPad, with Hearst offering a digital version of its Esquire magazine at the newsstand price of $4.99 per issue with no subscription option.
The new Esquire iPad app (iTunes link) from Hearst Communications was released on Friday. Version 1.0 is 88.9MB, and at $4.99 it includes the latest issue of the magazine.
The digital edition also includes exclusive features, like a "moving cover" featuring actor Javier Bardem, an interactive explanation of how the new World Trade Center is being built, and videos accompanying some of the biggest stories from the issue. Users can also copy, save and share articles, quotes and photos.
The magazine represents the first real foray into the iPad digital publishing world for Hearst, one of the largest publishers in the world. The company previously experimented with a single "interactive edition" of Popular Mechanics (iTunes link), but that application has not been updated to reflect recent issues since it debuted July.
According to Peter Kafka of MediaMemo, for now Hearst plans to stick with a standard newsstand price of $4.99. The company has considered offering subscriptions, but one doesn't appear to be in the cards anytime soon.
For those who think the $4.99 asking price is too much, Kevin O'Malley, publisher of Esquire, said publications have to "reshape expectations" for pricing of digital content.
"Unlike many apps, Esquire doesn't provide a literal translation of the print copy," Kafka wrote. "So it can't count app sales as newsstand sales, but O'Malley seems fine with that. The upside for the reader is that Esquire doesn't need to include every ad from the print edition, and instead features just two ads from a single sponsor — Lexus."
Recent reports have indicated that Apple is working on a standalone digital newsstand which would offer subscriptions to print publications. The rumored application is said to be similar in approach to iBooks, the downloadable storefront for e-books run by Apple and available for the iPad, iPhone and iPod touch.
A major issue for publications on the iPad has been a desire to obtain information about readers to share with advertisers. While such data is a necessity in the print world, Apple does not allow software on its App Store to collect such information.
Reports have suggested that Apple could allow to offer an opt-in function that would let subscribers agree to share their personal information with publications. Such a deal could be a part of subscription plans through the rumored newsstand application.