Limited supply of Apple's iPad 2 keeps 65% of eBay resales in US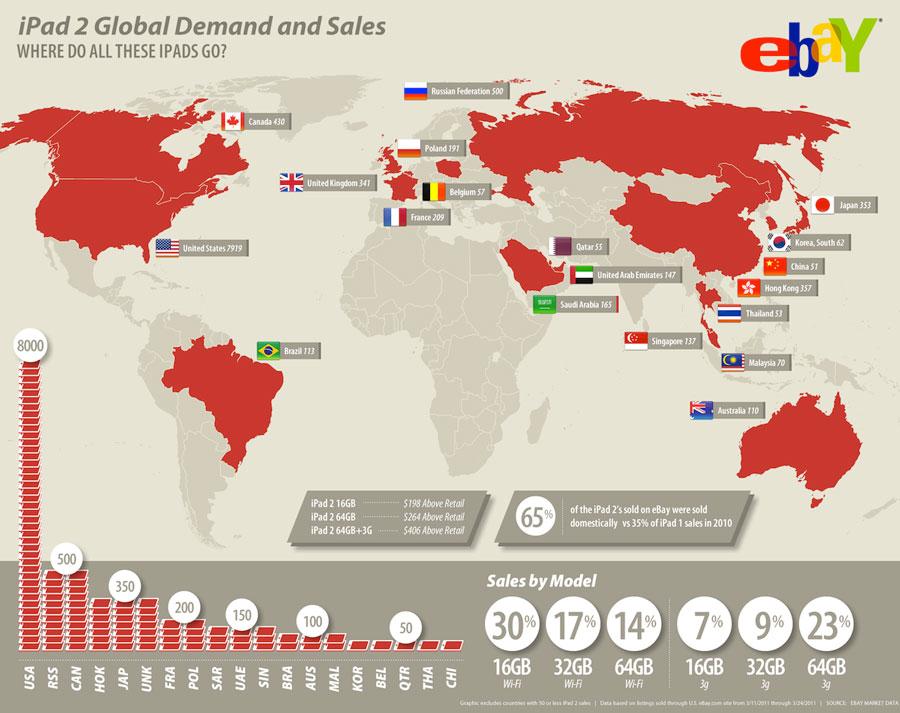 AppleInsider is supported by its audience and may earn commission as an Amazon Associate and affiliate partner on qualifying purchases. These affiliate partnerships do not influence our editorial content.
With demand outstripping supply, most iPad 2 units sold on eBay have shipped to buyers in the U.S., compared with just a third of the site's iPad sales remaining in America a year ago.
The initial iPad 2 sales data from eBay was shared with AppleInsider on Thursday, and provides an idea of who is buying the iPad 2, and what models are most popular. A total of 65 percent of the iPad 2 units sold on eBay went to domestic buyers, nearly doubling the 35 percent of sales of the first-generation iPad that stayed the U.S. when it launched a year ago.
Sales of the iPad 2 on eBay also show that the least-expensive, $499 Wi-Fi-only 16GB model is the most popular option, accounting for 30 percent of sales. The second-most-popular model is the most expensive option, as the $829 3G-equipped 64GB model represented 23 percent of sales on the site.
eBay has enforced stricter rules on iPad 2 sales in 2011, compared with sales of the first-generation iPad in 2010. Specifically, Apple authorized resellers are only allowed to list up to 50 items per week, and eBay top-rated sellers can only list up to four items per week, while last year authorized resellers could list unlimited items and top-sellers could list 8 items.
iPad 2 resellers are also making a healthy profit on eBay: The 16GB Wi-Fi model sells on eBay for an average of $198 above retail, while the 64GB model with 3G sells for $406 over the regular asking price.
Domestic resales of the iPad have grown on eBay with the launch of the second-generation device as Apple has struggled to meet demand for the product in the U.S. since it launched earlier this month. Apple's retail stores as well as its partners' completely sold out of the iPad 2 in its first few days, and stock has trickled in ever since.
Internationally, some of the strongest demand for the iPad 2 on eBay comes from Russia, Canada, Hong Kong and Japan. The iPad 2 went on sale in Canada last week, and is scheduled to become available in Hong Kong in April.
The earthquake and tsunami disaster in Japan indefinitely pushed back the launch of the iPad 2 in Japan from last week, while Apple has not yet announced a launch for its new touchscreen tablet in Russia. The company has said that international availability and pricing will be announced by Apple at a later date.