Online US iPad 2 orders ship in 2-3 weeks as Apple's availability improves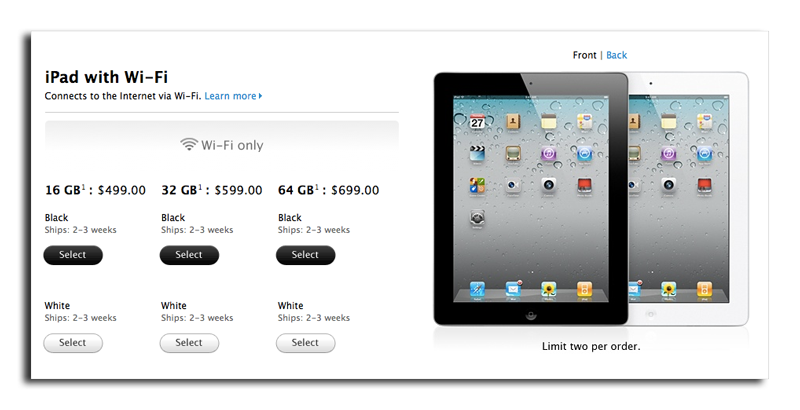 Apple has once again improved estimated shipping times to two to three weeks for new iPad 2 orders through its online U.S. store, providing yet another sign that availability of the device continues to improve.
All versions of the iPad 2, in capacities from 16GB to 64GB and all wireless connectivity options, are now estimated to ship within two to three weeks. Purchases are still limited to two per order.
That's an improvement from the previous estimate of three to four weeks that Apple began advertising on March 24. Prior to that, new orders were estimated to ship in four to five weeks, leaving some buyers to potentially wait more than a month for their order to ship.
Overseas, new orders direct from Apple are also estimated to ship within two to three weeks. That's the same estimated wait that has been shown since the iPad 2 went on sale in 25 countries on March 25.
Apple has experienced crushing demand for the iPad 2 since it first went on sale in the U.S. in March. But Monday's updated shipping times are another sign that Apple is beginning to balance supply with demand for its second-generation tablet.