Apple 'actively recruiting' for replacement retail chief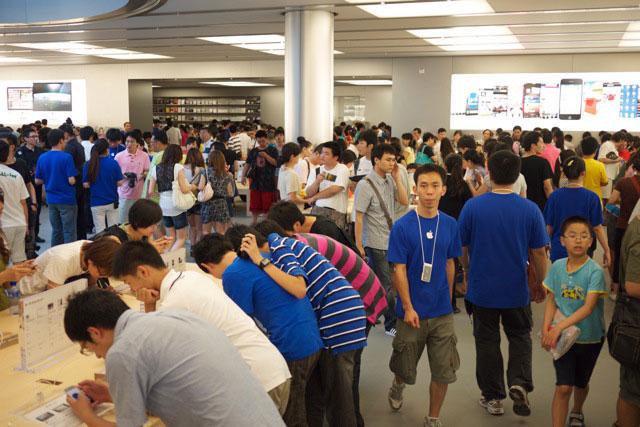 With Apple's retail operations continuing to expand and new features and improvements constantly being rolled out, the company revealed it is already working to find a replacement for the departure of Ron Johnson.
It was revealed earlier Tuesday that Johnson, senior vice president of retail at Apple, will leave the company to become the chief executive of J.C. Penney. In a statement to All Things D, Apple wished Johnson well and revealed the search for a replacement is already underway.
"Ron is excited about this opportunity and we hope it goes well for him," a company spokesperson reportedly said. "We've got a great retail team in place and are actively recruiting for his replacement."
Analyst Gene Munster with Piper Jaffray said Johnson's departure was not about money, as he has netted more than $400 million from the sale of stock and options over the past seven years. In leaving for J.C. Penney, he will forgo 250,000 shares of restricted AAPL stock currently valued at around $80 million, while the 7-and-a-half year warrants he purchased with his new employer are already about $40 million in-the-money.
Munster said Johnson left because J.C. Penney presented a rare opportunity for him to transform one of the world's largest retailers. The analyst said he believes that Apple's chief operating officer, Tim Cook, remains committed to the company, and Munster does not believe that Johnson was "seriously considered" to be the next CEO of Apple.
It's been a significant year for Apple's retail operations, with 2011 marking the tenth anniversary of the highly successful chain of global stores. Apple has repeatedly said that more than half of all the Macs it sells at its retail stores are to customers who are new to the platform.
During the company's last quarterly earnings conference call, it was stated that Apple had 323 stores open with an average revenue of $9.9 million each. Apple has no plans to slow its expansion, and anticipates opening 40 new stores during its fiscal 2011 year, with nearly three-quarters of those locations outside of the U.S.
One of those stores will be Apple's fifth in China, a country where the iPhone maker has found tremendous success with its products and retail ventures. In fact, Apple revealed in January that its most heavily trafficked stores are now located in China.
There are other plans in the works for major, iconic stores around the world, including rumors of a 15,000-square-foot location in New York's Grand Central Terminal. The Metropolitan Transportation Authority is said to have been in talks with Apple to take over a "marquee space" in the terminal.
Other locations with new Apple retail stores in the works in the U.S. include Berkeley, Calif.; Murray, Utah; near its corporate headquarters in Palo Alto, Calif.; and an expansion in SoHo, New York. Internationally, stores are also planned for Brisbane, Australia; Hamburg, Germany; Moscow, Russia; and Jerusalem, Israel, to name a few.
As for Apple's already existing stores, 2011 has already seen the debut of a revamped look with interactive iPad displays. With iPad 2 units on display throughout stores, product information, pricing and features are made easily available for customers to access.
The company also rolled out Joint Venture in March, a $499-per-year support initiative for small businesses. The service offers setup, training and continued support for up to five "systems," which include Macs, iOS devices and Cinema Displays.