Amazon reportedly planning switch to 8.9" display for next-gen Kindle Fire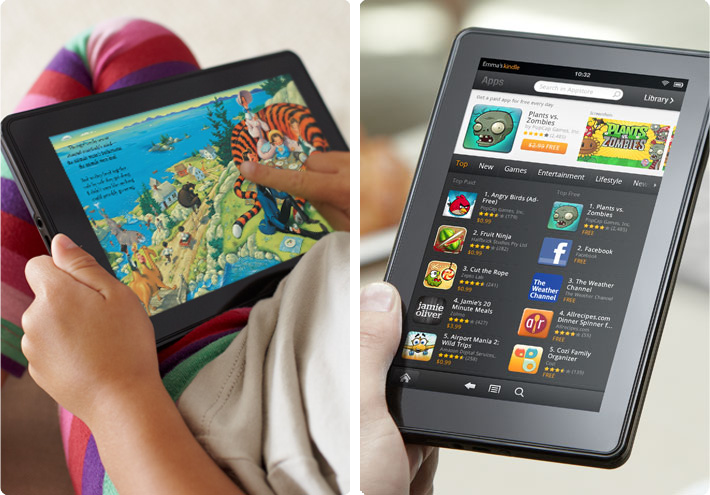 Amazon is rumored to be changing its product roadmap for its 7-inch Kindle Fire tablet, with plans to make the second-generation model with an 8.9-inch display.
According to a brief report from DigiTimes, Amazon had originally planned to release a 10.1-inch Kindle Fire next year, but will instead go with the 8.9-inch form factor.
"Amazon's current 7-inch panel suppliers Chunghwa Picture Tubes and LG Display reportedly have begun to prepare production capacities for 8.9-inch displays, added the sources," said the report.
Insiders also hinted that Amazon could follow up the 8.9-inch Fire with "9.7- to 10.1-inch models" later that year.
The 7-inch Kindle Fire was unveiled in September, though it will not hit the market until Nov. 15. Amazon is building "millions more" of the $199 device than originally planned, but the tablet's low margins will take a toll on the company's profitability. It warned during an earnings call last month that fourth quarter earnings could fall as low as a $200 million loss.
The online retailer reportedly tapped Quanta to produce the Kindle Fire because its usual manufacturing partner, Foxconn, was kept busy with Apple's iPad 2 orders.
For its part, Apple has said it is not worried about the Kindle Fire. Apple's top brass reportedly told an analyst recently that the device would only serve to further fragment the tablet market.
Sales of the iPad have continued to surge, with the company selling 11.12 million units in the most recent quarter.
AppleInsider reported in September that Amazon views the Kindle Fire as a device to "test the waters" for next year's tablet lineup. Analyst Ming-Chi Kuo of Concord Securities said the company is working on an 8.9-inch tablet with an "amazing form factor," as well as a 10.1-inch tablet, code-named "Coyote."