Purported 'iPad 3' rear panel measures 0.81mm thicker than iPad 2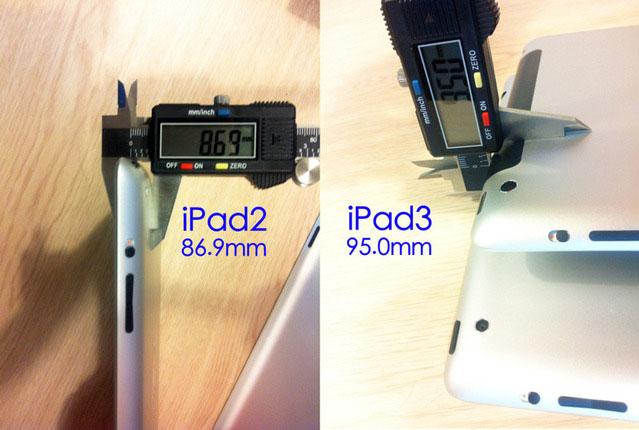 Supporting rumors that Apple's next iPad will be slightly thicker than the current iPad 2, a measurement of a leaked alleged "iPad 3" component has found it to be less than one millimeter thicker than its predecessor.
The purported iPad 3 component was measured with a digital vernier caliper, showing that it is 9.50mm thick. That's 0.81mm thicker than the rear panel for the iPad 2, which measures 8.69mm, according to an image discovered by Apple.pro.
The measurements support claims from early December that Apple's third-generation iPad will have the same 9.7-inch screen size as the iPad 2, but will be slightly thicker. That same report stated that the new iPad would continue to support the existing magnetic Smart Cover compatible with the iPad 2.
A slightly thicker iPad body would allow Apple to fit more inside the shell of the device, such as a larger battery for better performance, and more powerful components to power an anticipated high-resolution Retina Display. One report from last November said that Apple was likely to use dual-LED light bars in its next iPad in order to maintain the existing level of brightness with a higher density of pixels on the screen.
Purported iPad 3 rear panel components have been publicized on the Internet for weeks now, but Tuesday's report is the first exact measurement of such a component. Earlier pictures showed that the rear panel will have a slightly more tapered design, and will also accommodate a larger rear-facing camera lens than the iPad 2.
In addition to the Retina Display and a larger camera, the next iPad is also expected to feature a faster internal processor, as well as the option of compatibility with high-speed 4G LTE networks. A media event to unveil the new iPad will be held next Wednesday, March 7 in San Francisco, Calif.