Apple Maps in China offer a sneak peek at what's in store for Maps in iOS 9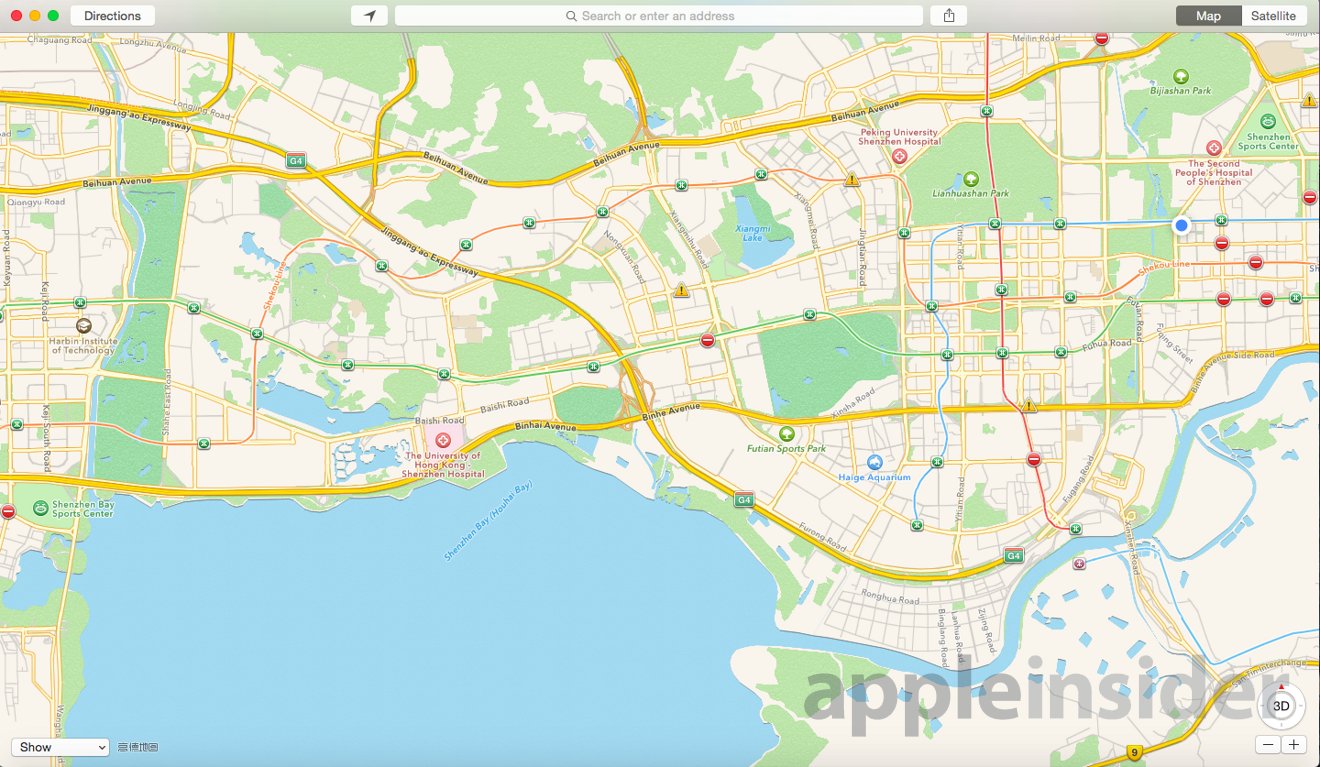 Apple has gobbled up mapping market share on iOS (and the Mac) since introducing its own alternative to Google Maps back in 2012, despite lacking a variety of key features. Hints at how Apple Maps may soon improve are coming from a seemingly unlikely source: China.
Bizarrely enough, Apple's Maps in China are better than Apple Maps in Europe or the United States. Those improvements are likely to trickle back to the rest of us in enhancements due for iOS 9 and the next OS X (as well as in the navigation maps on Apple Watch).
China has rapidly become a critically important market for Apple, growing from virtually nothing prior to the weak initial launch of iPhone 4 on China Unicom back in 2010 into a major market that is now rivaling the United States as Apple's largest market in the world.
Apple has pivoted to supply China-centric features in iOS and OS X, ranging from a gesture-character keyboard to social media support for popular microblogging services such as Sina Weibo and Tencent Weibo to product options specially crafted for the Chinese market (such as gold iPhones and the large screen iPhone 6 Plus).
However, another initiative focused at the Chinese market has been less visible, because it hides behind China's Great Firewall: improved Apple Maps with accurate transit lines and station depictions.
Transit complaints for Apple Maps
Shortly after Apple Maps first debuted almost three years ago, I profiled for AppleInsider the then-new iOS 6 Maps and its approach to transit information.
The bad news was that iOS 6 not only didn't even attempt to offer transit directions itself (instead relying on existing routing apps to help out) but also did a very poor job of labeling transit stops or showing where lines went.
As I noted back then, even Caltrain (the commuter rail service serving Apple's corporate neighborhood) had its stations haphazardly labeled the "Southern Pacific Railroad" (which it hasn't been since 1985).
Underground transit station passages (like the Powell Station Muni/BART station with a prominent connection to Apple's own flagship store in San Francisco) were also missing from Apple Maps, making it difficult to see where you'd even access the subway.
On the other hand, Google's transit support in its own mapping products was only slightly better, and often provided false information— which is worse than no information at all.
Google's bus arrival data for San Francisco is simply not accurate. Transit directions it gave me in Berlin were ridiculous.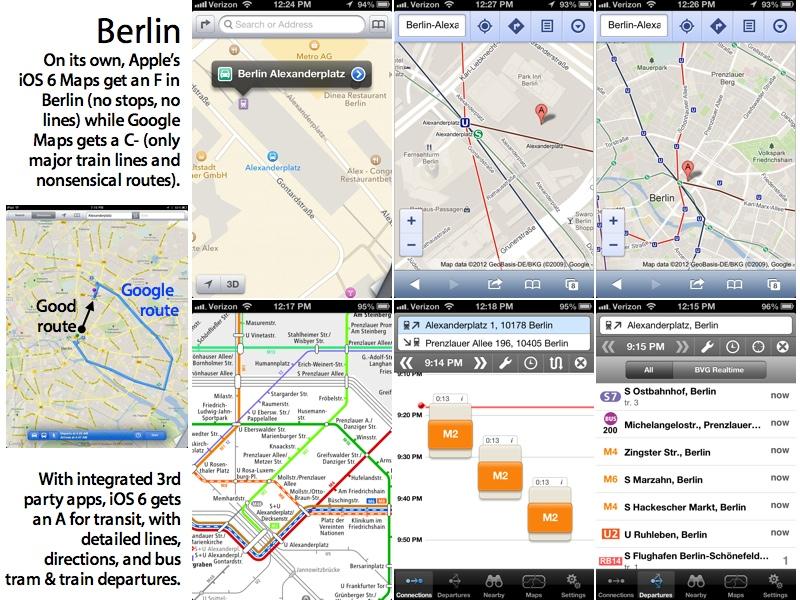 And while Google Maps offered much better subway data when I was in Japan, on a recent trip to Minneapolis, Minnesota, Google Maps told me I'd missed the last light rail train from the airport to downtown, and said there wouldn't be another one for a long time.
In reality, there were regular trains scheduled and the next one was departing in just a few minutes. Had I trusted Google Maps, I'd have missed it and taken an expensive taxi instead.
Maps trepidation in China
With that global travel experience in mind, as I went through Taiwan, Hong Kong and toward Shenzhen, China in February, I was growing concerned that I'd have no reliable information for navigating the subways in China, let alone walking around on surface streets.
In Hong Kong (which is technically part of the People's Republic of China), Apple Maps are very similar to the U.S. and the rest of the world: many points of interest missing, no lines between transit stops, and poor labeling of the stops themselves: a three year old mess in need of a diaper change.
And when I spied out China from Apple Maps, things looked even worse: points of interest (including the hotel I'd booked) were not in the correct place at all. Satellite data was atrociously scarce, and metro stops were sort of a hit and miss proposition, with no indication of the connections between stations.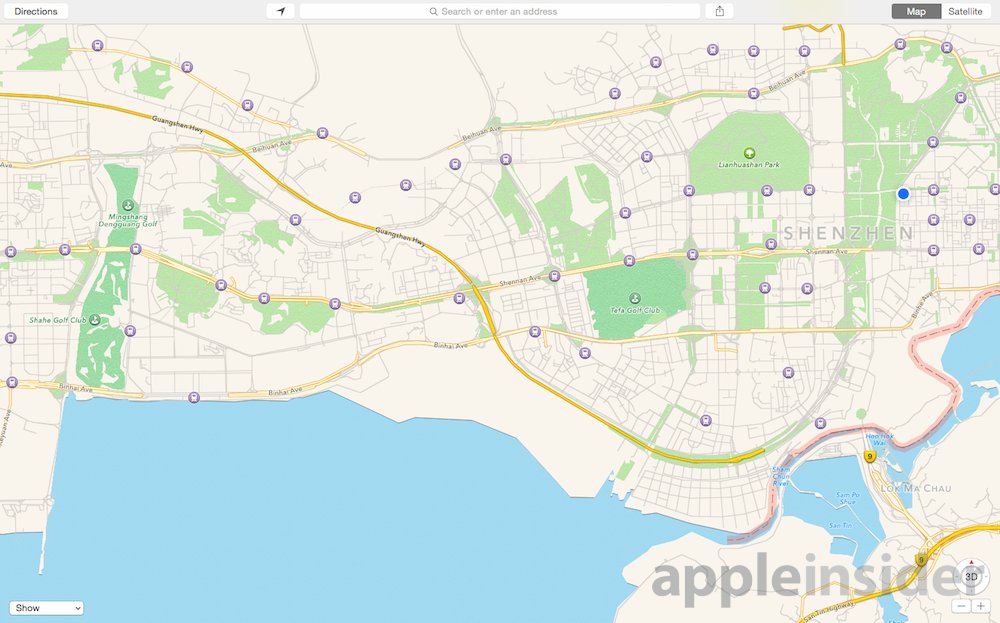 Satellite data for China (which you can peruse from Apple Maps from anywhere) is pretty basic: it looks like Cold War images captured by U2s in the 1970s; not very helpful for navigating around.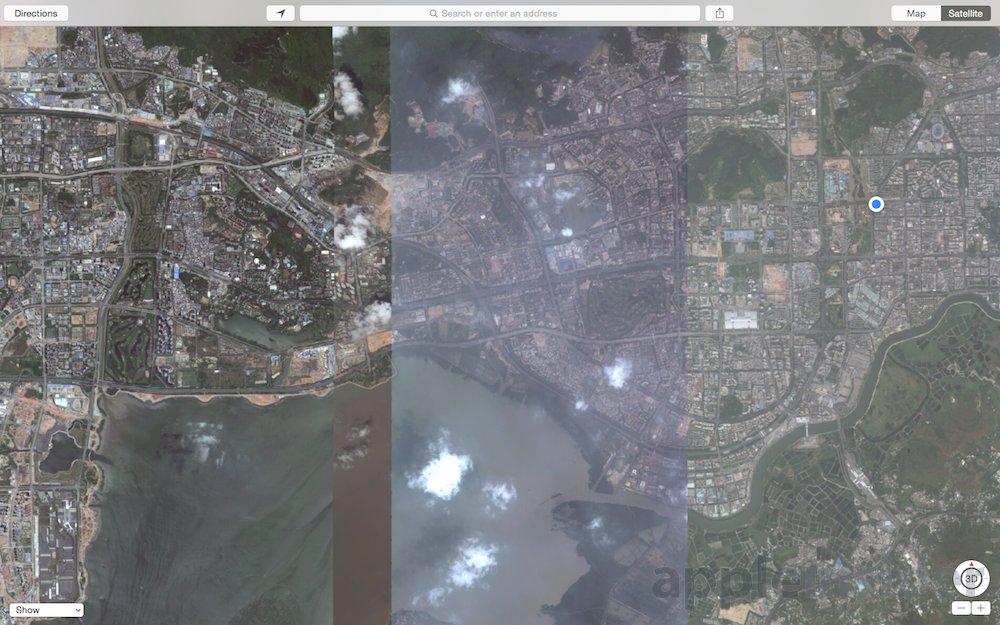 As it turned out, the hotel I was staying at (labeled on the map below as Hui Hotel Shenzhen) was depicted as being about six blocks away from its actual location (the blue dot), and on a totally different street.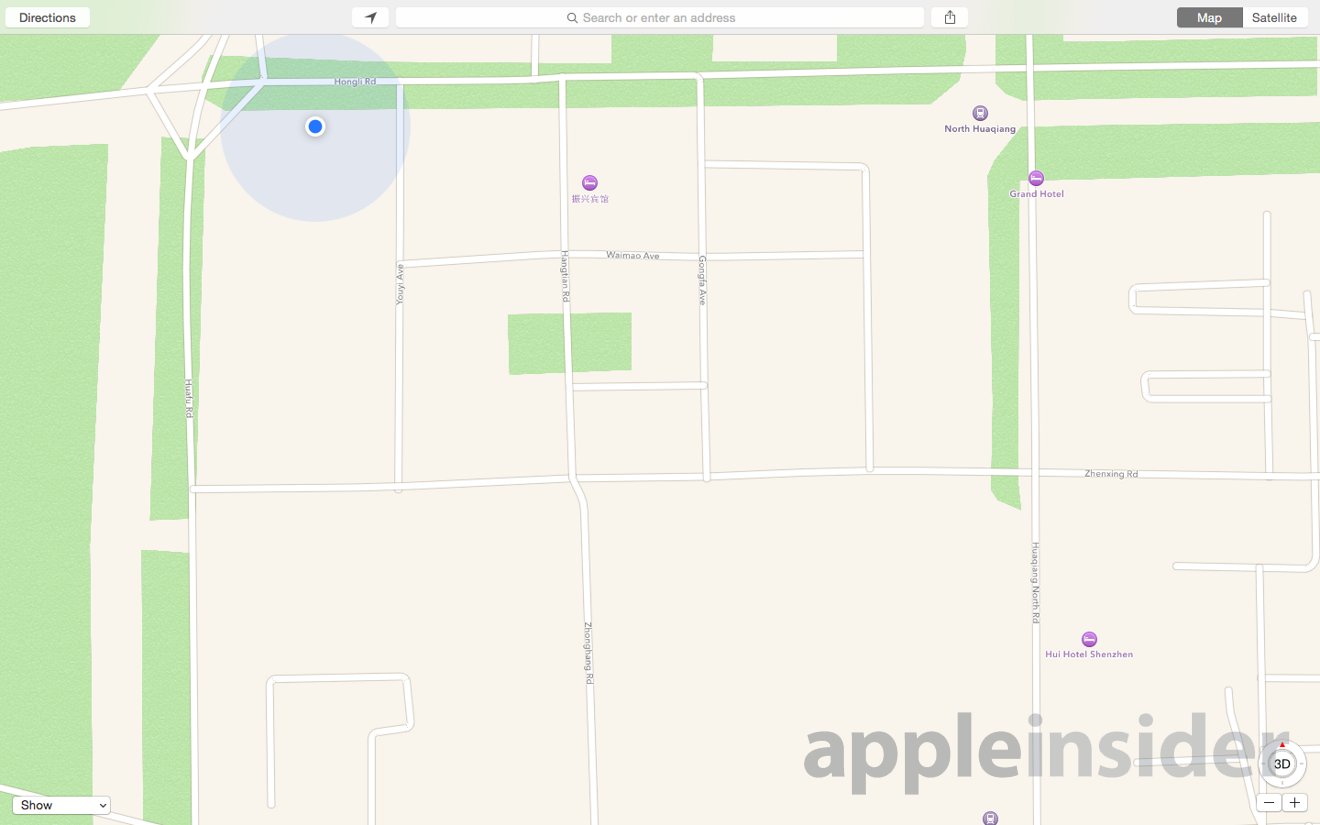 I was terrified that Apple Maps would be worthless in navigating China. Google Maps, while only slightly better, are officially blocked when you enter China. In fact, China blocks every Google service (as well as Facebook, Twitter and most other Western services apart from Apple and its iCloud).
The only way to access anything Google is to install a VPN client and try to establish a tunneled connection through the Great Firewall directly to Google's servers; doing that is a cat and mouse game that the state actively blocks. It's also a pain to do, because when you set up a VPN you lose access to local services. I discovered something amazing: Apple Maps within mainland China are much better than those available in the United States.
Sure enough, once I arrived in China I not only lost my data service provided through the SIM card I'd bought in Hong Kong, but I also struggled to decipher the cached Apple Maps data I'd smuggled in.
Then I got local data service via my hotel's WiFi and discovered something amazing: Apple Maps within mainland China are much better than those available in the United States.
China's Apple Maps surprise
Apple Maps in China aren't an improved app with wildly different features. There's still no transit directions, and everything works the same (it's the same app, on both iOS and OS X). What's different is the data.
When browsing China from China, metro stations are clearly marked and lines between stations are plotted out in different colors, very similar to how Google Maps works in cities where it actually works.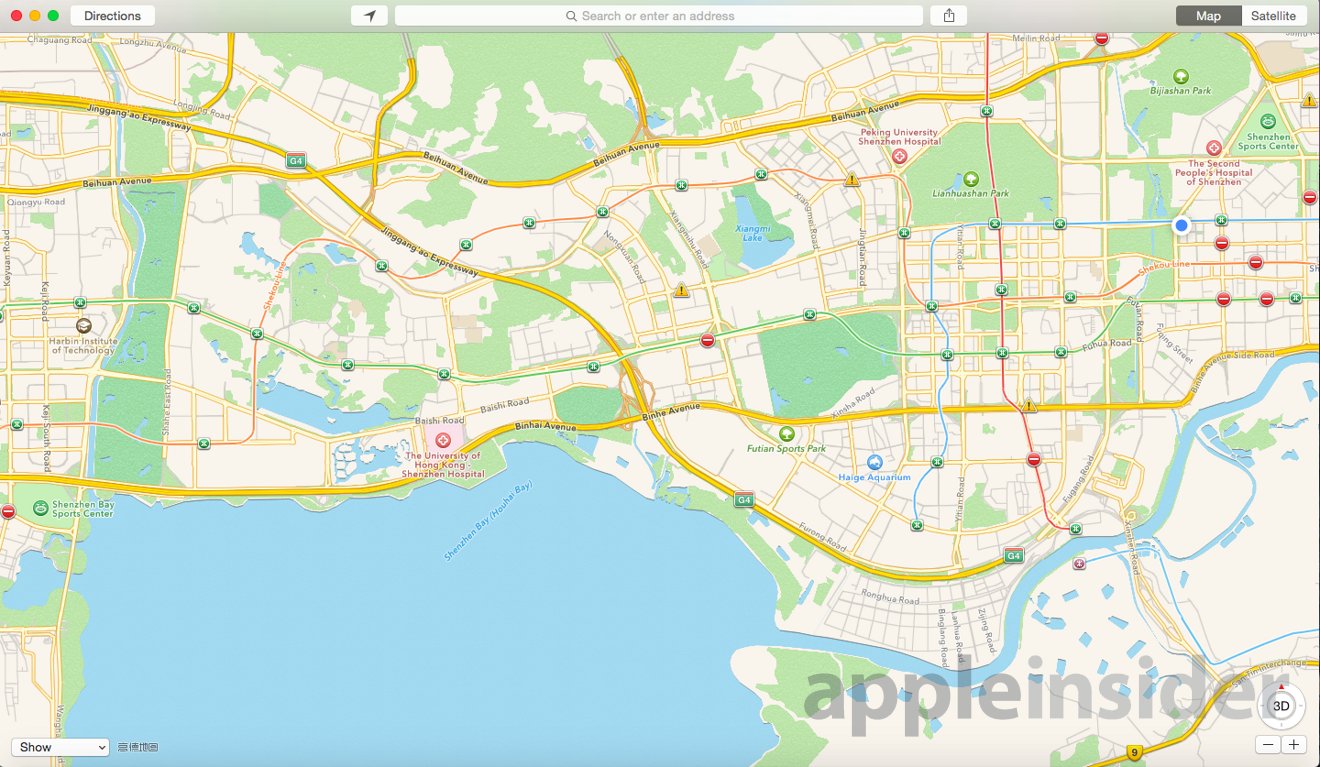 Once I acquired a Chinese SIM card (which requires registering with your passport), I could access Apple Maps from anywhere.
Attempting to use Google Maps was a pain, because I had to rely on a VPN. I downloaded four different VPN apps, and only got one to work intermittently, and it cost money to use. It also stopped working entirely after a few days.
For Apple Maps, however, the difference in data was clearly obvious in Shenzhen (the city where Apple contracts to build most of its iOS devices) and up into the Guangdong Province into the massive city of Guangzhou (Canton).
Comparing international Apple Maps' depiction of China (what you see when you browse China from anywhere outside of China) with the local version of China's Apple Map data is eye opening.
Even the satellite data is greatly improved. While city-level satellite images seemed to be pretty blurry even on the full screen of a Mac, as you drill down the images are clear enough to easily navigate, even though there was not yet support for Apple's 3D Flyover images.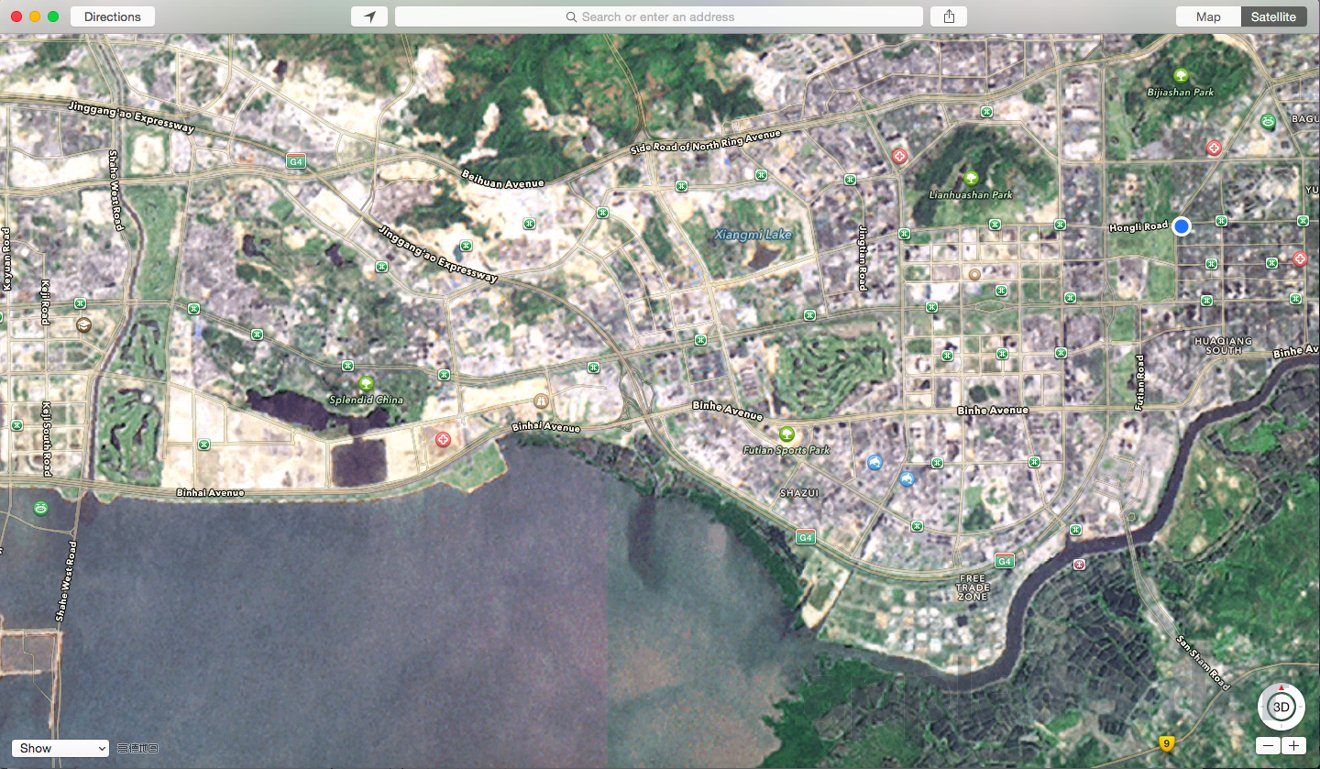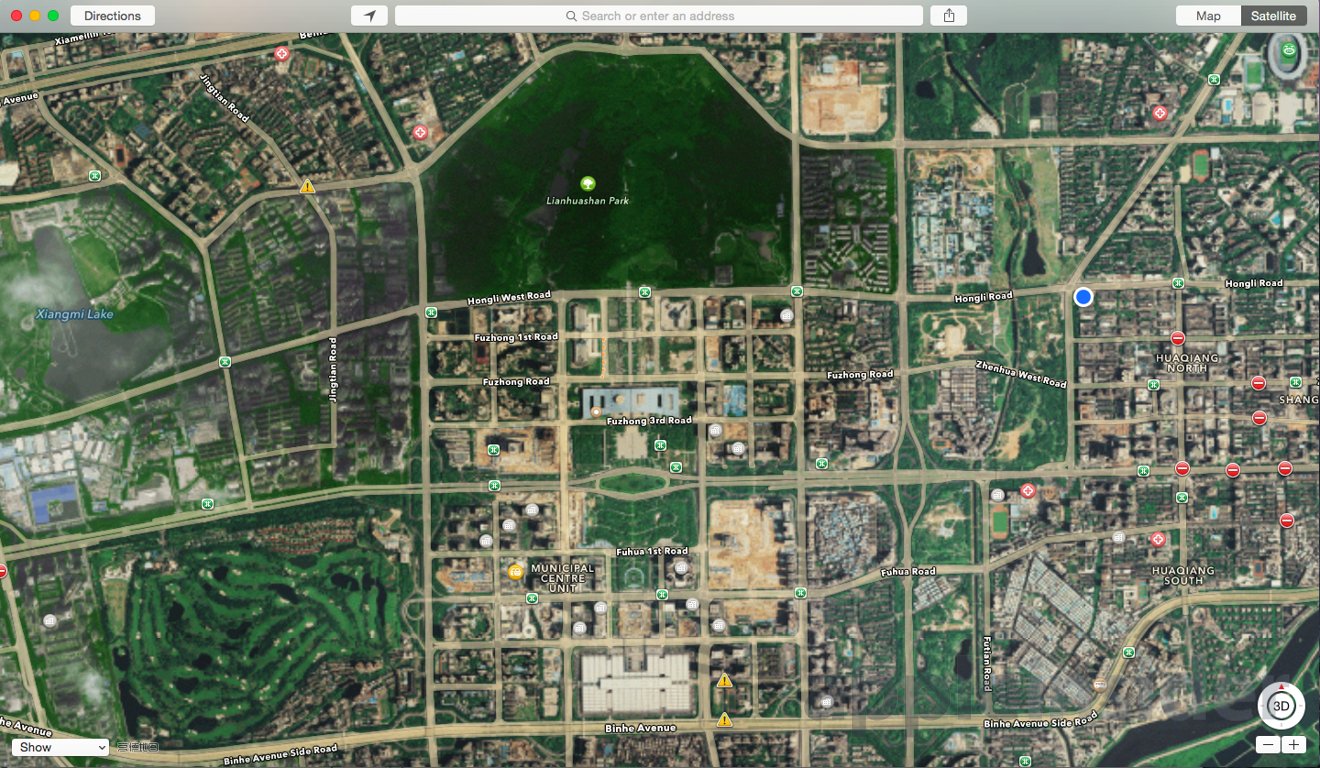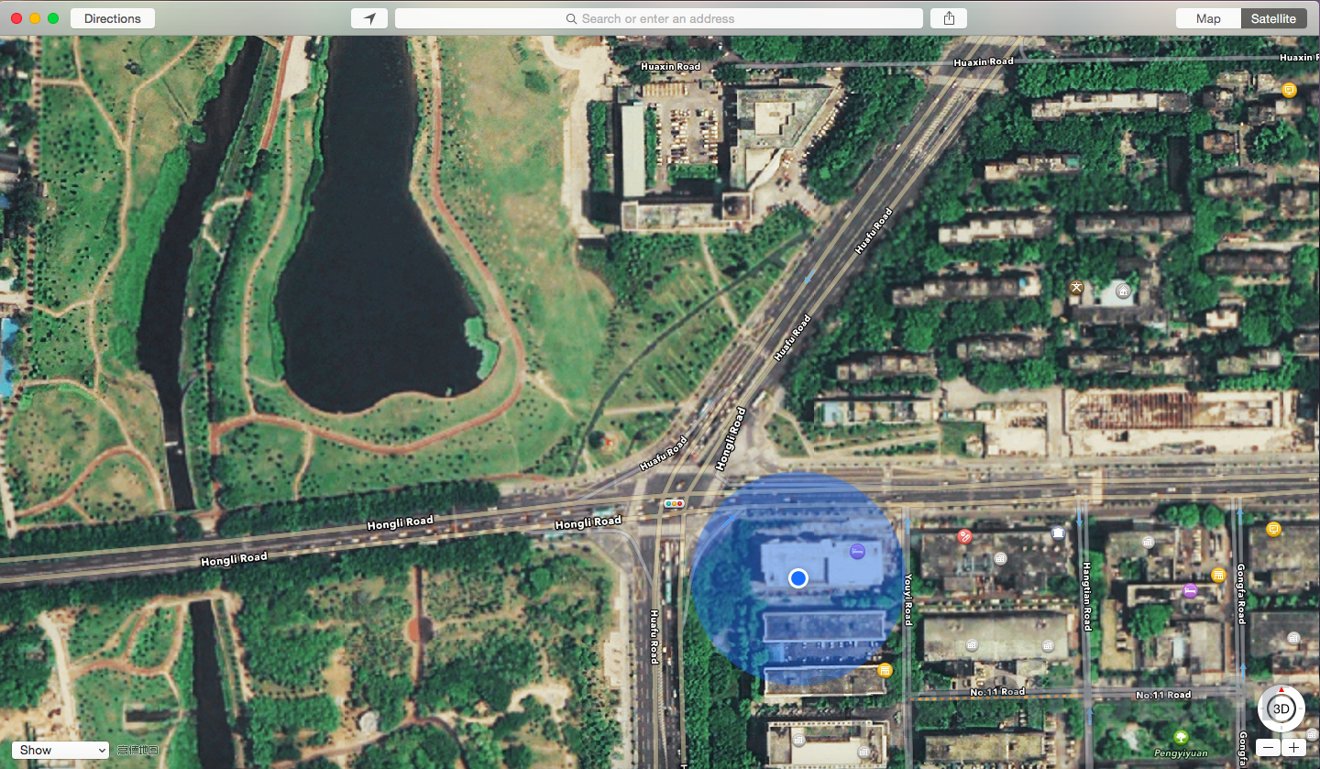 Examining the Apple Maps data in China, you'll also see traffic light indicators for controlled intersections and labels on certain important intersections, other features missing from Apple Maps in other countries.
Subterranean metro station detail
Another feature supported in Apple Maps within China is the details of subterranean metro station tunnels. Particularly in the built up cities of Asia, it's important to be able to navigate large, complex stations where multiple pathways might take you to exits several blocks apart (each is labeled with an identifier, so you can meet friends or efficiently plan to exit a station even if you aren't familiar with its layout).
This enhanced maps information is particularly evident when looking at China's data for Hong Kong. Strangely, this data isn't available while in Hong Kong. Additionally, China's data for Hong Kong differs from Hong Kong itself, because the PRC has different names for some streets and points of interest.
The very basic Hong Kong maps Apple supplies to most of the world (below) provide frustratingly little information about the metro stops on Hong Kong Island, let alone the pedestrian tunnels that connect them.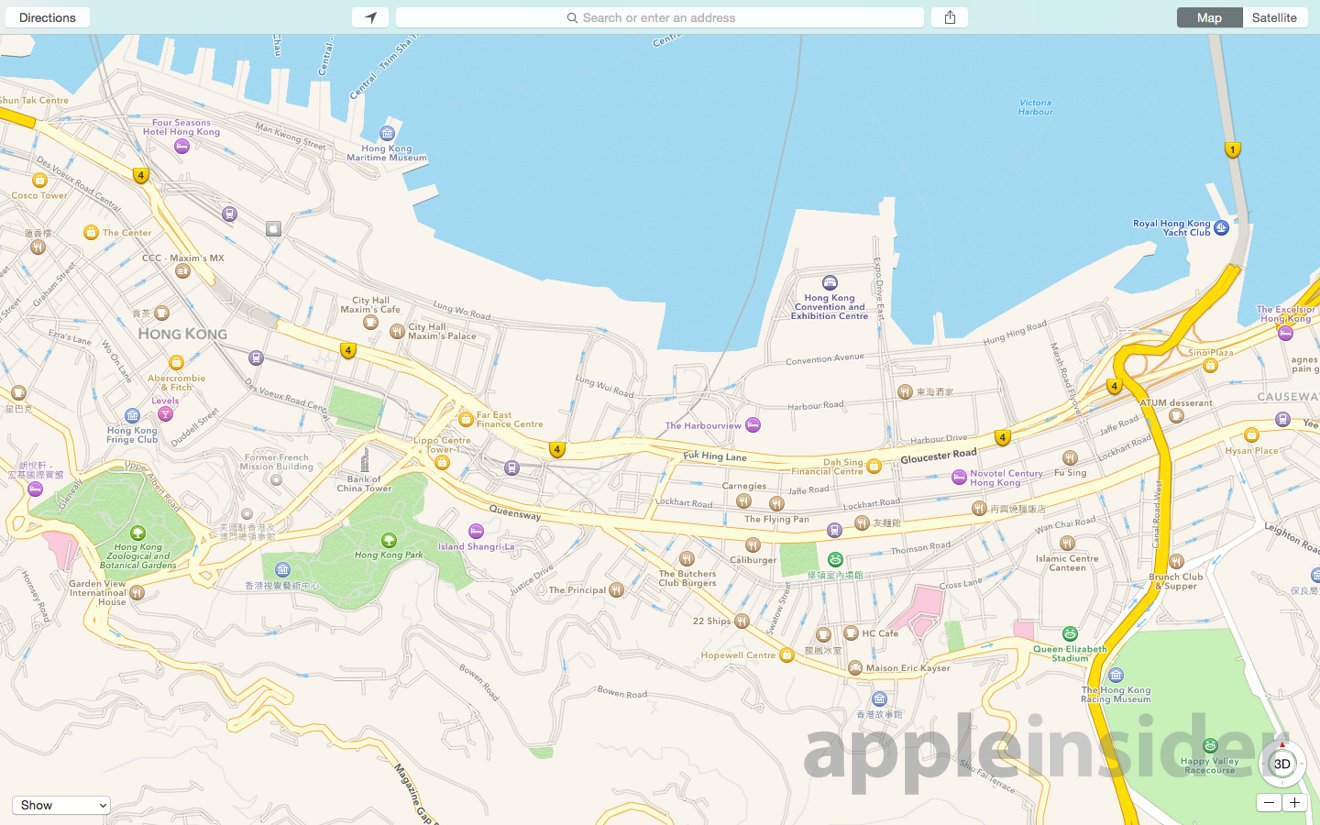 However, while in mainland China you can access Hong Kong maps with detailed labels for both the MTR subway stations (marked with a red logo) and the underground passageways that surround them.
The surface streetcar stops are also marked with a different logo, clearly differentiating the frequently stopping, local surface service from the faster subway.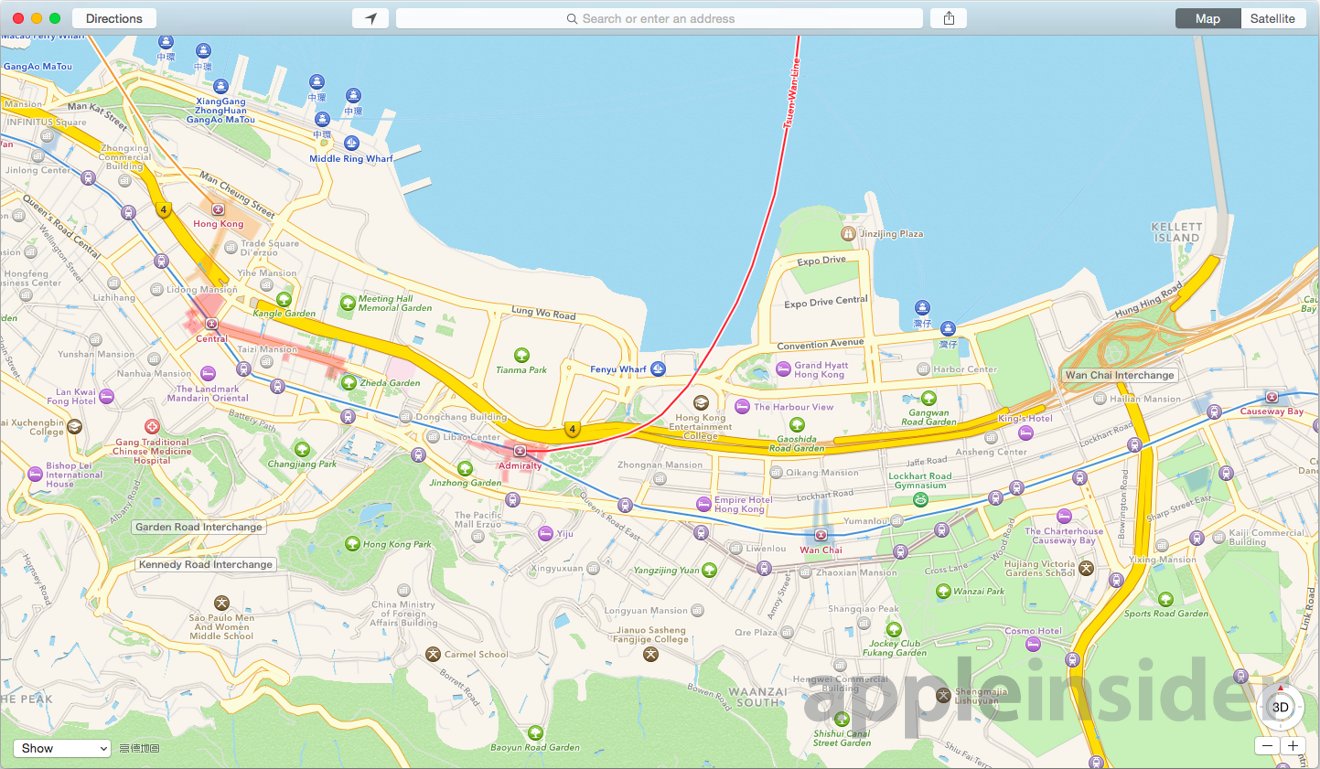 China's map data makes it clear, for example, that there are no trains that pass between the Hong Kong terminal station (mapped out in orange) and the Central station on the separate Island Line (depicted as red tunnels). However, you can walk between the two stations to transfer, following the subterranean station walkways that stretch out so far that they necessitate moving sidewalks.
The same stark contrast is visible north of Hong Kong Island in Kowloon. In Hong Kong itself, Apple Maps currently provides poor data and terrible transit information. But when supplied with good data from China, Apple Maps details stations, the web of underground passages connecting them, and lots of other enhancements.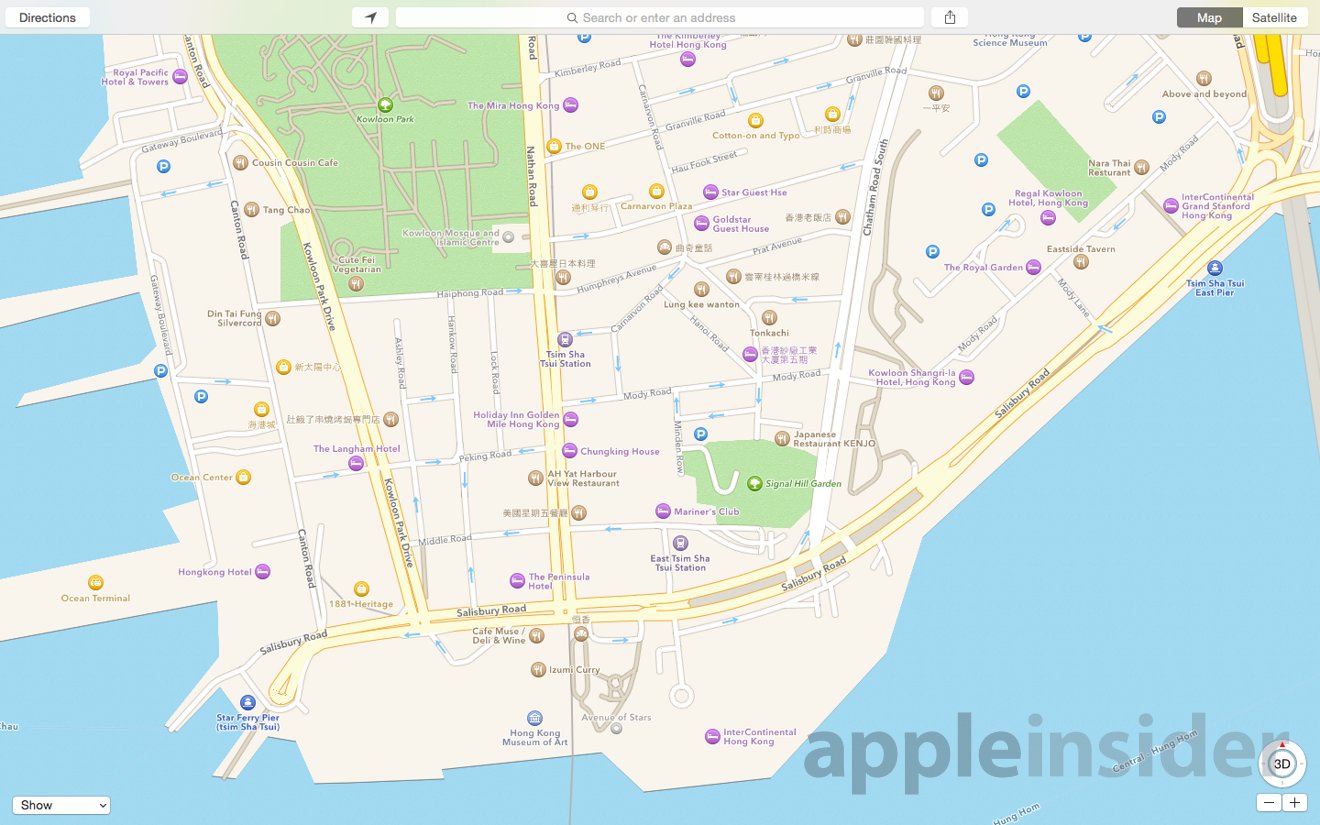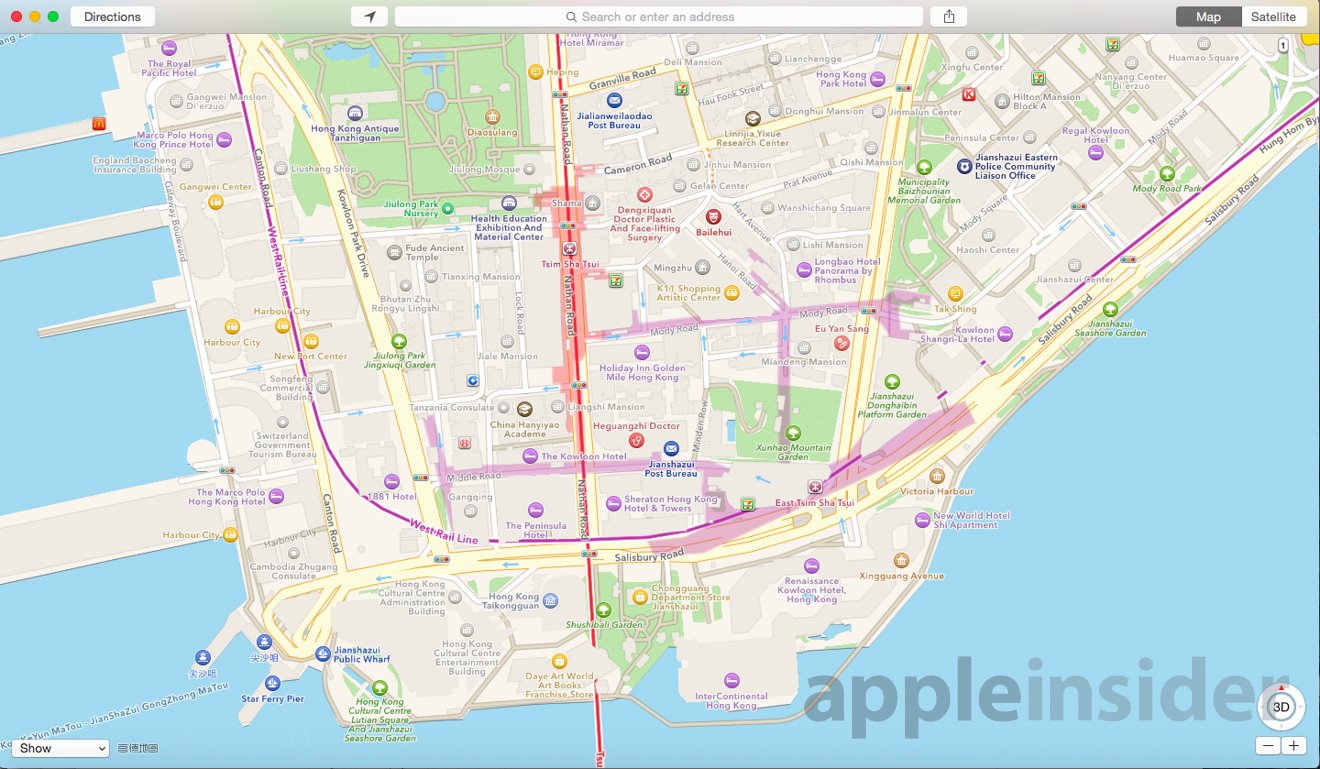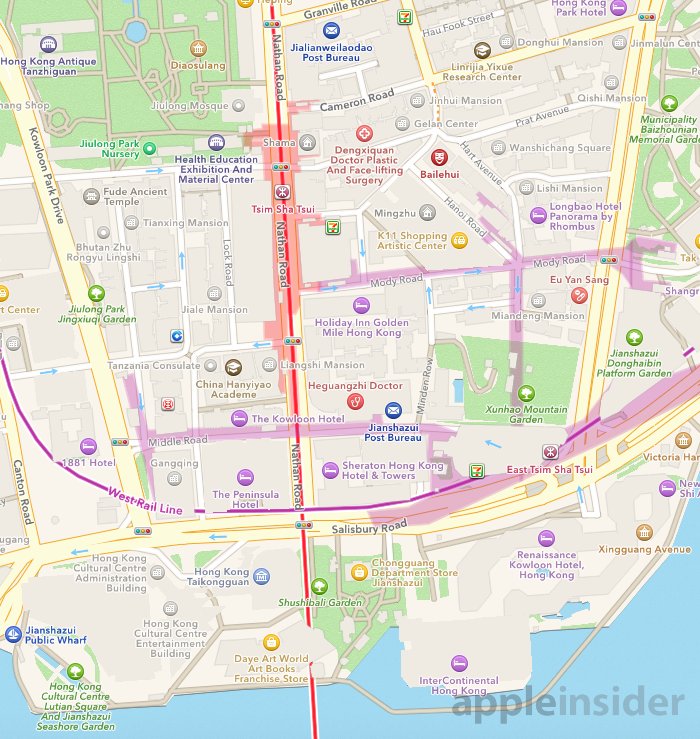 Oddly enough, despite having a strong retail presence in Hong Kong, Apple still doesn't provide this Chinese-licensed data in Apple Maps within Hong Kong itself, which would help shoppers find their way to its flagship stores integrated into the ifc mall above Hong Kong Station, or the shiny new store located at Causeway Bay, also on top of MTR subway station.
That is likely to change once Apple introduces improved data for navigating metro stations and inside shopping malls in its Maps, expected to be a key feature of iOS 9. This isn't a technology issue, it's a matter of obtaining correct, complete data, an issue that has plagued Apple Maps everywhere.
China's superior Apple Maps in China don't extend to the rest of the world. For users in China, Apple Maps provides only a rough outline— or in some cases no data all— in other cities, including its depictions of Japan or California. One exception seems to be North Korea, where China's Apple Maps provide slightly more detail.
While Apple's aspirations to "finally" fix transit data and supply transit routing are old news, the insight of what the company is already doing in China— largely due to having better sources of data, rather than some different or new app technology— provides valuable insight into what should be in store for upcoming Apple Maps releases for iOS, OS X and Apple Watch.