Apple's Eddy Cue touts iOS for enterprise, demos iPad Pro at Dropbox Open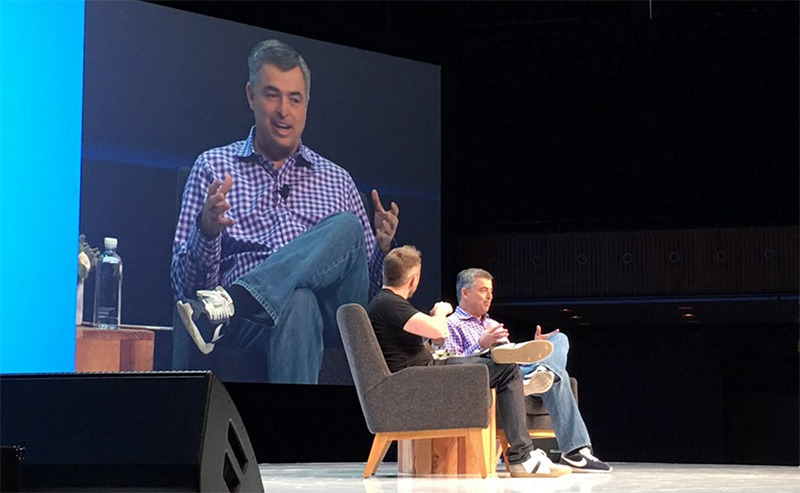 Apple SVP of Internet Software and Services Eddy Cue made a surprise appearance at the Dropbox Open event on Wednesday, where he touted Apple's efforts in enterprise and showed off the new Dropbox Paper app for iPad Pro.
Cue was on hand to talk enterprise with Dropbox CEO Drew Houston, the theme of Dropbox Open, but managed to squeeze in other topics including iPhone, iOS and the pace of tech innovation, according to tweets from Mashable reporter Karissa Bell.
Cue said Apple's iOS offers enterprise users a number of benefits, not the least of which being high upgrade rates. That iPhone and iPad users stay up to date with the latest hardware and software is important for companies as security hacks become a more prevalent issue. In some cases obsolete software is to blame for data breaches.
The upcoming iPad Pro also made an appearance today, with Cue and Houston offering a first look at the Dropbox Paper app specifically designed for the big-screen tablet. When it launches in the first quarter of 2016, Paper will let users collaborate on rich documents in real time, annotate files, conduct chats and more. The service is currently in beta testing as an online-only product.
Earlier in the day Dropbox announced an all new enterprise tier with collaboration tools similar to those offered by rival cloud services company Box. Dropbox is building out big business offerings in an attempt to bolster its bottom line, noting 150,000 companies are paying "Dropbox for Business" subscribers. The company also announced HIPAA compliance, a welcome feature for healthcare professionals and facilities looking to migrate patient records to the cloud.
Apple's executives have been uncharacteristically active in the public arena as of late. Cue's appearance at Dropbox Open follows a recent interview aired on CNNMoney that focused on the new Apple TV. CEO Tim Cook has been most visible, participating in an interview with NPR, appearing at this year's WSJD Live conference and opening up on "The Late Show with Stephen Colbert."