Another F for Alphabet: U.S. Marines reject Google's other android as too loud to use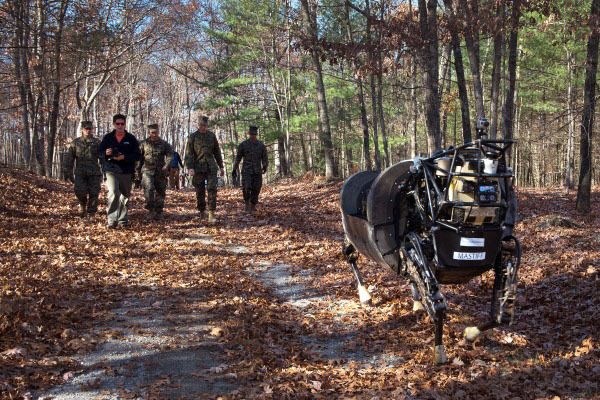 Two years ago, Google made headlines when it acquired military robot maker Boston Dynamics. However, after receiving $42 million from the government to develop autonomous machine mules, the robotics group has failed to deliver anything the Marines can use and the Pentagon has ended further funding.
Not the droids they were looking for
A report by Hope Hodge Seck for Military.com noted that the Pentagon's Defense Advanced Research Projects Agency paid Boston Dynamics $32 million under a contract to develop the "Legged Squad Support System" (LS3) for the U.S. Marines Corps.
The four-legged LS3 robot was intended to help support troops by autonomously carrying around 400 pounds of equipment over rugged terrain, while responding to verbal commands. However, the design of the LS3 was centered around a gas-powered engine, making it too loud to use in the field as intended.
Military spokesman Kyle Olson stated, "As Marines were using it, there was the challenge of seeing the potential possibility because of the limitations of the robot itself. They took it as it was: a loud robot that's going to give away their position."
Boston Dynamics received another $10 million to develop smaller, quieter electric version named Spot, but it could only carry about 40 pounds, which wasn't enough to be useful. Additionally, the smaller version lacked the autonomy of the original LS3, requiring direct controller piloting.
Both projects are now "in storage, with no future experiments or upgrades planned," the site reports. Olson stated, "We tend to play with things that are fanciful and strange. Learning from it was a big part, and we're still learning."
LS3 is the latest disappointment among Alphabet's "other bets" alongside its core ad profits supporting Google search. Previously, Google had attempted to launch Glass as a novel wearable device and partner products such as Nexus 7, but these too failed to do much apart from generating optimistic headlines, due to their poorly considered design, a perception among the public as being intrusive spyware, unfinished software bugs and excessive hardware failures.
Alongside Boston Dynamics, Google has also invested billions in buying up existing consumer hardware businesses, notably Nest— a company attempting to sell expensive thermostats and smoke detectors that are essentially defective by design— as well as Motorola Mobility, a very expensive mistake that only ever lost hundreds of millions of dollars within the company every quarter before it sold it off for scrap to Chinese PC maker Lenovo.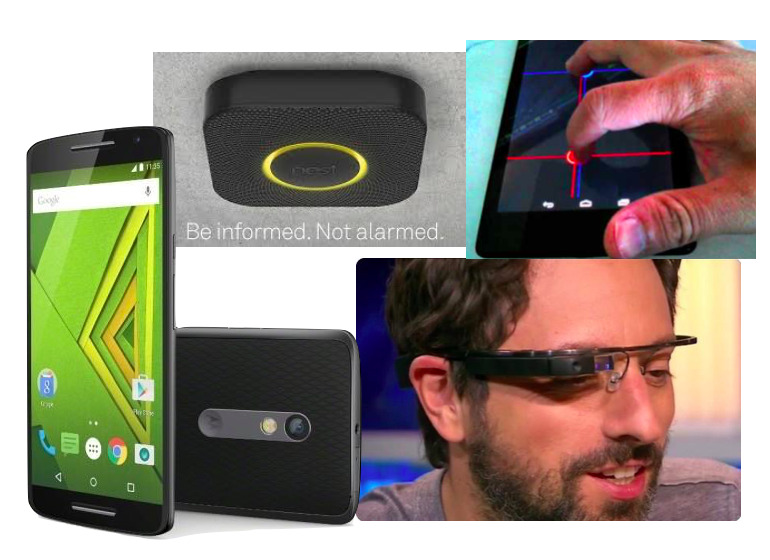 Andy's Android 2.0
In early 2013, as Google's emerging hardware strategy that was centered around Motorola Mobility began to implode, Andy Rubin was removed as head of Google's Android mobile operating system and replaced by Sundar Pichai, who had been running Google's Chrome initiatives (and who later became the company's chief executive).
Pichai then dismantled a series of failed Android hardware initiatives Rubin's team had been working on (including a second shot at launching another Android-powered Google TV box), and shifted Google toward Chrome-based products including the much ballyhooed Chromecast TV dongle.
Google's executives portrayed Rubin's demotion as a "new chapter" for him in a new role at the company within the experimental "Google X" group. By the end of 2013, Google began advertising its moonshot robotics acquisitions, including Boston Dynamics, part of the robotics work Rubin was tinkering with.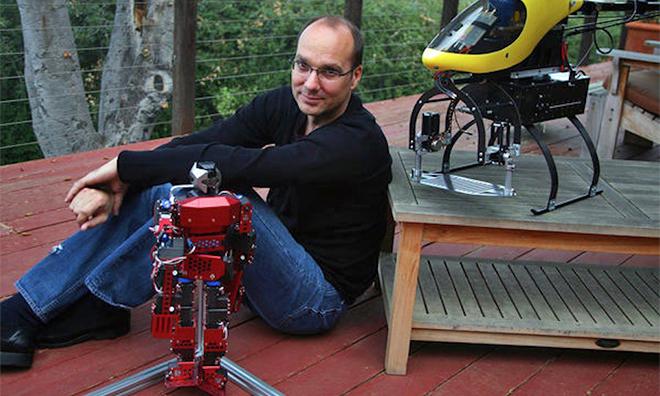 Andy Rubin among robots
However, by the end of 2014 Rubin left Google to launch a tech startup incubator. Meanwhile, Pichai failed to gain any real traction for Chrome devices among consumers or in the enterprise, and subsequently began shifting the company back to a unified strategy that hoped to leverage the already broad adoption of Google's openly licensed Android software.
This year, Google's Chrome team developed a tablet that shortly before launch was switched to run the smartphone-centric Android OS instead, resulting in an essentially unusable device with unfinished and incomplete features that shipped under Google's Pixel brand, historically used to launch Chrome hardware.
Unable to create a viable market for Chrome, Google has been forced to salvage what's left of it and Android, while also facing its still-lumbering lawsuit with Oracle. Android was found in court to have infringed upon Java APIs, essentially refusing to license Java commercially while also refusing to license it in accord with the GPL copyleft terms that would have required Google to share its contributions back to the open source Java community.
Instead, Google decided to just use Oracle's Java software on its own terms, and has been doing this in Android since it was first launched. That's changing now. Google announced that its next version of Android will replace its infringing implementation of Java APIs in Android with OpenJDK.
That's a significant distraction from real innovation that the next "Android N" will incur, even as Apple continues to pick up speed in developing iOS and its sibling watchOS, tvOS and OS X platforms, none of which are built around infringing other vendor's code nor unable to sell new hardware or find willing buyers.Apple's work on robots has resulted in more efficient production of the products it makes that return revenues and profits, rather than just spending the Pentagon's money on experiments until it's all gone
Virtually all of Google's profits still come from search (supported by paid placement advertising), despite a decade of efforts to expand into new markets with Android and then Chrome, then robotics and other "moonshot" efforts, including Glass and a failed retail effort to designed to skirt local development laws and literally market the device off the backside of floating barges.
Despite its inability to meaningfully expand into new markets successfully, investors still seem to think that Google has tremendous potential.
In contrast, since 2013 Apple has turned its own Apple TV business into a billion dollar industry and introduced its new Apple Watch, creating a $7 billion new business within the wearables product category that Google has only stumbled in.
Apple is like an Alphabet that can actually develop new products and businesses
Apple actually sells tablets, rather than just experimenting with them, and Apple's work on robots has resulted in more efficient production of the products it makes that return revenues and profits, rather than just spending the Pentagon's money on experiments until it's all gone.
Apple has also established a massive new demand for its products in China since 2013, a market Google hasn't materially participated in for years; Google's search, Maps and other online services are actively blocked by the government.
This year, Alphabet will increasingly face pressure to deliver some tangible success, because its beta bet with Google is losing its monopoly over information and eyeballs as web pages continue to be replaced with apps and social network feeds. And after years of mocking and plotting against its once close partner in both iOS and WebKit, Google can't rely upon Apple to deliver it another lucrative A+ platform to monetize with ads.