Rumored 'iPhone 7' design schematic shows size similar to iPhone 6s, bigger camera opening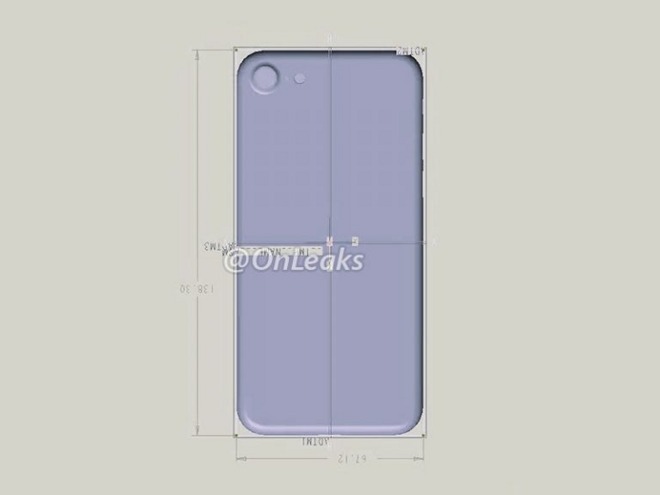 AppleInsider may earn an affiliate commission on purchases made through links on our site.
The base model of Apple's anticipated "iPhone 7" will share the same width and height as the iPhone 6s, but use different camera technology, a design schematic published on Monday suggests.
The graphic depicts the new phone's shell as measuring 67.12 millimeters wide and 138.3 millimeters high, said French site NWE, which obtained the image. Cutouts in the upper left are likewise similar to those of the iPhone 6s, except for the lens opening, hinting at a redesign of that component.
Past reports have indicated that an "iPhone 7 Plus" might have a dual-lens camera, but that the regular model will have a conventional single-lens system, presumably as a way of encouraging people to step up to the more expensive Plus.
Notably missing from the schematic is depth, although NWE said the new device will be "imperceptibly" thinner than the iPhone 6s, citing sources. Many rumors have claimed that Apple is eliminating the 3.5mm headphone jack to reduce thickness, but more recently a parts leak hinted that the jack could be left intact.
Indeed "iPhone 7" rumors have become heavily conflicted in general, with opposite views on whether the phone will be fully waterproof or use a Smart Connector. The product is at least expected to ship later this year, presumably in Apple's normal September iPhone window.