Apple to open first Macau Apple Store on June 25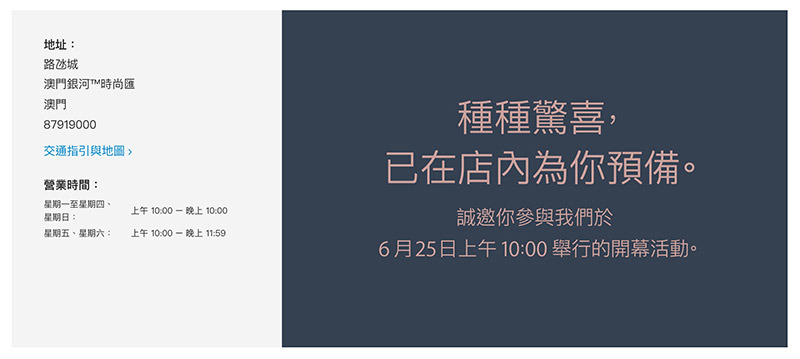 Apple on Wednesday announced the first official Apple Store in the Macau Special Administrative Region of China will open on June 25, expanding the company's retail presence in Greater China to 41 stores.
According to Apple's regional website for Macau, the forthcoming Apple Store will be located in an upscale shopping mall at the Galaxy Macau resort.
Although it has its own dedicated website, Macau is a peninsular special administrative region traditionally counted as part of Greater China. Technically autonomous from the Chinese government, however, the area is often referred to as the "Las Vegas of Asia" for its casinos, high-end resorts and bright lights.
Like other Apple Stores, the Macau outlet includes the usual sales floor, a Genius Bar and space for Workshops. Reservations are now open for classes, which begin on Sunday, June 26, with sessions covering the latest in Apple hardware and software. Those interested can sign up through the store's webpage.
Apple continues to broaden its reach in China as it sets sights on other growth markets like India, Brazil and Mexico. Last year the company promised to build 40 new Chinese Apple Stores by mid-2016 — Macau is expected to put Apple over the internal goal after outlets in Shanghai and Tianjin start operations later this month.
The Macau Apple Store opens on Saturday, June 25, at 10 a.m. local time. Normal operating hours are from 10 a.m. to 10 p.m. Sunday through Thursday and 10 a.m. to 11:59 p.m. Friday and Saturday.