Apple services had a 'landmark year,' including Apple TV+ and Apple Card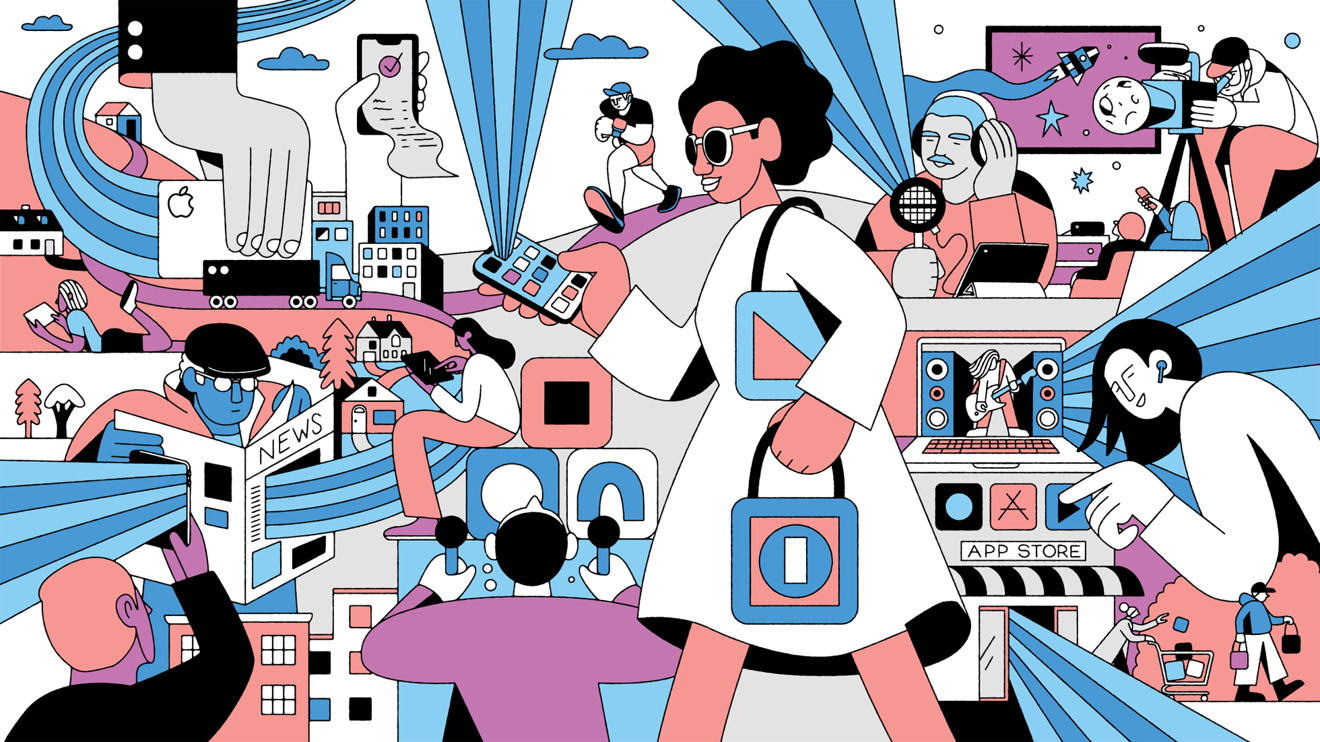 In a roundup of 2019 Services activity, Apple has released few actual figures but emphasizes the integration of all of its offerings into its hardware.
Apple has published a promotional roundup of how its many different services like the App Store, Apple TV+ and others performed during 2019. While it doesn't include any actual figures for the number of users, it does describe what the company calls "a historic 2019" that includes a record-breaking single-day sales figure for the App Store.
App Store
Since launching in 2008, Apple says that developers have earned over $155 billion from the App Store, and a quarter of that was in the last year alone.
The company also says that it saw a 16% increase in sales between Christmas Eve and New Year's Eve, plus a 20% increase and a new single-day record for sales on New Year's Day.
Half a billion people visit each week
155 countries
Customers spent a record $1.42 billion between Christmas Eve and New Year's Eve
And $386 million on New Year's Day alone
Apple Music
Apple Music now offers over 60 million songs and has "world class music experts and tastemakers curating thousands of playlists" in 115 countries.
Apple claims that over 50% of listeners on iOS 13 have used the new time-synced lyrics feature.
Apple TV+ and Apple TV app
Apple has not included any viewing figures in its report about these services. It does point out that Apple TV+ "made history as the first streaming platform to receive multiple Golden Globes and Screen Actors Guild nominations in its launch year."
Apple TV+ is also the only streaming service to debut instantly and simultaneously in over 100 countries and regions.
With the Apple TV app, Apple reports that it now offers over 30 Apple TV channels, or "direct subscriptions to premium video services." That does vary by country, however.
Apple Arcade
Apple reports no figures for how popular its gaming platform is.
However, it says that there are currently over 100 new and exclusive games on Apple Arcade, and that in 2020, "the service will add new games and expansions every month."
Apple News and Apple News+
Significantly, Apple does include readership figures for its free Apple News service but not any for the paid Apple News+ variant.
What it says for the basic service is that "Apple News draws over 100 million monthly active users in the US, UK, Australia and Canada."
Apple News+ offers "hundreds" of the world's top magazines and newspapers.
Apple Podcasts
While podcasts have never been available from so many different services, the original Apple Podcasts now reportedly has over 800,000 shows. Again, Apple offers no listenership figures, but it does say that the service is available in 155 countries.
Apple Card and Apple Pay
Apple offers a quite a lot of statistics about Apple Pay and the new Apple Card, but does stop short of saying how many people use them or how many transactions were made.
Apple Card Monthly Installments now lets people buy iPhones at 0% interest for 24 months
Globally 150 stadiums and other venues accepted contactless tickets on iPhone and Apple Watch
Public transit accepted Apple Pay in Shanghai, Beijing, Tokyo, Moscow, London and New York
That list of cities that let support Apple Pay Express mode, as London introduced in December 2019, will expand in 2020 to Washington, D.C., Shenzen, and more. Plus it will be increasingly available in dorms and other services across US universities.
iCloud
Again, Apple avoids actual user numbers, but stresses that over 75% of iCloud users are "protected with two-factor authentication."
The company also promotes how iCloud Family Sharing means up to six faily members can share access many of these Apple services.
Apple's roundup of its services in 2019 concludes with a promise for 2020:
In 2020, Apple will continue to delight customers, collaborate with developers and creators, offering new levels of creativity, choice and innovation across original series and films, podcasts, music, news, games, apps, payments and unique experiences only Apple can deliver.