Morgan Stanley ups AAPL price target to $368 on potential of 5G iPhone supercycle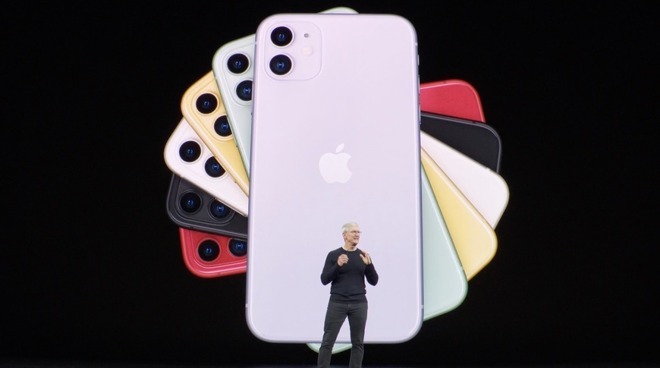 AppleInsider may earn an affiliate commission on purchases made through links on our site.
Morgan Stanley has raised its price target on shares of Apple, voicing its view that investors are under-appreciating the impact this year's 5G-enabled iPhone release is expected to have on the company's bottom line, especially given the roll-out is expected to coincide with a multi-year peak in the number of iPhones due for replacement.
In a note to investors seen by AppleInsider, Morgan Stanley analyst Katy Huberty increased her estimate for Apple with a new price target of $368, a considerable boost from the $289 the firm proposed in October. The hike was driven by a number of factors, but largely to "reflect smartphone replacement cycles peaking and the upcoming 5G upgrade cycle" she said.
The so-called "iPhone 12" or iPhone 5G" releases are expected to kick-start a replacement cycle that has stretched almost four years at this point. Forces leading to that extension include a market shift from subsidies to installment plans, as well as a slowdown in the rate of technological change, Huberty said.
Huberty sees new 5G connectivity and expectations of better battery helping to "enable new functionality" such as augmented reality applications. Aggressive trade-in offers subsidizing upgrades for existing iPhone owners suggest that current, lengthy replacement cycles "can't stretch much further and may begin to shrink," she added.
While the iPhone is still a major business factor for the company, Huberty points out the lower dependency on the smartphone's sales to the company overall, with Services and Wearables business segments now making up 27% of revenue and 37% of Apple's profits in Morgan Stanley's view. Estimates for iPhone sales in full-year 2021 have been increased to 215 million, on the basis of a 3.7-year replacement cycle, a number that is lower than the four-year cycle predicted for 2020.
These improvements, along with a change in the firm's "Sum of the Parts" calculation, lead to a new price-to-earnings ratio multiple of 22.2x. The increase in multiple drives the firms price target to $368 from $289.
The enhanced outlook for Apple was woven into a broader report where Morgan Stanley warns of larger issues with the IT industry as a whole, suggesting there could be "further deceleration in 2020 IT spend" due to corporate budget revisions.
In the same note, CDW is downgraded to $124 and "Underweight" over slowing PC demand, IBM was moved to "Equal-weight" over slowing core growth and a multiple reduction from 13x to 12x, and HPE was given lower sales estimates and a reduced price target for predicted flat revenue growth.
Apple is expected to "continue to outperform hardware peers" for calendar year 2020.
Morgan Stanley's comments arrive after similar statements in notes from analysts at Wedbush and Canaccord in the last week, with both firms predicting a big year for Apple's stock and valuation.
On Tuesday, Wedbush set a price target of $350, but believes $400 is possible if everything goes Apple's way in 2020, possibly leading to a $2 trillion valuation by the end of 2021. The expected supercycle for 5G iPhones, along with the strong potential for Apple's Services business, will help drive revenue in the firm's view.
The Canaccord note on Wednesday also predicts strong "iPhone 12" sales on top of high demand for the iPhone 11. Sustained Services revenue momentum into the next year pushes the multiple from 16x to 20x, and the price target from $275 to $355.
Morgan Stanley reiterated its "Overweight" rating on shares of AAPL, which were trading up $1.65 (or 0.52%) to $316.89 in afternoon trading on the NASDAQ stock market.