COVID outbreak on 'Mythic Quest' set strains ties between crew and producers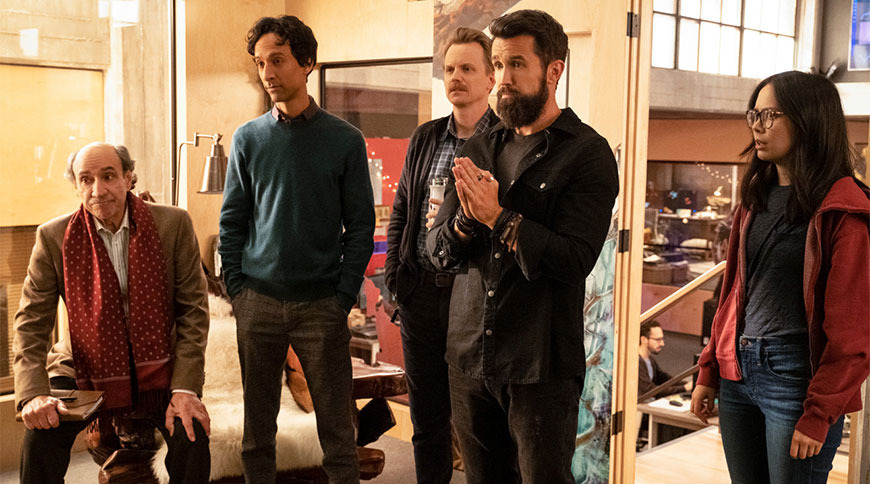 AppleInsider is supported by its audience and may earn commission as an Amazon Associate and affiliate partner on qualifying purchases. These affiliate partnerships do not influence our editorial content.
Crew members on the set of Apple TV+ original series "Mythic Quest" are venting to media outlets after producers called the production one of the "safest places you can be outside of your homes" despite two reported COVID clusters.
Citing sources familiar with the matter, Variety reports show creator and star Rob McElhenney in early December sought to reassure cast and crew of the production's safety. After being informed of a "several" positive cases on Dec. 4, McElhenney suspended production and sent a memo to staff the next day.
"For as alarming as this sounds, we have been expecting this for weeks," the note reads. "The numbers in the county are spiking and consequently our numbers are doing the same. But to date there remains ZERO evidence of any transmission at work. Our set continues to be one of the safest places you can be outside of your homes."
Those claims were characterized as "utter horseshit" by one crew member who contracted the deadly virus. The unnamed person said he was in close contact with others who also tested positive at the CBS Radford lot in Studio City, the report says. There have been four outbreaks at the facility over the past month with at least 12 cases traced back to "Mythic Quest." The show previously reported several cases in November.
A second crew member told Variety that the production initially adhered to COVID protocols like mask mandates and social distancing, but later relapsed to "standard operating procedure[s]" near the end of the shoot.
An environmental consulting firm tasked to oversee the production's coronavirus safety measures maintains the show was in compliance with regulations handed down by scientists and health experts. Lionsgate, which produces "Mythic Quest," echoed the statement, adding that the "health and safety of our Mythic Quest' team is our highest priority."
At least one crew member who tested positive believes they contracted the virus on set. While the production did not intentionally put workers in harm's way, there was pressure to get the job done, the person said. Following an 11 day pause in production, shooting resumed on Wednesday.
McElhenney defended his note to show staff in a statement to Variety.
"Our medical staff has made every effort to ensure the health and safety of our crew," he said. "We have all been working tirelessly to expedite the sharing of clear and accurate information in a timely manner. No decision was made nor information communicated without the science to support it. As all productions are seeing, it's impossible to mitigate one hundred percent of the risk. CTEH, our scientists and public health advisers, and our entire production team have followed all protocols put in place by the CDC, LA County, SAG/AFTRA and the DGA. We will continue to follow the science and work in the safest way possible. We are very proud of the diligence, patience and dedication of our cast and crew."
"Mythic Quest" is a tentpole series for Apple TV+, with Apple ordering a second season before the first aired in February.