Case for unannounced 11-inch iPad spotted at Target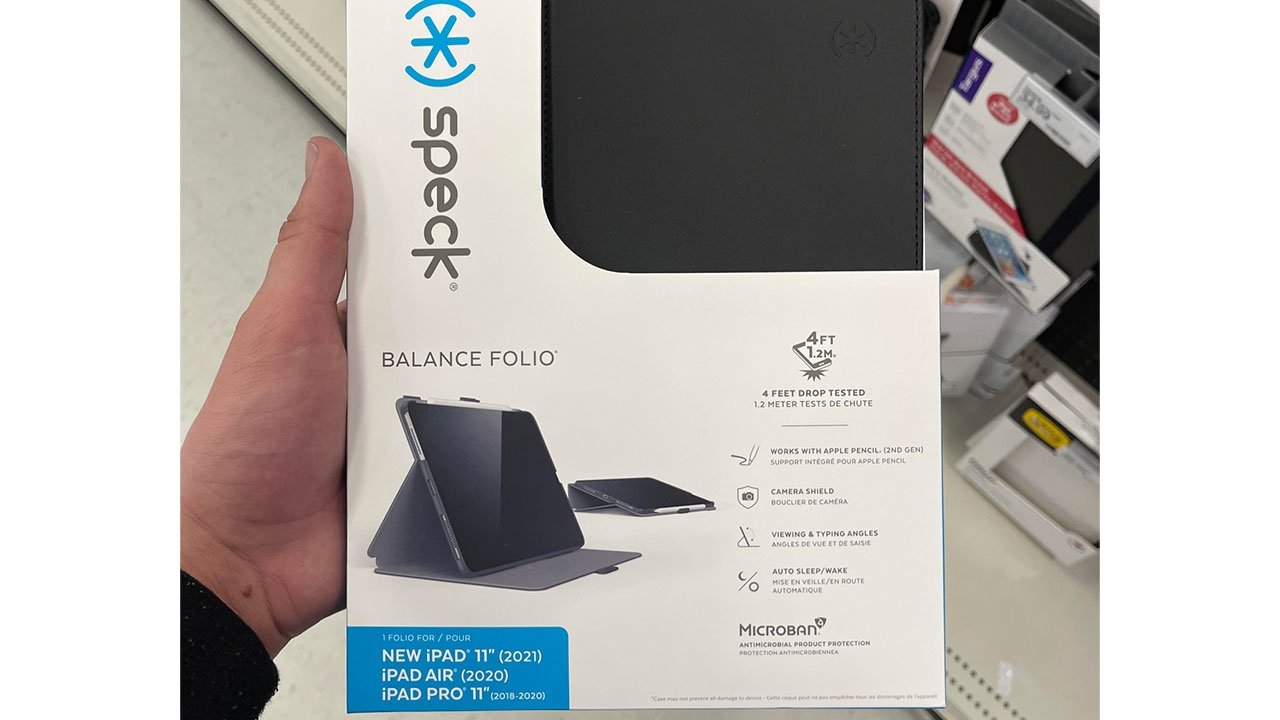 In the lead-up to an expected Apple hardware event in March, a case from third-party accessory maker Speck popped up at Target sporting compatibility with a new 11-inch iPad model rumored to launch this spring.
A photo of the case, a version of Speck's Balance Folio line, was posted to Reddit on Tuesday and seemingly indicates Apple will launch a new 11-inch iPad for 2021. In addition to the new iPad, the case can also be used with Apple's 2020 iPad Air, which boasts a 10.9-inch display and iPad Pro styling, and 2020 11-inch iPad Pro.
Notably, the case denotes a 2021 "iPad" and not "iPad Pro," the latter of which is the only Apple tablet with an official 11-inch screen specification. The current iPad sports a 10.2-inch display, though analyst Ming-Chi Kuo predicted Apple would introduce a 10.8-inch model last year. More recent reports conflict with Kuo's assessment, saying the entry level device will retain a 10.2-inch screen while integrating a slimmer chassis.
In either case, Apple is widely expected to carry over 2020's 11-inch iPad Pro design into 2021, upgrading only internal components. Speck's case would fit such a device.
When attempting to purchase the Speck case, Redditor "nanosplitter21" was met with an error message that said it could not be sold before April 4. A Target employee confirmed the product was placed on the sales floor by mistake.
It is unclear whether Speck has insight into Apple's 2021 iPad launch plans, though third-party accessory makers traditionally do not have access to such information. Speck likely manufactured the case and corresponding packaging based on rumors and industry leaks in an attempt to get a leg up on competition, a gamble companies are willing to take.
Apple is expected to hold a special iPad event this month, though the tech giant has yet to announce a date. Along with iPad and iPad Pro, Apple is rumored to debut its long-awaited "AirTags" tracking device and potential updates to iPad mini and Apple TV.
Leaker DuanRui this week said Apple's event is scheduled for March 23, though that date has not been confirmed.