Weekend deals: Apple Watch styles on sale from $199, save up to $100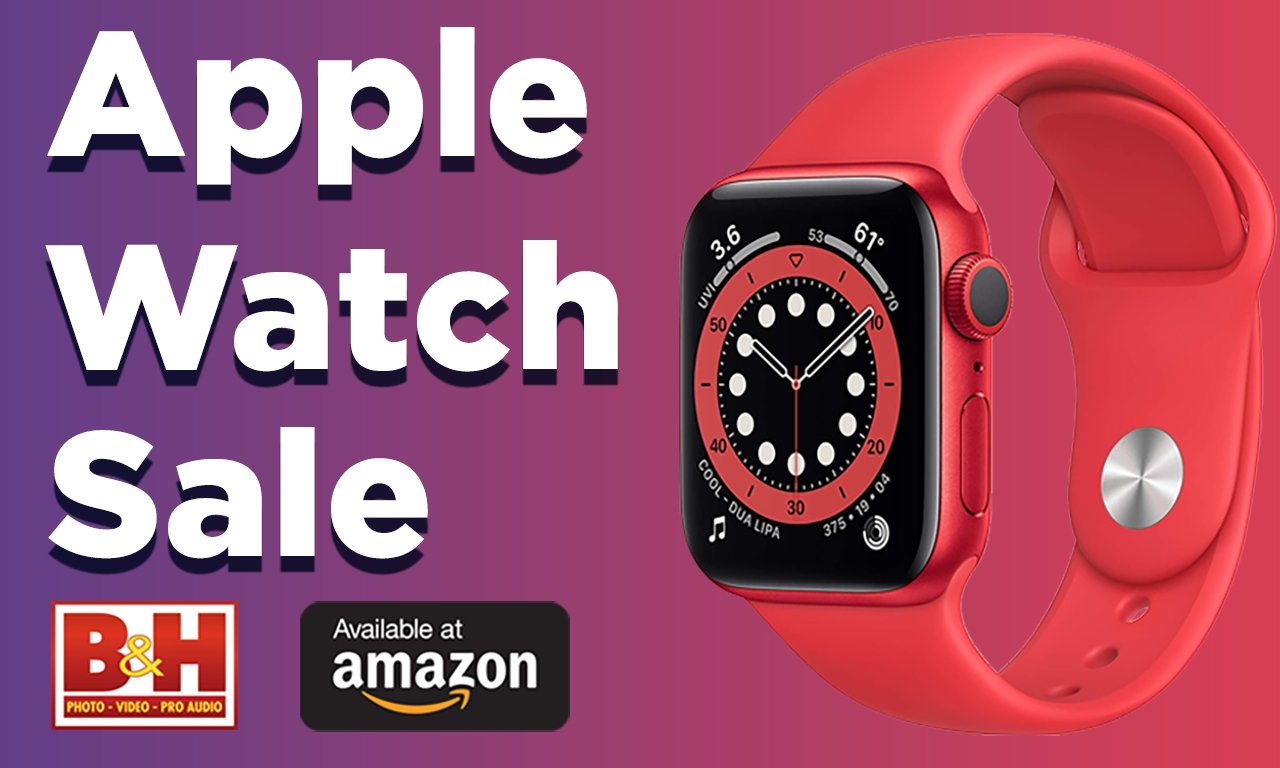 With Father's Day on the horizon, June's Apple Watch deals offer shoppers double-digit and even triple-digit savings on the latest styles.
Weekend Apple Watch deals
Price wars are going on now on popular Apple Watch styles, with both B&H Photo and Amazon issuing fresh deals on current models.
The markdowns can be found in the AppleInsider Apple Watch Price Guide, which is home to the latest prices from leading Apple resellers.
A few top picks from the sale include this 40mm Apple Watch Series 6 in red for $329, a discount of $70 off MSRP. Supply is limited on this Series 6 model with Cellular in Blue, which is $100 off at Amazon right now.

Those looking for a budget-friendly option can also save on the Apple Watch SE, with prices as low as $269.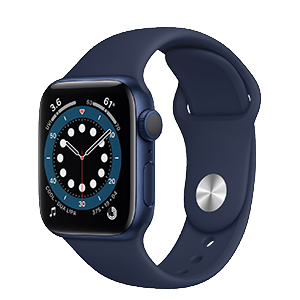 Apple Watch Series 6 Prices
AppleInsider may earn commission on products purchased through affiliate links.
---
Configurations
Discount
40mm S6 GPS (Red Aluminum, Red Sport Band)

$399.00

$318.98
$384.00
$399.00
$399.00
$374.00
$80.02
44mm S6 GPS (Red Aluminum, Red Sport Band)

$429.00

$349.00
$399.00
$419.00

Coupon

Price with $10 promo code APINSIDER. As always, if you have any issues, you can reach out to us at [email protected] and we'll try and help.

$429.00
$429.00
$80.00
40mm S6 GPS (Blue Aluminum, Navy Sport Band)

$399.00

$349.00
$384.00
$399.00
$399.00
$379.00
$50.00
44mm GPS (Blue Aluminum, Navy Sport Band)

$429.00

$379.00
$414.00
$429.00
$429.00
$429.00
$50.00
40mm GPS (Gray Aluminum, Black Sport Band)

$399.00

$439.00
$384.00
$399.00
$399.00
$399.00
$15.00
44mm GPS (Gray Aluminum, Black Sport Band)

$429.00

$462.94
$429.00
$419.00

Coupon

Price with $10 promo code APINSIDER. As always, if you have any issues, you can reach out to us at [email protected] and we'll try and help.

$429.00
$429.00
$10.00
40mm GPS (Silver Aluminum, White Sport Band)

$399.00

$459.99
$384.00
$399.00
$399.00
$399.00
$15.00
44mm GPS (Silver Aluminum, White Sport Band)

$429.00

$370.79
$414.00
$429.00
$429.00
$429.00
$58.21
40mm GPS (Gold Aluminum, Pink Sport Band)

$399.00

$329.00
$384.00
$399.00
$399.00
$399.00
$70.00
44mm GPS (Gold Aluminum, Pink Sport Band)

$429.00

$370.27
$429.00
$429.00
$429.00
$429.00
$58.73
40mm GPS (Gray Aluminum, Black Nike Sport Band)

$399.00

n/a

$384.00
$409.00
$399.00

n/a

$15.00
44mm GPS (Gray Aluminum, Black Nike Sport Band)

$429.00

n/a

$429.00
$439.00
$429.00

n/a

$0.00
40mm GPS (Silver Aluminum, Platinum Nike Sport Band)

$399.00

n/a

$384.00
$409.00
$399.00

n/a

$15.00
44mm GPS (Silver Aluminum, Platinum Nike Sport Band)

$429.00

n/a

$429.00
$439.00
$429.00

n/a

$0.00
40mm S6 Cellular (Red Aluminum, Red Sport Band)

$499.00

$359.00
$359.00

n/a

$499.00
$499.00
$140.00
44mm S6 Cellular (Red Aluminum, Red Sport Band)

$529.00

$429.00
$429.00

n/a

$529.00
$529.00
$100.00
40mm Cellular (Blue Aluminum, Navy Sport Band)

$499.00

$399.00
$399.00

n/a

$499.00
$499.00
$100.00
44mm Cellular (Blue Aluminum, Navy Sport Band)

$529.00

$458.55
$499.00

n/a

$529.00
$529.00
$70.45
40mm Cellular (Gray Aluminum, Black Sport Band)

$499.00

$433.89
$499.00

n/a

$499.00
$499.00
$65.11
44mm Cellular (Gray Aluminum, Black Sport Band)

$529.00

$459.94
$499.00

n/a

$529.00
$529.00
$69.06
40mm Cellular (Silver Aluminum, White Sport Band)

$499.00

$549.00
$469.00

n/a

$499.00
$499.00
$30.00
44mm Cellular (Silver Aluminum, White Sport Band)

$529.00

$479.00
$509.00

n/a

$529.00
$529.00
$50.00
40mm Cellular (Gold Aluminum, Pink Sport Band)

$499.00

$434.05
$529.00

n/a

$499.00
$499.00
$64.95
44mm Cellular (Gold Aluminum, Pink Sport Band)

$529.00

$479.00
$529.00

n/a

$529.00
$529.00
$50.00
40mm Cellular (Gray Aluminum, Black Nike Sport Band)

$499.00

n/a

$469.00

n/a

$499.00

n/a

$30.00
44mm Cellular (Gray Aluminum, Black Nike Sport Band)

$529.00

n/a

$499.00

n/a

$529.00

n/a

$30.00
40mm Cellular (Silver Aluminum, Platinum Nike Sport Band)

$499.00

n/a

$499.00

n/a

$499.00

n/a

$0.00
44mm Nike S6 Cell (Silver Al, Platinum Nike Sport Band)

$529.00

n/a

$499.00

n/a

$529.00

n/a

$30.00
40mm Cellular (Gold Stainless, Gold Milanese Loop)

$749.00

n/a

$699.00

n/a

n/a

n/a

$50.00
44mm Cellular (Gold Stainless, Gold Milanese Loop)

$799.00

n/a

$699.00

n/a

n/a

n/a

$100.00
40mm Cellular (Gold Stainless, Navy Sport Band)

$699.00

n/a

$699.00
$665.00

Coupon

Price with $14 promo code APINSIDER. As always, if you have any issues, you can reach out to us at [email protected] and we'll try and help.

n/a

n/a

$34.00
44mm Cellular (Gold Stainless, Navy Sport Band)

$749.00

n/a

$749.00
$729.00

n/a

n/a

$20.00
40mm Cellular (Graphite Stainless, Black Sport Band)

$699.00

n/a

$549.00

n/a

$699.00

n/a

$150.00
44mm Cellular (Graphite Stainless, Black Sport Band)

$749.00

n/a

$699.00

n/a

$749.00

n/a

$50.00
40mm Cellular (Silver Stainless, Silver Milanese Loop)

$749.00

n/a

$699.00

n/a

$749.00

n/a

$50.00
44mm Cellular (Silver Stainless, Silver Milanese Loop)

$799.00

n/a

$799.00

n/a

$799.00

n/a

$0.00
40mm Cellular (Graphite Stainless, Graphite Milanese Loop)

$749.00

n/a

$749.00

n/a

$749.00

n/a

$0.00
44mm Cellular (Graphite Stainless, Graphite Milanese Loop)

$799.00

n/a

$799.00

n/a

$799.99

n/a

$0.00
Additional Apple deals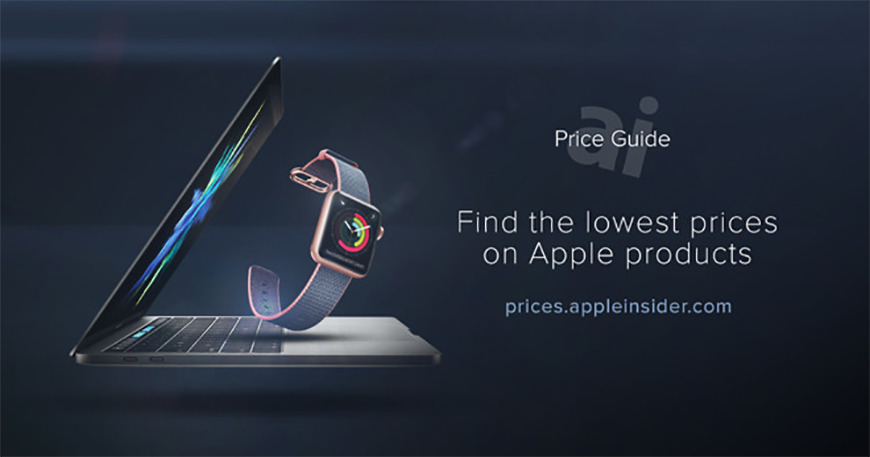 AppleInsider and Apple Authorized Resellers are also running additional exclusive deals on Apple devices that will not only deliver the lowest prices on many of the items, but also throw in bonus savings on AppleCare, peripherals and more. Here are just a few of the promotions: