Mini LED in new MacBook Pro is '100% confirmed,' claims analyst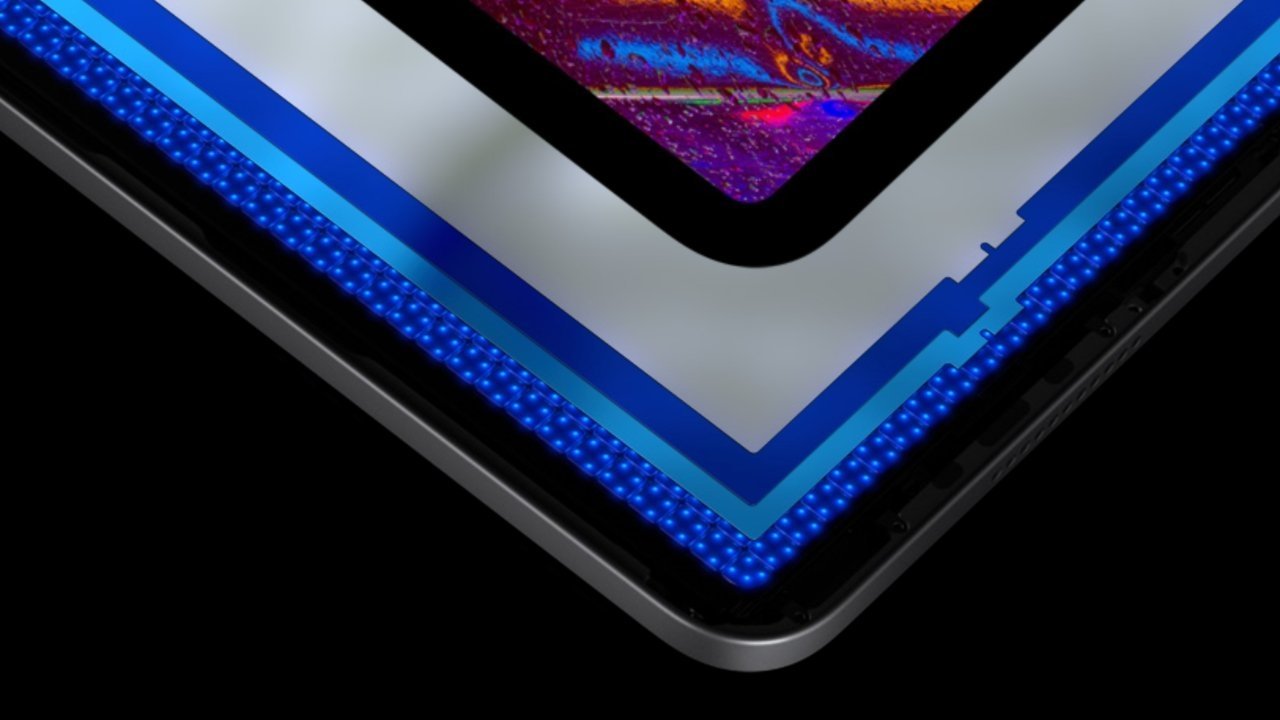 Apple will be introducing Mini LED backlighting to the MacBook Pro line, a display supply chain analyst has indicated, with Apple using the same panel suppliers for the new notebooks as it does for the iPad Pro range.
Apple is expected to update the display in the rumored 14-inch MacBook Pro and 16-inch MacBook Pro from LED to mini LED, a change that could be confirmed during October's upcoming special event. In a tweet after the Apple event announcement, a long-time display market analyst offers details about Apple's display panel supply, which seems to point to mini LED's inbound introduction.
Panel suppliers are the same between the iPad Pro's and MacBook Pro's - LG Display and Sharp. Expecting similar technology - oxide backplanes, miniLED backlights and 120Hz refresh rates. MiniLEDs, 100% confirmed.

— Ross Young (@DSCCRoss) October 12, 2021
The tweet from Ross Young, CEO of Display Supply Chain Consultants, claims the suppliers of display panels are "the same between the iPad Pro's and the MacBook Pro's." The suppliers are LG Display and Sharp, two long-time partners of Apple.
Young does have a track record on hardware leaks. In response to a report claiming the iPad mini would use mini LED in July, he tweeted saying it wouldn't happen for 2021, and that the story "was not correct."
In terms of features to expect, Young says to consider there to be "oxide backplanes, mini LED backlights, and 120Hz refresh rates." Further underlining the assertion, Young declares "Mini LEDs, 100% confirmed."
Mini LED is set to provide the same benefits to the MacBook Pro lineup as it does to the 12.9-inch iPad Pro, with highly localized dimming zones enabling extremely high contrast levels, improved HDR capabilities, and potential power savings.
September reports claimed the mini LED components for the displays were on schedule for a fall launch, though earlier in the month, it was alleged that the new models were affected by component shortages, delaying their launch.
Details found in a macOS Monterey beta revealed a pair of display resolutions that seemingly aligned with rumors of updated MacBook Pro models. If true, the new models could have resolutions of 3,024 x 1,964 and 3,456 x 2,234, respective of size.
The addition of "120Hz refresh rates" is an unusual claim, but given the presence of premium displays on the market with higher refresh rates, it makes sense for Apple to follow along. The current 16-inch MacBook Pro offers refresh rates between 47.95Hz and 60Hz.
It is unlikely that the reference is for ProMotion, Apple's technology in the iPhone 13 Pro and the iPad Pro that can automatically adapt the refresh rate depending on the content being viewed. While there hasn't really been much suggestion of ProMotion for the MacBook Pro line, especially given that computer displays typically stay at one set refresh rate instead of varying on the fly, there's always a chance something similar could be implemented in a future MacBook Pro.