Samsung's new 27-inch monitor competes with Apple's Studio Display at half the price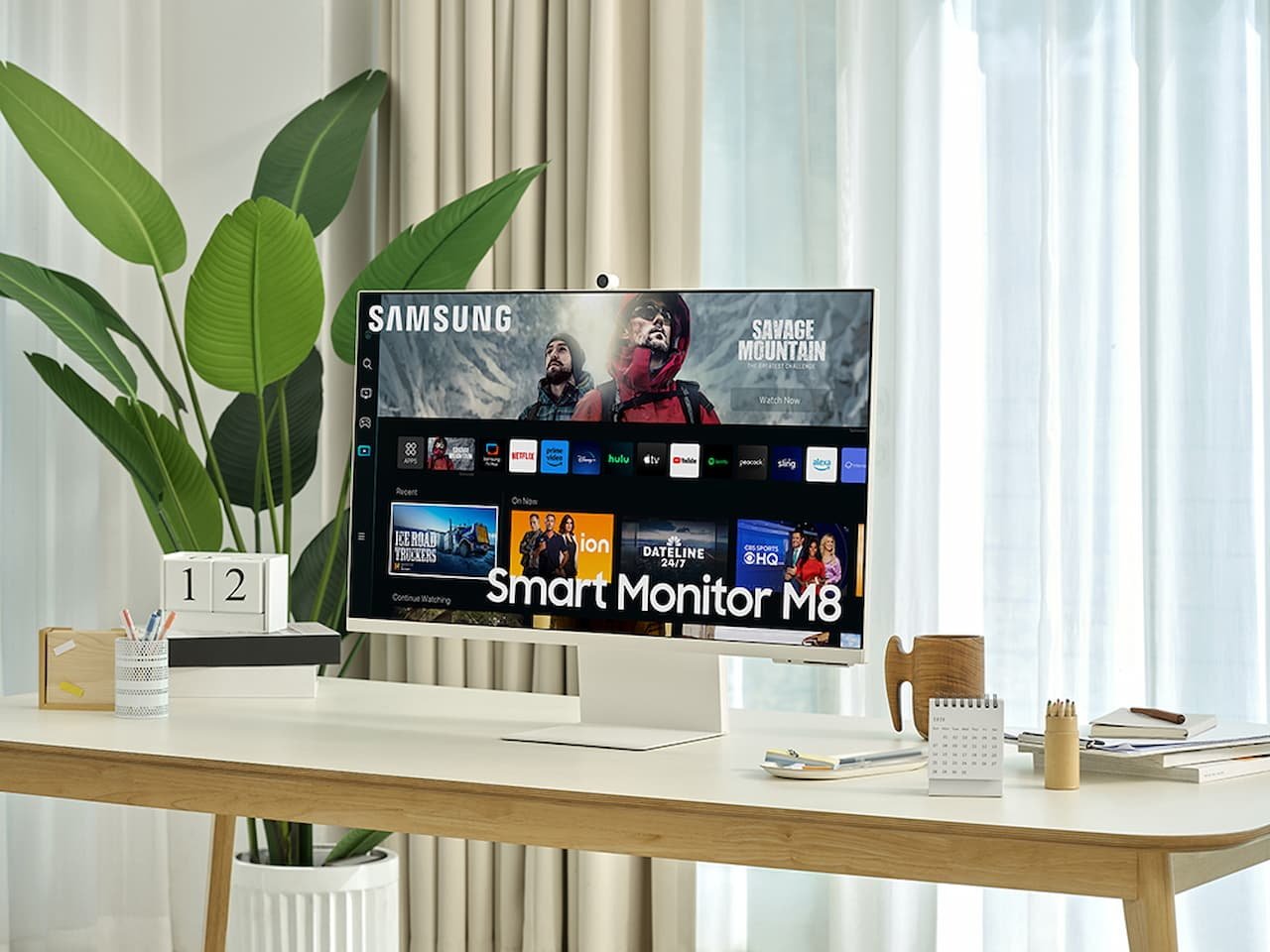 Samsung on Tuesday officially unveiled the newest smart monitors in its M-series lineup, with a $649 27-inch Studio Display competitor joining the mix.
Announced at CES 2023, Samsung's M-series monitors feature all-in-one smart solutions not available in other "dumb" monitors. The new 27-inch M8 model competes directly with Apple's Studio Display, though at a much lower price.
The official announcement from Samsung states that these new monitors, the M8 (M80C), M7 (M70C), and M5 (M50C), are designed to be tailored to each individual's needs. But the biggest selling point may be the new 27-inch model, joining the flagship 32-inch option.
The M8, which now comes in a new size, is still packed with features, including support for 4K resolution, HDR10+, and up to 400 nits of brightness. Both the M8 and the M7 smart monitors also offer color coverage up to 99% sRGB, so colors should be well represented on the screens.
Samsung says the M8 and M7 smart monitors feature an "Iconic Slim Design" with a back that measures in at just 11.39mm. And both monitors feature both height and tilt-adjustable stands. The screen itself can even rotate 90 degrees, helping view documents in portrait orientation.
The smart monitors have a range of streaming apps built in, like Amazon Prime and Netflix, and also include the company's Smart TV features, like Samsung Gaming Hub. This will allow users to play a variety of different games, all without needing a console or PC.
They also support connecting, managing, and controlling various smart home products, thanks to Matter support and a built-in SmartThings Hub. This means users can use Samsung's SmartThings app to control the lights in their homes and much more.
The M8 and M7 also feature built-in voice assistants — Samsung's Bixby and Amazon's Alexa. To help with that, both monitors also have built-in microphones with far-field voice support.
For Apple users, they have integrated AirPlay 2 — for both audio and video.
But wait, there's a little more
The range of 2023 smart monitors also boast "My Contents", which Samsung says will allow users to "quickly access helpful information". The company outlines how the smart monitors can detect a "registered smartphone" through Bluetooth Low Energy (BLE), and then show calendar information, photos, weather stats, and more.
The M8 also comes with a magnetic, removable camera. It supports FHD resolution and Auto Framing, which will keep the user in the center of the camera while on a video call.
The M8 is available starting at $649.99 for the 27-inch option, or $699.99 for the 32-inch model. The 27-inch M7 costs $549.99, while the 32-inch model retails for $599.99. The M5 costs $279.99 or $299.99 for the 27- and 32-inch models, respectively.
Finally, the M8 comes in four different colors: Warm White, Sunset Pink, Spring Green, and Daylight Blue. The M7 is available in Warm White, while the M5 comes in either black or white.
Each of the new M-series smart monitors will go on sale this June.
When compared, Samsung's previous M8 Smart Monitor does an admirable enough job stacked up against Apple's Studio Display.
We went hands-on with Samsung's newest monitors earlier this year at CES and were impressed with the wide variety Samsung has brought to market including productivity and gaming models.