Apple's iPhone 15 & Apple Watch event — what we loved, and didn't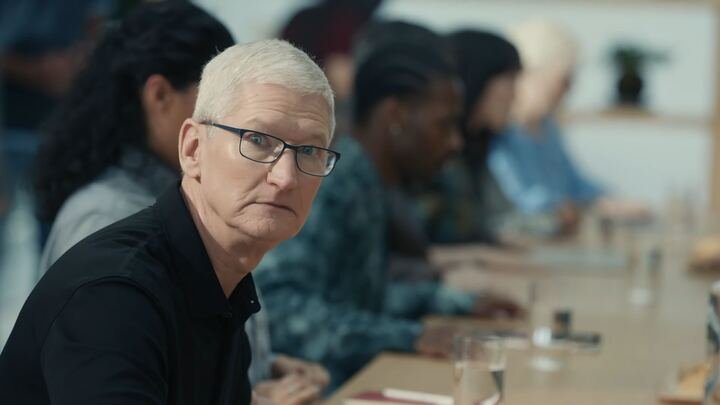 The iPhone 15 and Apple Watch Series 9 Apple released on Tuesday are expectedly evolutionary and not revolutionary, but what's inside them makes us wonder where we go from here.
Just like the rumors predicted, this was a pretty iterative year for Apple's September event. As expected, we got new iPhone models but nothing dramatic, and similar for the Apple Watch.
That's fine. We cannot and should not expect Apple to blow our minds every time it rolls out new products, and the company is purportedly keeping its powder dry for next year, when Apple is rumored to be rolling out a more significant overhaul to the iPhone line.
Having said that, there was still quite a lot to talk about.
Apple's best gaming machine: the iPhone 15 Pro
While we didn't get the Ultra model that some rumor sites thought we would, we did get an iPhone 15 Pro with an A17 Pro chip. Among the other capabilities of the chip is a big boost to its Neural Engine core, which handles Machine Learning (ML) capabilities that help with things like image and video editing, voice recognition and other operations.
The A17 Pro also sports 20% faster GPU performance than its predecessor, and Apple says that'll translate into a much better gaming experience for the iPhone 15 Pro. Including, for the first time, hardware-based ray tracing capabilities.
Apple heralded this as the technology driving the forthcoming release of console-quality games for the iPhone 15 Pro, including Resident Evil games and a new Assassin's Creed title that's due out sometime next year, hopefully before the next iPhone comes out.
Why is any of this important? Because people play games on their iPhone - a lot. Back in 2021, its legal fight with Epic Games revealed that Apple actually makes more on games and game In-App Purchases (IAP) every year than Sony, Nintendo, Microsoft and Activision combined.
So it's understandable why it wants its flagship iPhone to be the best possible gaming device it can be, even outpacing the Mac.
Real-time hardware-based ray tracing is a very big deal for games and for Apple platforms more generally. It was, up until fairly recently, the domain of big, expensive, power-hungry graphics cards for PCs, from companies like Nvidia and AMD.
Apple and other mobile chip makers like Samsung and Qualcomm have scaled hardware ray tracing to the chips that power smartphones. Apple must take it a step further though, because hardware-based ray tracing is still missing from the Mac, which really needs it.
Hopefully some of this A17 Pro goodness will trickle down to the M3 and M3 Max chips we expect to see in the 2024 crop of Macs.
Way better photos and videos for the Pros
All iPhone 15 models get 48 megapixel (MP) sensors this year, with the Pro capable of outputting 4K High Dynamic Range (HDR) video at 60 frames per second. The 15 Pro Max gets a "tetraprism" camera lens that drives it 5x optical zoom feature - that's the "periscope" lens that rumor sites presaged.
It's worth noting that periscope lenses in high-end smartphones are not novel only to the iPhone 15 Pro. Google's had them in the Pixel Pro 8 for a while now, for example. But also inside the 15 Pro Max is a new optical image stabilization system that promises to keep your zoomed images sharp.
The new optics, combined with the Neural Engine stuff we've already discussed and other clever techniques, is driving new computational photography features that translate into way, way better image quality on the higher-end iPhones in low light, in motion, with richer levels of detail and better clarity.
One of the things we're happy to see here is the ability to process portrait images after the fact. You can take a photo in the moment, then when you have a bit, isolate the subject, even change the focal length to highlight a different subject in the image.
Apple talked about the efficiency of the codecs it's using, but 48MP and 24MP images and video stack up fast. So it's high time that Apple bumped up the amount of iCloud storage folks can buy, with 6 or 12 terabyte (TB) options.
Given that's the case, and that 48 MP sensors are available across the board not only for all iPhone 15s but even for last year's iPhone 14 Pro, it's scandalous that Apple still only provides users with 5GB of storage on the free iCloud tier.
Apple makes a ton of money every year selling services to its customers, and it can definitely be less parsimonious with the amount of cloud-based storage it doles out.
Bye Lightning
The iPhone's switch to a USB-C port was inevitable: Apple's already made the transition for most of its products (beginning with the MacBook almost a decade ago now), and last year's European Union mandate all but sealed the fate of Lightning going forward.
As expected, the iPhone 15 line now includes USB-C in place of Lightning. The non-pro iPhone 15 models get USB-C operating at USB2 speeds up to 480 Mbps, while the Pro editions can transfer up to 10 Gbps when used with an optional USB 3 cable.
That falls short of Thunderbolt speeds, but it's a marked improvement.
Lightning connectivity will remain part of the Apple ecosystem for many years to come. It's disappeared from the iPhone 15, but Apple continues to sell plenty of models without it, and still hasn't updated other peripherals that use it.
One rumor we were happy to see not come to pass: that Apple would maintain some sort of "Made For iPhone" (MFI) cabling certification process to assure compatibility. Apple is offering its own cabling, if you have more money than sense, or just like spending a lot more than you need to.
One last, purely aesthetic point on the iPhone 15 — Apple's colors for this year's models are mediocre. We're not big fans of pastels here, so the color choices for the 15 and 15 Plus feel flat, and the 15 Pro's color palette seems extra dark.
While the mechanism of PVD color deposition on titanium is far, far beyond the scope of this article, we acknowledge that Apple is somewhat limited by how it can actually color Titanium, when it comes to the Pro. Give us a bit of saturation for the 15 and the 15 Plus glass back, at the very least!
Picking nits over the Apple Watch
There was a lot of talk about nits for the new Apple Watches, and that's because it's the one thing that really physically differentiates the new Series 9 and Ultra 2 from their predecessors. We're not talking about larval lice here: a nit is a unit of measurement for light intensity which equals one candela per square meter.
And the Apple Watch Series 9 and Ultra 2 both sport dramatically better brightness levels than their forebears: 2,000 nits for the Series 9, double the 8, and 3,000 for the Ultra 2, compared to 2,000 for the first Ultra. What's more, both of them are capable of going down to 1 nit of brightness.
That's better for when you're checking your watch in the theater, for example, or on your bedstand during pre-dawn hours. It also translates into better battery efficiency.
As anticipated, the Series 9's most standout features are under the hood, inside the S9 chip that powers the device. After relatively modest performance gains in recent years, the S9 is a big leap forward, and Apple's used the new chip's ability to cram more features into the watch.
The most notable of these is a new double-tap gesture which enables the Apple Watch wearer to activate the primary button function of Apple Watch apps, so you can use it to start and stop music, hit your alarm clock snooze button and more.
It's interesting to see Apple break this out as a spotlight feature of the new Series 9, as it seems to be a somewhat iterative improvement over accessibility gestures that the company already introduced in previous Apple Watch models.
Those Neural Engine enhancements we mentioned extend to the S9 System in Package (SiP) that graces the new Apple Watch Series 9 and Ultra 2, enabling a lot more on-board processing than before. That has a practical security and performance benefits.
Your Siri queries, for example, don't need to get uploaded to Apple servers, processed, and then sent back — it all happens right on the device.
Another under-the-hood improvement on the new watches is Ultra-wideband (UWB) 2 support, which provides more precise location finding, a feature also found on the new iPhones. If you've ever used your Apple Watch to find an errant iPhone or other "Find My"-compatible device that's gone missing, you know how handy this can be.
Rumors that Apple would force users of new Apple Watch models into a new band design turned out to be for nought. The purported magnetic band attachment system for new Apple Watches may be in store for future designs, but the bands that fit these new watches are downward-compatible with previous models.
Apple did introduce several new band designs and styles, specifically emphasizing their recycled content and carbon-neutrality. More on the "greening" of the Apple watch in a moment.
Green Apple
Apple's message about its commitment to sustainability came through loud and clear repeatedly during the event: the company's sourcing recycled materials for the new devices, and claims that the Apple Watch Series 9 is its first entirely carbon-neutral device. Well, some of them, anyway.
Any aluminum Apple Watch Series 9 or SE when paired with the new Sport Loop is carbon neutral, according to the company.
The message was repeatedly emphasized, culminating with an interstitial skit between product announcements featuring Oscar-winning actress Octavia Spencer - star of Apple TV+'s own series "Truth Be Told" - cast as a taciturn and dubious Mother Nature, grilling Tim Cook and others on Apple's environmental plans.
That skit seemed a bit heavy-handed to us, something that could have been compressed into a lot less time with a much less elaborate gag. But perhaps the piece's subtext was to remind everyone that Apple is a serious Hollywood player these days, just as much as a tech company.
We get it, Apple, you're doing your best to reduce the environmental impact of you and your suppliers. There's need to beat us over the head with it. It would have been more impactful the week after the event, in between the iPhone pre-order and shipment, for example.
Regardless, it certainly got folks talking.
We weren't expecting fireworks from the Wonderlust event, and we didn't get any. As has been the case for 10 years, the iteration is not year-over-year, but on a two- or three- year scale which more closely matches the average replacement cycle.
More than anything, the big leaps forward Apple is making in the chips that power these device has us very excited about what's to come.