24-inch iMac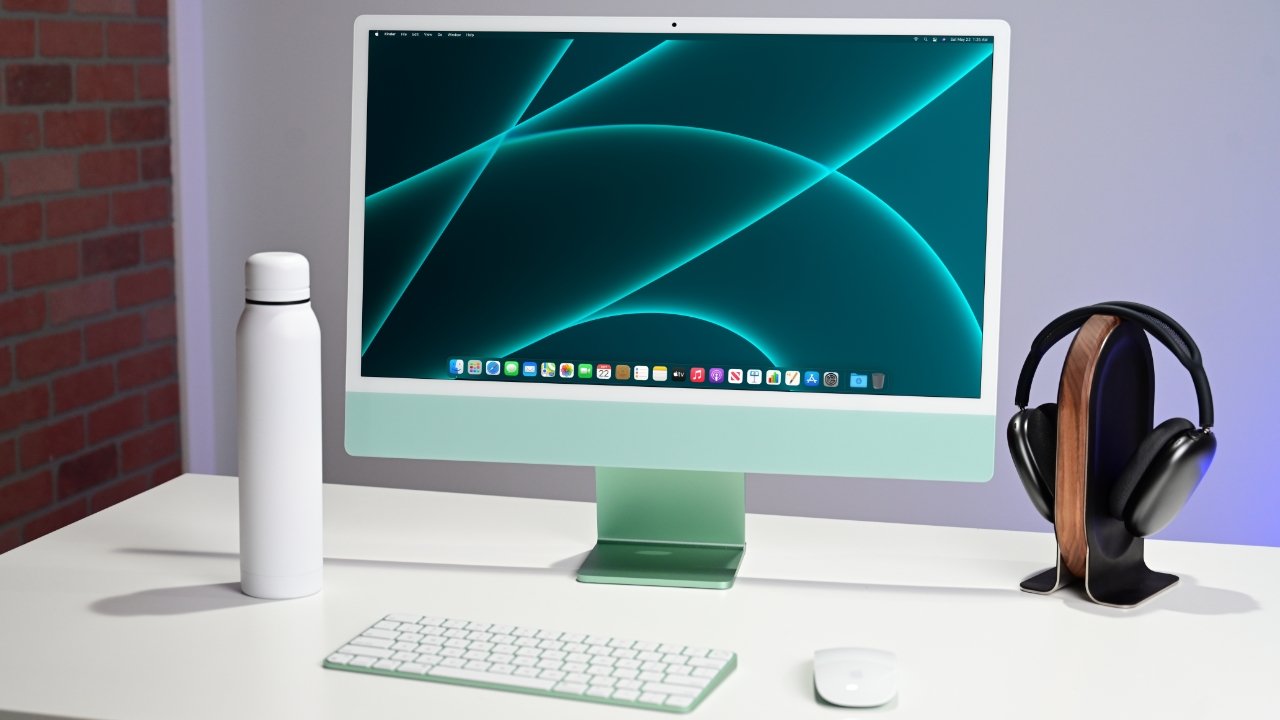 The 24-inch iMac is a testament to the power and efficiency the M1 processor provides. Apple was able to move from the bulky-aging iMac chassis to a 11.5mm thin slab of aluminum with whisper quiet fans. The 4.5K display with a slim bezel and colorful design will make your desk pop with Apple's new style.
● Thin design with minimal bezels
● M1 processor
● Spatial Audio built-in
● 24-inch 4.5K Retina Display
● Price starts at $1,299
---
The external design of the iMac had not changed much in 13 years, with minor alterations to screen size or aspect ratio being the most noticeable updates. The new 24-inch iMac breaks that cycle with a new thin and vibrant lineup.
The redesigned iMac replaces the 21.5-inch iMac 4K that ran Intel processors. A few versions of the original iMac are still available for legacy users and education markets looking for low entry prices.
Apple announced it would transition its entire Mac lineup to Apple Silicon within two years during its 2020 WWDC. The design changes for the new iMac were possible only because of Apple's use of the M1 processor.
24-inch iMac Features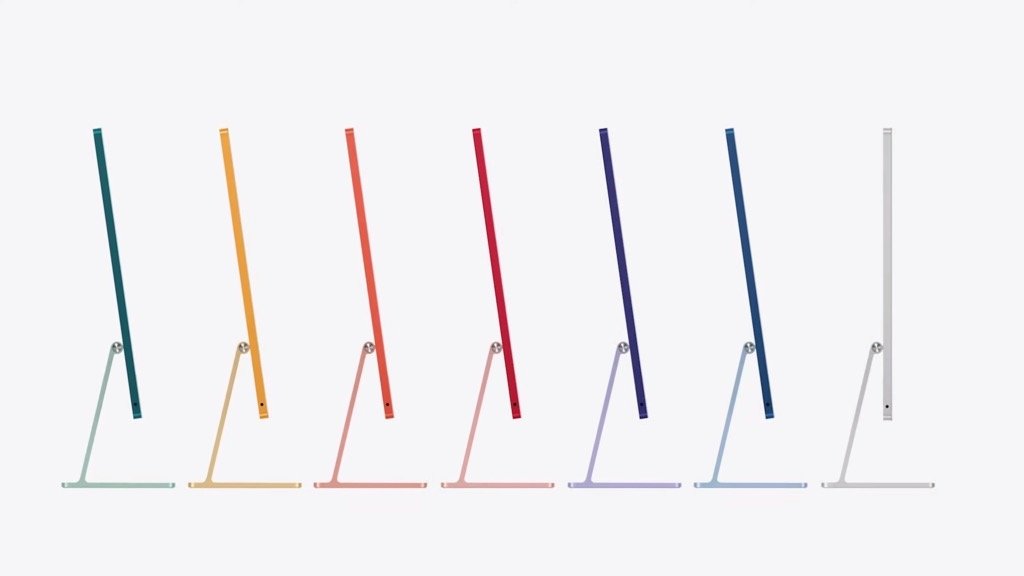 Design
The 24-inch iMac is 11.5mm thick — about the same thickness as the original iPhone. It no longer has a large chin with an Apple logo, and gone are the thick black bezels surrounding the display. Now, the iMac is a slim and light desktop PC with seven color options and powerful Apple Silicon.
Available colors:
Blue
Green
Pink
Silver
Yellow
Orange
Purple
The color design splits into two tones — a muted color on the front "chin" of the display and a more saturated color on the rear of the computer. The front has a slim white bezel surrounding the screen. The muted color and white bezel are meant to keep from throwing off color balance on the display or distracting the user.
The desktop stand is the same muted color as the faceplate and can be traded for a VESA mount at purchase. It doesn't have an adjustable height, but the entire iMac can be tilted for better viewing angles.
The colorful design bleeds over to its peripherals as well. The magnetic power cable is color-matched to the vibrant back panel, and the keyboard and mouse have colored highlights to match.
At less than 10 pounds, this desktop is easy to move around. Apple anticipated this with a new magnetic power connector. In a world where we work from home as often, if not more than the office, having a portable desktop makes some sense. Users aren't exactly expected to pop one of these iMacs out at a cafe, but the plug-and-play nature of its power cable means carrying an iMac too and from the office is not only feasible but easy.
Display and audio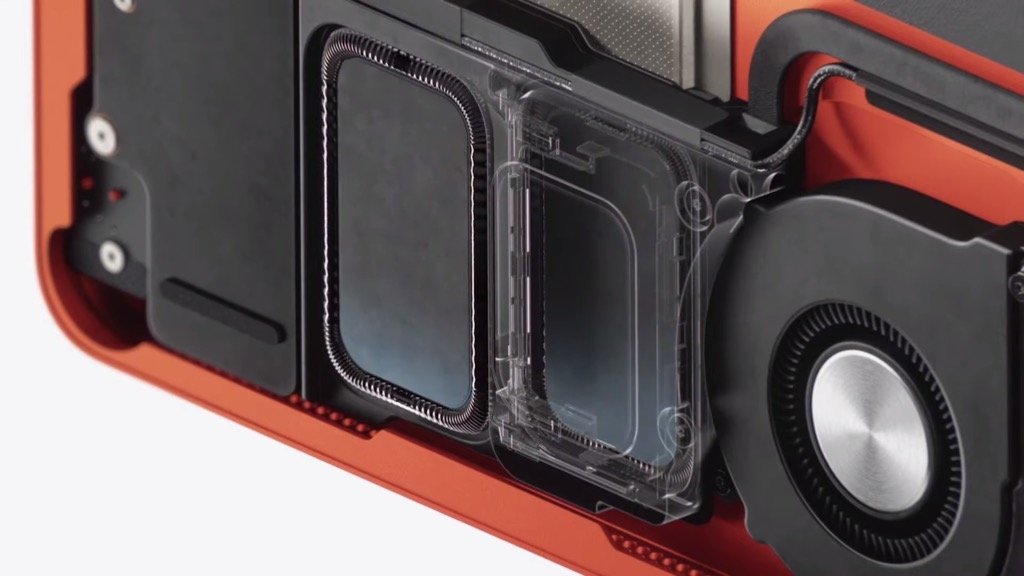 Apple increased the resolution to match the size of the new display. Moving from 21.5 inches to 24 inches necessitated an increase from 4K to 4.5K to maintain Retina resolution. It is 4480 by 2520 pixels with a 218 ppi.
The display is otherwise unchanged. It has 500 nits of brightness, P3 wide color gamut, and True Tone technology.
Users can enjoy their 4K iTunes content with color-accurate reproduction and excellent sound. Apple has packed six dynamic speakers into the 24-inch iMac monitor. Two pairs of force-canceling woofers are balanced with a high-performance tweeter, which works together to create room-filling sound.
Apple says the new iMac supports spatial audio when playing video with Dolby Atmos. This means that all audio will sound like it's coming from a specific direction around you, and when you turn your head, you'll still perceive audio from the correct direction.
Apple hasn't explained exactly how this will work with the iMac considering all of the speakers are in front of the user. Spatial audio is a feature in AirPods Pro and AirPods Max that creates a 3D sound space within the listening environment. As the user turns their head, it sounds like the audio is still coming from the iPhone or iPad speakers.
Performance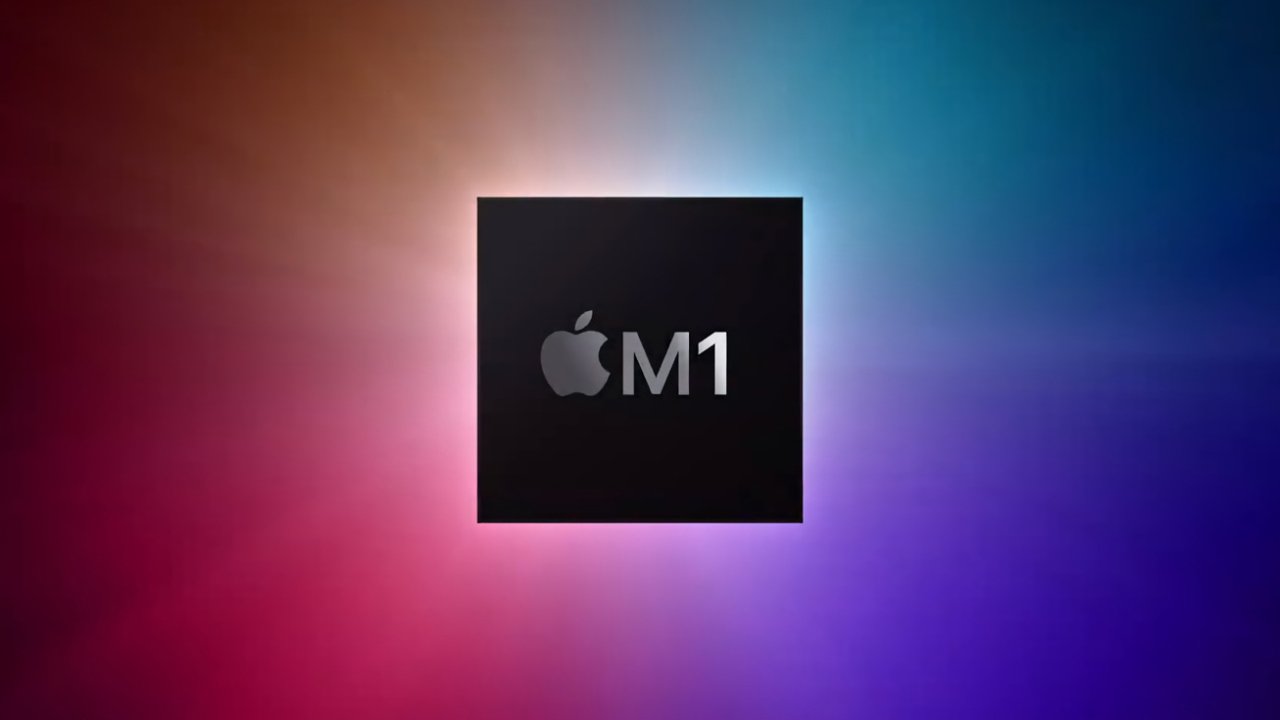 Apple is in the middle of a transition from Intel processors to custom Apple Silicon. The first processor Apple made for the Mac is the M1, and it packs a punch. When it first released in the 13-inch MacBook Pro, MacBook Air, and Mac mini, it was faster than most Intel-based MacBooks for sale.
Apple claims that the performance gains provided by the M1 enable instant wake from sleep, faster app launch, and 85% faster CPU performance. Apps like Affinity Photo so run much more efficiently that users can edit large photos in real-time.
Thanks to Rosetta 2 and macOS Big Sur, apps originally built for Intel Macs work seamlessly on the ARM platform. In some cases, Intel apps actually run better via translation on the M1 than they do on Intel Macs.
Native ARM-based apps and translated Intel apps aren't the only software users can run either. Thanks to the M1, users can run iPhone and iPad apps natively on the iMac.
There are two versions of the 24-inch iMac — a cheaper one with fewer ports and fewer color options and a more expensive one with slightly better performance. The M1 on the cheaper model has an 8-core CPU and a 7-core GPU and can be configured with up to 1TB of storage and 16GB of RAM. The more expensive model has an 8-core CPU and 8-core GPU and can be configured with 2TB of storage and 16GB of RAM.
Ports and I/O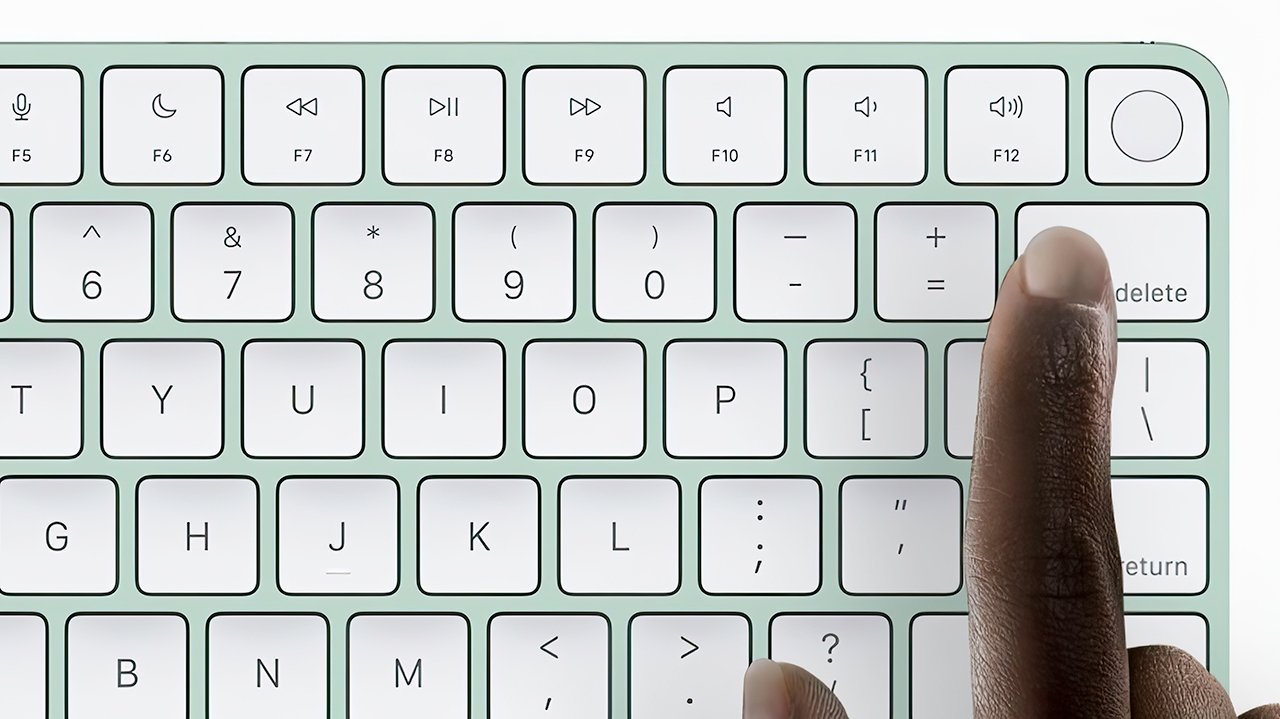 The ports included with the 24-inch iMac differ depending on which model customers choose. Both models have two USB 4/Thunderbolt ports, but only the more expensive model has two additional USB 3 ports.
The magnetic power cable connects to an external power brick that also houses a Gigabit Ethernet port. Only the more expensive models come with an Ethernet port, however.
There is a headphone jack on the left side of the iMac because there wasn't enough depth to place it in the back. A headphone jack needs 14mm of space, where the 24-inch iMac has only 11.5mm of depth.
It has a 1080p webcam with special image processing performed by the M1. Apple says it is the best webcam ever placed in a Mac.
A color-matched Magic Keyboard comes with both iMacs, but only the more expensive model has integrated Touch ID in the keyboard. Customers can upgrade their keyboard or add a color-matched Magic Mouse or Magic Trackpad at checkout.
24-inch iMac Price
The 24-inch iMac with a 4.5K display ships with a base configuration of an M1 with an 8-core CPU, 7-core GPU, 8GB of RAM, and 256GB of storage for $1,299. Customers can increase the storage up to 1TB, double the RAM, or add a Touch ID Magic Keyboard at checkout.
The higher-end model with an 8-core CPU, 8-core GPU, 8GB of RAM, and 256GB of internal storage costs $1,499. This model comes with the Touch ID enabled Magic Keyboard by default, and users can increase the storage up to 2TB or double the RAM at checkout.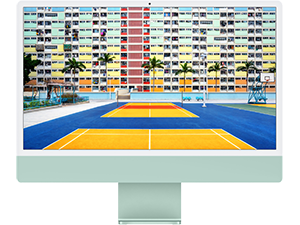 M1 iMac 24-inch Prices
---
Configurations
Discount
24" iMac (M1, 8GB, 256GB, 7-core GPU) Blue

$1,299.00

$1,299.00

preorder

place order

$1,233.00

Coupon

Save $30 instantly on AppleCare for the new M1 iMac 24-inch. Now $139 (reg. $169) when purchased with an iMac at Expercom.

$66.00
24" iMac (M1, 8GB, 256GB, 7-core GPU) Green

$1,299.00

$1,299.00

sold out

place order

$1,233.00

Coupon

Save $30 instantly on AppleCare for the new M1 iMac 24-inch. Now $139 (reg. $169) when purchased with an iMac at Expercom.

$66.00
24" iMac (M1, 8GB, 256GB, 7-core GPU) Pink

$1,299.00

$1,299.00

sold out

place order

$1,233.00

Coupon

Save $30 instantly on AppleCare for the new M1 iMac 24-inch. Now $139 (reg. $169) when purchased with an iMac at Expercom.

$66.00
24" iMac (M1, 8GB, 256GB, 7-core GPU) Silver

$1,299.00

$1,299.00

preorder

place order

$1,233.00

Coupon

Save $30 instantly on AppleCare for the new M1 iMac 24-inch. Now $139 (reg. $169) when purchased with an iMac at Expercom.

$66.00
24" iMac (M1, 8GB, 512GB, 7-core GPU) Blue

$1,499.00

place order

n/a

place order

$1,423.00

Coupon

Save $30 instantly on AppleCare for the new M1 iMac 24-inch. Now $139 (reg. $169) when purchased with an iMac at Expercom.

$76.00
24" iMac (M1, 8GB, 512GB, 7-core GPU) Green

$1,499.00

place order

n/a

place order

$1,423.00

Coupon

Save $30 instantly on AppleCare for the new M1 iMac 24-inch. Now $139 (reg. $169) when purchased with an iMac at Expercom.

$76.00
24" iMac (M1, 8GB, 512GB, 7-core GPU) Pink

$1,499.00

place order

n/a

place order

$1,423.00

Coupon

Save $30 instantly on AppleCare for the new M1 iMac 24-inch. Now $139 (reg. $169) when purchased with an iMac at Expercom.

$76.00
24" iMac (M1, 8GB, 512GB, 7-core GPU) Silver

$1,499.00

place order

n/a

place order

$1,423.00

Coupon

Save $30 instantly on AppleCare for the new M1 iMac 24-inch. Now $139 (reg. $169) when purchased with an iMac at Expercom.

$76.00
24" iMac (M1, 8GB, 1TB, 7-core GPU) Blue

$1,699.00

place order

n/a

place order

$1,613.00

Coupon

Save $30 instantly on AppleCare for the new M1 iMac 24-inch. Now $139 (reg. $169) when purchased with an iMac at Expercom.

$86.00
24" iMac (M1, 8GB, 1TB, 7-core GPU) Green

$1,699.00

place order

n/a

place order

$1,613.00

Coupon

Save $30 instantly on AppleCare for the new M1 iMac 24-inch. Now $139 (reg. $169) when purchased with an iMac at Expercom.

$86.00
24" iMac (M1, 8GB, 1TB, 7-core GPU) Pink

$1,699.00

place order

n/a

place order

$1,613.00

Coupon

Save $30 instantly on AppleCare for the new M1 iMac 24-inch. Now $139 (reg. $169) when purchased with an iMac at Expercom.

$86.00
24" iMac (M1, 8GB, 1TB, 7-core GPU) Silver

$1,699.00

place order

n/a

place order

$1,613.00

Coupon

Save $30 instantly on AppleCare for the new M1 iMac 24-inch. Now $139 (reg. $169) when purchased with an iMac at Expercom.

$86.00
24" iMac (M1, 16GB, 256GB, 7-core GPU) Blue

$1,499.00

place order

n/a

place order

$1,423.00

Coupon

Save $30 instantly on AppleCare for the new M1 iMac 24-inch. Now $139 (reg. $169) when purchased with an iMac at Expercom.

$76.00
24" iMac (M1, 16GB, 256GB, 7-core GPU) Green

$1,499.00

place order

n/a

place order

$1,423.00

Coupon

Save $30 instantly on AppleCare for the new M1 iMac 24-inch. Now $139 (reg. $169) when purchased with an iMac at Expercom.

$76.00
24" iMac (M1, 16GB, 256GB, 7-core GPU) Pink

$1,499.00

place order

n/a

place order

$1,423.00

Coupon

Save $30 instantly on AppleCare for the new M1 iMac 24-inch. Now $139 (reg. $169) when purchased with an iMac at Expercom.

$76.00
24" iMac (M1, 16GB, 256GB, 7-core GPU) Silver

$1,499.00

place order

n/a

place order

$1,423.00

Coupon

Save $30 instantly on AppleCare for the new M1 iMac 24-inch. Now $139 (reg. $169) when purchased with an iMac at Expercom.

$76.00
24" iMac (M1, 16GB, 512GB, 7-core GPU) Blue

$1,699.00

place order

n/a

place order

$1,613.00

Coupon

Save $30 instantly on AppleCare for the new M1 iMac 24-inch. Now $139 (reg. $169) when purchased with an iMac at Expercom.

$86.00
24" iMac (M1, 16GB, 512GB, 7-core GPU) Green

$1,699.00

place order

n/a

place order

$1,613.00

Coupon

Save $30 instantly on AppleCare for the new M1 iMac 24-inch. Now $139 (reg. $169) when purchased with an iMac at Expercom.

$86.00
24" iMac (M1, 16GB, 512GB, 7-core GPU) Pink

$1,699.00

place order

n/a

place order

$1,613.00

Coupon

Save $30 instantly on AppleCare for the new M1 iMac 24-inch. Now $139 (reg. $169) when purchased with an iMac at Expercom.

$86.00
24" iMac (M1, 16GB, 512GB, 7-core GPU) Silver

$1,699.00

place order

n/a

place order

$1,613.00

Coupon

Save $30 instantly on AppleCare for the new M1 iMac 24-inch. Now $139 (reg. $169) when purchased with an iMac at Expercom.

$86.00
24" iMac (M1, 16GB, 1TB, 7-core GPU) Blue

$1,899.00

n/a

n/a

place order

$1,802.00

Coupon

Save $30 instantly on AppleCare for the new M1 iMac 24-inch. Now $139 (reg. $169) when purchased with an iMac at Expercom.

$97.00
24" iMac (M1, 16GB, 1TB, 7-core GPU) Green

$1,899.00

place order

n/a

place order

$1,802.00

Coupon

Save $30 instantly on AppleCare for the new M1 iMac 24-inch. Now $139 (reg. $169) when purchased with an iMac at Expercom.

$97.00
24" iMac (M1, 16GB, 1TB, 7-core GPU) Pink

$1,899.00

place order

n/a

place order

$1,802.00

Coupon

Save $30 instantly on AppleCare for the new M1 iMac 24-inch. Now $139 (reg. $169) when purchased with an iMac at Expercom.

$97.00
24" iMac (M1, 16GB, 1TB, 7-core GPU) Silver

$1,899.00

place order

n/a

place order

$1,802.00

Coupon

Save $30 instantly on AppleCare for the new M1 iMac 24-inch. Now $139 (reg. $169) when purchased with an iMac at Expercom.

$97.00
24" iMac (M1, 8GB, 256GB, 8-core GPU) Blue

$1,499.00

$1,399.00

Coupon

Price with $100 promo code APINSIDER. As always, if you have any issues, you can reach out to us at [email protected] and we'll try and help.

preorder

place order

$1,423.00

Coupon

Save $30 instantly on AppleCare for the new M1 iMac 24-inch. Now $139 (reg. $169) when purchased with an iMac at Expercom.

$100.00
24" iMac (M1, 8GB, 256GB, 8-core GPU) Green

$1,499.00

$1,399.00

Coupon

Price with $100 promo code APINSIDER. As always, if you have any issues, you can reach out to us at [email protected] and we'll try and help.

preorder

place order

$1,423.00

Coupon

Save $30 instantly on AppleCare for the new M1 iMac 24-inch. Now $139 (reg. $169) when purchased with an iMac at Expercom.

$100.00
24" iMac (M1, 8GB, 256GB, 8-core GPU) Pink

$1,499.00

$1,399.00

Coupon

Price with $100 promo code APINSIDER. As always, if you have any issues, you can reach out to us at [email protected] and we'll try and help.

preorder

place order

$1,423.00

Coupon

Save $30 instantly on AppleCare for the new M1 iMac 24-inch. Now $139 (reg. $169) when purchased with an iMac at Expercom.

$100.00
24" iMac (M1, 8GB, 256GB, 8-core GPU) Silver

$1,499.00

$1,399.00

Coupon

Price with $100 promo code APINSIDER. As always, if you have any issues, you can reach out to us at [email protected] and we'll try and help.

preorder

place order

$1,423.00

Coupon

Save $30 instantly on AppleCare for the new M1 iMac 24-inch. Now $139 (reg. $169) when purchased with an iMac at Expercom.

$100.00
24" iMac (M1, 8GB, 256GB, 8-core GPU) Yellow

$1,499.00

place order

n/a

place order

$1,423.00

Coupon

Save $30 instantly on AppleCare for the new M1 iMac 24-inch. Now $139 (reg. $169) when purchased with an iMac at Expercom.

$76.00
24" iMac (M1, 8GB, 256GB, 8-core GPU) Orange

$1,499.00

n/a

n/a

place order

$1,423.00

Coupon

Save $30 instantly on AppleCare for the new M1 iMac 24-inch. Now $139 (reg. $169) when purchased with an iMac at Expercom.

$76.00
24" iMac (M1, 8GB, 256GB, 8-core GPU) Purple

$1,499.00

n/a

n/a

place order

$1,423.00

Coupon

Save $30 instantly on AppleCare for the new M1 iMac 24-inch. Now $139 (reg. $169) when purchased with an iMac at Expercom.

$76.00
24" iMac (M1, 8GB, 512GB, 8-core GPU) Blue

$1,699.00

$1,599.00

Coupon

Price with $100 promo code APINSIDER. As always, if you have any issues, you can reach out to us at [email protected] and we'll try and help.

preorder

place order

$1,613.00

Coupon

Save $30 instantly on AppleCare for the new M1 iMac 24-inch. Now $139 (reg. $169) when purchased with an iMac at Expercom.

$100.00
24" iMac (M1, 8GB, 512GB, 8-core GPU) Green

$1,699.00

$1,599.00

Coupon

Price with $100 promo code APINSIDER. As always, if you have any issues, you can reach out to us at [email protected] and we'll try and help.

sold out

place order

$1,613.00

Coupon

Save $30 instantly on AppleCare for the new M1 iMac 24-inch. Now $139 (reg. $169) when purchased with an iMac at Expercom.

$100.00
24" iMac (M1, 8GB, 512GB, 8-core GPU) Pink

$1,699.00

$1,599.00

Coupon

Price with $100 promo code APINSIDER. As always, if you have any issues, you can reach out to us at [email protected] and we'll try and help.

sold out

place order

$1,613.00

Coupon

Save $30 instantly on AppleCare for the new M1 iMac 24-inch. Now $139 (reg. $169) when purchased with an iMac at Expercom.

$100.00
24" iMac (M1, 8GB, 512GB, 8-core GPU) Silver

$1,699.00

$1,599.00

Coupon

Price with $100 promo code APINSIDER. As always, if you have any issues, you can reach out to us at [email protected] and we'll try and help.

preorder

place order

$1,613.00

Coupon

Save $30 instantly on AppleCare for the new M1 iMac 24-inch. Now $139 (reg. $169) when purchased with an iMac at Expercom.

$100.00
24" iMac (M1, 8GB, 512GB, 8-core GPU) Yellow

$1,699.00

place order

n/a

place order

$1,613.00

Coupon

Save $30 instantly on AppleCare for the new M1 iMac 24-inch. Now $139 (reg. $169) when purchased with an iMac at Expercom.

$86.00
24" iMac (M1, 8GB, 512GB, 8-core GPU) Orange

$1,699.00

n/a

n/a

place order

$1,613.00

Coupon

Save $30 instantly on AppleCare for the new M1 iMac 24-inch. Now $139 (reg. $169) when purchased with an iMac at Expercom.

$86.00
24" iMac (M1, 8GB, 512GB, 8-core GPU) Purple

$1,699.00

n/a

n/a

place order

$1,613.00

Coupon

Save $30 instantly on AppleCare for the new M1 iMac 24-inch. Now $139 (reg. $169) when purchased with an iMac at Expercom.

$86.00
24" iMac (M1, 8GB, 1TB, 8-core GPU) Blue

$1,899.00

place order

n/a

place order

$1,802.00

Coupon

Save $30 instantly on AppleCare for the new M1 iMac 24-inch. Now $139 (reg. $169) when purchased with an iMac at Expercom.

$97.00
24" iMac (M1, 8GB, 1TB, 8-core GPU) Green

$1,899.00

place order

n/a

place order

$1,802.00

Coupon

Save $30 instantly on AppleCare for the new M1 iMac 24-inch. Now $139 (reg. $169) when purchased with an iMac at Expercom.

$97.00
24" iMac (M1, 8GB, 1TB, 8-core GPU) Pink

$1,899.00

place order

n/a

place order

$1,802.00

Coupon

Save $30 instantly on AppleCare for the new M1 iMac 24-inch. Now $139 (reg. $169) when purchased with an iMac at Expercom.

$97.00
24" iMac (M1, 8GB, 1TB, 8-core GPU) Silver

$1,899.00

place order

n/a

place order

$1,802.00

Coupon

Save $30 instantly on AppleCare for the new M1 iMac 24-inch. Now $139 (reg. $169) when purchased with an iMac at Expercom.

$97.00
24" iMac (M1, 8GB, 1TB, 8-core GPU) Yellow

$1,899.00

place order

n/a

place order

$1,802.00

Coupon

Save $30 instantly on AppleCare for the new M1 iMac 24-inch. Now $139 (reg. $169) when purchased with an iMac at Expercom.

$97.00
24" iMac (M1, 8GB, 1TB, 8-core GPU) Orange

$1,899.00

place order

n/a

place order

$1,802.00

Coupon

Save $30 instantly on AppleCare for the new M1 iMac 24-inch. Now $139 (reg. $169) when purchased with an iMac at Expercom.

$97.00
24" iMac (M1, 8GB, 1TB, 8-core GPU) Purple

$1,899.00

place order

n/a

place order

$1,802.00

Coupon

Save $30 instantly on AppleCare for the new M1 iMac 24-inch. Now $139 (reg. $169) when purchased with an iMac at Expercom.

$97.00
24" iMac (M1, 8GB, 2TB, 8-core GPU) Blue

$2,299.00

place order

n/a

place order

$2,182.00

Coupon

Save $30 instantly on AppleCare for the new M1 iMac 24-inch. Now $139 (reg. $169) when purchased with an iMac at Expercom.

$117.00
24" iMac (M1, 8GB, 2TB, 8-core GPU) Green

$2,299.00

place order

n/a

place order

$2,182.00

Coupon

Save $30 instantly on AppleCare for the new M1 iMac 24-inch. Now $139 (reg. $169) when purchased with an iMac at Expercom.

$117.00
24" iMac (M1, 8GB, 2TB, 8-core GPU) Pink

$2,299.00

place order

n/a

place order

$2,182.00

Coupon

Save $30 instantly on AppleCare for the new M1 iMac 24-inch. Now $139 (reg. $169) when purchased with an iMac at Expercom.

$117.00
24" iMac (M1, 8GB, 2TB, 8-core GPU) Silver

$2,299.00

place order

n/a

place order

$2,182.00

Coupon

Save $30 instantly on AppleCare for the new M1 iMac 24-inch. Now $139 (reg. $169) when purchased with an iMac at Expercom.

$117.00
24" iMac (M1, 8GB, 2TB, 8-core GPU) Yellow

$2,299.00

place order

n/a

place order

$2,182.00

Coupon

Save $30 instantly on AppleCare for the new M1 iMac 24-inch. Now $139 (reg. $169) when purchased with an iMac at Expercom.

$117.00
24" iMac (M1, 8GB, 2TB, 8-core GPU) Orange

$2,299.00

place order

n/a

place order

$2,182.00

Coupon

Save $30 instantly on AppleCare for the new M1 iMac 24-inch. Now $139 (reg. $169) when purchased with an iMac at Expercom.

$117.00
24" iMac (M1, 8GB, 2TB, 8-core GPU) Purple

$2,299.00

place order

n/a

place order

$2,182.00

Coupon

Save $30 instantly on AppleCare for the new M1 iMac 24-inch. Now $139 (reg. $169) when purchased with an iMac at Expercom.

$117.00
24" iMac (M1, 16GB, 256GB, 8-core GPU) Blue

$1,699.00

place order

n/a

place order

$1,613.00

Coupon

Save $30 instantly on AppleCare for the new M1 iMac 24-inch. Now $139 (reg. $169) when purchased with an iMac at Expercom.

$86.00
24" iMac (M1, 16GB, 256GB, 8-core GPU) Green

$1,699.00

place order

n/a

place order

$1,613.00

Coupon

Save $30 instantly on AppleCare for the new M1 iMac 24-inch. Now $139 (reg. $169) when purchased with an iMac at Expercom.

$86.00
24" iMac (M1, 16GB, 256GB, 8-core GPU) Pink

$1,699.00

place order

n/a

place order

$1,613.00

Coupon

Save $30 instantly on AppleCare for the new M1 iMac 24-inch. Now $139 (reg. $169) when purchased with an iMac at Expercom.

$86.00
24" iMac (M1, 16GB, 256GB, 8-core GPU) Silver

$1,699.00

place order

n/a

place order

$1,613.00

Coupon

Save $30 instantly on AppleCare for the new M1 iMac 24-inch. Now $139 (reg. $169) when purchased with an iMac at Expercom.

$86.00
24" iMac (M1, 16GB, 256GB, 8-core GPU) Yellow

$1,699.00

place order

n/a

place order

$1,613.00

Coupon

Save $30 instantly on AppleCare for the new M1 iMac 24-inch. Now $139 (reg. $169) when purchased with an iMac at Expercom.

$86.00
24" iMac (M1, 16GB, 256GB, 8-core GPU) Orange

$1,699.00

place order

n/a

place order

$1,613.00

Coupon

Save $30 instantly on AppleCare for the new M1 iMac 24-inch. Now $139 (reg. $169) when purchased with an iMac at Expercom.

$86.00
24" iMac (M1, 16GB, 256GB, 8-core GPU) Purple

$1,699.00

place order

n/a

place order

$1,613.00

Coupon

Save $30 instantly on AppleCare for the new M1 iMac 24-inch. Now $139 (reg. $169) when purchased with an iMac at Expercom.

$86.00
24" iMac (M1, 16GB, 512GB, 8-core GPU) Blue

$1,899.00

place order

n/a

place order

$1,802.00

Coupon

Save $30 instantly on AppleCare for the new M1 iMac 24-inch. Now $139 (reg. $169) when purchased with an iMac at Expercom.

$97.00
24" iMac (M1, 16GB, 512GB, 8-core GPU) Green

$1,899.00

place order

n/a

place order

$1,802.00

Coupon

Save $30 instantly on AppleCare for the new M1 iMac 24-inch. Now $139 (reg. $169) when purchased with an iMac at Expercom.

$97.00
24" iMac (M1, 16GB, 512GB, 8-core GPU) Pink

$1,899.00

place order

n/a

place order

$1,802.00

Coupon

Save $30 instantly on AppleCare for the new M1 iMac 24-inch. Now $139 (reg. $169) when purchased with an iMac at Expercom.

$97.00
24" iMac (M1, 16GB, 512GB, 8-core GPU) Silver

$1,899.00

place order

n/a

place order

$1,802.00

Coupon

Save $30 instantly on AppleCare for the new M1 iMac 24-inch. Now $139 (reg. $169) when purchased with an iMac at Expercom.

$97.00
24" iMac (M1, 16GB, 512GB, 8-core GPU) Yellow

$1,899.00

place order

n/a

place order

$1,802.00

Coupon

Save $30 instantly on AppleCare for the new M1 iMac 24-inch. Now $139 (reg. $169) when purchased with an iMac at Expercom.

$97.00
24" iMac (M1, 16GB, 512GB, 8-core GPU) Orange

$1,899.00

place order

n/a

place order

$1,802.00

Coupon

Save $30 instantly on AppleCare for the new M1 iMac 24-inch. Now $139 (reg. $169) when purchased with an iMac at Expercom.

$97.00
24" iMac (M1, 16GB, 512GB, 8-core GPU) Purple

$1,899.00

place order

n/a

place order

$1,802.00

Coupon

Save $30 instantly on AppleCare for the new M1 iMac 24-inch. Now $139 (reg. $169) when purchased with an iMac at Expercom.

$97.00
24" iMac (M1, 16GB, 1TB, 8-core GPU) Blue

$2,099.00

$2,099.00

n/a

place order

$1,992.00

Coupon

Save $30 instantly on AppleCare for the new M1 iMac 24-inch. Now $139 (reg. $169) when purchased with an iMac at Expercom.

$107.00
24" iMac (M1, 16GB, 1TB, 8-core GPU) Green

$2,099.00

place order

n/a

place order

$1,992.00

Coupon

Save $30 instantly on AppleCare for the new M1 iMac 24-inch. Now $139 (reg. $169) when purchased with an iMac at Expercom.

$107.00
24" iMac (M1, 16GB, 1TB, 8-core GPU) Pink

$2,099.00

place order

n/a

place order

$1,992.00

Coupon

Save $30 instantly on AppleCare for the new M1 iMac 24-inch. Now $139 (reg. $169) when purchased with an iMac at Expercom.

$107.00
24" iMac (M1, 16GB, 1TB, 8-core GPU) Silver

$2,099.00

place order

n/a

place order

$1,992.00

Coupon

Save $30 instantly on AppleCare for the new M1 iMac 24-inch. Now $139 (reg. $169) when purchased with an iMac at Expercom.

$107.00
24" iMac (M1, 16GB, 1TB, 8-core GPU) Yellow

$2,099.00

place order

n/a

place order

$1,992.00

Coupon

Save $30 instantly on AppleCare for the new M1 iMac 24-inch. Now $139 (reg. $169) when purchased with an iMac at Expercom.

$107.00
24" iMac (M1, 16GB, 1TB, 8-core GPU) Orange

$2,099.00

place order

n/a

place order

$1,992.00

Coupon

Save $30 instantly on AppleCare for the new M1 iMac 24-inch. Now $139 (reg. $169) when purchased with an iMac at Expercom.

$107.00
24" iMac (M1, 16GB, 1TB, 8-core GPU) Purple

$2,099.00

place order

n/a

place order

$1,992.00

Coupon

Save $30 instantly on AppleCare for the new M1 iMac 24-inch. Now $139 (reg. $169) when purchased with an iMac at Expercom.

$107.00
24" iMac (M1, 16GB, 2TB, 8-core GPU) Blue

$2,499.00

place order

n/a

place order

$2,372.00

Coupon

Save $30 instantly on AppleCare for the new M1 iMac 24-inch. Now $139 (reg. $169) when purchased with an iMac at Expercom.

$127.00
24" iMac (M1, 16GB, 2TB, 8-core GPU) Green

$2,499.00

place order

n/a

place order

$2,372.00

Coupon

Save $30 instantly on AppleCare for the new M1 iMac 24-inch. Now $139 (reg. $169) when purchased with an iMac at Expercom.

$127.00
24" iMac (M1, 16GB, 2TB, 8-core GPU) Pink

$2,499.00

place order

n/a

place order

$2,372.00

Coupon

Save $30 instantly on AppleCare for the new M1 iMac 24-inch. Now $139 (reg. $169) when purchased with an iMac at Expercom.

$127.00
24" iMac (M1, 16GB, 2TB, 8-core GPU) Silver

$2,499.00

place order

n/a

place order

$2,372.00

Coupon

Save $30 instantly on AppleCare for the new M1 iMac 24-inch. Now $139 (reg. $169) when purchased with an iMac at Expercom.

$127.00
24" iMac (M1, 16GB, 2TB, 8-core GPU) Yellow

$2,499.00

place order

n/a

place order

$2,372.00

Coupon

Save $30 instantly on AppleCare for the new M1 iMac 24-inch. Now $139 (reg. $169) when purchased with an iMac at Expercom.

$127.00
24" iMac (M1, 16GB, 2TB, 8-core GPU) Orange

$2,499.00

place order

n/a

place order

$2,372.00

Coupon

Save $30 instantly on AppleCare for the new M1 iMac 24-inch. Now $139 (reg. $169) when purchased with an iMac at Expercom.

$127.00
24" iMac (M1, 16GB, 2TB, 8-core GPU) Purple

$2,499.00

place order

n/a

place order

$2,372.00

Coupon

Save $30 instantly on AppleCare for the new M1 iMac 24-inch. Now $139 (reg. $169) when purchased with an iMac at Expercom.

$127.00