AirPods Pro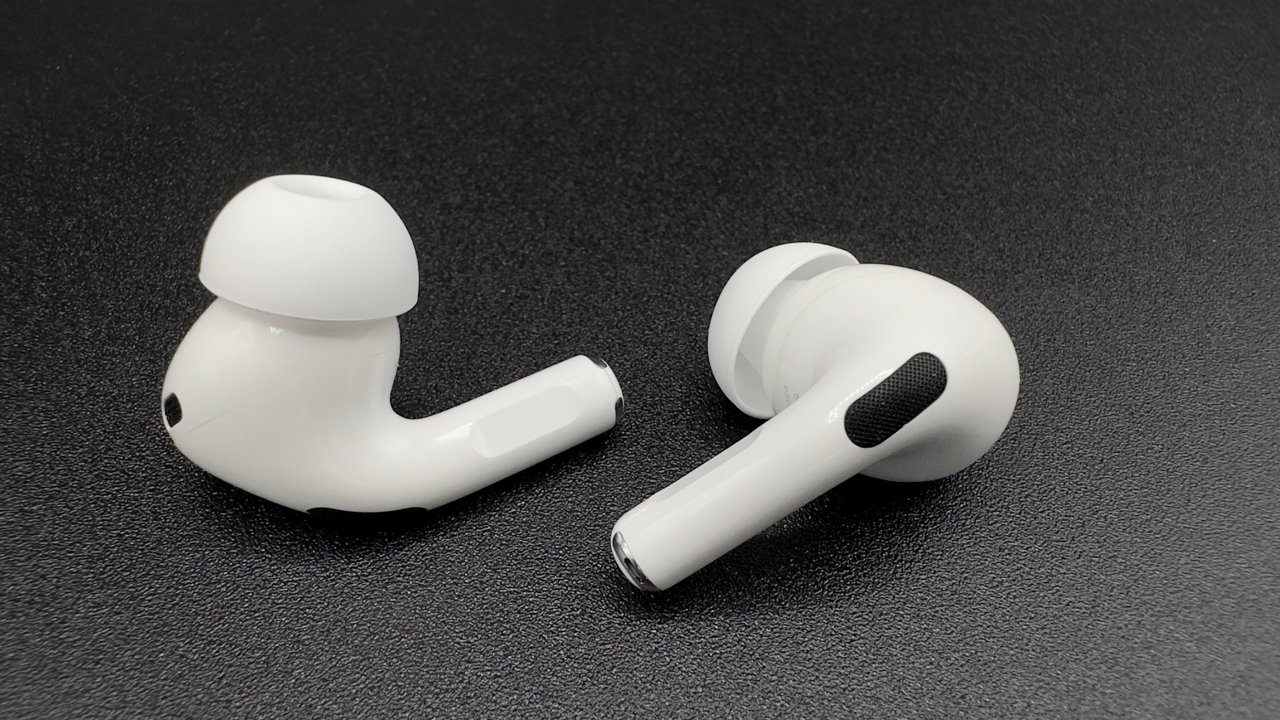 AirPods Pro are Apple's newest take on the totally wireless earbud. With a smaller design compared to the standard AirPods, the pro model is a premium version of the ultra-popular AirPods. Featuring ANC, changeable ear tips, and the H1 chipset, they certainly strive to earn their Pro name.
● Active Noise Cancellation
● Transparency Mode
● Changeable ear tips
● Force Sensor for easy control
● Adaptive EQ
● H1 chipset
● Water resistant
● 4.5 hours battery with ANC
● Cost $249
---
Truly wireless earbuds have become commonplace, with multiple competitors offering their take on the concept. However, it was AirPods that brought the concept into the mainstream. Apple makes three different versions of its line of headphones, and AirPods Pro set itself apart with a rich feature set and pro-level price tag.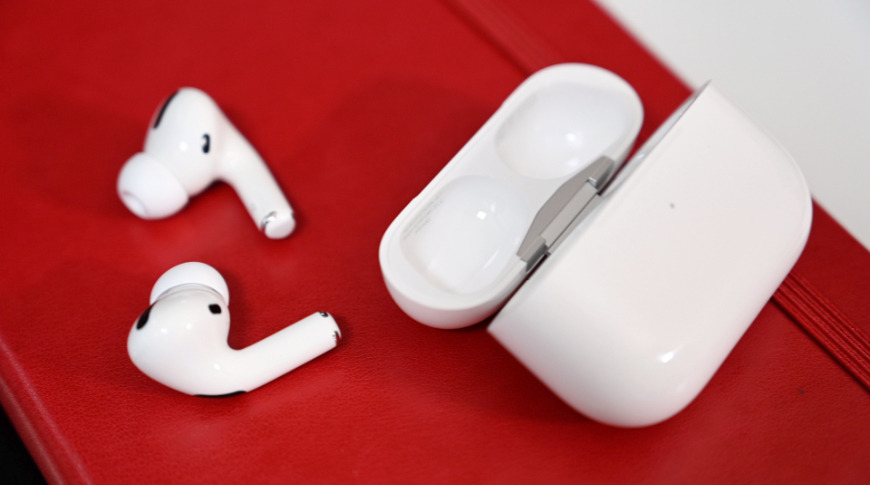 AirPods Pro Pricing
AirPods Pro cost $249. Unlike standard AirPods, which ship with either wired or wireless charging cases, the AirPods Pro only ship with a wireless-charging case.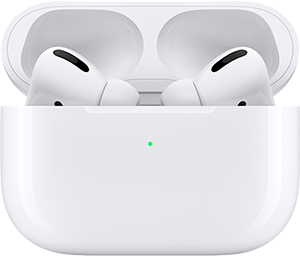 AirPods Pro Prices
---
AirPods Pro Features
Active Noise Cancellation
Active Noise Cancelation (ANC) describes a technology in modern headphones that reduces external noise from a listening experience. ANC's effectiveness varies from device to device, depending on each manufacturer's algorithms and goals.
AirPods Pro include a microphone on the earpiece's outside that listens for external noise continuously, then sending a sound called anti-noise into the ear. This attempts to cancel out with minimal latency. When it works correctly, it cancels external sound before the wearer can hear it.
A second microphone located inside the ear listens to the sound in your ear canal and will cancel any unwanted noises there.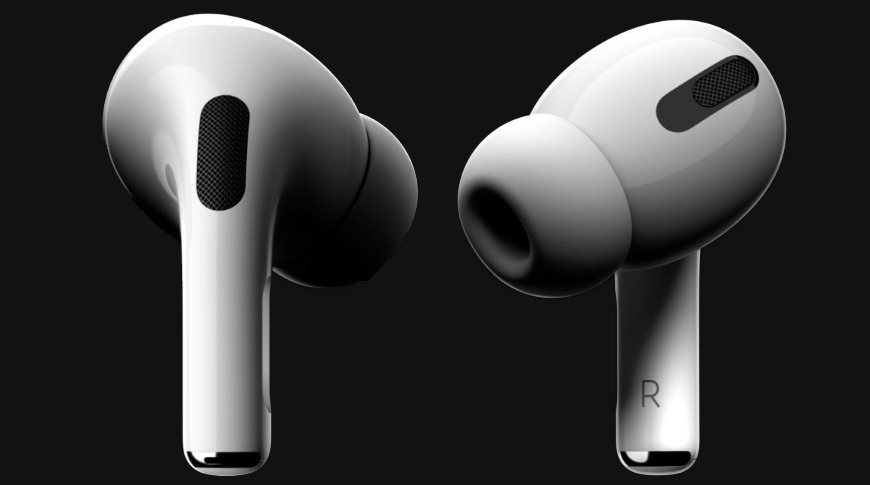 The ANC is continuously adjusted at 200 times per second to ensure the best results. The HomePod also uses microphones to continuously adjust the sound.
AirPods Pro is also vented, for equalizing air pressure and preventing the user from feeling like they are underwater or have clogged ears. Venting allows for increased comfort and fixes an issue many have with the in-ear rubber design.
Transparency Mode
Transparency mode is a third listening mode for the earphones, after ANC and standard. When wearing earbuds with flexible ear tips, you're likely seeking to seal off the ear canal entirely. This creates a barrier to external sound, making hearing the world around you difficult, even with ANC off.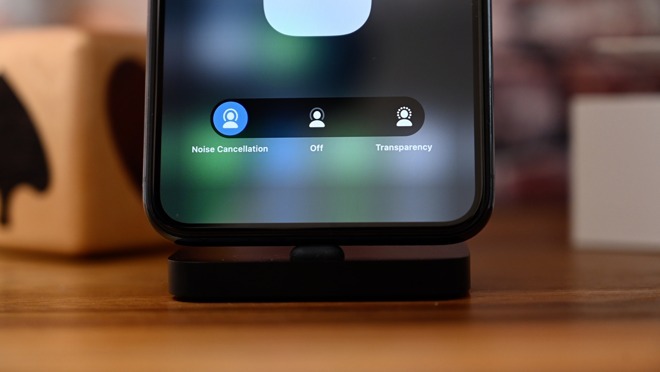 Transparency mode uses the microphones to adjust the ANC to a much lower level, then pipes in some of the external environment and voices it to your ear. It even listens for your own voice to make it easier to speak naturally. This means you can walk around town and not be afraid you'll miss hearing an oncoming car.
When wearing a single AirPod Pro, Transparency mode is on by default. To make ANC work with only one ear, you will need to turn it on in settings. If you are in ANC mode and remove one of your AirPods, it will automatically switch the remaining AirPod to Transparency mode.
Fit and design
If you tried to wear Apple's original earbuds or AirPods and you found that their "one size fits most" design didn't fit you, you may want to try again with the pro model. Apple includes three different earpieces in the box, allowing for some variety to the fit and seal. The attachment is a simple plastic oval, which third parties can replicate. So, even if Apple's tips don't work for you, others may.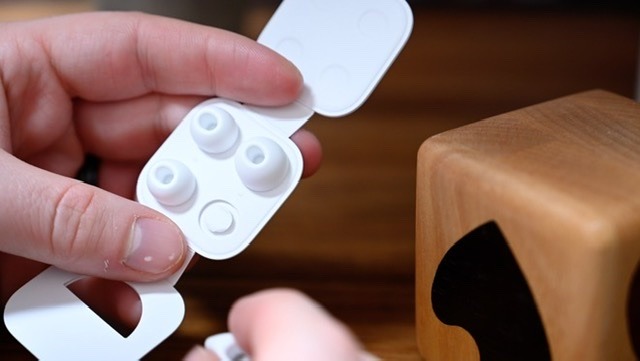 Another unique feature is its ability to perform an "Ear Tip Fit Test" to verify that the ear tips you have chosen are providing a proper seal. After starting the test, a paired iPhone will play music through the earphones while using their microphones to analyze the seal. For each ear, it then either recommends trying a different tip or tells you that you that ear already has a tight seal.
Battery Life
Apple says that with ANC turned on, the AirPods Pro will last 4.5 hours, and only gains another half hour with the setting turned off. The charging case offers an additional 24 hours of battery, just like its predecessor. Apple says five minutes in the case will provide enough power for one additional hour of listening.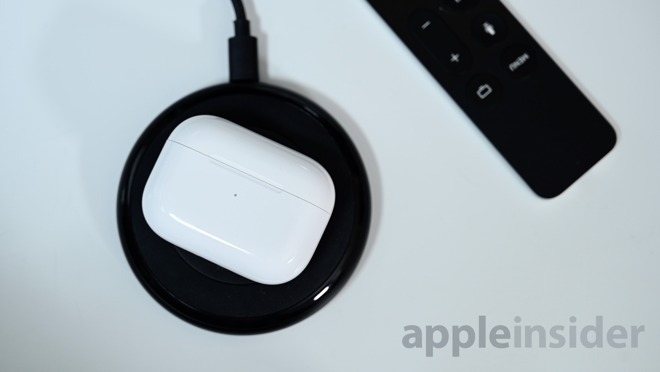 The key to long battery life lies in how you use them. Like with the AirPods, keeping the earpieces in their case when not in use will ensure a continuous charge. Using only one earpiece at a time, when applicable, will extend their battery life even further.
Other features
Water resistance is rated at IPX4, meaning working out with the AirPods Pro or exposing them to a little rain shouldn't scare you. The previous AirPods all stood up to water rather well, and some even survived a trip through the wash, but this is the first time Apple gave AirPods an official water-resistance rating.
Similar to ANC, Adaptive EQ will listen continuously to the audio inside your ear canal, but instead of adjusting for noise, it adjusts for audio quality. This is another feature likely born from Apple's experience designing HomePod.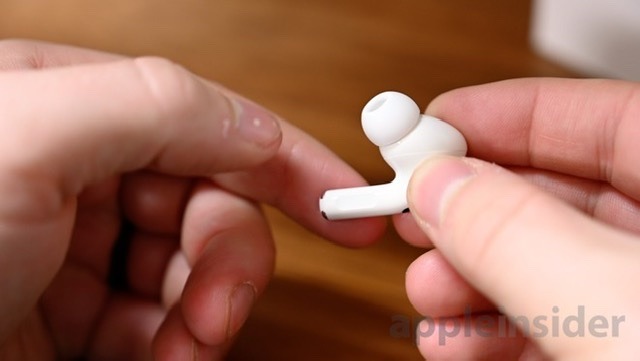 The non-pro version of Apple's wireless earbuds used a tap gesture to summon Siri or play/pause music, which would sometimes be uncomfortable or push the earphone deeper into your ear. The pro model uses something on the stem called the Force Sensor, which you squeeze to perform tasks. One press operates play/pause, two will skip forward, three will skip back, and a long press will switch between ANC and Transparency modes.
The H1 chip brings all the quick-pairing and Siri features you've come to expect from Apple headphones. It supports "Hey Siri" and the new Announce Messages with Siri feature. You can also share audio with other users who have the latest H1-equipped headphones.
Firmware
Apple updates all of its products from time to time to ensure the best possible operation, and the pro wireless earbuds are no exception. Apple has released multiple firmware updates to the earphones, but the company doesn't state much about what they change. Apple pulled an update in December 2019, after complaints of reduced sound isolation in ANC mode.
On May 5, 2020, Apple finally released a new firmware update to address the pulled update and fix any remaining issues. You can navigate to Settings > General > About on a paired iPhone to check which firmware installed. If it's on an older firmware, ensure your AirPods show as connected in the Bluetooth menu screen when the lid is open, then leave them in the case. The update will complete on its own at some point without user interaction. There is no way to manually force an update.
iOS 14
At the 2020 Worldwide Developer Conference, Apple announced that its flagship in-ear headphones would be seeing some major upgrades. In iOS 14, AirPods Pro received a new Spatial Audio feature that mimics an immersive surround sound and movie theater-like experience. In other words, the audio will sound like it's coming from around the wearer.
Spatial Audio relies on tricks like the built-in accelerometer to monitor a user's head motions so that its sound field stays fixed.
Spatial Audio supports audio encoded in 5.1, 7.1 and Dolby Atmos.
AirPods Pro Rumors and News
Rumors have surfaced for a new model in the pro line, potentially called "AirPods Pro Lite," that would provide a similar experience at a lower price. There is nothing of note in the rumors about what features such a device may have, but changeable ear tips and some form of ANC or transparency mode would likely make the cut.
AirPods Pro Review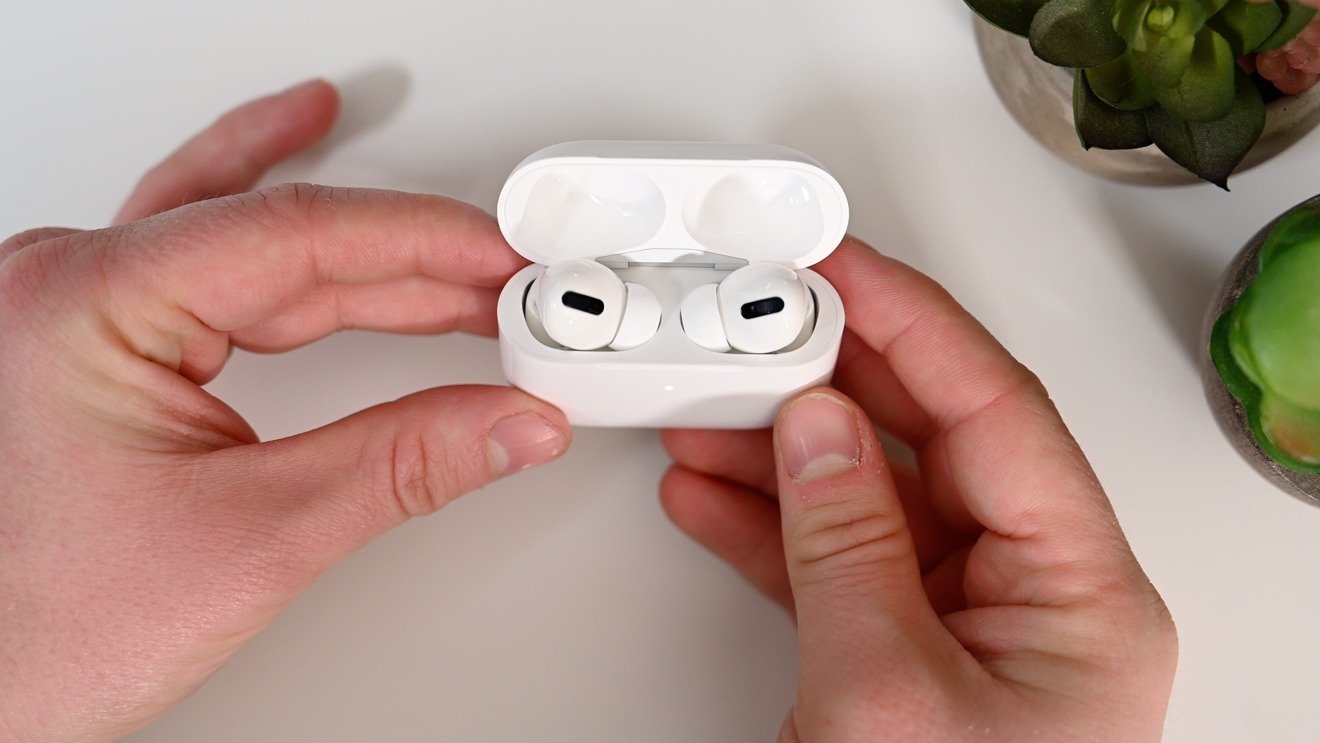 In our review, we gave AirPods Pro 4.5 out of 5 stars. We liked the smaller design, audio quality, and ANC. However, the limited ear tips options, awkward force sensors, and charging case gave us pause.
"With those in mind, the absolute first thing we did after getting our hands on AirPods Pro was hit the gym, testing all of our common routines. To our surprise, we made it through an hour and a half without a single earbud coming free. Whether jumping around or lying supine, the earphones didn't fall out.
"That isn't to say that the fit was perfect for us. We've historically terrible luck with in-ear headphones. They never stay put for us.
"As a general rule, they did fit well for us, but we could use more sizes of the silicone ear tips. A smaller size or half sizes would go a long way towards making these fit perfect. Apple, like Klipsch, chose to use an oval-shaped tip which could be part of what makes it stay in so much better, even with not the perfect size.
"Apple does offer up the fit test within Bluetooth settings and while neat, didn't provide any real benefit to us. We could tell what fit very easily just by trying on the different sizes, but maybe it is more beneficial to others with differently shaped ears."
"The audio quality was great. With a good fit, it was punchy, a full sound, and a huge step up for Apple's earphones brand. Not saying this is audiophile quality or what you'd get with a set of dedicated over-ear cans, but wow. We were very happy with the audio quality these put out."
"The active noise cancelation was a bonus for us, but a week in and we don't use it as much as others may. It is nice to have and we used it in the gym for a more immersive workout, but day-to-day we relied on transparency mode. It sounded so much more natural and allowed us to hear people talking to us in the office, delivery drivers hitting up the door, or other runners while we were out with the dogs. It may be our favorite feature of the new AirPods Pro."
"One of Apple's biggest strengths is its ability to integrate the earbuds so deeply into its operating systems. The earbuds instantly can switch between any of your Apple devices, including your Apple TV. They show their battery life in the Battery widget and Siri is even able to tell you the battery remaining. Control show in Control Center on iPhone, iPad, and Mac so you can connect or adjust the ANC mode."
"If you are an active user, moving around, jumping on planes, or frequently working out, AirPods Pro are the way to go. Otherwise, it gets murky.
"Most folks are going to fall into one of three camps. They are either existing owners of Apple's earbuds who are debating an upgrade, they are new to AirPods and debating the second-generation model with wireless charging case, or they are new users looking at the second-gen with the standard case.
"If you are in the latter camp, it is kind of hard to justify the $100 price increase between the two. There are a lot of features for that differential, but if you just want AirPods in the most cost-efficient form, then it isn't this pro-level model.
"If you are looking at the second-gen set with the wireless charging case, springing for this more expensive model is a no-brainer. It is a $50 difference and you get better fit, water resistance, ANC, transparency mode, and far better audio. We'd make that jump in a heartbeat.
"Those in the last group are hardest to quantify, being that they already have a set of Apple earphones — possibly the second-generation set that launched only in March. For us, with audio quality and fit being most important, we were able to justify it. Especially after gifting our other set to a family member. Before these, we were forced to use another set of headphones while at the gym. With AirPods Pro, we get to use them twice as much."