iPhone 11 Pro Max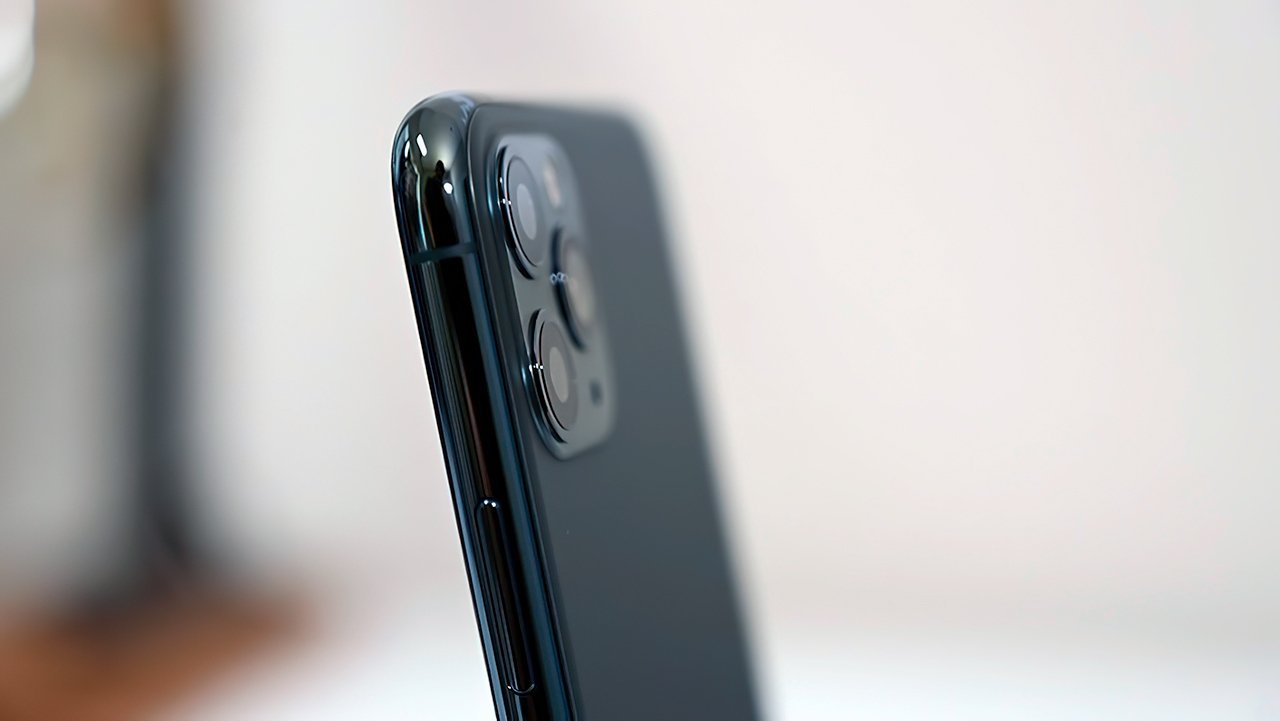 The iPhone 11 line did not receive a major cosmetic upgrade, but instead brought a host of performance upgrades. The iPhone 11 Pro Max includes Apple's three-camera system, a 6.5-inch Super Retina XDR display, the A12 Bionic chip, and a bigger battery for all-day battery life.
● Three lens camera featuring Deep Fusion, Night Mode, and Telephoto lens
● A13 Bionic Chip
● 6.5-inch Super Retina XDR display
● Wi-Fi 6, Bluetooth 5, U1 chip, NFC support
● Audio Zoom
● Available starting at $1099
Page last updated: 2 weeks ago
---
The iPhone 11 Pro Max made its debut on September 10, 2019, at Apple's "by innovation only" event. It premiered alongside the budget-friendly iPhone 11 and the smaller, 5.8-inch iPhone 11 Pro.
The iPhone 11 Pro was available for preorder on September 13, 2019, and shipped the following week on September 20.
AppleInsider reviewed both iPhones shortly after launch, giving them a 4.5 out of 5.
iPhone 11 Pro Max Pricing
When Apple revealed the iPhone 12 series, it discontinued the iPhone 11 Pro Max. However, the phone is still available from Apple Authorized Resellers.
It ships unlocked at $1099 for the 64GB model, $1149 for the 256GB model, or $1349 for the 512GB model.
iPhone 11 Pro Max Features
Colors and Storage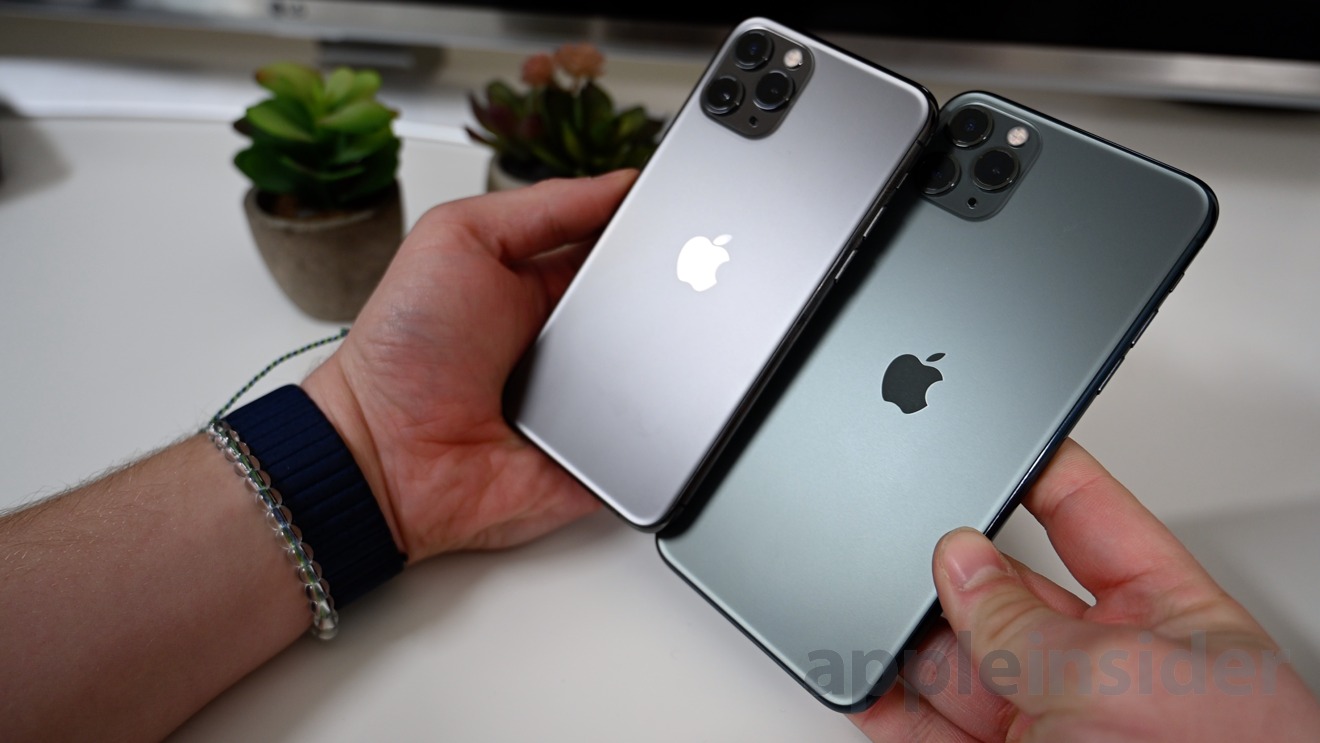 The iPhone 11 Pro Max comes in four colors: gold, Space Gray, silver, and Midnight Green. Gold and silver have stainless steel rims with a silver color, while the Space Gray and Midnight Green colors have darkened stainless steel rims. All options have a black front-facing bezel.
This model has the same storage capabilities as the iPhone XS, available with 64GB, 256GB, and 128GB options.
Display
The 6.5-inch, 2688 by 1242 OLED display on Apple's largest phones have been dubbed the "Super Retina XDR display." It has a pixel density of 458 pixels per inch, and a 2,000,000 to one contrast ratio, compared to 1,000,000 to one on the iPhone XS and iPhone X. It has a brightness level of 800 nits typically and up to 1200 nits with HDR, whereas the iPhone XS has 625 nits.
Rear camera

These flagship devices boast a three-lens camera system on the back of the device. Apple has included a five-element ultra-wide lens with an f/2.4 aperture and 120-degree field of view and a six-element f/1.8 wide lens.
A six-element telephoto lens with an f/2.0 aperture has a 2x optical zoom-in and a 2x optical zoom-out.
The wide and telephoto lenses have optical image stabilization.
On October 29, 2019, Apple launched an iOS 13.2 feature called Deep Fusion on the iPhone. The app uses machine learning for image processing. Deep Fusion is not user-facing and operates automatically in the background when certain criteria are met. This feature will not work if the user has enabled "Photos Capture Outside the Frame" in Settings > Camera, and will not work when using the ultra-wide lens.
Deep Fusion is typically used for sub-optimal lighting scenes. Optimal lighting scenarios will instead trigger Smart HDR.
When the criteria are met, the iPhone shoots nine images and the Neural Engine combines them into a single photo, prioritizing detail and eliminating noise. This is used instead of the normal image capture and stacking modes and is an entirely new algorithmic photo system.
The iPhone 11 also has a low-light mode that allows users to take brighter photos with reduced noise and improved clarity in low-light environments.
The cameras also support 4K video at up to 60 frames per second and 1080p slow-motion video at up to 240 frames per second.
Apple also introduced audio zoom, which allows the iPhone microphone to match the audio in zoomed-in video. As the user zooms closer to the subject, the accompanying audio will also get louder.
These models still support panorama mode, burst mode, time-lapse, facial recognition, digital and optical image stabilization, autofocus, and quad-LED flash.
Front Facing Camera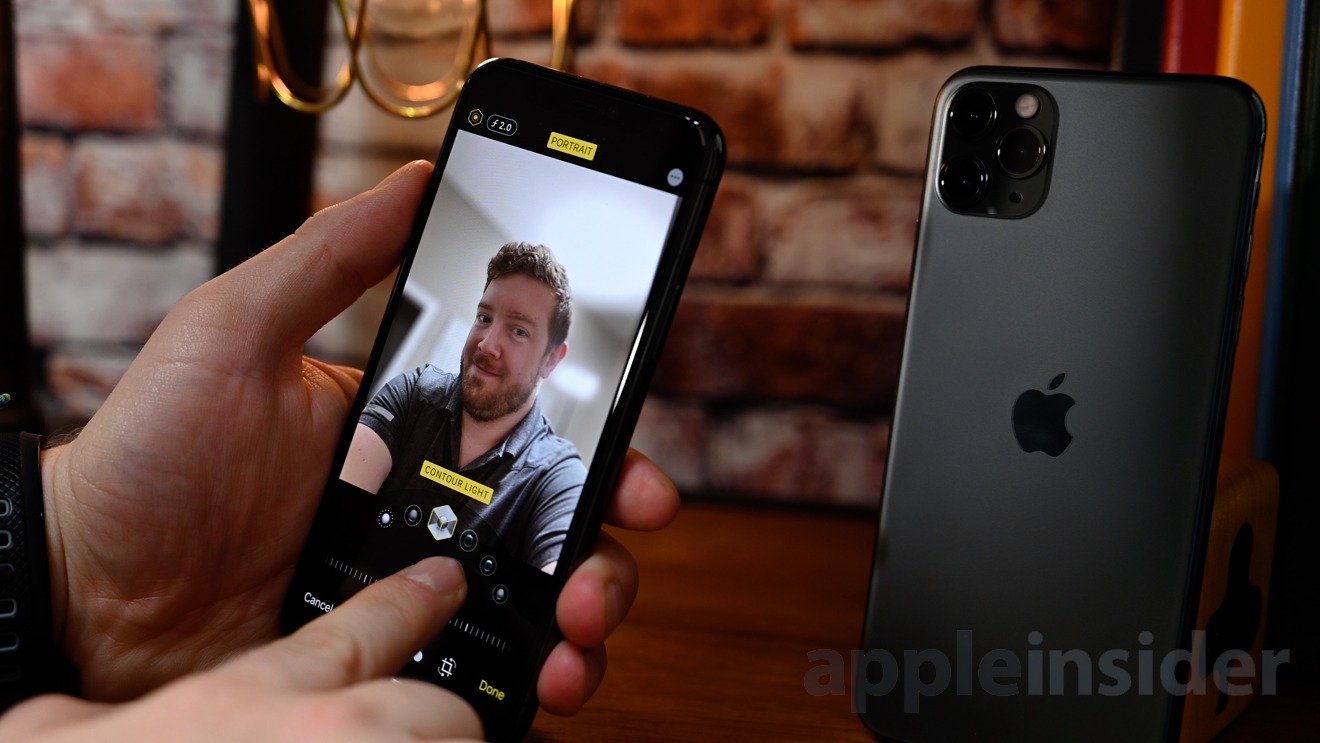 The iPhone 11 Pro received an upgrade to the selfie camera: It's now a 12-megapixel True Depth camera with an f/2.2 aperture.
The front camera features a portrait mode with advanced bokeh and depth control, Portrait Lighting with effects, 4K video recording, 1080p HD video recording, and next-generation Smart HDR. It also has cinematic video stabilization, wide color capture, Live Photos, burst mode, and auto image stabilization.
Like previous iPhones, the iPhone 11 Pro Max's True Depth camera allows users to use Apple's Animoji feature.
The iPhone 11 line was the first to see the addition of a slow-motion front-camera mode. Apple provided a demo video in which it referred to the process as taking a "slofie."
Battery Life
The bigger iPhone 11 Pro features a 3969mAh battery and an iPhone XR Max-like power draw. In our trials, we found that the flagship iPhone was able to last over 12 hours before the battery had run out.
The iPhone 11 Pro line is fitted with a USB-C power adapter and a USB-C Lightning cord. Fast charge is capable of charging up to 50 percent in a half-hour.
Performance
Each handset in the iPhone 11 line uses the same A13 Bionic processor, and they all come with 4GB of application RAM. The three phones all performed similarly in our benchmark tests.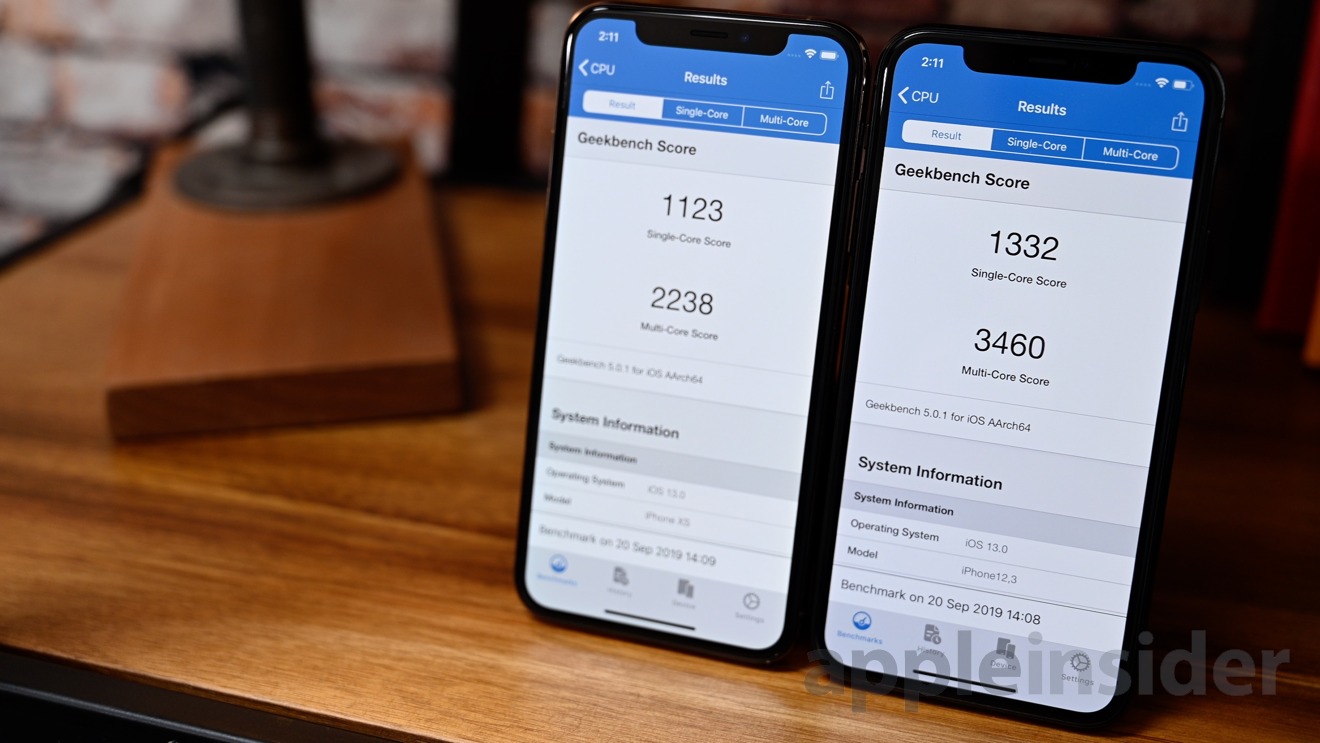 Using the GeekBench 5 benchmark, the iPhone 11 Pro had a three-run average single-core score of 1,361 and a multi-core score of 3,561.
While testing the iPhone 11 Pro with the benchmark AnTuTu, it earned a cumulative score of 456,760 across CPU, GPU, UX, and memory tests. It performed favorably against the performance of our iPhone XS, which scored a total of 370,618. The biggest improvements have been seen in the CPU and GPU categories.
Wireless connectivity
The iPhone 11 series provides Wi-Fi 6 connectivity support for Bluetooth 5.0, NFC with reader mode, and Ultra-Wideband U1 chip.
Apple's U1 chipset allows the iPhone to calculate its relative position to other iPhones, as well as to use other sensors to know precisely where it is in space.