IBM plans Lotus for Apple iPad, e-reader eye strain explored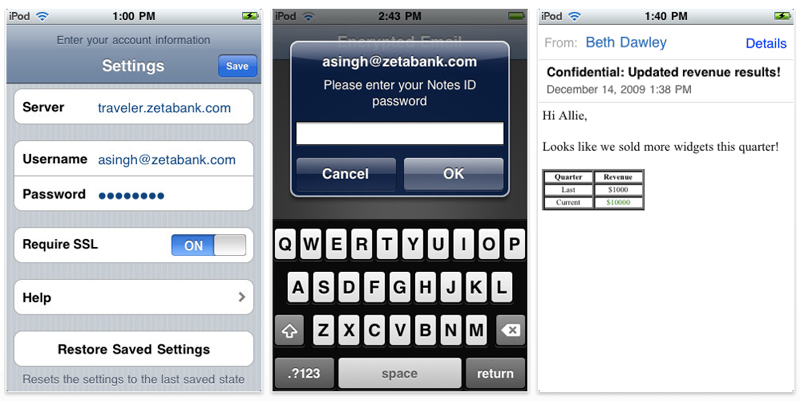 IBM just released its Lotus software for the iPhone and has now turned its attention to the iPad, while a new article explores the facts and myths of LCD eye strain from reading books on devices like the iPad.
IBM planning Lotus for iPad
IBM Lotus Notes Traveler Companion was released for the iPhone and iPod touch last month. And this week at the Macworld 2010 expo in San Francisco, the company also announced Lotus Connections for social networking inside companies and Lotus Quickr for sharing documents would be coming to the iPhone.
An IBM official told Forbes that the company not only wants to reach out to the small-but-growing number of iPhone users in the enterprise, but also use the new applications as a starting point from which to build App Store software for the forthcoming iPad.
"Our customers are looking at the iPad and they're excited about it," said Alstair Rennie, IBM's manager of Lotus software. "No one quite knows its use patterns yet, but it's our intention to deliver as much of our portfolio as possible on it as fast as possible."
The applications from the corporate collaboration software will be designed specifically for use on the iPad, and are planned to see release sometime near the debut of the hardware, scheduled to arrive in late March. Rennie said IBM expects the iPad to be popular among executives who plan to use the device for both personal and business purposes.
"Peoples' lives don't segment neatly between work and home," he reportedly said. "The iPad gives people what will probably be a home device, but they're still going to want to access a full suite of business software on it."
The news follows comment from Microsoft officials who said the software giant is considering the possibility of bringing its Office suite to the iPad. Apple has already revealed multi-touch version of Numbers, Pages and Keynote — all part of its iWork suite — are coming to the hardware.
Sources have also told AppleInsider that Apple intends to target business users by offering added features on the iPad, including direct network printing from within applications and support for accessing shared files from a local file server.
While conventional thinking suggests e-ink readers like the Amazon Kindle and its black-and-white display are easier on the eyes, a new article from The New York Times suggests LCD panels, like on Apple's iPad, may be no better or worse.
Dr. Travis Meredith, chair of the opthalmology department at the University of North Carolina, Chapel Hill, said such screens are not bad for peoples' eyes, but physical fatigue can come from not blinking often enough. And while paper can offer more "physical sophistication" than a computer screen, certain types of paper — like cheap newsprint or paper in softcover books — is actually said to be an inferior reading experience.
The article also notes that current LCD monitors offer much better viewing angles and superior clarity to those of years ago. They are also less tiring on peoples' eyes.
The biggest problem for the iPad, the article notes, might be its reflective glass screen, which could prove to be an issue in brightly lit situations. Apple has encountered the same issue with its MacBook Pro line, where it converted to glossy screens that can be difficult to view in direct sunlight. Last August, the Mac maker began offering matte screens for $50 extra on the 15-inch MacBook Pro line.
The iPad has a 9.7-inch LED-backlit screen that employs IPS technology for its LCD display. The technology, developed by Hitachi in 1996, offers improved viewing angles over traditional LCD.
The device will mark Apple's entrance into the e-book market, with the new iBooks application and its included iBookstore offering bestselling titles from some of the top publishers in the world.