Apple releases third build of Mac OS X 10.7 Lion Preview 2 to developers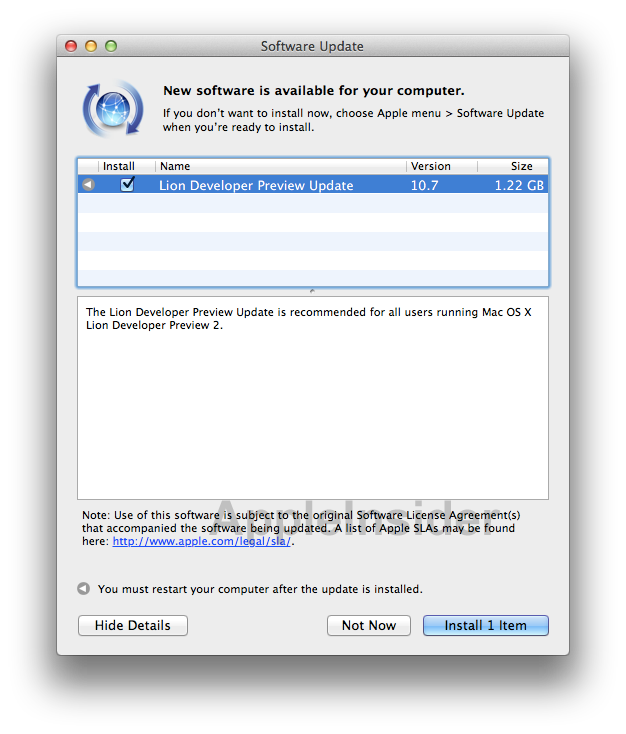 Apple on Friday issued its second update for Preview 2 of Mac OS X 10.7 Lion, releasing the beta software to members of its developer community.
Lion Developer Preview Update for Mac OS X 10.7 is a 1.22GB download available via Software Update. It is recommended by Apple for all users running Mac OS X 10 Lion Developer Preview 2.
Apple gave no details about what changes or fixes come in the latest build. But any changes are likely to be minor, as it is not labeled as a full fledged "Preview 3." People familiar with the latest build say it is dubbed version 11A444d.
Preview 2 of Lion was released to developers in late March, marking the second major developer preview of its forthcoming operating system. Developers can download the pre-release software from the Mac App Store after requesting a redemption code.
Earlier this month, Apple issued its first update for Lion Preview 2. Like Friday's update, it did not come with a list of changes or fixes.
Apple will highlight more features of Lion at its forthcoming Worldwide Developers Conference, to be held June 6 through 10 in San Francisco, Calif. There, the company has promised to "unveil the future of iOS and Mac OS." Lion is set for release this summer.
For an in-depth look at Apple's next major operating system update, see AppleInsider's ongoing series, Inside Mac OS X 10.7 Lion. Recent features are included below: