Amazon rumored to launch 8.9-inch Kindle Fire in Q2 2012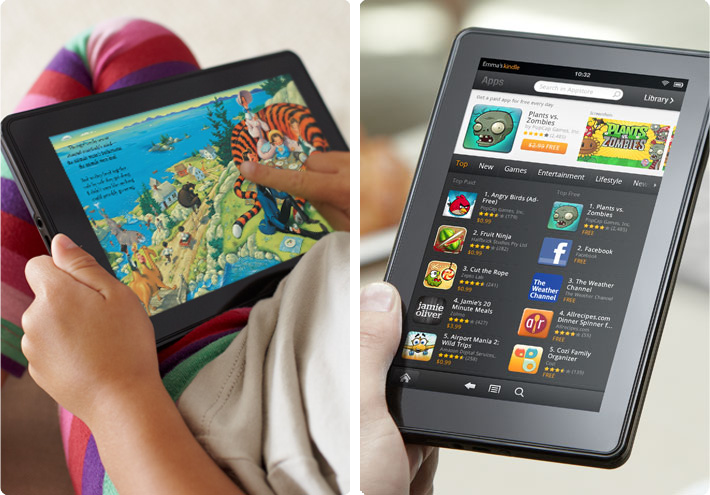 Amazon is prepping an 8.9-inch Kindle Fire model for launch by the end of the second quarter of 2012, a new report claims.
Sources within supply chain makers for the online retailer said the company decided on the 8.9-inch form factor in order to avoid direct competition with 9.7-inch and 10.1-inch tablet makers, Taiwan's DigiTimes reported on Monday. Promotion of the 8.9-inch display panels by LG Display and Samsung Electronics was also said to be a factor in Amazon's decision.
Foxconn is believed to be the Original Design Manufacturer scheduled to build the device and will begin production in the "middle of the second quarter of 2012," according to the report. The ODM will also step in as a second manufacturer for the current-generation Fire in the first quarter of 2012, sources said.
Though Amazon has traditionally gone with Foxconn as its partner for its Kindle e-readers, the Fire was built by Quanta. Some industry sources claim Foxconn turned down orders for the Fire because its capacity was already booked by Apple for the iPad.
Earlier reports had suggested that Amazon was looking into a 10.1-inch tablet as a follow-up to the first-generation Fire, but the supply chain now claims that an 8.9-inch version will come first.
AppleInsider reported in September that Amazon was planning an 8.9-inch tablet with an "amazing form factor" for 2012 after testing the waters with the 7-inch Kindle Fire.
The Kindle Fire was unveiled in late September, but it didn't go on sale until last week. At $199, the device is markedly cheaper than similar tablet offerings. Some industry watchers believe the aggressive price of the Fire forced Research in Motion to slash the price of its BlackBerry PlayBook tablet by $300.
Amazon's entry into the tablet market has received a mixed reception, with some reviewers praising it as a bargain, while others have criticized it for inconsistent performance. For more about the Kindle Fire, see AppleInsider's in-depth review of the device.
In addition to the iPad, Amazon may be gunning for Apple's iPhone as well. Rumors recently surfaced that Amazon is also jointly developing a Kindle-branded smartphone with Foxconn.