Alleged 'iPhone 7 Plus' mockup includes Smart Connector, dual-lens camera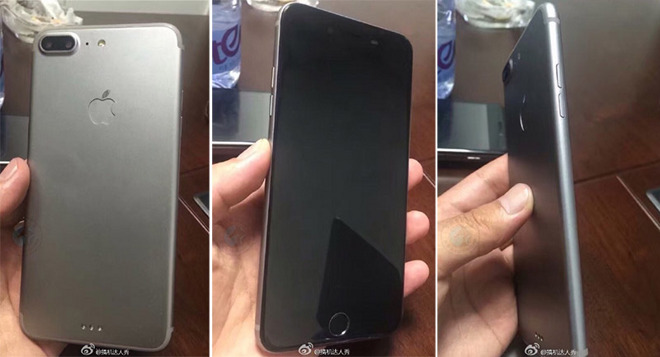 AppleInsider may earn an affiliate commission on purchases made through links on our site.
A series of photos found circulating on Chinese blogging site Sina Weibo on Tuesday shows what appears to be a full scale "iPhone 7 Plus" mockup, potentially offering an early look at what could be Apple's forthcoming phablet.
As seen above, a series of three photos shows the front, side and back of a dummy iPhone model bearing hallmark design features anticipated for inclusion in Apple's next-generation 5.5-inch handset, like a dual-lens iSight camera and tweaked antenna lines. As a number of individual Weibo accounts reposted the photoset with their own digital watermark, the images' authenticity or origin cannot be confirmed.
A close inspection reveals the pictured unit as almost certainly not a production model. Most noticeable, the rear shell's Apple logo and Smart Connector port are partially milled, not complete cutouts. Starting with iPhone 6, Apple has opted to cut out the logo portion of each aluminum iPhone chassis in a bid to boost wireless radio performance. All rear shell cutouts are filled with radio-transparent inserts or metal buttons as part of the production process. The shallow Apple logo recess seen in today's images suggests a solid structure.
Other design points don't match up with previous leaks, hinting that the mockup might in fact be based on internet speculation. For example, the spacing between the dual-lens iSight camera, rear-facing microphone and round True Tone flash is extremely wide, pushing the latter component toward the handset's vertical center. Previously leaked CAD renderings, schematics and rear shells place the three components in close proximity to each other, in line with Apple's current designs.
Reports are mixed as to whether Apple plans to incorporate Smart Connector technology into "iPhone 7 Plus," as seen in today's images. Some supposed 7 Plus leaks leave room for the telltale three-hole configuration near the bottom of the handset, while others do not. Questions have also been raised as to whether Smart Connector, an interconnect format first introduced with iPad Pro, would be useful in the context of a smartphone.
Moving on to the front of the mockup, a cover glass can be seen with what looks to be a new proximity sensor and FaceTime camera layout. Unlike the current iPhone 6s Plus, the two sensors flank the dummy model's earpiece, while the proximity sensor porthole appears to be pill-shaped, not circular. While mere speculation at this point, Apple might be looking to integrate a four-channel ambient light sensor that would enable performance similar to that of the 9.7-inch iPad Pro's True Tone display. Then again, it might not.
Not much else can be gleaned from today's photoset. Of note, the home button does not appear to be of the Force Touch variety some industry watchers claim will make its debut with "iPhone 7." Also not seen: the dummy model's bottom edge where Apple hides — or doesn't — iPhone's 3.5mm headphone jack.
Apple is expected to announce its next-generation iPhone at a special event this fall.