OWC announces Thunderbolt 3 Dock with ports galore, returns functionality to new MacBook Pro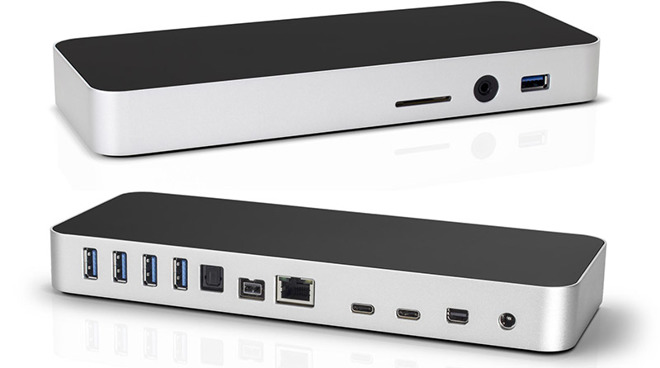 AppleInsider may earn an affiliate commission on purchases made through links on our site.
Capitalizing on Apple's decision to go all in on Thunderbolt 3 with its latest MacBook Pro, aftermarket Mac specialist OWC is taking preorders for a 13-port breakout dock that restores expansion options lost with the new laptop design.
Announced through OWC's website, the Thunderbolt 3 Dock connects to a host Mac via an included 0.5-meter Thunderbolt cable and can support two 4K displays, up to six USB devices, a FireWire device, optical line out and — much to the delight of distressed MacBook faithful — an SD card.
Positioned on the dock's front face for easy access is an SD 3.0 card reader, analog 3.5mm audio jack and USB 3.1 Gen 1 port, the latter being an ideal location for plugging in an iPhone or iPad. On the back are four more more USB 3.1 Gen 1 ports, in/out S/PDIF via TOSLINK connector, FireWire 800, Gigabit Ethernet, two Thunderbolt 3 ports and a mini DisplayPort socket.
With an Intel DSL6540 Thunderbolt 3 controller onboard, the dock supports video pass-through at resolutions up to 4K at 60Hz. A second 2K or 4K monitor can be attached via the mini DisplayPort 1.2 port. The dock is also supports daisy-chaining multiple Thunderbolt devices together, useful in professional image editing workflows where fast data retrieval is vital.
Like other breakout docks, OWC's latest product draws more power than is allotted by the Thunderbolt 3 specification, meaning it needs an external power supply to operate at full capacity.
Adorama is currently taking preorders for the Thunderbolt 3 Dock at an introductory price of $279.00 in Silver and Space Gray. OWC is also accepting pre-orders for $279.00, which is $20 off the regular retail price. The device is estimated to ship in February of 2017.
Following last week's MacBook Pro unveiling, Apple has taken heat for eschewing connectivity features like an SD card slot and USB ports in a bid to push forward the laptops' design. As noted by potential buyers, the dearth of port options makes it difficult for certain users to connect peripherals — and Apple's own iOS devices — without purchasing converter dongles.
In response to early criticism, Apple SVP of Worldwide Marketing Phil Schiller on Wednesday said, "We know we made good decisions about what to build into the new MacBook Pro and that the result is the best notebook ever made, but it might not be right for everyone on day one."
As an example, the SD card reader was always a trade-off in Apple's mind, and the growing adoption of wireless transfers from cameras is quickly nullifying the slot's importance, Schiller said.
As for complaints claiming the new MacBook Pro models lack "pro level" features, the marketing chief pointed to the headphone jack as evidence that Apple did indeed take professionals into account when designing the laptop. The long-standing 3.5mm jack was recently removed from the latest iPhones, but is being retained on MacBook Pro to support audio gear used by musicians, film makers and other pro users. That being said, even the headphone jack was gimped, as AppleInsider earlier today reported the component no longer supports optical out.