LTE Apple Watch will keep current form factor, be offered alongside standard versions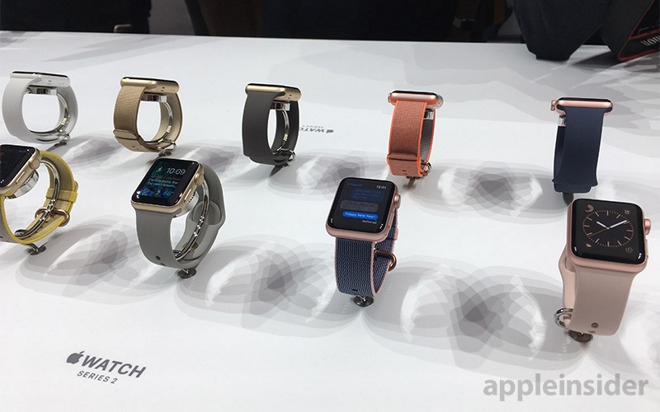 Noted KGI analyst Ming-Chi Kuo on Monday weighed in on Apple's upcoming Apple Watch release, affirming recent reports of LTE cellular connectivity and dispelling rumors that the device will sport a new form factor.
In a note to investors obtained by AppleInsider, Ming-Chi Kuo says LTE connectivity will be the standout feature for this year's Apple Watch revamp. The prediction is consistent with reports earlier this month that claimed Apple planned to build cellular connectivity into its wearable with a product launch later this year.
Initial integrations might be restricted, however, as Kuo notes technological and commercial limitations could negatively impact device capabilities. Of note, the new LTE model will not support 3G communications and will only support LTE in "specific" countries and markets. Apple's domestic U.S. market is likely a contender for inclusion, as is China, though the analyst failed to elaborate on regional availability.
Apple's next-generation Watch is not expected to get a design revamp to along with LTE connectivity, meaning the device will boast the same 38mm and 42mm rounded square design first debuted in 2015, Kuo says.
Earlier this month, blogger John Gruber, claimed an all-new form factor would arrive alongside LTE support. Gruber later updated hedged his bets, saying the information originated from an "unconfirmed little birdie."
With the rollout of a dedicated LTE model, shipments of the new Apple Watch models will reach 8 to 9 million units in the second half of 2017, Kuo estimates, with the cellular version accounting for 35 to 40 percent of sales. Overall, the analyst forecasts fiscal 2017 sales between 17.5 and 18 million units, up 70 percent year over year.
Looking ahead, Kuo sees potential growth in a major form factor change, though it is not clear when the redesign will debut. Other growth drivers include FDA approvals for advanced medical and health functionality and the development of 5G cellular technology.
Apple is rumored to be working on a number of new Watch features including a non-invasive glucose monitoring solution, widely viewed as a holy grail of modern medical technology.