Other Apple releases besides the iPhone on Tuesday will drive revenue, says JP Morgan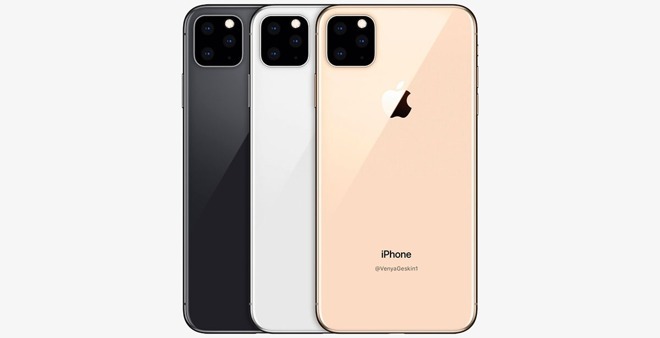 AppleInsider is supported by its audience and may earn commission as an Amazon Associate and affiliate partner on qualifying purchases. These affiliate partnerships do not influence our editorial content.
Tuesday's anticipated launch of new iPhone models isn't going to be a massively interesting event for investors, JP Morgan suggests, with "limited surprise" for the iPhone forcing most of the attention on pricing and other potential hardware launches.
Announcements at the event related to the iPhone are "unlikely to be a material event for the shares," analysts believe, given the unlikely possibility of surprise features arriving with the new models. Key watchpoints including 2019 iPhone pricing and other hardware announcements "have more opportunity to surprise relative to expectations," the note to investors seen by AppleInsider states.
Pricing for the 2019 models are anticipated to remain consistent with the 2018 batch, with Apple thought to be "prioritizing pricing levers" relative to near-term volumes. The limited updates are thought to make it an "opportune year" for Apple to repurpose typical supply chain savings and make the overall lineup cheaper, but instead "we expect Apple to maintain prices" in the face of the Chinese goods import tariff applied by the US government.
While Apple could maintain the pricing levels in 2019, the expected introduction of an iPhone with 5G in 2020 could afford a "more moderate price increase."
The features list for the 2019 iPhones are expected to be minor technological upgrades, as detailed by rumors and other analysts, including triple cameras in both OLED-based models and a dual camera in the LCD version, along with bilateral wireless charging.
The forecast volumes for the 2019 iPhones by the end of the calendar year will apparently be higher than those seen by the 2018 models in that respective year, but "largely on account of timing changes of launches relative to last year." The 2019 versions are forecast to shift 4 million more models by the end of the year than the 2019 variants, due to the delay in the launch of the iPhone XR last year.
The "refresh and upgrade of Apple Watch and other hardware devices" are important to leverage Apple's install base and to drive hardware revenues, the analysts continue.
"While growth in Services revenue through leverage of the large and growing installed base is key to the investment story for Apple," JP Morgan believes Apple can still continue to drive hardware revenue growth through increases in both volume and pricing for updated models, with new HomePods named alongside an Apple Watch refresh.