Apple announces Apple Silicon Mac special event for November 10
In a virtual invite sent out on Monday, Apple has announced that it is having a "One more thing" event on November 10, at 1:00 PM Eastern Time.
The event invite is bereft of details, although it is likely to be an Apple Silicon event, given that Apple CEO Tim Cook did say that Macs with Apple's new processor are going to ship before the end of 2020. The event will be held virtually, like the last several have been, and will likely be prerecorded at various locations inside Apple Park.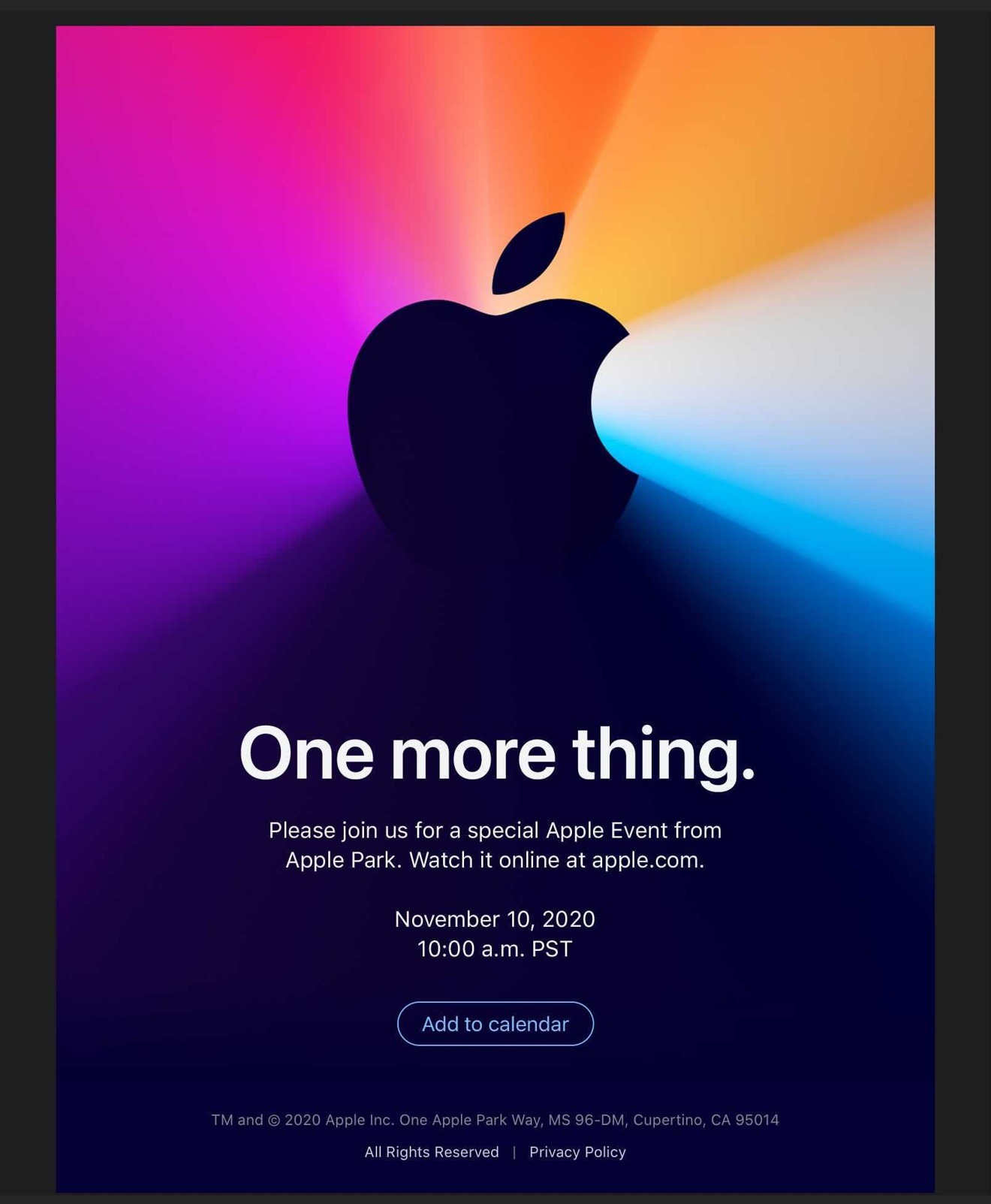 What to expect at the event
The third of three special events, the first two handled the vast majority of Apple's main product lines. The first "Time Flies" event handled the iPad Air 4, the 10.2-inch iPad, the Apple Watch Series 6, and the Apple Watch SE, while the second "Hi, Speed" centered on the iPhone 12 range and the HomePod mini.
Given what has already been announced, it is likely this third installment will focus on an area not touched by the others, but we know is on the way: Apple Silicon.
Apple announced that it would be bringing out its first Apple Silicon-based Macs before the end of 2020, and a special event in November seems like the last real opportunity Apple has to do so before the lucrative holiday shopping period.
A connected item that could be prominent in the event is macOS Big Sur, the next major release of macOS that will work on both Intel-based and Apple Silicon-based Macs and MacBooks. While Apple has released the milestone versions of its other operating systems, it has considerably delayed the release of macOS Big Sur, and there's a chance it may be released alongside the Apple Silicon devices.
While not specifically Mac-related, "AirTags" are also another product that could make an appearance. The Ultra Wideband-based trackers were tipped for launch in late 2020, but reports have proposed Apple may be holding back the devices to early 2021, though a November event launch is always a possibility.
Another potential candidate would be "AirPods Studio," more personal audio accessories in the AirPods product line. The "AirPods Studio" are thought to be premium over-ear headphones with Active Noise Cancellation and Transparency Mode features borrowed from the AirPods Pro, as well as a level of modularity and customization that existing AirPods don't offer.
The "AirPods X," which has appeared in rumors, are more conventional Bluetooth in-ear devices connected together by a cable that goes around the back of the user's neck. While they could end up being a low-cost entrypoint into the AirPods ecosystem, The "AirPods X" may also be better suited for exercise and activity.
A valve-oriented version of AirPods Pro is also suggested, with "AirPods Pro Lite" consisting of earphones between the AirPods and AirPods Pro that offer some Pro features.