Moment launches expansive lineup of iPhone 12 MagSafe accessories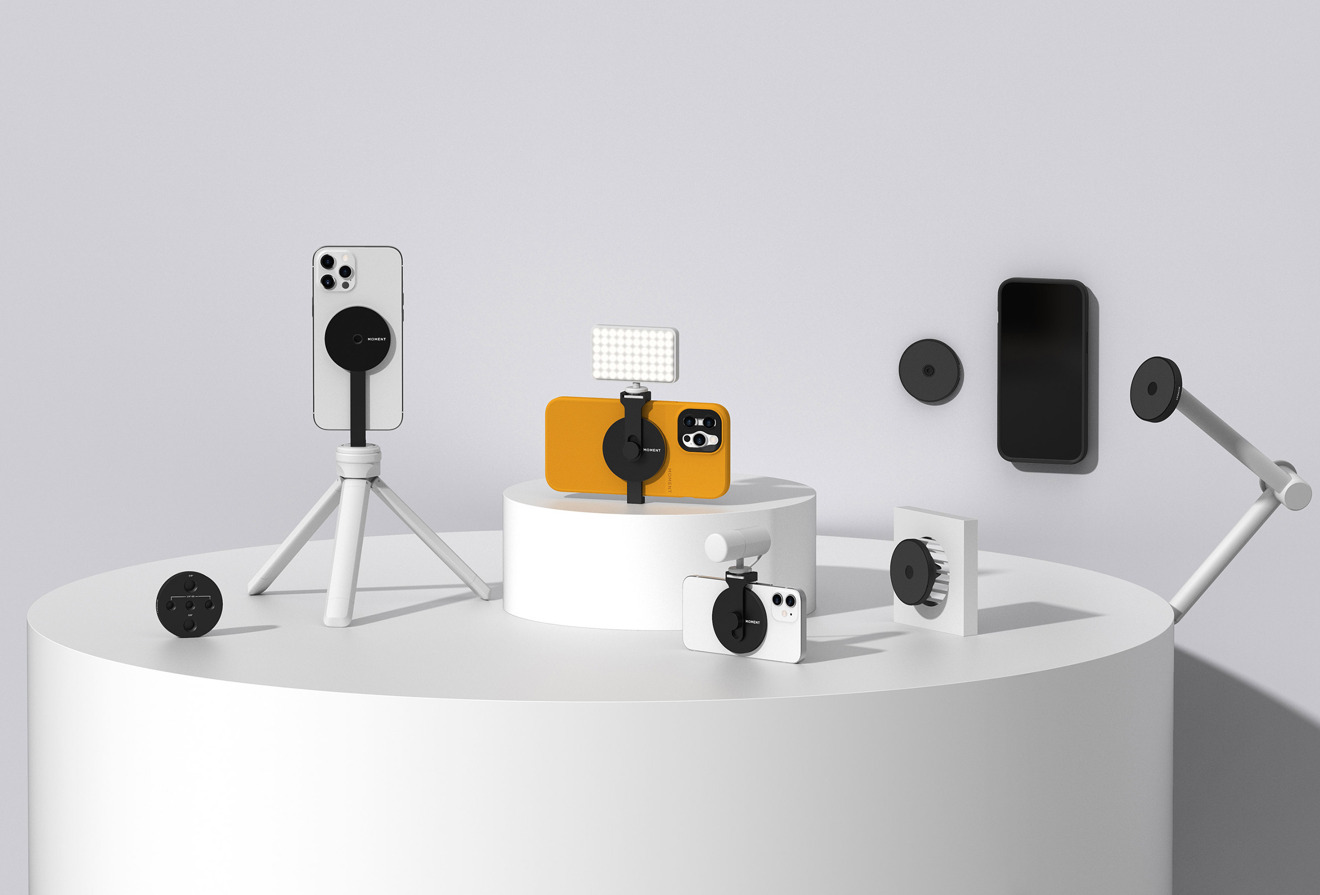 Moment has announced an expansive lineup of iPhone 12 MagSafe accessories including new cases, tripod mounts, cold shoe mounts, wall mounts, and car mounts.
All of Moment's new gear is up for preorder on Moment's website with delivery starting in March and is geared towards photographers as well as everyday users. It marks the first major accessory maker to launch a MagSafe line following Apple partner Belkin.
Moment MagSafe cases
The Moment Thin case has a great soft-touch finish and is made from a bio-plastic that is better for the environment. It has a wrist strap connector at the bottom and is compatible with Moment's drop-in M-Series lens mount.
if you want something more protective, the Moment Protective case is the option. It has a dual-material design and includes different back materials such as wood. The bottom is also fully enclosed, unlike the Thin case. It too has a wrist strap anchor and support for the M-Series lens mount.
Both cases support MagSafe and include integrated magnets in the cases themselves. They have six feet of drop protection, a lifetime warranty, and include the lens mounting interface in the box.
Moment Tripod mounts
Outside of cases, we have the Moment Tripod mounts for MagSafe. There are two distinct models, a standard model and a pro model that includes a cold shoe mount for connecting accessories like lights and microphones.
This securely attaches to the back of any iPhone 12 model via MagSafe and includes extra-strong magnets to create an even better drop. Something Moment calls its (M) Force magnet array.
It works with or without a case and works in either portrait or landscape orientations. Moment's Tripod and Pro Tripod can mount to any 1/4"-20 tripod, are made from solid aluminum, and have padded contact points to protect your phone.
The Moment Tripod Mount and Moment Pro Tripod Mount run $39.99 and $49.99 respectively.
Cold shoe mount
The Moment Cold Shoe Mount is a great way to mount various accessories to the back of an iPhone 12. It has a slim aluminum construction, a padded contact point to the back of the phone, and extra-strong (M) Force magnets.
Many photography and videography accessories rely on a cold shoe to mount and now this feature comes to iPhone without the need for a clamp or additional grip. Perfect for microphones, lights, and more.
More mounts
Moment is also introducing other universal mounts.
There is the Moment Multi Threaded Mount, also known as a cheese plate, which has four 1/4"-20 female threads as well as two 3/8-inch female threads. Use this to connect tripods, arms, rigs, ballheads, and more to your iPhone. It is priced at $29.99.
Finally, Moment has a 3M adhesive mount that can go onto your desk, monitor, dash, wall, et cetera. It has a countersunk hole for mounting with a screw as well. For in the car, there is the Moment Car Vent Mount. This has a vent clip on the back and a very slim design.