CES 2021 report, MacBook docking tips, Bluetooth problems on the AppleInsider Podcast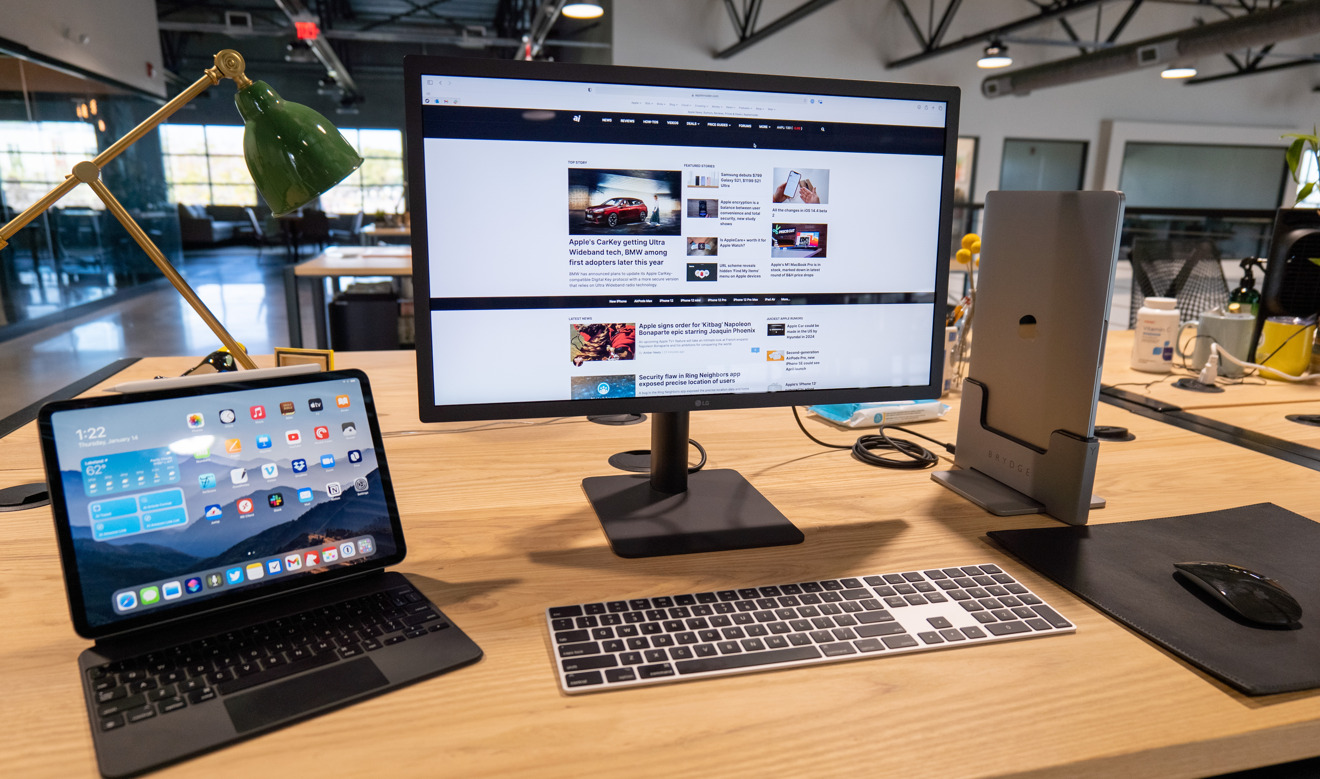 This week, on the AppleInsider Podcast, we discuss CES 2021 unveils of compelling accessories for iPhone and iPad, plus tips for docking your MacBook Pro — and beating Bluetooth issues.
Among the many announcements of interest to Apple users at this year's virtual CES, LG unveiled its first 4K OLED display. Then Anker revealed a line of MagSafe accessories and portable batteries, and Kensington previewed the iPad Pro StudioDock.
The iPad Pro StudioDock will give users a rotating stand for their iPad in addition to HDMI, USB, and other ports for expansion. Also included is a Qi charger at the base for iPhone and AirPods.
This setup isn't perfect, though, as persistent Bluetooth issues on the M1 MacBook Pro breaks connection with the Magic Mouse and Magic Keyboard when connecting multiple wireless devices. Apple has promised a fix is coming soon to macOS Big Sur.
Next, iOS 14.4 beta 2 has been released and, taking advantage of the U1 ultra wideband chip in HomePod mini and newer iPhones, improves the audio handoff experience. A hidden new URL scheme also reveals a "Find My Items" menu on Apple devices.
Lastly, Apple has announced an increased investment and additional programs associated with its Racial Equality and Justice Initiative. It is contributing $25 million to create the Propel Center within Atlanta University Center, plus opening a Developer Academy in Detroit. It's also investing $10 million with New York's Harlem Capital, which aims to support 1,000 new companies over the next two decades.
We'd love to interact with you on Twitter. If you have questions or comments on the show, tweet at @stephenrobles and @wgallagher, or email us here. Find us in your favorite podcast player by searching for "AppleInsider" and support the show by leaving a 5-Star rating and comment in Apple Podcasts .
Tune in to our HomeKit Insider podcast covering the latest news, products, apps and everything HomeKit related. Subscribe in Apple Podcasts, Overcast, or just search for HomeKit Insider wherever you get your podcasts.
Sponsored by:
Subscribe to AppleInsider on:
Links from the show