Apple's Twitter 'hashflag' for Sept. 14 iPhone event hints at future announcements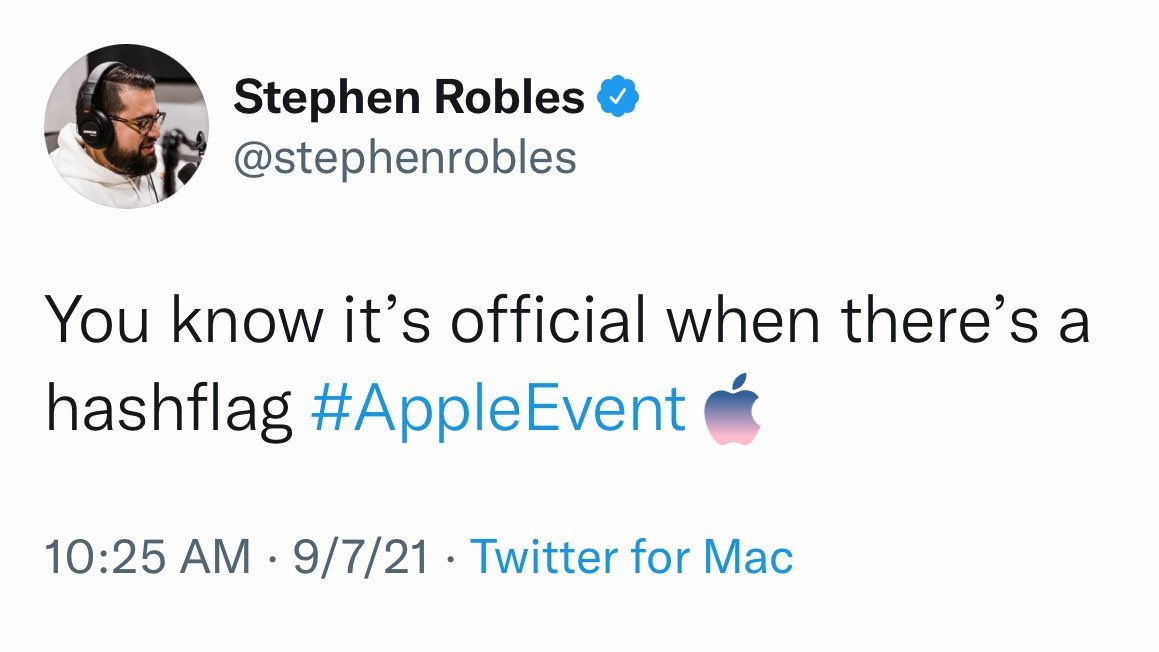 Twitter on Tuesday activated a "hashflag" for the upcoming "California Streaming" Apple event scheduled for Sept. 14, with the tech giant reserving use of the special #AppleEvent icon until December.
Continuing its use of Twitter's custom icon feature, Apple's latest hashflag consists of an Apple logo filled with a blue-to-pink pastel gradient reminiscent of the color palette selected for "California Streaming" media invitations sent out earlier today.
According to researcher Jane Manchun Wong's Hashflag Browser, Apple has reserved use of the "AppleEvent" hashflag through Dec. 6, suggesting the company plans to hold additional online gatherings before year's end. The tech giant's hashflags are typically active for a week — two weeks for the Worldwide Developers Conference — before being pulled when the referenced event concludes.
The hashflag went live at around 1 p.m. Pacific and is now appearing next to #AppleEvent hashtags on Twitter.
Most recently, a rotating cast of hashflags was dedicated to the Worldwide Developers Conference in June. The effort borrowed images from iMessages' Tapback feature, which lets users quickly react to messages using a heart, thumbs-up, thumbs-down, "HAHA," two exclamation points or a question mark icon that appears as a response bubble atop texts.
Apple is expected to introduce "iPhone 13" and "Apple Watch Series 7" next week, potentially alongside an AirPods refresh. AppleInsider will be covering the event live from 10 a.m. Pacific.