Apple made secret 5-year $275B deal with Chinese government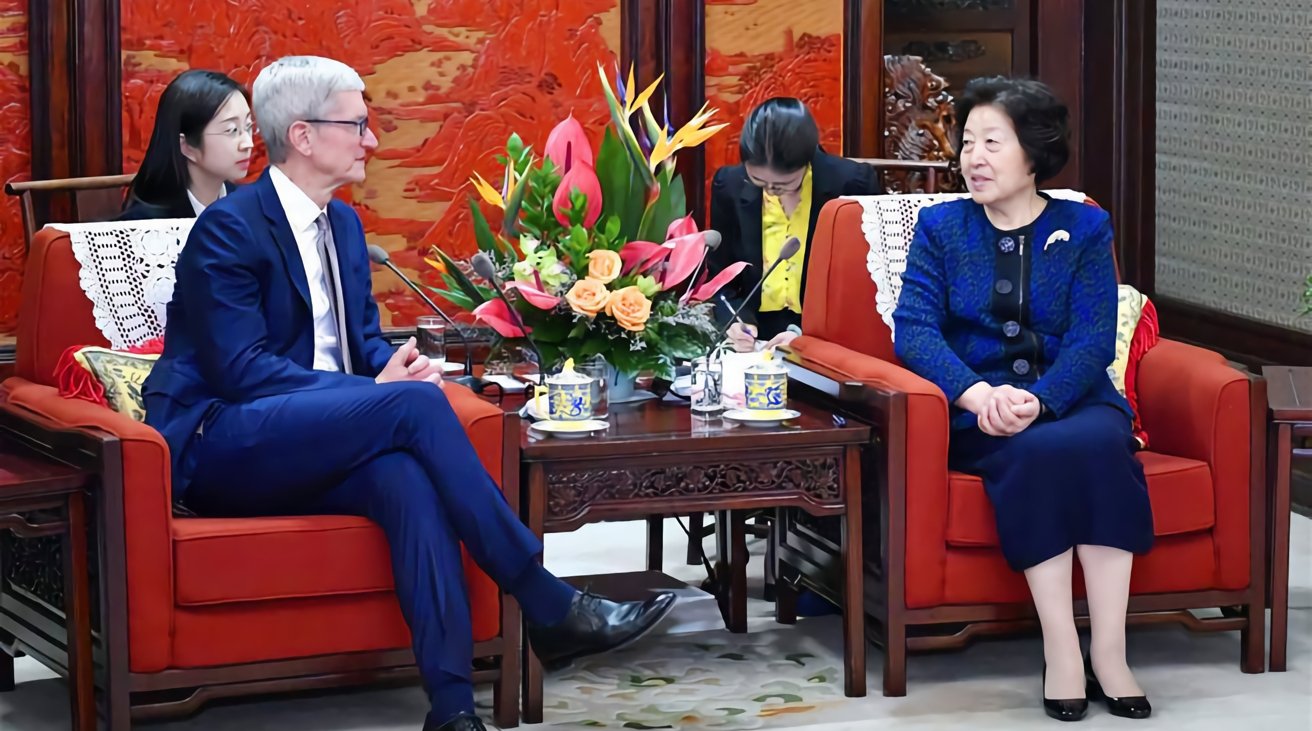 Apple's success in China is allegedly down to an agreement with the country's government to help develop its economy, with a report claiming CEO Tim Cook personally lobbied officials to get the best deal for the company.
Apple considers China to be a major market, with the iPhone maker expending considerable effort to make headway, both in generating custom and in its extensive supply chain operations. The success in China has been a turnaround years in the making, and it seems that a secret agreement may have greased the wheels.
A report on Tuesday claims that, during a period when Apple was dealing with a rash of regulatory activity in China, Tim Cook paid a visit to the country in 2016. During that visit, he signed an agreement with the Chinese government, according to The Information.
The deal would have Apple working to improve China's economy and technological profile with investments, training up its workforce, and various beneficial business deals. It is alleged that the total value of the five-year agreement was worth $275 billion.
At the time, Apple was viewed by Chinese officials as not doing enough to help the local economy, internal documents supposedly state. With regulatory scrutiny at an all-time high, Apple executives were having trouble trying to turn the Chinese opinion of the company around.
Over multiple visits, Cook is said to have lobbied officials on behalf of Apple, as well as signing the deal with a Chinese government agency. The lobbying against various threats hat would've affected the App Store, Apple Pay, and other products was mostly successful, if unreported at the time.
The deal was kept secret both by the company's own culture and by the opaque workings of the Chinese government, and was politically wise according to political economist Victor Shih. It is thought that as Apple has to appease China as both a major market and a manufacturing base, it had to keep the government happy while also not appearing to other countries as appeasing China.
"Apple likely wanted to avoid the optics of groveling to the Chinese government," said Shih.
The key deal was a 1,250-word agreement created by Apple's government affairs, which it thought could improve its relations with the government and potentially let Apple get the ear of senior leaders. The memorandum of understanding with the National Development and Reform Commission was signed shortly after Cook announced a $1 billion investment in Didi Chuxing in May.
As part of the agreement, Apple pledged to work with Chinese manufacturers to create "the most advanced manufacturing technologies" and "support the training of high-quality Chinese talents." This was accompanied by promises to increase its use of Chinese suppliers for device components, to work with Chinese software firms and invest in tech companies, and to work with Chinese universities on new technologies.
The agreement was set to run for five years, including Apple's spending pledge of more than $275 billion over the period. However, the deal had the option to be extended for an extra year, to May 2022, if neither China nor Apple objected.
Apple would also agree to "strictly abide by Chinese laws and regulations," a phrase that would occasionally resurface when Apple discussed privacy issues in China, such as its move of Chinese customer data in iCloud to a Chinese company.
While Apple's tasks were outlined in detail, China had more ambiguous obligations, in that it would give Apple "necessary support and assistance."
Tim Cook's lobbying with high-ranking officials and other areas of the Chinese government oddly caused more concern among Apple's China-based executives. Cook's famous ability to generate rapport with leaders led some Apple executives to believe the company could be vulnerable unless local managers could form their own relationships, according to one internal document.
With Cook saying in April that he would leave the role in the next decade, there's more pressure for those managers to improve their connection with officials.