Apple releases first public betas of iOS 17, iPadOS 17, macOS Sonoma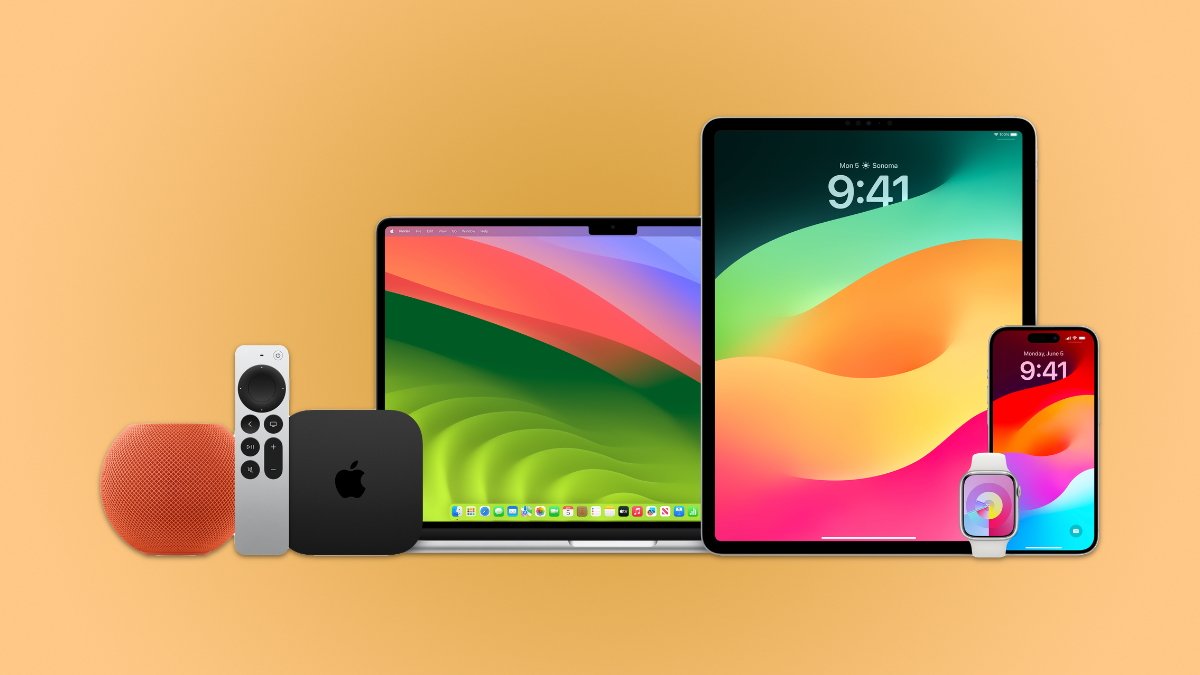 After about a month of testing its new operating systems with developers, Apple has released the first public betas for iOS 17, iPadOS 17, and macOS Sonoma.
Apple's upcoming operating systems are set to bring a host of new features that will enhance the user experience across various apps. People who are interested in downloading the latest operating systems can do so via the Apple Beta Software Program.
The iOS 17 and iPadOS 17 public betas have a build number of 21A5277j, while the macOS Sonoma public beta build number is 23A5286i.
Safari offers users additional privacy features, Apple Notes provides improved PDF support, iMessage enables location sharing, Freeform enhances collaboration capabilities, and numerous other new and improved features await users.
New features in iOS 17
Phone
Personalize your phone calls: Customize what people see when you call with Contact Posters.
Live Voicemail: Send a call to voicemail and see a live transcript of the message.
Messages
All your iMessage apps in one place: A new plus button allows you to view all the things you send the most.
Check In: Automatically notifies your friend or family member when you arrive at your destination.
Catch-up and swipe to reply: A new catch-up arrow lets you jump to the first message you haven't seen in a conversation.
Search filters: Find the message you're looking for faster by combining search filters.
Share and view locations: Share your location or request a friend's location from the plus button.
Audio message transcription: Audio messages are now transcribed, so you can read them at the moment and listen later.
Stickers: Access all your Live Stickers, emoji, Memoji, and other sticker packs in one place.
FaceTime
Leave a message: Record a video or audio message when someone misses your FaceTime call.
React with your hands: Add a reaction that fills the camera frame with fun 3D augmented reality effects.
FaceTime on Apple TV: Use your iPhone as a camera and start a call directly from the FaceTime app on Apple TV.
AirDrop
Swap numbers with NameDrop: Hold your iPhone near someone else's iPhone or Apple Watch to use NameDrop. To start the transfer via AirDrop, bring your phones near each other.
Journal (Coming later this year)
A new app to write and remember: A new approach to savoring life's experiences and safeguarding your cherished memories.
Personalized for you: Based on your photos, music, workouts, and other factors, your iPhone generates tailored recommendations for memorable moments to recall and document.
Keyboard
More accurate autocorrect: As you type, autocorrect provides enhanced assistance for a smoother experience.
Predictions inline as you type: Inline predictions are displayed while you type, enhancing typing speed and efficiency.
Safari and Passwords
Create a profile: Maintain different browsing experiences for categories such as work and personal matters by utilizing distinct profiles within Safari.
Enhanced Private Browsing: Private Browsing now locks your private browsing windows when you're not using them with Face ID.
Autofill verification codes received in Mail: One-time verification codes you receive in Mail are filled in automatically.
Music
Play music together: Now SharePlay makes it easier for everyone to control music in the car.
Collaborate on playlists: Invite friends to join your playlist, and everyone can add, reorder, and remove songs.
AirPods
Adaptive Audio: The introduction of a completely new listening mode for AirPods Pro (2nd generation) combines Transparency and Active Noise Cancellation dynamically, adapting audio to customize the noise control experience.
Maps
Download maps to use offline: Save an area of a map to your iPhone and explore it while offline.
Enhanced electric vehicle routing: See real-time charging station availability along your route.
The iOS 17 release will be compatible with the iPhone Xs and later as well as the iPhone SE (2nd generation).
New features in iPadOS 17
Lock Screen
Personalize your Lock Screen with stunning wallpapers.
An all-new motion effect for Live Photos makes your Lock Screen more dynamic.
Use Live Activities to stay on top of things happening in real-time, right from your Lock Screen.
Add your favorite widgets to the Lock Screen for quick information access.
Interactive Widgets
Easily play music, dim the lights, and perform other actions directly from a widget.
Health
The Health app comes to iPad with a design optimized for the larger display.
The latest enhancements in mental health features enable you to contemplate your emotional well-being and access valuable insights about your state of mind.
PDFs and Notes
Enhanced AutoFill allows you to securely use your saved information from Contacts to fill out a PDF or scanned document faster.
Read and annotate a PDF right in your note.
Link related notes, like a trip itinerary and a list of recommended restaurants.
Collaborate on PDFs with real-time updates.
Freeform
Use new drawing tools like a watercolor brush, calligraphy pen, highlighter, variable-width pen, and ruler while brainstorming.
See what your collaborators are working on with Follow Along.
Spotlight
When you search for an app, Spotlight intelligently offers you app shortcuts to your next action within the Top Hit.
AirPlay
On-device intelligence learns your AirPlay preferences over time.
Later this year, AirPlay will be available in supporting hotel rooms.
The iPads that can download iPadOS 17 include iPad Pro 12.9-inch (2nd generation and later), iPad Pro 10.5-inch, iPad Pro 11-inch (1st generation and later), iPad Air (3rd generation and later), iPad (6th generation and later), and the iPad mini (5th generation and later).
New features in macOS Sonoma
General Features
Screen Savers: New slow-motion screen savers featuring breathtaking locations from around the world.
Widgets on Desktop: Add widgets to your desktop from the new widget gallery. Widgets fade into the background when you open an app or window for better focus.
Continuity: Add your iPhone widgets to your Mac desktop without having to install the corresponding apps on your Mac.
Game Mode: With this newly introduced feature, games are granted the highest priority on your Mac's CPU and GPU, minimizing resource consumption for background tasks and decreasing latency when using wireless accessories.
Presenter Overlay: Stay part of the conversation when sharing your screen with two overlay options, large and small.
React with your hands: Add a reaction that fills the camera frame with fun 3D augmented reality effects.
New Screen Sharing picker: Easily share an app or even multiple apps when on a video call right from the window you're in.
Stay in frame: Control the composition of your video when using Studio Display or iPhone as your camera.
Macs that will be compatible with macOS Sonoma include iMac (2019 and later), Mac Pro (2019 and later), iMac Pro, Mac Studio (2022 and later), MacBook Air (2018 and later), Mac mini (2018 and later), and MacBook Pro (2018 and later).