Apple TV 4K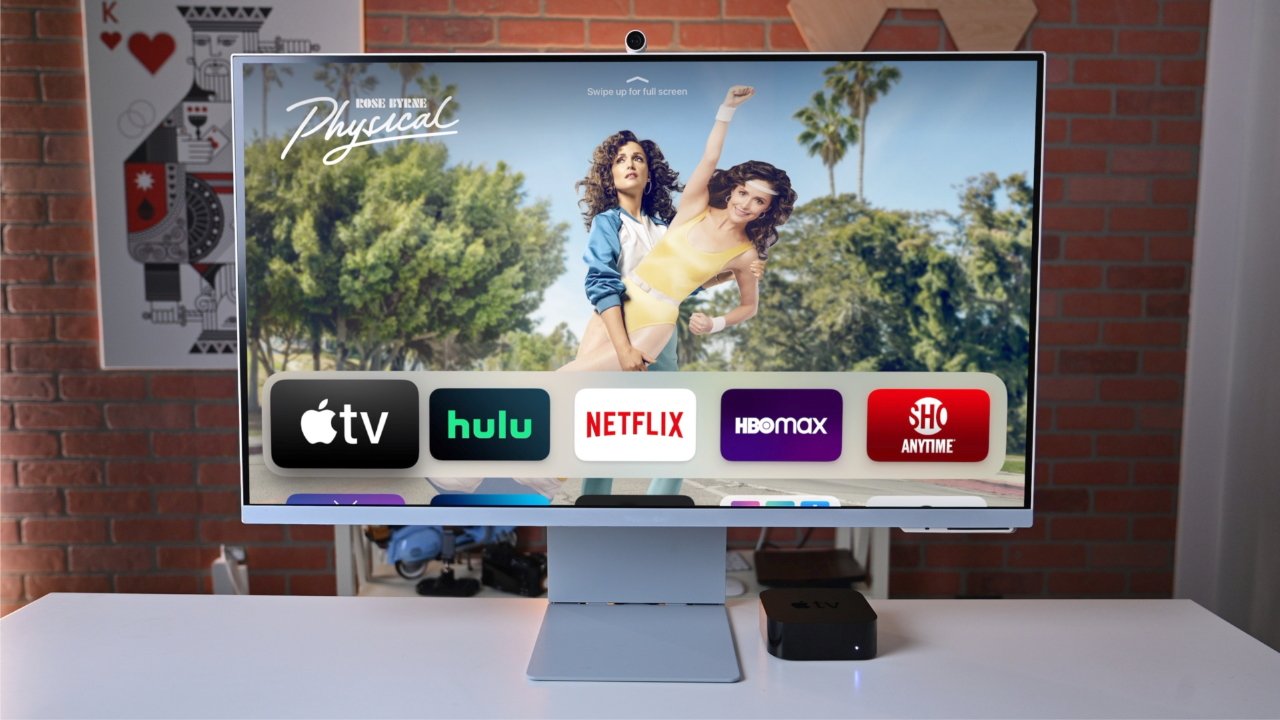 The Apple TV 4K is in its sixth iteration with high frame rate HDR, Dolby Atmos support, and an A12 processor. The inclusion of Thread connectivity means better HomeKit device support as well. Apple didn't change much about this set-top box, but did update the Siri Remote with a new design.
● Outputs 4K HDR video
● A12 processor
● Gigabit Ethernet connectivity
● Integrated App Store
● Siri Remote with touch and motion controls
● Starts at $179
---
Apple unveiled the sixth-generation Apple TV 4K during the "Spring Loaded" event in April 2021. It has an updated processor, an updated Siri Remote, and a new color balance feature for content. The set-top box relies upon tvOS for its features, so WWDC 2021 will likely reveal more about the new A12-powered device.
Hardware
There is no difference between the fifth-generation and sixth-generation models at face value. Both have identical external appearances—the Apple TV 4K measures 3.9 inches square and 1.4 inches high while weighing 15 ounces.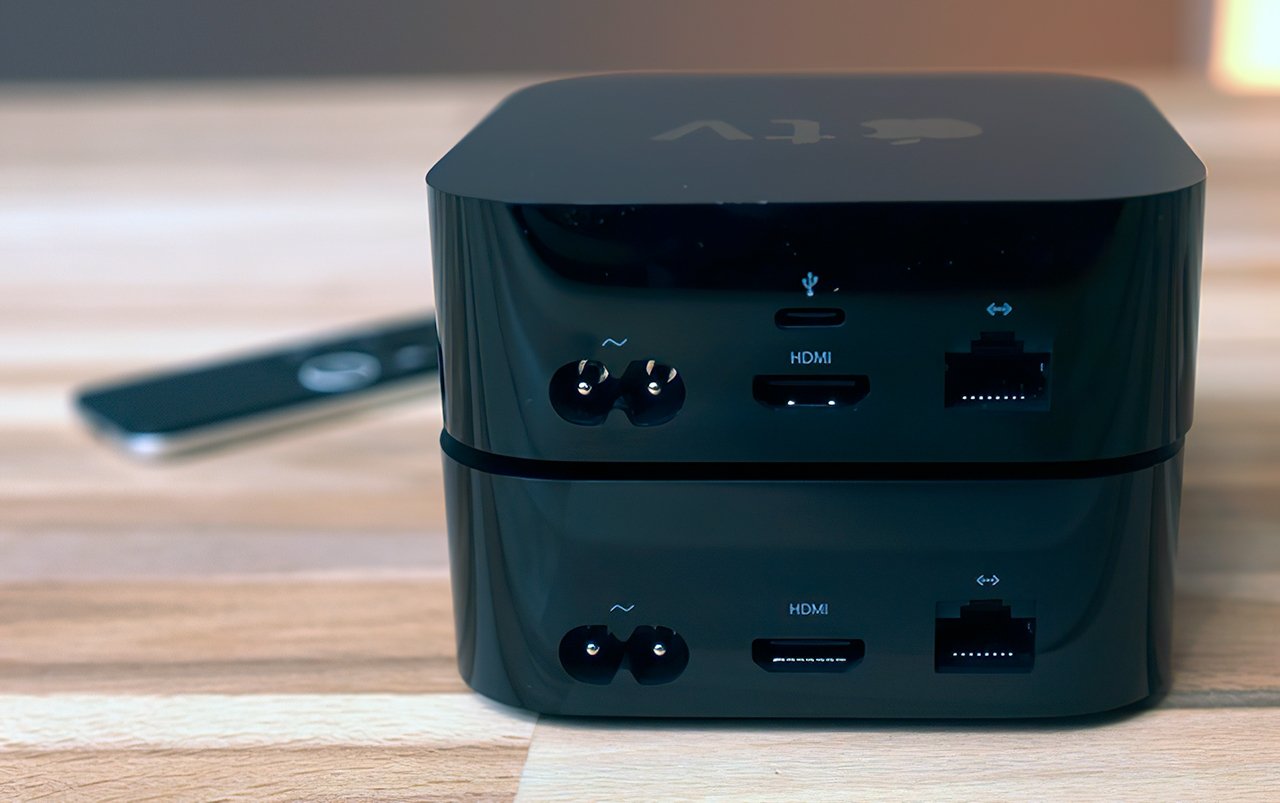 The only other externally visible change between the new and old generations is the seeming removal of the USB-C connection. This port was intended for servicing the device and not for use by customers, so the removal from view isn't a concern for users.
Despite the removal, it seems Apple retained a way to perform testing for support purposes. In October 2019, over two years after the device's initial launch, Apple hid Lightning connector terminals within the Ethernet port.
Apple upgraded the A10X Fusion processor to the A12 Bionic processor. The new processor brings the set-top box up to a more modern chipset with improved graphical capabilities. This will likely help with Apple Arcade and future software updates.
The Apple TV 4K supports output up to 4K 60fps and supports HEVC Dolby Vision and HDR10. That means it can display high dynamic range content, allowing for more vibrant images when used with a compatible TV.
For audio, it includes support for HE-ACC(V1), AAC up to 320Kbps, protected AAC files from the iTunes Store, 320Kbps MP3s, MP3 VBR, Apple Lossless, FLAC, AIFF, and WAV. There is also support for Dolby Digital 5.1 and Dolby Digital Plus 7.1 surround sound.
Siri Remote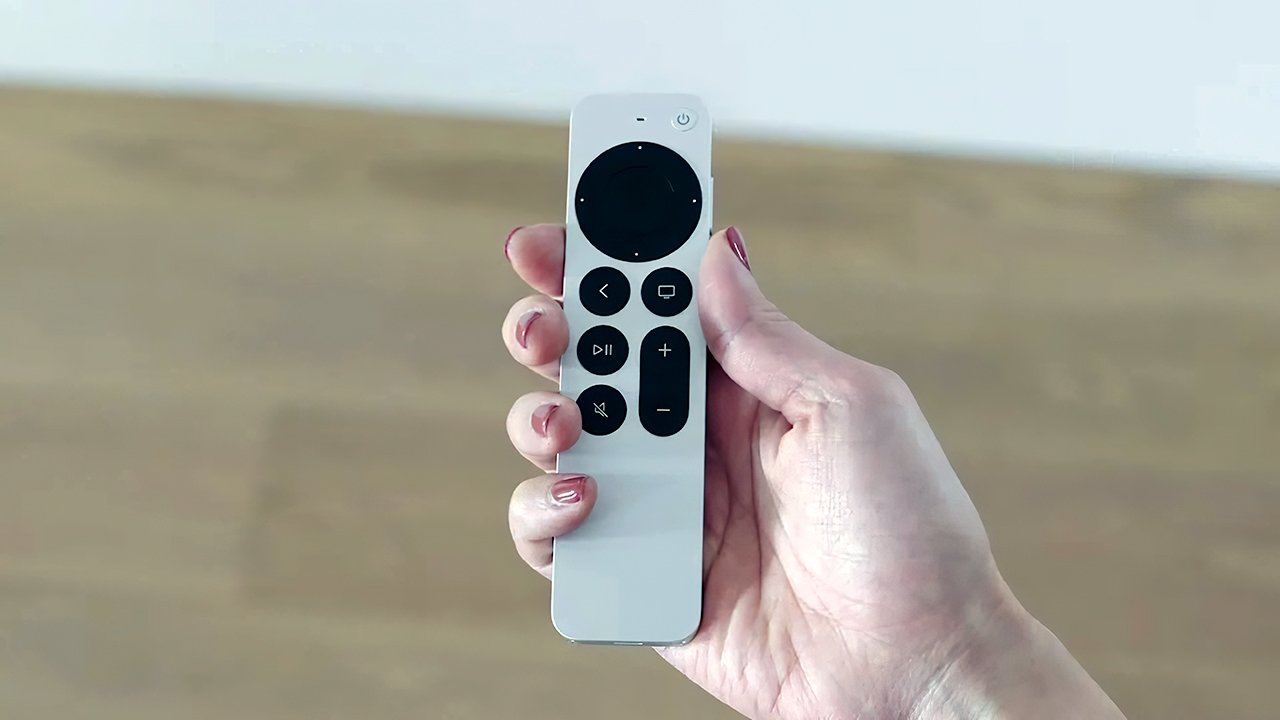 Apple updated the Siri Remote design for the first time with the latest Apple TV 4K. It is bigger in every dimension and has more buttons. The directional buttons and select buttons at the top of the remote are also touch-sensitive, enabling swiping and gesture controls.
The remote has new buttons like a dedicated TV power button, mute button, and the "Menu" button has changed into a back button. The Siri button moved to the side of the remote, but Siri's functions remain the same.
The accelerometer and gyroscope have been removed from the remote, meaning some games that relied on swinging gestures no longer work with this remote.
Apple addressed many of the complaints related to the original Siri Remote with one major exception. The new remote does not have an Ultra-Wideband chip for easy tracking. That means if you lose the remote, you'll have to find it the old-fashioned way or attach an AirTag to the back.
Software
The latest Apple TVs runs tvOS, a variant of iOS made for large displays and remote control. With its integrated App Store, users can download apps across hundreds of providers. Apple Arcade, Apple Music, and Apple TV all live here alongside popular entertainment apps.
A key part of tvOS is the ability to use Siri, Apple's famous digital assistant. Using the dedicated button on the Siri Remote, users can speak queries into the remote's dual microphones, with the results displayed on-screen.
You can use Siri to search for movies and TV shows, control playback, and make non-video queries usually handled by Siri on iOS devices, such as weather reports and sports scores. With the inclusion of 4K content, it is also possible to use Siri to seek out high-resolution content across multiple apps at the same time, by asking "Show me movies in 4K."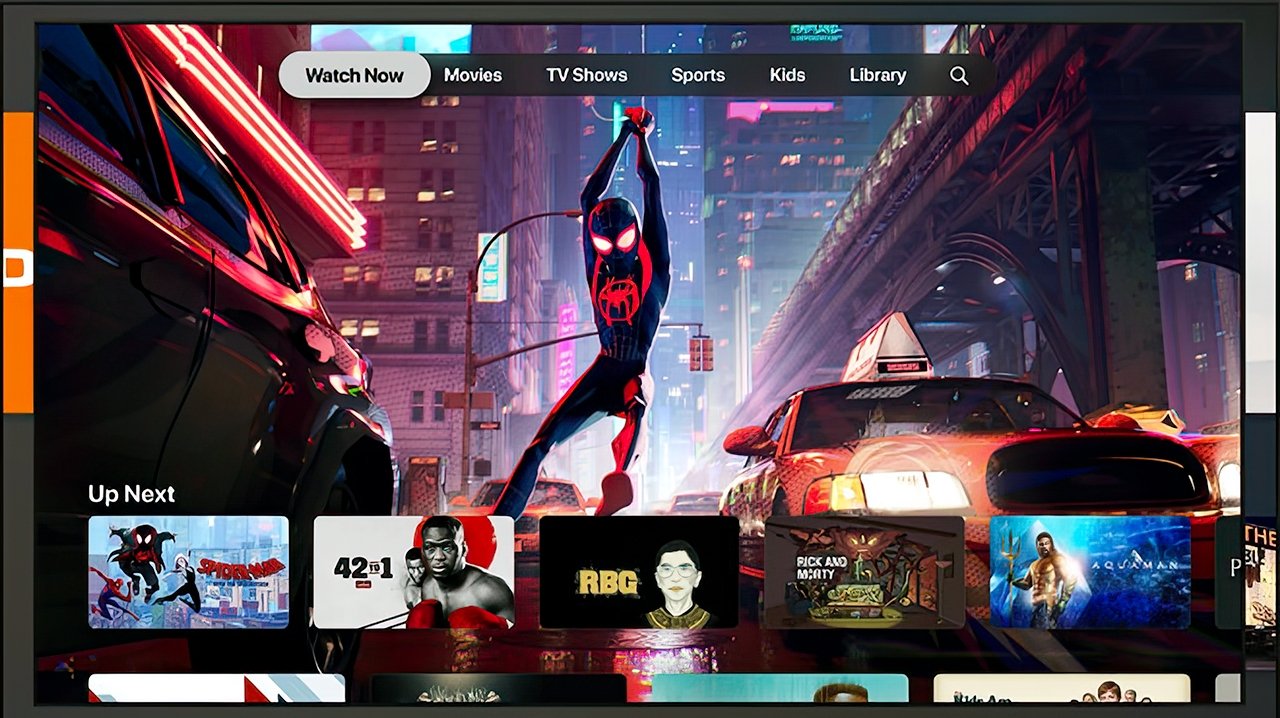 AirPlay support allows the Apple TV to control multiple AirPlay 2-compatible speakers alongside any traditionally connected speakers as part of a home theater system. This effectively makes it possible for you to hear a TV show's or movie's audio throughout a household.
You can also set up the Apple TV 4K to match the displayed content's original resolution and frame rate. Otherwise, the Apple TV will attempt to apply HDR at 60fps to anything on screen, including the home menu. It is recommended that users set the default resolution to 4KSDR, then enable "match dynamic range" and "match frame rate" for the best possible picture across all content.
For HomeKit, Apple's smart home platform, it is possible to set up the Apple TV 4K as the central device of a HomeKit network. This allows the set-top box to control other HomeKit-compatible appliances and accessories, including when the user is outside the home.
Apple TV Channels
With the release of tvOS 12.3, Apple introduced a new Apple TV app experience across iOS devices and Apple TV Channels, which fundamentally changes how users can sign up for streaming services. Under Apple TV Channels, users can subscribe to a selection of TV channels and offerings from streaming apps via the main Apple TV interface, all without requiring a download of a separate dedicated app, allowing it all to be viewed within the same user interface.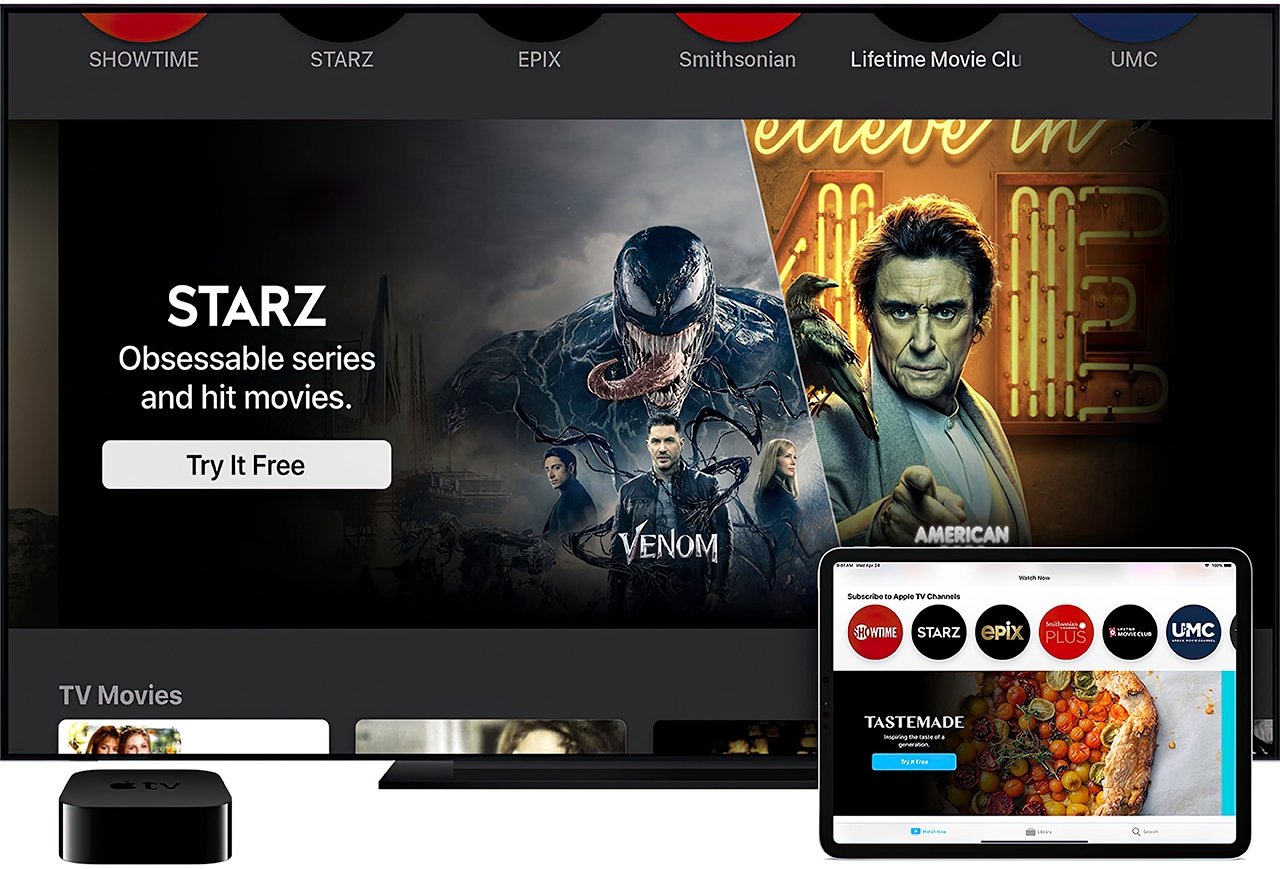 In effect, Apple TV Channels acts as a limited a-la-carte pay-TV subscription, with users having the opportunity to select and pay for just the channels they want to watch. Normal pay-TV services like cable and satellite typically require customers to buy large bundles, consisting of channels they want and others they have no interest in viewing, increasing the overall cost for consumers. However, many significant cable channels, including those providing live sports, aren't available.
Others within a household can view channels you subscribe to via Family Sharing, similar to other online Apple services, with up to six family members able to share their subscriptions using their Apple ID and password.
As of this writing, you can subscribe to the following channels: HBO, Starz, CBS All Access, Showtime, epix, BET+, Cinemax, Smithsonian Channel, Shudder, Acorn TV, History Channel Vault, MTV Hits, Comedy Central Now, Sundance TV Now, IFC Films unlimited, PBS living, Curiosity Stream, Lifetime Movie Club, Urban Movie Channel, Up faith and family, Tastemade, Mubi, and Arrow Video Channel.
tvOS
tvOS 14, launched in 2020, included multi-user support for gaming, better Picture-in-Picture support, new audio-sharing capabilities, and Game Center syncing for Apple Arcade.
Released in September 2019, tvOS 13 included a new Home screen that offers full-screen video previews of content.
Apple also added multi-user support to enable users to enjoy personalized playlists and recommendations. This came in handy for Apple Music, which enables personalized playlists and recommendations for music and shows onscreen lyrics to songs timed to appear in sync to the playing track.
Apple also added Apple Arcade support to tvOS, allowing users to play games from Apple's game subscription service. As part of the service, users could play a selection of games on their iPhone, iPad, iPod Touch, Mac, and Apple TV, without needing to worry about microtransactions or other payments, aside from a monthly fee.
To go along with the Apple Arcade support, Apple also included the ability to connect the Xbox Wireless Controller with Bluetooth and the PlayStation DualShock 4 to the Apple TV, giving users a more familiar game console controller to use with the service.
Apple also expanded the range of 4K HDR screen savers available on the tvOS. The videos included films made in collaboration with the BBC Natural History Unit, the team behind "Blue Planet," to show creatures and other entities that live within the world's oceans.
Apple TV 4K Pricing
The Apple TV 4K costs $179 for 32GB and $199 for 64GB.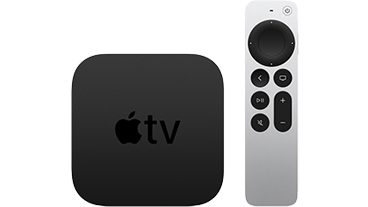 Apple TV 4K
---
Configurations
Discount
Apple TV 4K (32GB, 2021 Release)

$179.00

place order

Coupon

Price with $14 promo code APINSIDER. As always, if you have any issues, you can reach out to us at [email protected] and we'll try and help.

preorder

pre-order

n/a

$169.00
$14.00
Apple TV 4K (64GB, 2021 Release)

$199.00

place order

Coupon

Price with $14 promo code APINSIDER. As always, if you have any issues, you can reach out to us at [email protected] and we'll try and help.

n/a

pre-order

n/a

$189.00
$14.00
Apple TV 4K (32GB)

$179.00

$149.99

Coupon

Price with $14 promo code APINSIDER. As always, if you have any issues, you can reach out to us at [email protected] and we'll try and help.

$179.00

$175.00

$179.00

n/a
$29.01
Apple TV 4K (64GB)

$199.00

$169.99

Coupon

Price with $14 promo code APINSIDER. As always, if you have any issues, you can reach out to us at [email protected] and we'll try and help.

$195.00

$179.00

$179.00

n/a
$29.01
Apple Siri Remote for Apple TV 4K and 4th Gen Apple TV

$59.00

$64.99

$49.95

$49.95

n/a

n/a
$9.05
Common Apple TV 4K Questions
Does Apple TV 4K have live TV?
Apple doesn't provide live TV service, but the device supports various third-party live-TV services, including YouTube TV, Hulu + Live TV, and Sling TV.
Does Apple TV 4K come with an HDMI cable?
No, you'll need to use an existing HDMI cable or buy one along with your purchase.
When did Apple TV 4K release?
Apple released the fifth-generation device in September 2017.
How much does Apple TV cost?