HomePod mini
The HomePod mini is a smaller companion to the original HomePod speaker. Measuring around half the size of the HomePod, the smaller model offers a spherical design and computational audio for $99.
● Smaller than HomePod
● Spherical design
● Computational audio
● $99
---
The HomePod mini is a smaller, cheaper, and spherical version of the HomePod smart speaker. It is priced to compete with the Amazon Echo and other, more inexpensive smart speakers. It launched in November 2020.
While rumors had pointed to a HomePod mini since soon after the full-sized model's release, Apple finally announced it at its "Hi, Speed" virtual event on October 13, alongside the iPhone 12 series.
HomePod mini Features
The HomePod mini provides a much cheaper entry into the Apple smart speaker ecosystem. At $99, it serves as a more enticing purchase for shoppers looking to add several speakers around the home. This can include stereo pairs, where two speakers play a single stream of music, each handling one stereo channel.
The speaker has a round design with a flat top, separating it from the standard HomePod's cylindrical design. The 3.3-inch tall speaker uses a mesh fabric designed for acoustics as well as style.
Like the standard HomePod, the smaller variant ships in white and space gray.
Audio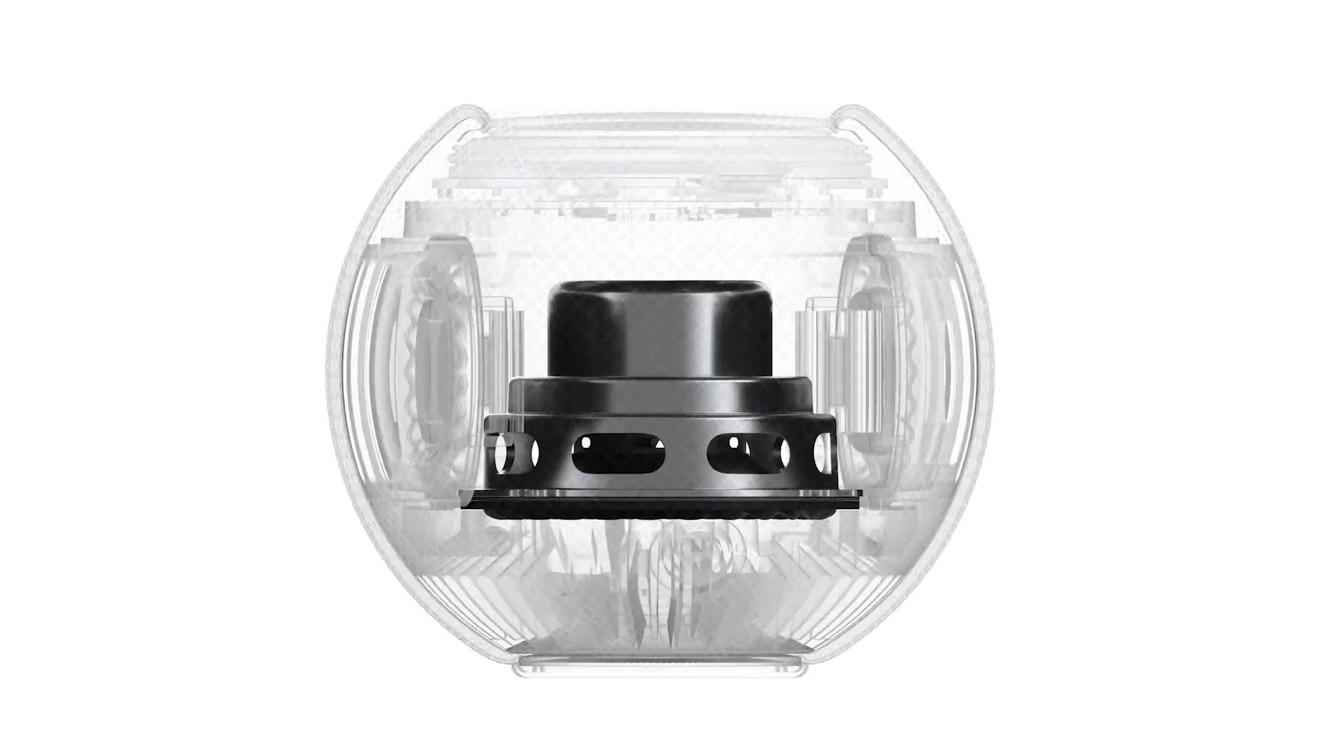 Although it's smaller, the HomePod mini still places a similar emphasis on high-quality playback with new "computational audio" features combined with standard audio hardware. It doesn't have the same bill of materials as HomePod, but it still has a full-range dynamic driver and two passive radiators for advanced bass response. It also includes an acoustic waveguide to provide clear, 360-degree audio playback.
The onboard Apple S5 chip provides the computational audio features, including complex tuning models that allow the speaker to intelligently optimize both loudness and dynamic range.
Intercom and Handoff
One of the most significant new additions to the HomePod mini is a new feature that allows it to act as an Ultra-Wideband base station to precisely locate U1-equipped devices, like the iPhone and Apple Watch Series 6.
Apple says that HomePod mini has a "magical" Handoff experience. A HomePod mini understands when an iPhone is nearby and provides audio, visual, and haptic feedback, so it feels like two Apple devices are physically connected.
The new speaker also adds a new Intercom feature that lets family members send messages between HomePods. People in the home can choose whether to talk to those in a different room, a specific zone, or throughout the home. Intercom also works with other Apple devices, so family members will receive a notification and can reply even if they aren't near a HomePod.
Streaming Services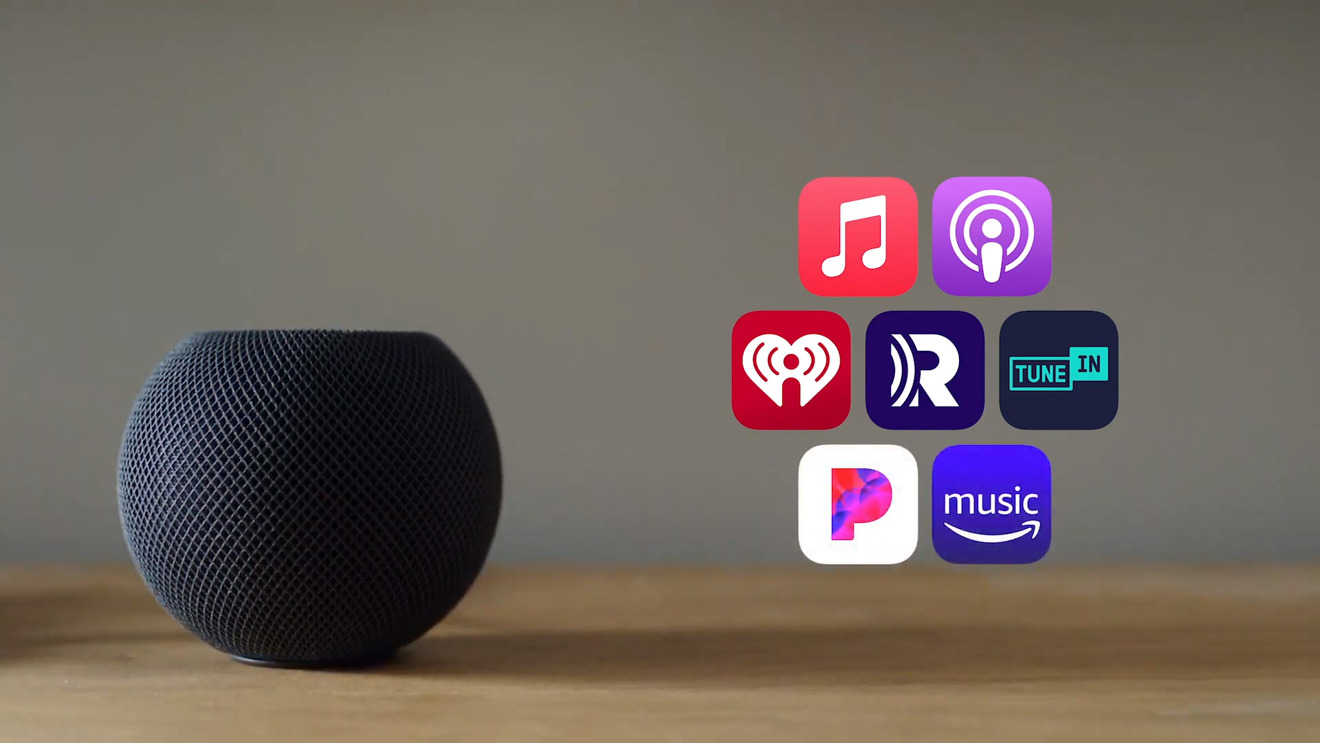 Apple Music is at the center of the HomePod musical experience, but Apple is gradually expanding its options. In 2019, Apple added support for radio stations from iHeartRadio, Radio.com, and TuneIn.
With the HomePod mini announcement, Apple added that support for Pandora and Amazon Music is coming later in 2020. Apple hasn't yet added support for Spotify, a company that has been critical of Apple's walled-garden business models.
Siri and Music Playback on HomePod mini
As to be expected of such a device, users can ask Siri questions through the HomePod. When engaged, the Siri waveform appears on the top of the speaker, indicating the digital assistant is awaiting further instructions.
Like the iOS version, Siri on Apple's speaker can respond to a range of queries. These can include queries about upcoming concerts, sporting event queries, and restaurant recommendations, with responses provided audibly. Typical Siri commands are also available to use, including requests to send messages to contacts, setting alarms and timers, and to read out the latest news headlines.
One way Apple is pitching the HomePod is its music playback credentials, centralizing around Siri. Subscribers of Apple Music can ask Siri to play songs from albums and playlists, tell it what the next song to play should be, ask to generate a playlist from a genre they like, and other musical instructions.
The music playback is also not limited to just Apple Music, as reports have confirmed Siri requests for songs included under iTunes Match can also be played through the HomePod.
The HomePod mini power cable terminates into a USB-C plug, so now you can take your HomePod with you. You can attach it to a battery pack that can supply at least 20W for portable use. However, you'll still need a stable internet connection.
The HomePod plays various audio formats, a list similar to those of other Apple products providing audio playback. The support list includes HE-AAC (V1), AAC from 16Kbps to 320Kbps, protected AAC from the iTunes Store, 16Kbps to 320Kbps MP3 files, MP3 VBR, Apple Lossless, AIFF, WAV, and FLAC.
The musical functionality also extends to musical trivia about the currently played track, such as "When was this recorded?" among other queries. Aside from individual tracks, users can ask Siri to play stations including NPR and Beats 1, and also podcast episodes the user has subscribed to in the Podcasts app.
HomePod firmware released alongside a beta for iOS 11.2 revealed the HomePod will handle all music-related questions itself, with no external assistance. For other types of queries, such as those involving contacts, messaging, Lists, and Notes, such queries will be handed off to a connected iPhone or iPad for processing, rather than performing the query itself.
Stay on top of all Apple news right from your HomePod or HomePod mini. Say, "Hey, Siri, play AppleInsider Daily," and you'll get a fast update direct from the AppleInsider team.
HomePod mini vs. HomePod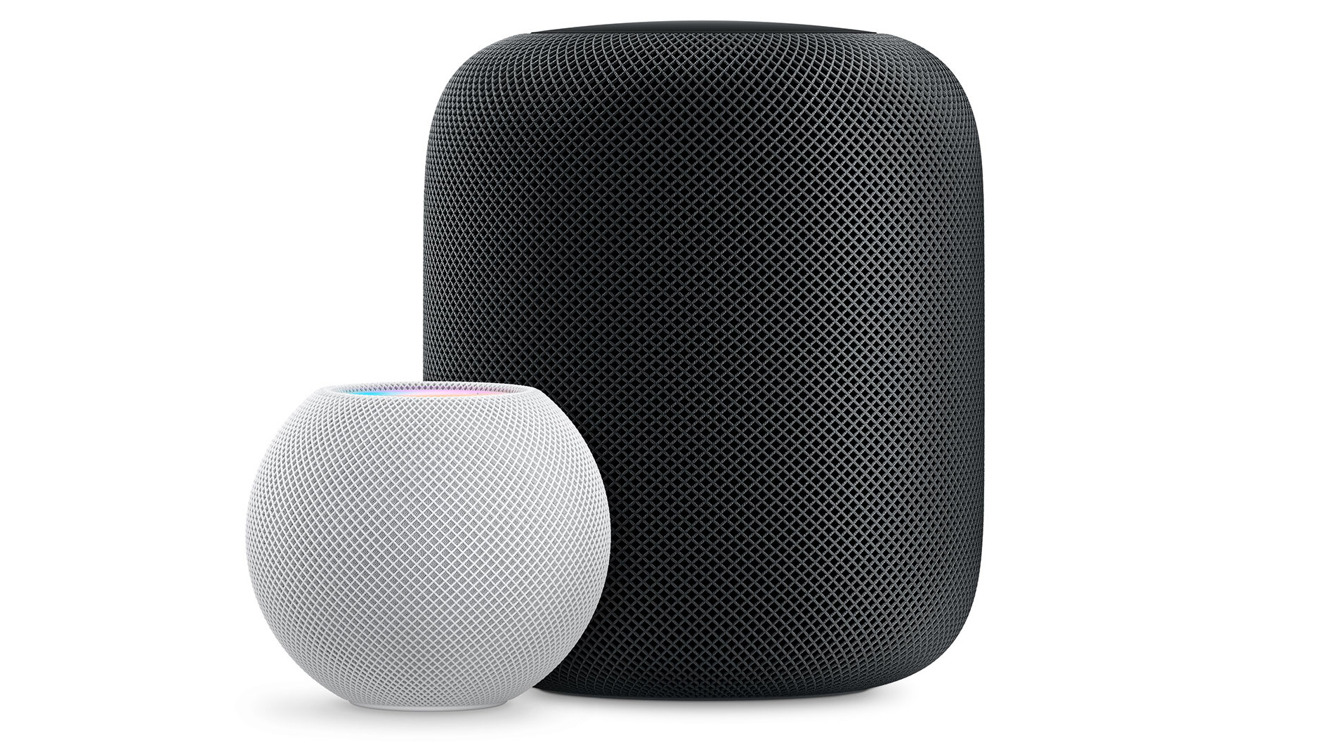 Contrary to some previous rumors, the HomePod mini has a different design from the standard HomePod. Apart from looks, the most apparent differences are price and size.
While the HomePod has a rounded cylindrical design, the smaller model has a spherical appearance with a flat top. At 3.3 inches, the tiny speaker comes in at barely under half the height of the 6.8-inch HomePod. The smaller model is also much lighter, weighing 0.76 pound compared to the HomePod's 5.5 pounds.
The HomePod has seven horn-loaded tweeters, each with a custom amplifier, along with a high-excursion woofer with custom amplifier. The smaller speaker only has a single full-range driver and dual passive radiators.
Original HomePod
The HomePod is a premium smart speaker that prioritizes high-fidelity sound. While most Amazon Echo products use lower-end speaker technology, Apple made a speaker that's more of a direct competitor to Sonos than Amazon.
The HomePod runs software that is a fork of tvOS. Before a March 2020 software update, its software was based on iOS.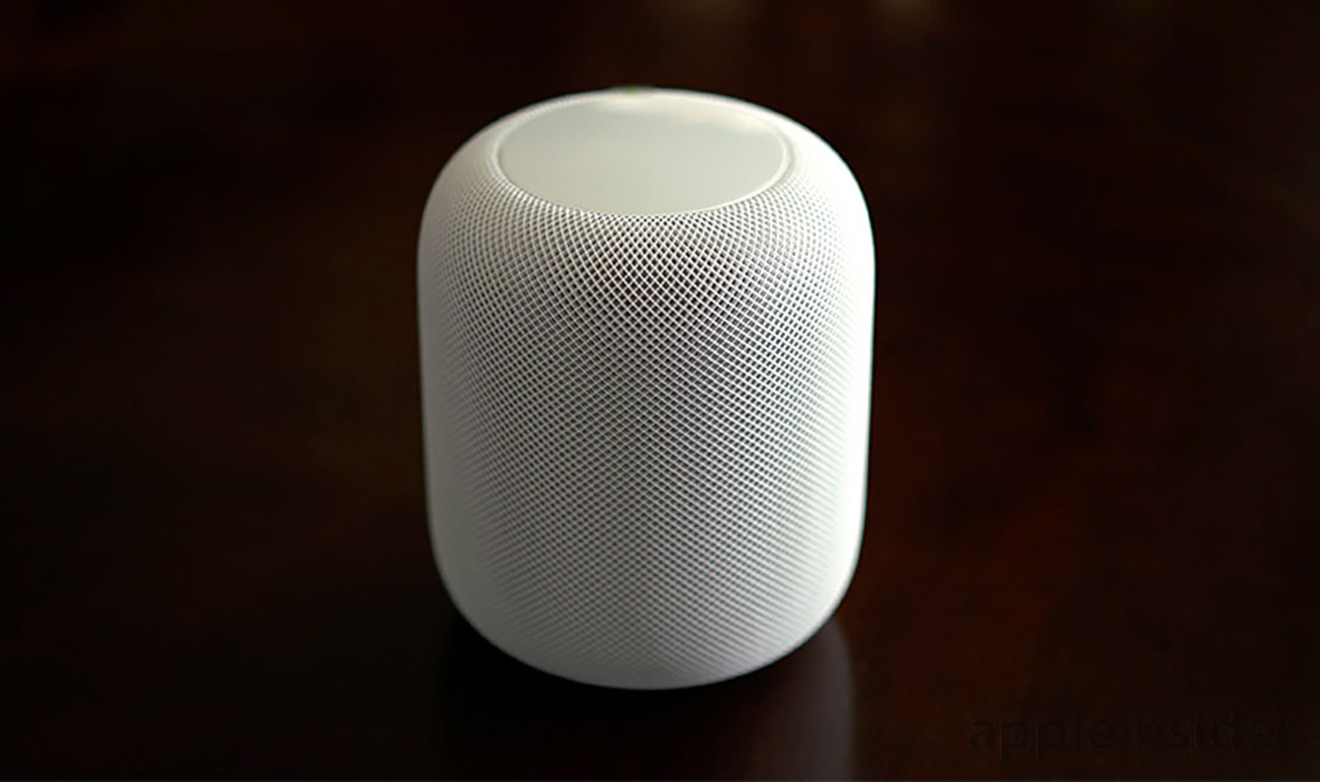 The HomePod uses Siri to handle voice control. It has six microphones positioned around the device to better pick up sound from around the room. Voice commands are encrypted and sent to Apple's servers without being tied to your Apple ID.
The HomePod includes eight speakers inside a cylindrical and rounded body covered in mesh fabric. It uses a six-microphone array and an internal bass-EQ microphone to adapt the bass to the room. That mic array has an advanced echo cancellation system that also allows Siri to understand anyone speaking to it in the room, regardless of their position to the HomePod, even when loud music plays in the background.
It has a round display at the top, showing a Siri graphic or volume controls, with a 272 x 340 resolution.
For audio playback, the speakers have an upward-facing woofer that uses real-time software modeling to enhance bass management, providing deep and clean bass tones with low distortion. It has an internal low-frequency calibration microphone to assist the bass management system. Accompanying the woofer is a custom array of seven tweeters, each equipped with an amplifier. Apple's speaker array also has beamforming capabilities for high-fidelity directional audio.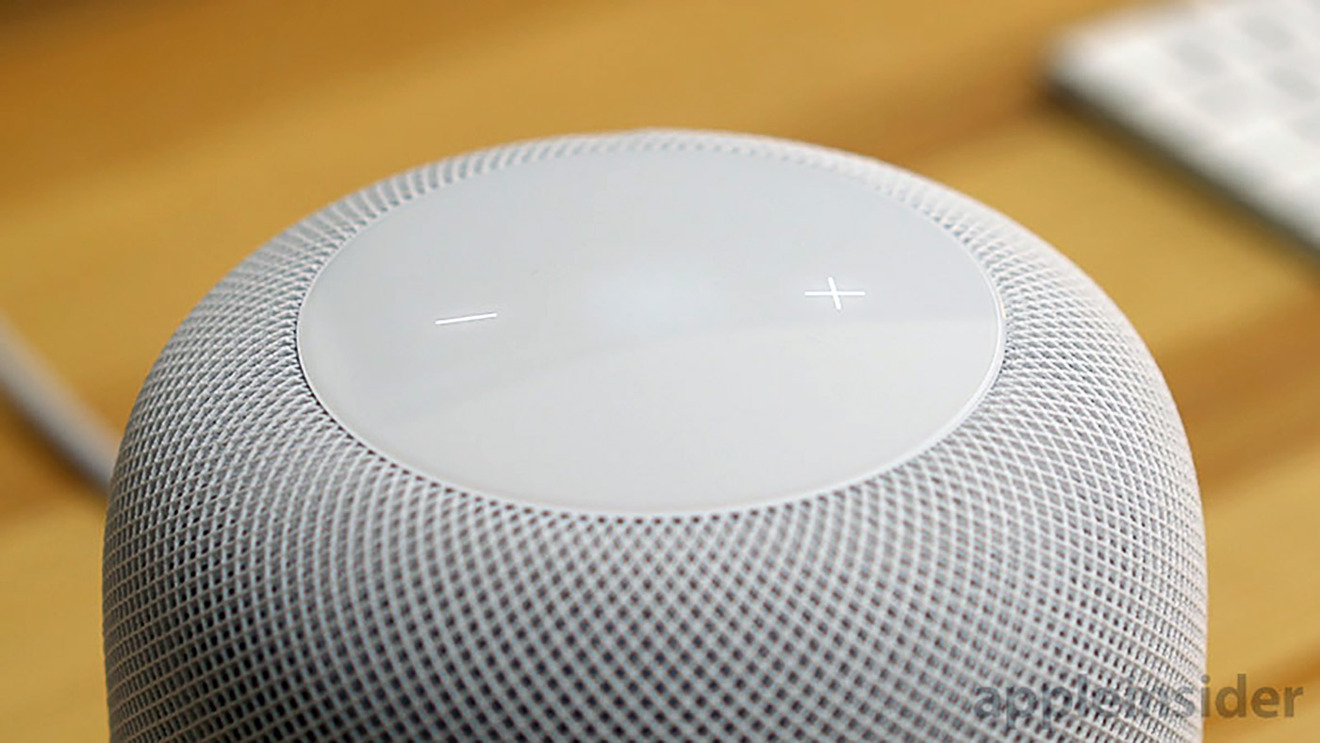 The HomePod's ability to sense its placement in a room enhances the beamforming. Using the microphone array, it can detect the room's size, location compared to nearby surfaces, and other potential audio obstacles, using the data to optimize its playback to suit its surroundings.
Users have the option of pairing two HomePods together to create a stereo pair.
Driving the beamforming, bass management, and multi-channel echo cancellation in the HomePod is Apple's A8 processor, as previously used in the iPhone 6, iPad mini 4, and fourth-generation Apple TV.
Release Date
HomePod mini is available now from Apple and Authorized Resellers. It ships in white and space gray.
HomePod mini Review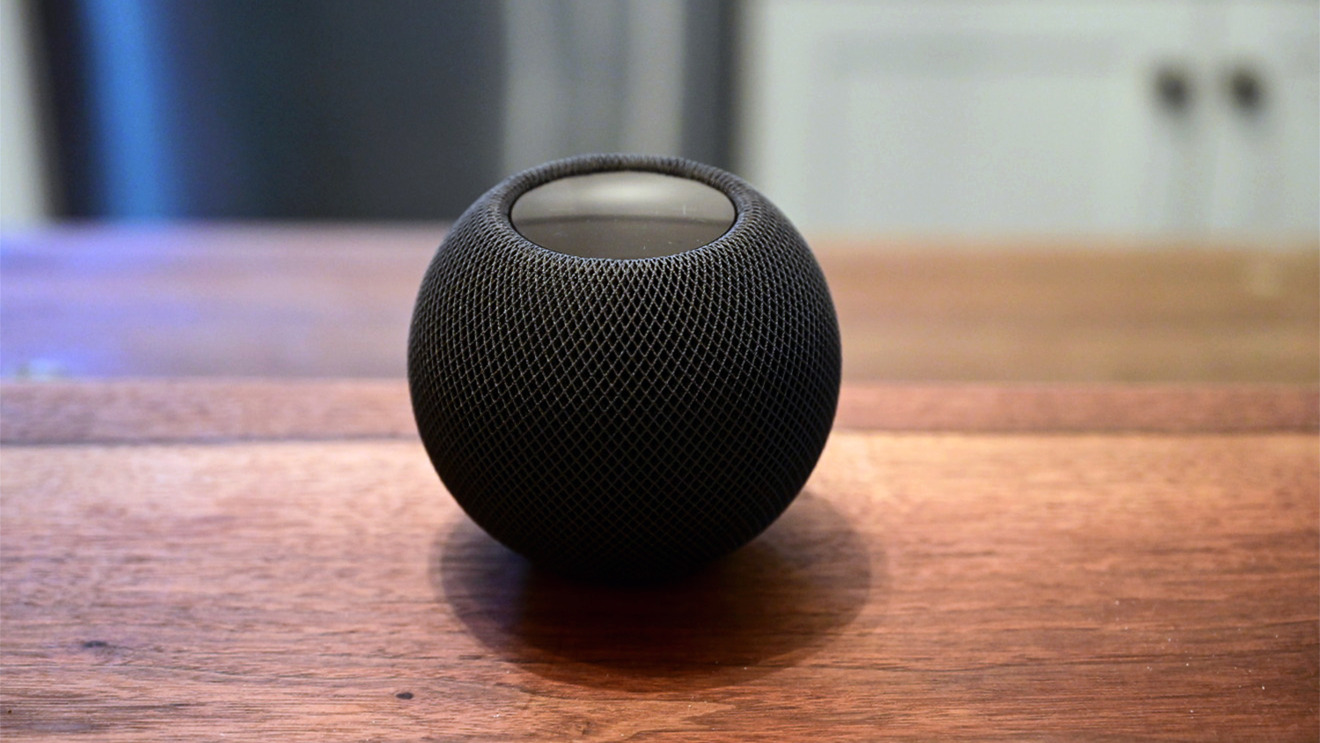 We gave the HomePod mini 4.5 out of 5 stars in our review. Calling it "the speaker for the rest of us," its acoustics aren't on par with the larger model, but we praised its affordable price and the ability to make us want to buy more and more.
"Where the original HomePod was quite small, and unexpectedly heavy, the HomePod mini is the opposite. Its 3.3 inches in height make it only slightly half the HomePod's 6.8 inches, and the width is similarly less.
"The original HomePod comes in at 5.6 inches wide, while this smaller model is 3.9 inches. Knowing those figures does not prepare you, though, for how much smaller the HomePod mini appears in real life.
"It feels more like a tennis ball in your hand, and the almost spherical nature of the design helps with this. But then, so does the weight — HomePod mini is around a seventh of the weight of a HomePod at 0.76 pounds.
"There's no mistaking it as anything other than a HomePod, though. This miniature model comes with the same kind of acoustic mesh covering as its older, bigger sibling, and is similarly available in white and space grey."
"In theory, you can take the speaker anywhere, and power it from a USB-C battery pack. In practice, you can take it some places, and you can power it from some such external batteries.
"It makes for quite an ungainly portable speaker, with its long power cord permanently connected. However, what really limits its portability is that the speaker needs a 20W power supply — even if it doesn't actually use it all the time — and also a strong WiFi signal.
"Apple's supplied power adapter will of course work, but you can't plug it into, say, a MacBook Pro's USB-C ports and expect to hear anything. Portable battery chargers have to have USB-C and to supply enough power.
"There are plenty of such chargers, though, so it's going to be Wi-Fi that is more often what stops you using it as a portable smart speaker."
"The sole point where Apple regularly beats other smart speakers has been when comparing the sound quality. And in that respect, this small speaker is not as good as its big brother.
"Where the HomePod has what Apple describes as a high-excursion woofer with custom amplifier, the HomePod mini does not. It has a 'full-range driver and dual passive radiators for deep bass and crisp high frequencies,' instead.
"The HomePod also has automatic bass correction via an internal low-frequency microphone that's used for calibration. This smaller speaker doesn't have that, nor does it have the regular HomePod's seven tweeters with separate custom amplifiers each.
"Both models do utilize Apple's computational audio, which means both constantly monitor and adjust the music they're playing for maximum effect. Both can be used in a stereo pair for better overall sound, too, but you can't pair a HomePod with a HomePod mini.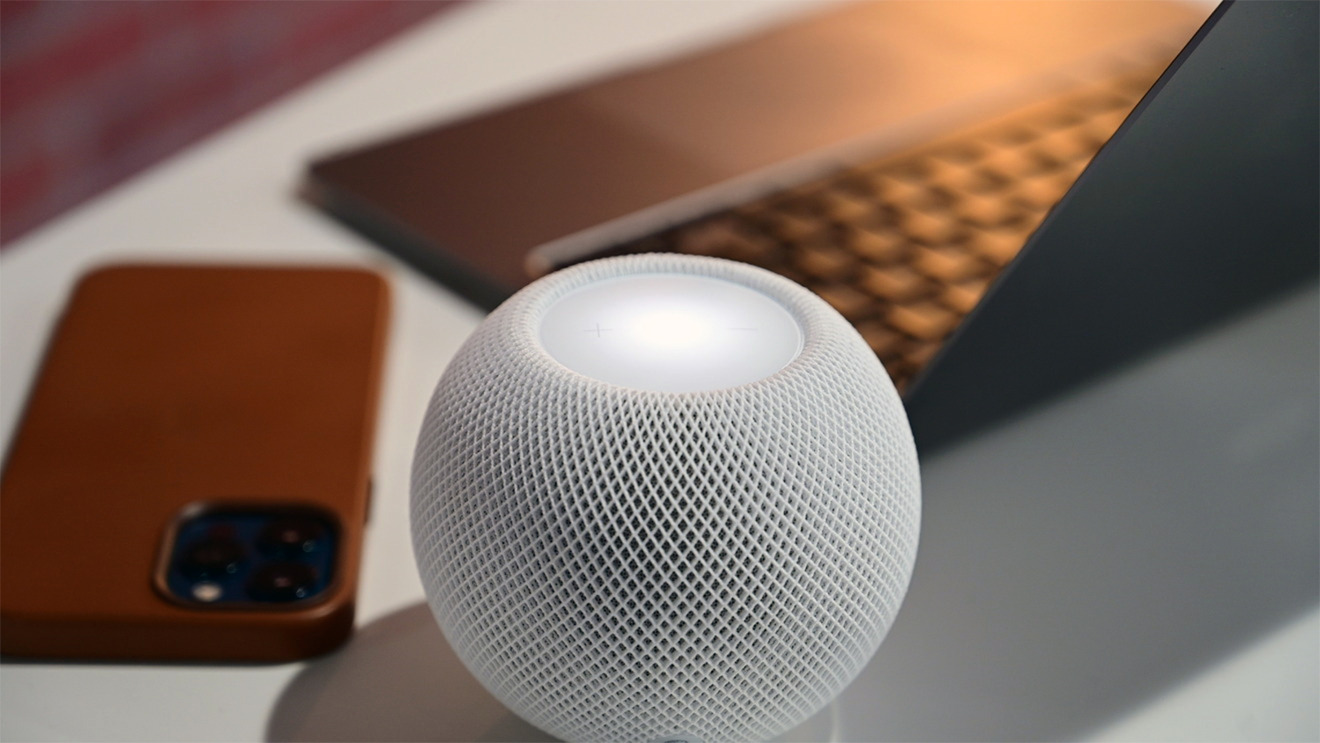 "It's hard to truly compare 'like for like' sound features, though, as the hardware in the original HomePod hasn't been updated since its launch in 2018. The software has, adding features such as multiple users, but the hardware still runs on an Apple A8 processor.
"The tiny speaker uses Apple's S5 processor, which is newer, but then it also lacks certain features. Specifically, it cannot automatically recalibrate itself to match the acoustics of a room.
"On specifications, then, the HomePod mini is in every way a cutdown HomePod. The new device can't match the old for features, it is physically incapable of matching the HomePod for audio quality."
"Alexa's success still surely locks out any other new entrant to the market, but Apple isn't new and it does come with the whole weight of the Apple ecosystem behind it. Even if you are an Alexa user, you are pretty likely to have an iPhone so you do already like Apple, and you are already familiar with Siri.
"That could be how HomePod mini really expands Apple's reach, by just being tried out by enough Apple users. If they try it, they will still find Alexa more roundly useful than Siri, but they will prefer Apple's audio quality.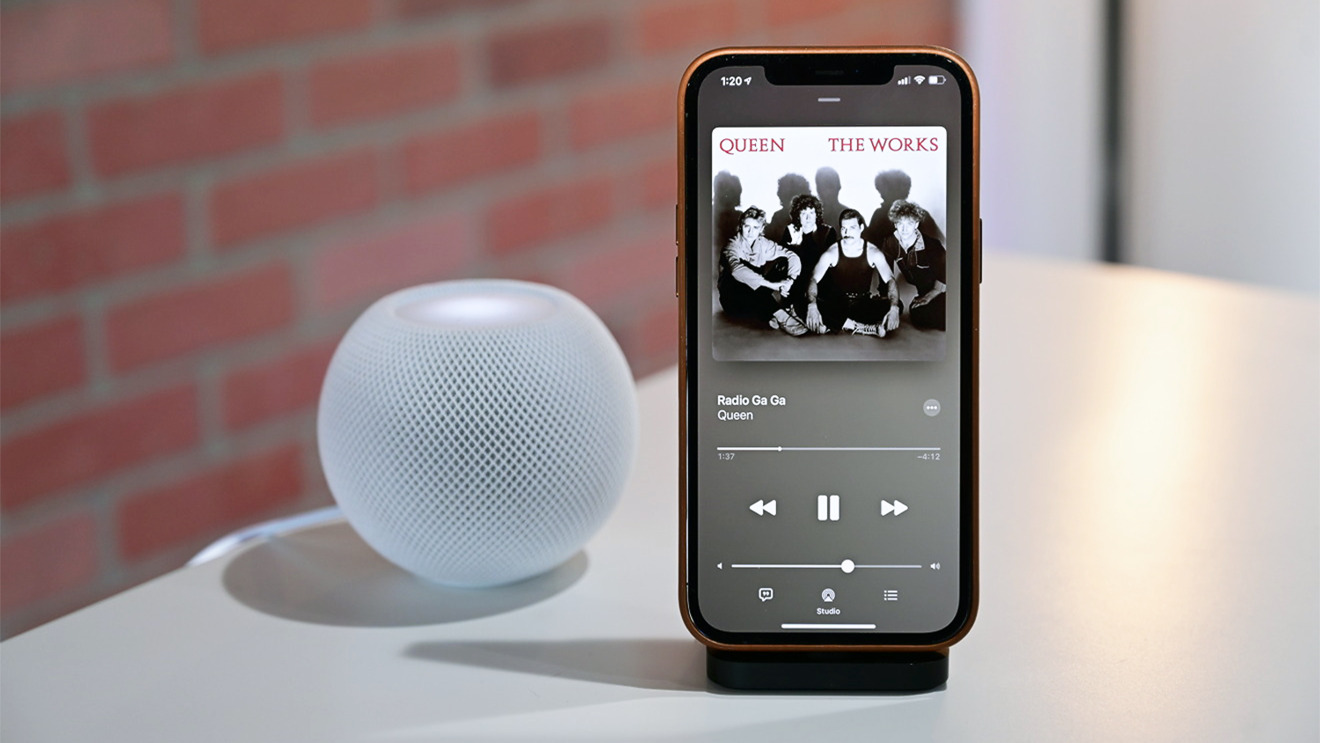 "There is an argument that even at $99, Apple has priced this too high. There's also an argument that it's cut away too much of the regular HomePod's audio quality.
"Neither argument is wrong, but they don't help your buying decision. The fact is, the HomePod mini sounds far better than we expected, and at $99 it has reached a tipping point.
"Apple must have hoped that the HomePod would be a massive success, that it would have become as ubiquitous as AirPods. If the HomePod mini lacks some of the audio quality that could have made that success happen, it's also gained something the HomePod never quite managed.
"The HomePod mini is a tribble. You want one, far more than you wanted a HomePod, and when you've got that one, you want more."
HomePod mini Pricing
While the HomePod costs $299, Apple priced the HomePod mini at $99. The more aggressive price can better compete with the Amazon Echo and Google Nest.