Apple TV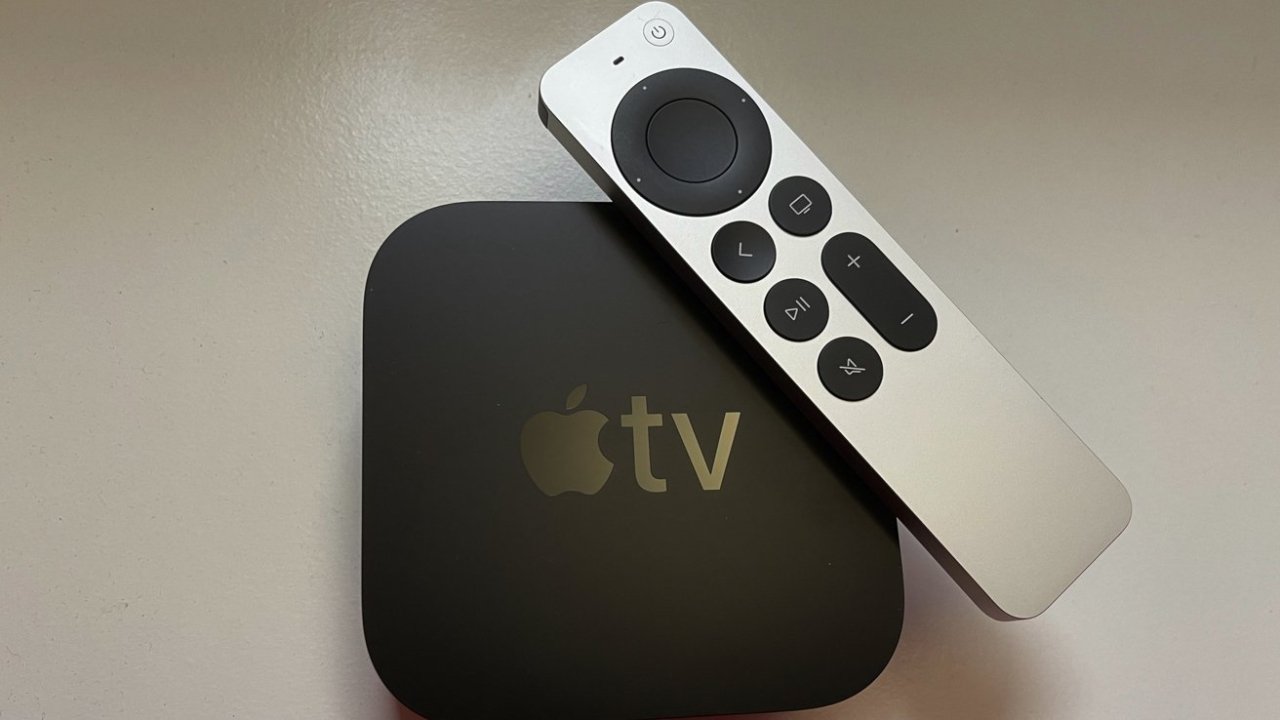 Apple's set-top-box started as an experimental hobby and has since evolved into its own platform. The Apple TV acts as the center of the living room with features for HomeKit, streaming services, and Apple Arcade. By having its own App Store, developers are able to make apps that target the living room experience.
● 4K and HD models available
● tvOS
● Siri voice commands
● App Store with universal app compatibility
● Remote with touch & motion controls
● Cross-service media search
● Starting at $149
---
The Apple TV is the company's foray into the streaming set-top box market. Originally released in January 2007, the set-top box has been used as a way for iTunes customers to play movies and TV shows on their television, and to stream content from their iOS device to the larger screen, as well as from several third-party streaming services.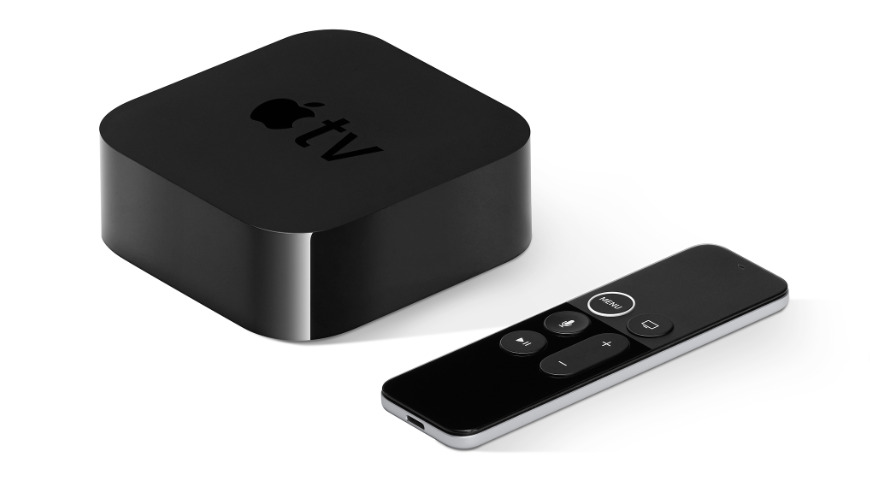 Largely retaining the same design and usage over the first four generations, the fifth iteration runs tvOS, an operating system that opened up the device further to third parties and expanded its utility to games and other apps. All tvOS apps and games come from the App Store.
A next-generation "Apple TV 6" is rumored to offer updates to processing power and the Siri Remote. Initially, leakers had suggested it could arrive in 2020, but that didn't materialize.
Apple TV Pricing
The Apple TV starts at $149 for the 32GB Apple TV HD. The Apple TV 4K costs $179 for 32GB and $199 for 64GB.
Apple TV 4K
Apple launched the fifth-generation model of its set-top-box in September 2017. The Apple TV 4K introduced the ability to stream and view 4K HDR video and Dolby Atmos audio when connected to compatible equipment.
As part of the launch, Apple updated the iTunes Store to sell and rent out 4K versions of movies and TV shows, though these will be displayed at 1080p on earlier models. Apple also expanded the reach of the TV app, increasing the list of countries from just the United States to a total of eight.
At the same time as introducing the 4K model, Apple also reduced the Apple TV HD range to just one capacity, removing the 64GB option and leaving only the 32GB variant on sale alongside the new arrival.
Apple TV HD
The fourth-generation model is much taller than its forebears, measuring 3.9 inches square and 1.4 inches tall, and weighing in at 15 ounces. On the front of the device is an IR receiver, while on the back of the box are four ports, with a power connection to the built-in power supply accompanied by a 100Mbps Ethernet connection, an HDMI 1.4 port, and a USB-C port for diagnostic purposes.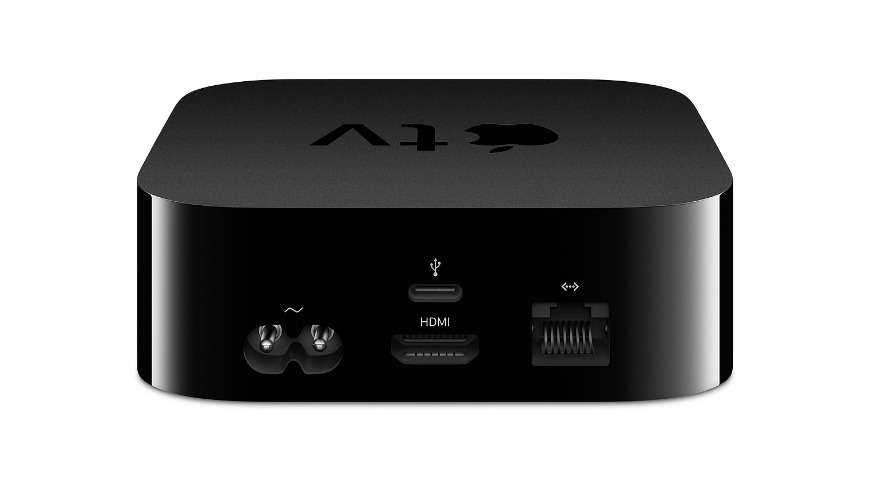 The Siri Remote introduced with this model uses typical navigation and control buttons including volume, play and pause, home, Siri, and menu keys. Above the button collection is a glass touch surface for navigating menu screens, and dual microphones at the top for giving Siri instructions.
The remote also includes Bluetooth 4.0 connectivity, an IR transmitter, an accelerometer, and a gyroscope, allowing it to be used for more applications than menu navigation, such as games. It has a Lightning connector for recharging the battery, which provides months of battery life for each charge under typical daily usage.
Video is limited to 1080p, at up to 60fps for H.264 video, with support for H.264 Baseline Profile level 3.0 or lower, and MPEG-4 video.
Audio formats supported include HE-AAC V1, AAC up to 320Kbps, protected AAC from the iTunes Store, MP3 up to 320Kbps, MP3 VBR, Apple Lossless AIFF, WAV, Dolby Digital 5.1, and Dolby Digital Plus 7.1.
tvOS
The fourth and fifth-generation devices both use tvOS, which was produced to allow developers to have better access to APIs and deliver content through an App Store.
As part of tvOS, Apple allows users to search through content using Siri, with query results displayed on the connected screen. The virtual assistant can be triggered by pressing the dedicated button on the Siri Remote, with the query spoken through the remote's dual microphones.
Siri can search through movies and TV shows for something to watch, and to control playback and some non-video queries, such as weather reports, stocks, and sports scores.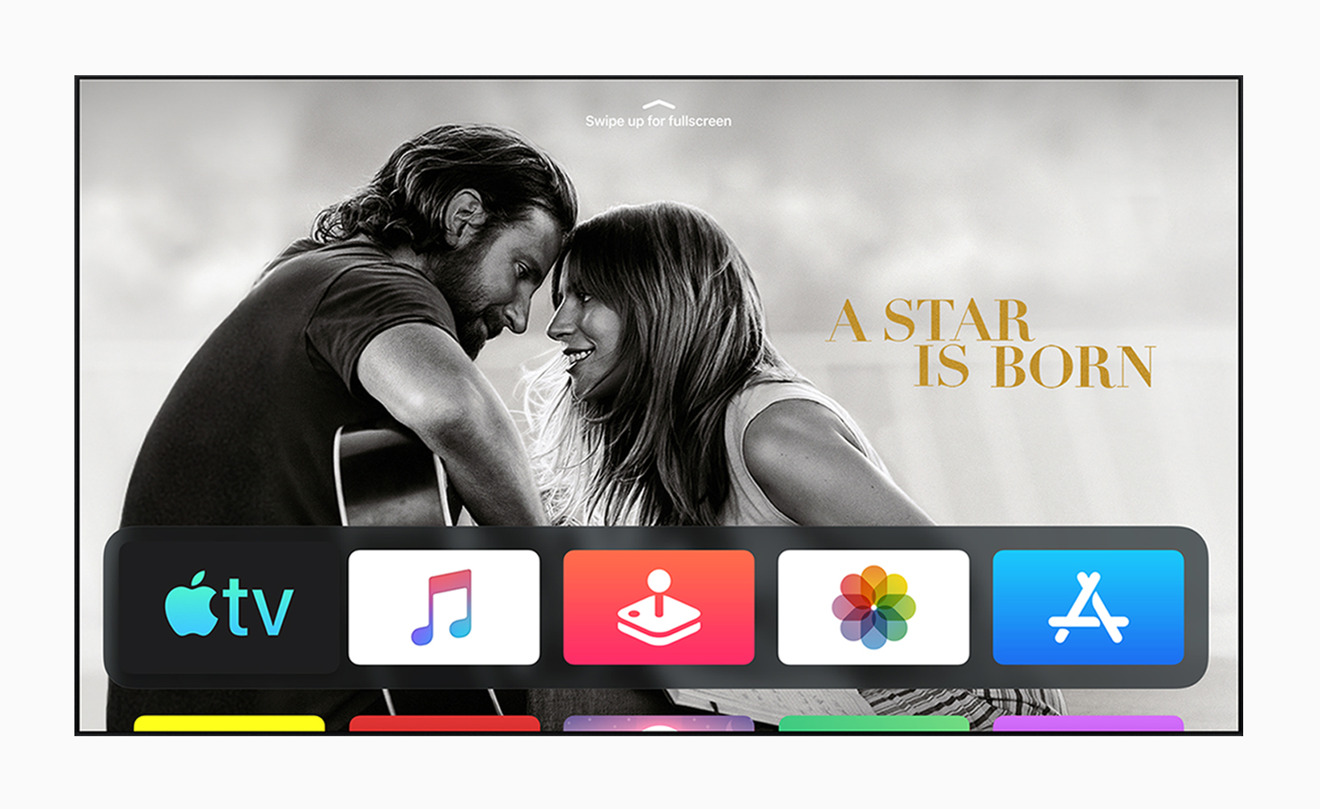 Also in a departure from earlier models, tvOS makes it easier for developers to create apps that will work with the set-top box. As of August 2017, there are over 1,600 video apps that work with tvOS, giving users an extremely wide catalog of content to view.
This also allows alternative app types to work through tvOS, including shopping interfaces and games. These can be used with both the stock remote and compatible third-party gamepads.
Apple deprovincialized search, meaning that results for a film or show offer options not just for the iTunes Store but for various other services. While the list of compatible apps is slowly growing in support, users can search for content within multiple apps simultaneously using Siri, with the results page indicating all services through which a particular piece of content can be viewed.
In tvOS 13, released in September 2019, Apple made some significant upgrades to the interface, including a new Home screen with full-screen video previews and multi-user support. The latter allows individual users to enjoy personalized playlists and recommendations on the same device.
The multi-user element could be especially useful for Apple Music, which offers personalized playlists and recommendations. The interface also provides onscreen lyrics timed in sync to the currently-playing track.
Apple also included Apple Arcade support in tvOS, allowing users to play games from the subscription service on their iPhone, iPad, iPod Touch, Mac, and Apple TV. Accompanying that is support for the Xbox Wireless Controller with Bluetooth and PlayStation DualShock 4, allowing the game console controllers to work with Apple's set-top box. A 2020 Apple support document listed future compatibility with Xbox Series X controllers.
tvOS 14 introduced better multi-user support for Apple Arcade. The update also includes better picture-in-picture support across all app types.
Video streaming options
Customers are currently able to rent and buy TV shows and movies from the iTunes Store, allowing the content to be viewed on the Apple TV, iPhone, iPad, and Mac.
Due to being able to install third-party apps, it is also possible for users to watch videos from various third-party streaming services, including Netflix, Disney+, Amazon Prime, and many more.
In many cases, thanks to the growth of single sign-on, it is also relatively easy for pay-TV subscribers to access their subscriptions through apps. The platform also supports multiple streaming-based television providers, including Sling TV, YouTube TV, and Hulu + Live TV.
With the release of tvOS 12.3, Apple introduced a new Apple TV app experience that fundamentally changes how users can sign up for streaming services to watch content. Under Channels, users can subscribe to several video services via the main app interface, without needing to download a separate dedicated streaming app.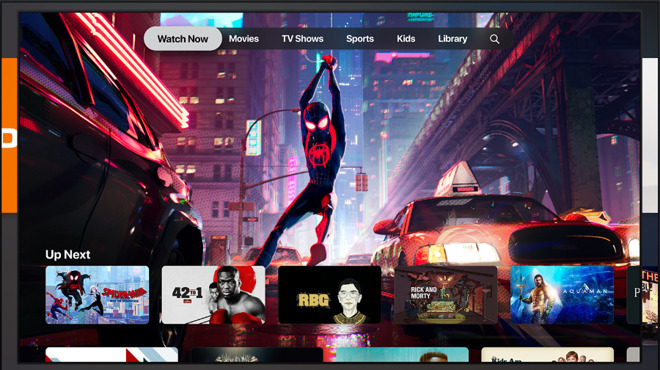 As an analogy, Channels acts as an a-la-carte pay-TV subscription where they can pick and choose just the channels they want, rather than acquiring a larger bundle.
Channels that users subscribe to via the system can be viewed by others within a household via Family Sharing, with up to six family members able to share their subscriptions using their Apple ID and password.
The initial wave of Channels in the United States included offerings from HBO, Starz, Showtime, Smithsonian, EPIX, Tastemade, and MTV Hits. Due to how users can download shows and movies to watch online and offline, it effectively made the Apple TV Channels the only way for HBO subscribers to download content from the service at the time.
In November 2019, Apple started to offer shows as part of its Apple TV+ service, its first foray into streaming video content. For $4.99 per month, or available for free for a year as part of an offer when buying select Apple hardware, subscribers can watch a variety of original shows and films, including "The Morning Show," "Dickinson," and "For All Mankind."
Users will be able to stream YouTube content in 4K HDR for the first time starting in tvOS 14.
Apple TV Review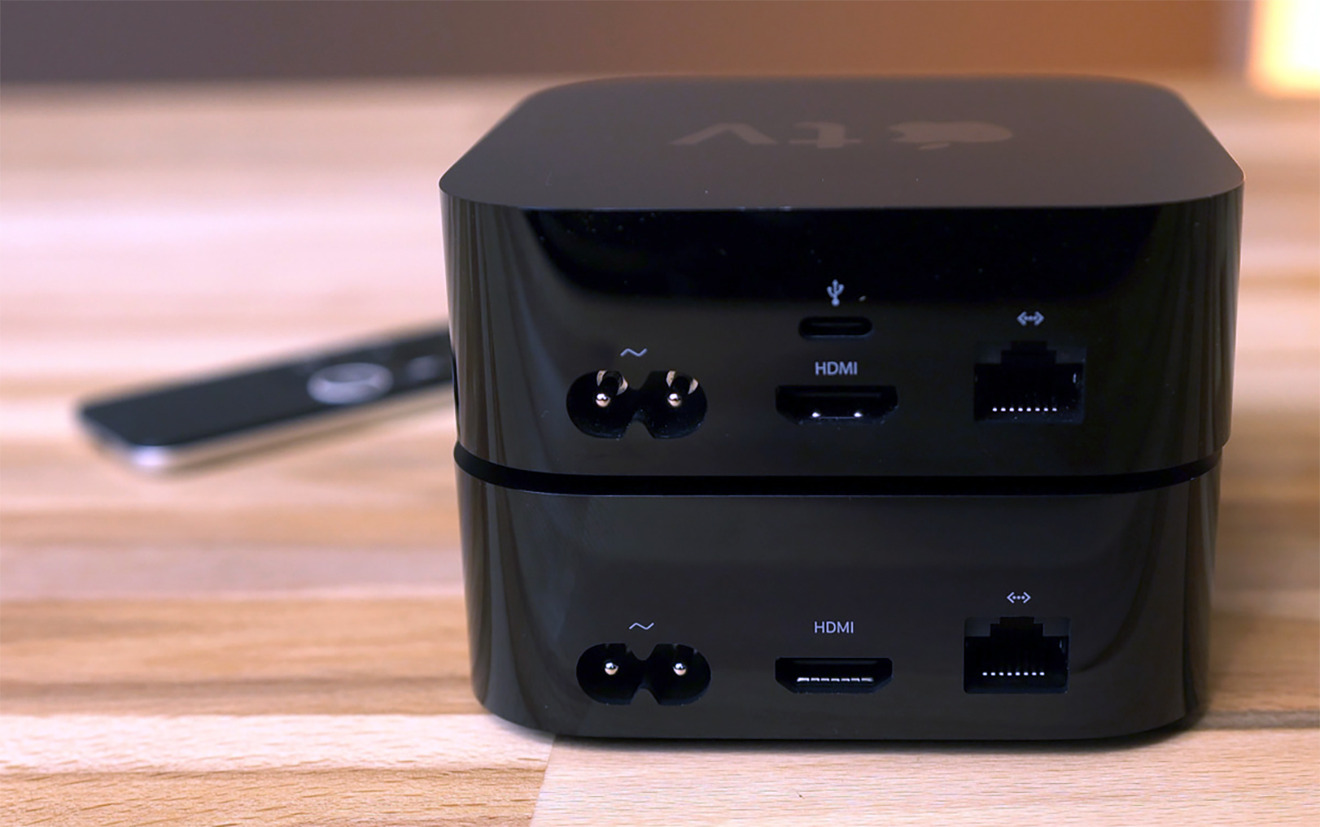 In our review, AppleInsider gave the Apple TV 4K, the latest model, 4.5 out of 5 stars.
"The new Apple TV 4K biggest selling point is right in its name — 4K. But, there's a lot of hardware inside to make that happen.
Apple didn't skimp on the processor. The A10X fusion processor provides the oomph to drive all those pixels, with more bits per pixel than the last version.
Coupled with the A10X Fusion processor is 3 gigabytes of RAM, and either 32 or 64 gigabytes of storage. This all connects to the world either with 802.11ac Wi-Fi or a new Gigabit Ethernet Port, as well as HDMI 2.0. The old USB-C port used for diagnostics and developers is gone, and has been replaced with communications across the network."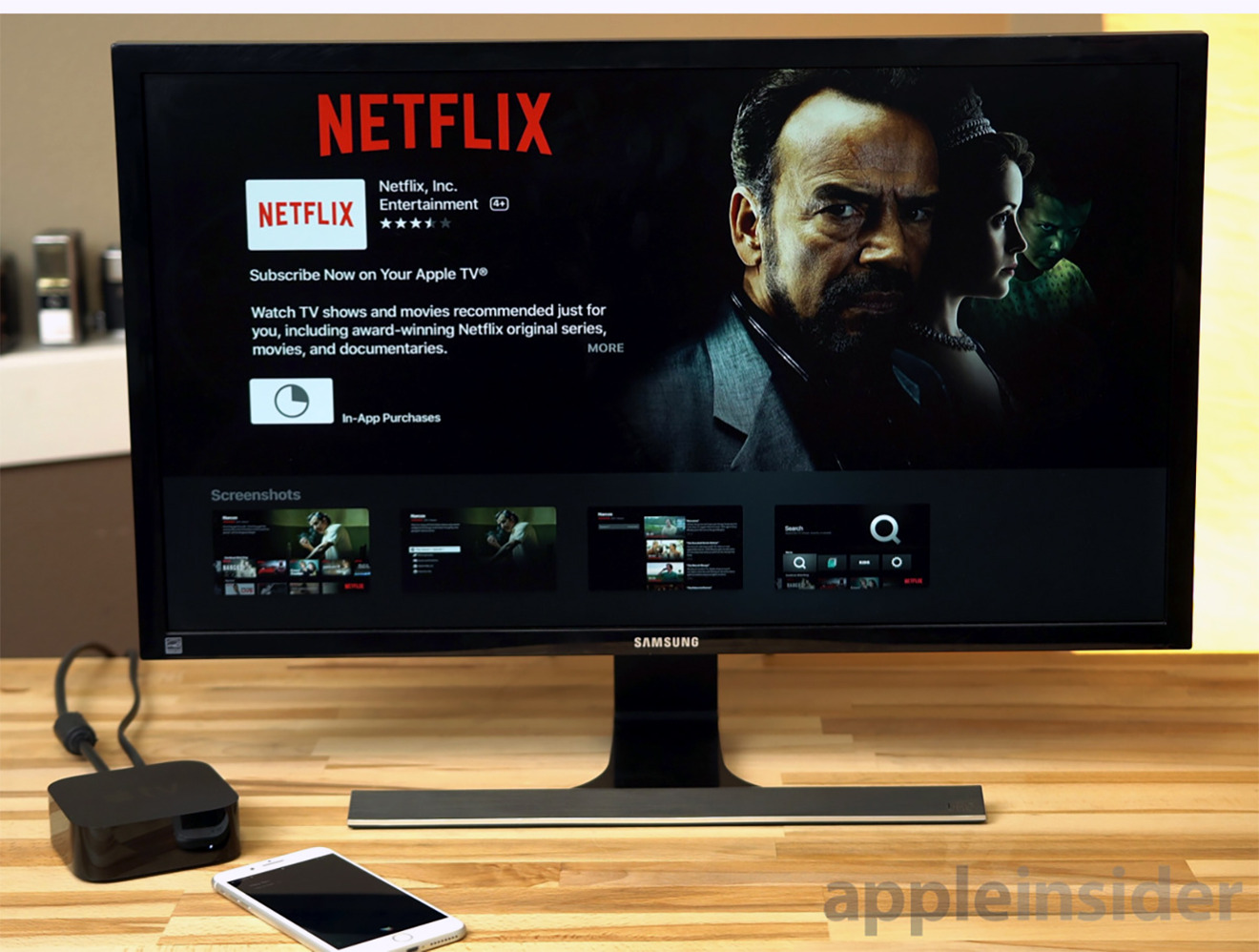 "The color gamut on the HDR television eclipsed what we've played back before, with nearly no color banding — but you know that already.
"In both cases, the picture expressed more fine detail than the previous 1080p model did. The Vizio television performed profoundly better — as you'd expect with the extra color range that HDR10 allows. At the range from the television to the couch, the enhancements provided by the 4K edition still generated a "wow" from the summoned viewers for the viewing party.
"These expressions were muted a bit with the Acer display — but at the 24-inch range from the monitor, the fine details expressed by the 4K picture were more evident than at the 12-foot viewing range to the television.
"So, it's a tradeoff. HDR is a fantastic addition to a living room entertainment center's presentation with the resolution making less impact. The 4K resolution even without HDR support clearly made a giant difference at monitor-viewing ranges.
"If a smaller home office is your preferred environment, we recommend you stick with a 4K display for now. An array of 4K displays with HDR are coming soon, but present offerings aren't what you'd call affordable. In many cases you can get a really big 4K HDR television for your living room for less money."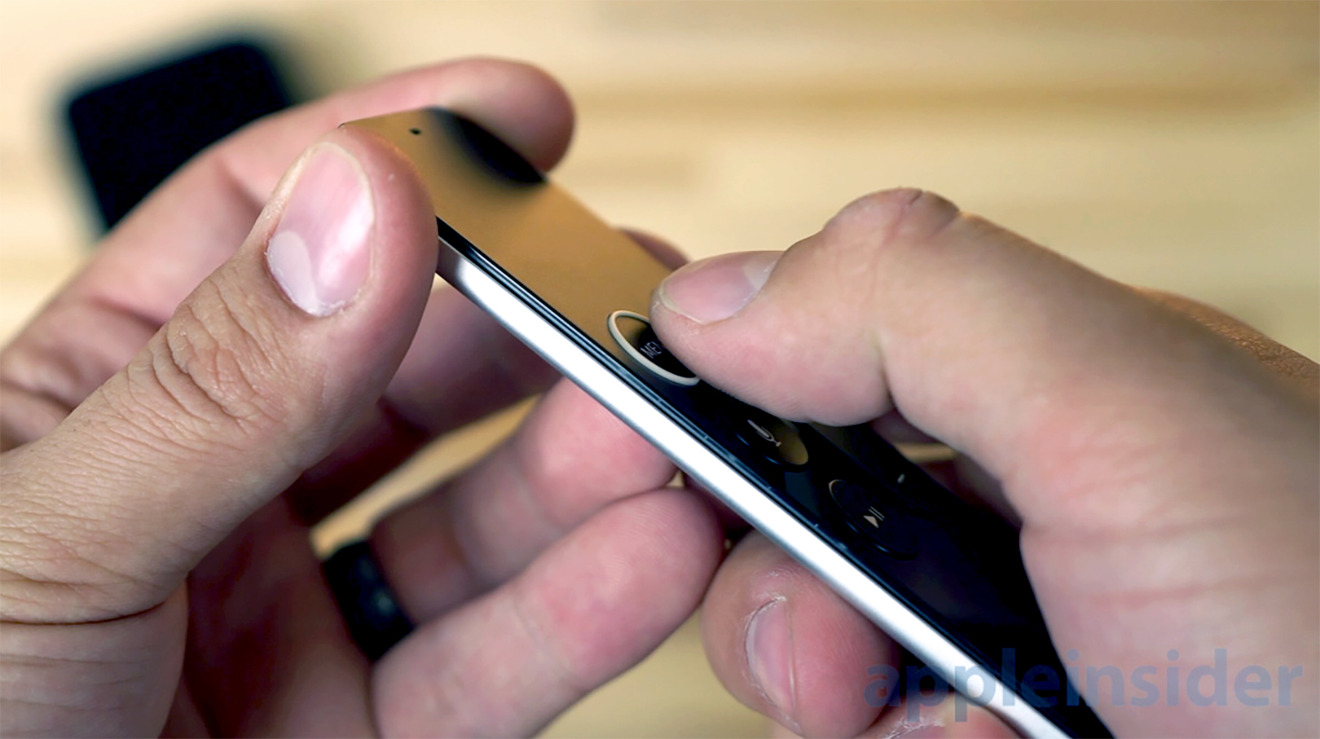 "The Siri Remote is polarizing, and has been since it shipped with the fourth-generation model. The ergonomics are such that it is easy to pick it up wrong-side-up, and flail away on the case of the device rather than the touch-sensitive pad before you realize that, no, the remote is the wrong way.
"Here at AppleInsider one of us just lives with it, and the other hangs the remote on the wall with a piece of velcro, with the hook-end also used as an orientation device.
"The new remote has a very subtle ridge on the Menu button. At first, we were dismissive of the effect that it would have on hand-feel and orientation of the unit, but after a very short adjustment period, it's easy enough to figure it out.
"Performance-wise, all other aspects of the remote are the same. If you liked it before, you still will. If you didn't, the first-generation white plastic Apple remote, and the second-generation metal one still work with the newest model.
"If you still hate the remote, use your iPhone, or train your favorite remote to talk to the set-top box. It's pretty clear at this point that Apple is sticking with the design for a while."
"The Apple TV 4K is an expensive streamer, for sure. A starting price of $179 is nothing to sneeze at. A 4K Roku can be had for less than that, and the very recent Amazon Fire HD box is even cheaper — assuming you tolerate the ads and data mining associated with the company.
"But, a better way to look at is as an upgrade charge for your existing iTunes content, if you have any. The deal that Apple made with Hollywood to upgrade past HD purchases to 4K is unprecedented, and a great boon for consumers.
"In essence, if you've got 18 HD movies that you own from the iTunes store that are on the 4K list, the Apple TV 4K has essentially paid for itself. And, it doesn't matter if you bought them directly, or used a code from a Blu-Ray purchase."